Like GearBrain on Facebook
The latest Apple smartwatch, the Watch Series 4, is a very good wearable — as you can read about in our review — but, despite the battery lasting around 36 hours, it does not track sleep.
It's a strange omission from the Watch's feature set, as rivals like the Samsung Galaxy Watch track sleep natively. But thankfully there are a number of third-party options in the Apple App Store.
Read More:
Many of these apps already existed on the iPhone and now have a companion Watch app. Running on the phone, they require you to leave the handset on your bed or pillow (while unlocked and plugged in) to record movement. As you can imagine, this isn't a great solution — leading to inaccurate data, a face full of iPhone when you turn over, or a smashed screen when it inevitably sides onto the floor.
Clearly, wearables like the Apple Watch have advantages here. Some of the apps on the Watch track sleep automatically, while others need to be told when to work; some also have silent alarm function to wake you up with the Watch's vibrating Taptic Engine. Here are our top five.

Tantsissa
As the name suggests, this app automatically detects when you are drifting off to sleep, then uses the Watch's accelerometer and heart rate monitor to log your activity through the night. You can then let the app automatically sense when you wake, or tell it with a tap of the Watch screen. Alternatively, there is a setting to end sleep tracking when you pick up your iPhone.

The iPhone's version of the app presents a large amount of data each morning, with each cycle of the night's sleep clearly laid out around a 24-hour clock. The total time asleep is shown, then broken down into 'quality' and 'deep' sleep, plus any times you spent awake during the night, and your heart rate, which is taken roughly every 10 minutes. On the iPhone, to end sleep tracking, there is a setting to end sleep tracking when you pick up your iPhone.
After a few days, the app begins to learn what your average sleep pattern looks like, then gives you a percentage each morning to indicate how much you 'recharged your batteries' the night before. The Watch app can be left to automatically recognize when you wake up, or alternatively there is a setting in the companion iOS app which, when enabled, ends sleep tracking the moment you pick up your iPhone.
The only downside we found was if you stay still for a long period of time (hello, Netflix binge) the app may wrongly think you're asleep.

Neybox Digital
Pillow works in a similar way to AutoSleep, with automatic or manual sleep tracking depending on what you prefer. The app identifies each stage of sleep (awake, REM, light sleep, deep sleep), and shows you each stage, and how long you were in it, during the night.

The app also tracks your heart rate, and records sounds (like snoring, or next door's dog barking again) onto the iPhone app, to help you understand why you had a disrupted night's sleep. The app analyzes sleep patterns over time and starts to suggest the right time to go to bed — although we wouldn't blame you if you chose to ignore that bit of advice.
To help wake you up, Pillow spots when you are in light sleep close to your alarm time, then wakes you up when you are least asleep. This form of dynamic alarm is supposed to help you feel more awake, as it doesn't drag you from deep slumber with the severity of a regular alarm clock. Pay the one-off $4.99 fee to unlock Pillow's premium features, and you can have the app play sounds and melodies designed to help you fall asleep.
Finally, a nap mode lets you pick from 'power nap', 'recovery nap' and 'full cycle nap' for daytime sleeping.

Cross Forward Consulting
Sleep++ is one of the simpler sleep-tracking apps for your Apple Watch and iPhone. It still has automatic and manual modes, graphs for showing the cycles of each night's sleep, and exports the data it gathers to the Health app, but does away with other bells and whistles.

As is true for other sleep-tracking apps, automatic mode works best if you go to sleep as soon as you get into bed. But if you tend to watch TV or read in bed for a while each night, then manual mode is best — otherwise Sleep++ (and others) may produce inaccurate results.
If you're looking for a simple automatic sleep tracker — which is also free with no extra costs — then Sleep++ is a good place to start.

Tantssisa
Where most of these apps focus on sleep cycles and only include heart data as an added extra, HeartWatch puts it front-and-center. The app produces detailed heart data for walking and exercise, plus a resting heart rate for the rest of your day — and, of course, data is gathered while you sleep.

The app alerts you if your heart rate is excessively high or low during any of these four states, which could be a warning sign of an underlying health problem. Until Apple switches on some of the Watch Series 4's more advanced heart-tracking features, HeartWatch makes for a good alternative.
Beddit Sleep Monitor Free (requires $150 sleep monitor)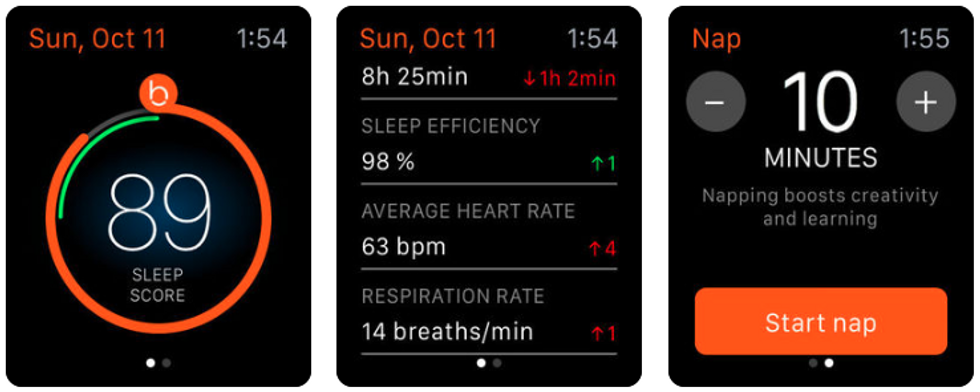 Beddit
As Apple acquired Beddit in 2017, this app could be our closest look yet at what the iPhone maker has planned for a sleep-tracking app of its own.

However, unlike the other apps mentioned in this article, Beddit for Apple Watch is actually designed for tracking naps — or daytime sleeping. That's because your nighttime sleeping is tracked by the $150 Beddit 3 sleep monitor, a separate device which sits under your mattress and sends data to your iPhone for analysis. (GearBrain reviewed an earlier version of this device.)
If you don't slept too well one night, then the Watch app will suggest a good time to take a quick 30-minute nap during the following day — after lunch, for example — to improve your sleep score. The app then wakes you up with a silent vibrating alarm, so you can get back to work.
From Your Site Articles
Related Articles Around the Web
Like GearBrain on Facebook