Just a year after the original Awair launched, it's time to clear your desk, counter or bedside table for the new Awair 2nd Edition.
Much like the original, the new Awair 2nd Edition is an air quality monitor which keeps tabs on carbon dioxide and other particles in the air — plus the temperature and humidity — to give your air a score out of 100. The higher the score, the better your air.
Read More:
The device also taps into your smart home via Amazon Alexa, Google Assistant and IFTTT (If This, Then That), and the companion smartphone app sends you notifications to keep you aware of changes to your home's air quality.

The Awair 2nd Edition costs $199, but you can currently save $20 by subscribing to the company's newsletter.
What's the difference between the Awair and Awair 2nd Edition?
First up — and given the devices look almost identical — we thought we should explain the differences between the original Awair and the Awair 2nd Edition.
The biggest difference is how the new model has an extra reading for PM2.5, which stands for particulate matter where each particle has a diameter of less than 2.5 micrometers. These particles, more commonly known as fine dust, are a 40th the width of a human hair, and can be absorbed into the bloodstream, exacerbating health issues like asthma and heart disease.
GearBrain
The new Awair still offers five metrics - temperature, humidity, CO2, chemicals and dust - but now that last reading includes PM2.5.
Other difference include:
Two new buttons on the back to quickly cycle through each reading
Increased personalization of what data the device shows
Enhanced VOC (volatile organic compound) sensing technology
USB-C port instead of a proprietary power connection
Faster and simpler setup, as the Awair 2 automatically connects to your smartphone via the app
Awair 2nd Edition review: Design and hardware
The design of the new Awair is identical to that of its predecessor. While at first we were disappointed to see no change, having the new Awair on our desk reminds us of how much we liked the original. It's just a visually pleasing device, one we look at to admire and not just to check on the air quality.
The dark wood is beautifully grained and neatly complements its white plastic front. We think the wood also helps the Awair 2nd Edition feel more homely, as without it the Awair could well look like a piece of industrial or medical equipment - not something you'd want on your desk, or bedside table. As it is, the wood helps the Awair fit in just about anywhere.

As before, the Awair 2's interface is made up of LED lights which shine to show a score out of 100 and the levels for each of its five metrics — temperature, humidity CO2, chemicals and dust. As each metric rises, so too does the LED graph representing them. These lights are easier to see with your own eyes than they are to photograph, and their brightness can be adjusted with the app or left to automatic.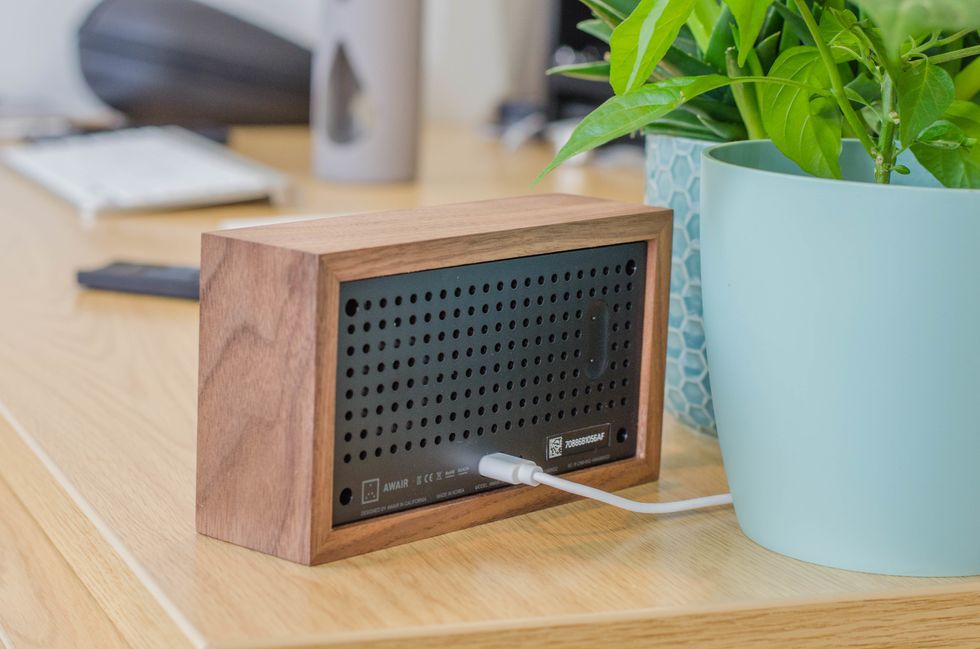 Power is provided by an included USB-C cable and wall plugGearBrain
The new Awair has a pair of buttons on the back for cycling through each reading. By default, the device just shows your overall score and the line graph. But press these new buttons and the score changes to show each of the five readouts with a press. We found this was a quicker way of checking the temperature or humidity than grabbing our iPhone and digging into the Awair app, or asking Alexa.
Regarding the Awair's accuracy, we compared it to the Foobot, another $200 air quality monitor, and found they produced very similar results. They often offered the same temperature to within one degree centigrade, and the same humidity to within one percentage point. Their measuring of chemicals and dust was also very similar.
Awair 2nd Edition review: Smartphone app
For setting up the Awair and getting more granular information about the data it collects, you'll need to download the free companion app for iOS and Android.
The app shows a similar interface to the Awair itself, with color-coded readouts for each metric and the score out of 100. Notifications are sent by the app when a metric rises, making you aware that your environment is less than perfect, and could be improved. When cleaning nearby, the Awair app warns of an increase in chemicals, for example, and cooking causes the CO2 reading to increase.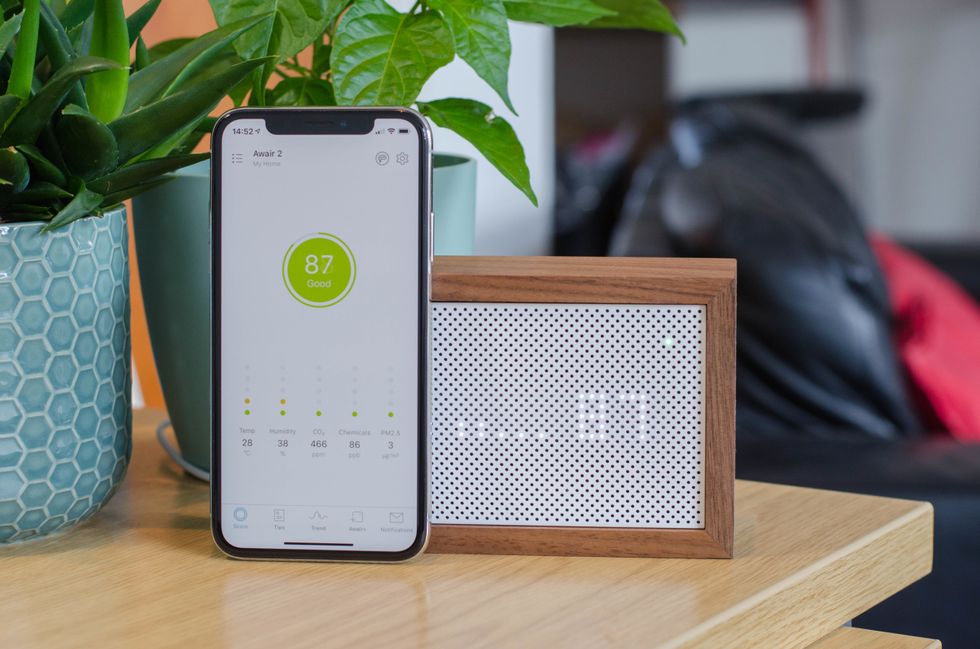 We found the app would notify us when air quality falls, then send a second message is sent out when things start to improve again. This is fairly useful, but the 3:45am message one morning to say our temperature was now "much better" felt somewhat unnecessary.
As well as notifications of changes, the app is full of helpful advice for keeping your air healthy, and these are relevant to the data the Awair has collected. As we write this, the temperature in our office is fairly high, at 27C (80F), so the app is suggesting ways to cool down and lower the humidity.
Some of these pointers include links to the Awair website and its blog, which is updated regularly with quality information on improving air quality. For example, we were taken to an article about how plants can help clean up the air around them, including suggestions on which to buy for each room.

Although most of these tips offer innocent advice or link to Awair's blog, some are basically adverts, taking you to websites to buy air purifiers from the likes of Blueair.
Digging deeper into the data collected by Awair, the app plots your score and each metric by time over every hour of every day. Rotate your phone to landscape and you can see how each level rises and falls over time.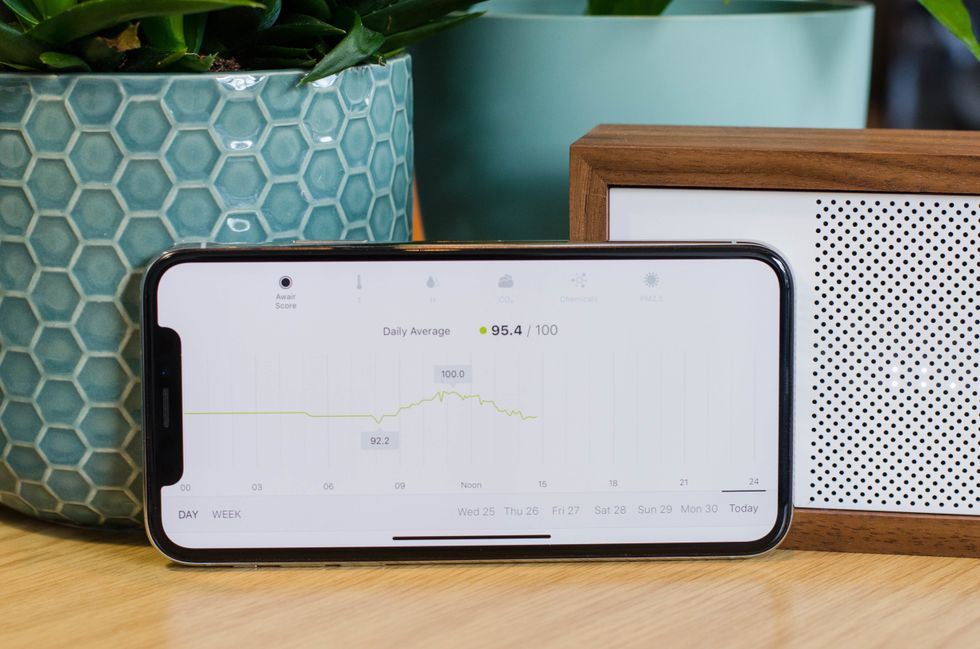 GearBrain
How the Awair 2nd Edition ranks your air quality can be personalized based on where you put it, and what you want to get out of it. The scoring system can be weighted towards helping someone with their allergies, or helping you sleep better.
Pick the 'productivity' mode and the Awair will let you know when poor air quality might be affecting your ability to concentrate. Choosing a different preference also changes the tips the app gives, making them more relevant. However, we also found the app will disagree with itself on occasion - such as when it suggested we turn on a humidifier when the room's humidity was already on the rise.
Finally, the app includes a section for the local weather forecast, with temperature, humidity and air quality - useful for knowing if you should shut your windows to keep cleaner air inside on a high-pollution day.

Awair 2nd Edition review: Smart home integration
On its own, the Awair 2nd Edition is an attractive air quality monitor, but integration with Amazon Alexa, Google Assistant and IFTTT unlocks much more. For starters, you can ask Alexa or the Google Assistant about the temperature, humidity or air quality of your room, which is nice in a living-in-the-future kind of way.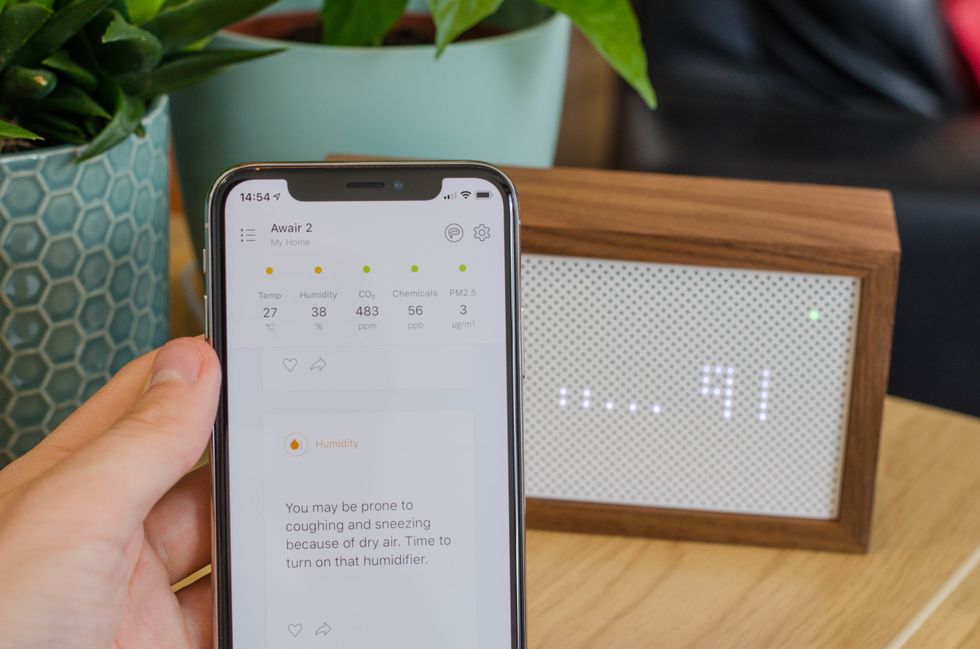 GearBrain
More usefully, IFTTT integration means you can have the Awair trigger other devices to spring into life depending on the data it collects. For example, you can make an IFTTT applet which switches on a smart plug when the Awair detects high temperatures; connect a fan to this smart plug, and you've got yourself an automated cooling system.
Similarly, configure an applet to switch on a smart plug connected to a heater when the temperature falls, and you have automated heating. Other applets can be made to signal warnings - like having a Philips Hue light flash red when the chemicals or dust readings reach a certain level.
(Check out The GearBrain, our smart home compatibility checker to see the other compatible products that work with Alexa-enabled devices, Google Home and Home Mini.)
Verdict
The Awair 2nd Edition is an attractive air quality monitor which is easy to setup and simple to use, but has a broad range of uses if you tap into the power of IFTTT and have it communicate with other devices.
At $199 (or $179 if you sign up to Awair's email newsletter), the Awair isn't priced to be a compulsive purchase for most consumers. That said, it is the same price of the equally-capable Footbot, but we prefer the Awair because of its aesthetically-friendlier design.
Owners of the original Awair should not feel pressured into buying the new model because, while the extra functionality is nice to have, we don't think improved dust sensitivity is a compelling enough reason to upgrade.
But, for those who are yet to buy an air quality monitor, the Awair 2nd Edition is a very good place to start.
Pros:
Attractive design
Simple to set up and use
Alexa, Google Assistant and IFTTT integration
Informative blog
Cons
Expensive
Sometimes tricky to read at a glance
Some app tips feel like adverts