Like GearBrain on Facebook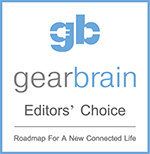 Ring is known for starting the market for smart video doorbells, an essential smart home security device today. But Ring is also one of the first companies to bring to market a smart floodlight camera. It launched its Ring Floodlight Cam in 2017 and added the Ring Floodlight Cam Pro (Wired) in February 2021. And for those who don't know what a Floodlight Cam is, it's the combination of smart lights and a security camera in one device, which can be either battery or wired power.
Since then, several smart home security companies and camera manufacturers have introduced floodlight cameras. Some of these cameras say they are smart floodlight cameras, but they are really spotlight cams or security cameras with just one light versus two smart lights or LED panels. For this roundup, we will help you better understand who makes a good reliable floodlight camera which we define as a device with two spotlights or smart LED panels attached to a smart security camera. And each of these cameras has been tested by a GearBrain reviewer and recommended by our staff depending on how you secure your smart home.
Here is our list of the best smart floodlight security cameras for 2023:
Any of these smart floodlight security cameras are worth buying if you are in the market for one. We would recommend you buy one that works with your existing smart home security system so you have unified control of your home's security. And if you don't have a smart home security system but looking to start one, any of these floodlight cams will provide a good foundation for you and our product find engine can help you find other smart security cameras or systems that will work wieht any of these floodlight cams. Just sign up and tells us what you want to work together and our platform will do the rest.
How GearBrain Helps You Find, Buy and Connect Smart Locks Faster Than Amazon In this video we demonstrate how GearBrain can make buying smart locks on Amazon easier. We show how our filtering can ...
Like GearBrain on Facebook