Like GearBrain on Facebook
The Swann Floodlight Security System is a floodlight that does more than just let you see better in your backyard. This is a fairly robust system. We've been hands-on with the device — and are running a full review on the system shortly. In the meantime, here's what we can see just handling the security system, and what it's designed to do for you in your home.
What is it?

The Swann Floodlight Security System Wi-Fi Series is a floodlight with an HD 1080p video camera. The system comes with two-way communication, a warning siren, motion sensor, a floodlight and seven days of free video storage in the cloud. You also get Swann's True Detect technology, which uses heat sensing to trigger recordings and alerts.
The Swann Floodlight includes a PIR sensor with a range of up to 32 feet (10 meters) and a 270-degree range. Plus, each floodlight has 2500 lumens and a color temperature of 5000k. The camera's night vision uses infrared and has a range of 32 feet (10 meters) in the dark. But when the floodlights are on, the camera has a 100 feet (30 meter) range for color videos. It also has a 125-degree field of view (FOV) and siren that goes up to 75 dB.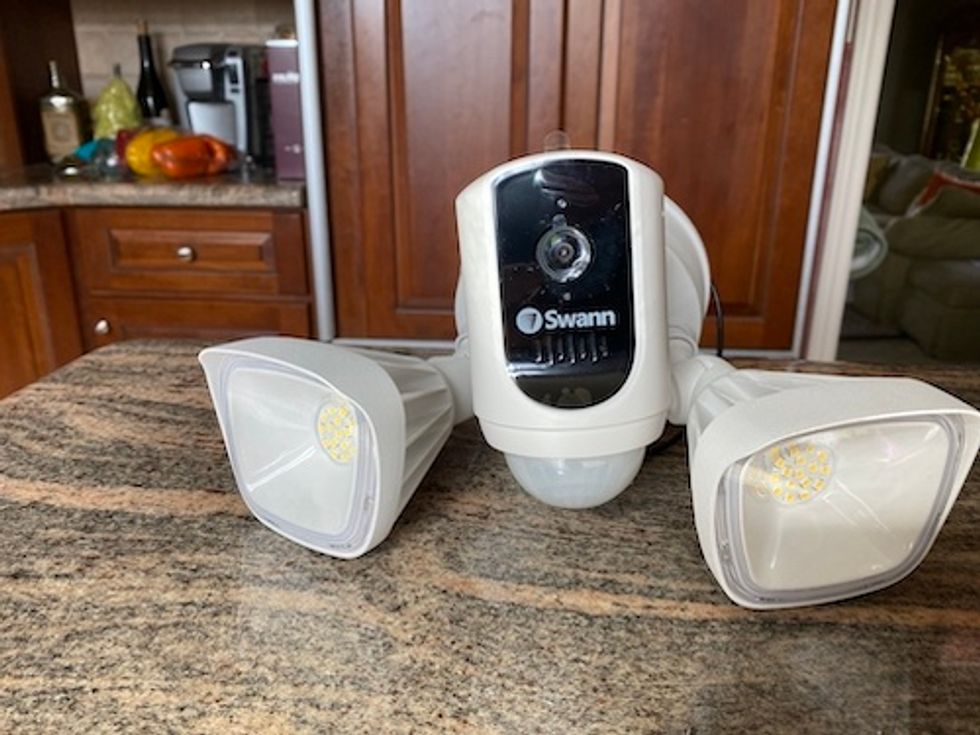 Swann Floodlight Security System Wi-Fi SeriesGearBrain
Users can connect the Swann Floodlight over a 2.4 GHz wireless frequency. If you have a dual band Wi-Fi router, just make sure you use the 2.4 GHz and not the 5 GHz setting. Also, you will need to place your Swann Floodlight within 65 feet (25 meters) of your router. If not, the signal will be too weak for your Swann to work at its optimal level.

As with all Swann cameras, the Swann Floodlight comes with True Detect technology. True Detect is a heat-based PIR motion detection feature, and Swann was one of the first security camera manufacturers to use this technology. True Detect helps capture and record activity more effectively than simple motion detection and used to help determine if motion is coming from a car or a person. It is extremely useful in security cameras or video doorbells, especially if they point at or are located close to the road.
Hands-on with camera
After taking the floodlight camera out of the box, I was surprised by the weight of the camera. The Swann Floodlight weighs only 2.44 pounds which is light for an outdoor floodlight, but it seems durable. We will see how it works once we install it on a house. The camera also looks very similar to Ring's Floodlight camera, but slightly smaller. Ring Floodlight Cam measures 11 in. x 8.25 in. x 7 in. while the Swann Floodlight measures 9.5 in. x 9.5 in. x 6.7 in.gb
Swann's products do come neatly packaged. The Swann Floodlight box even had a nice handle for easy carrying. After unboxing, you will find the floodlight all assembled. They have neatly packed all the mounting hardware and brackets along with the directions in multiple languages, which means everything you need to install the light is there, ready for you.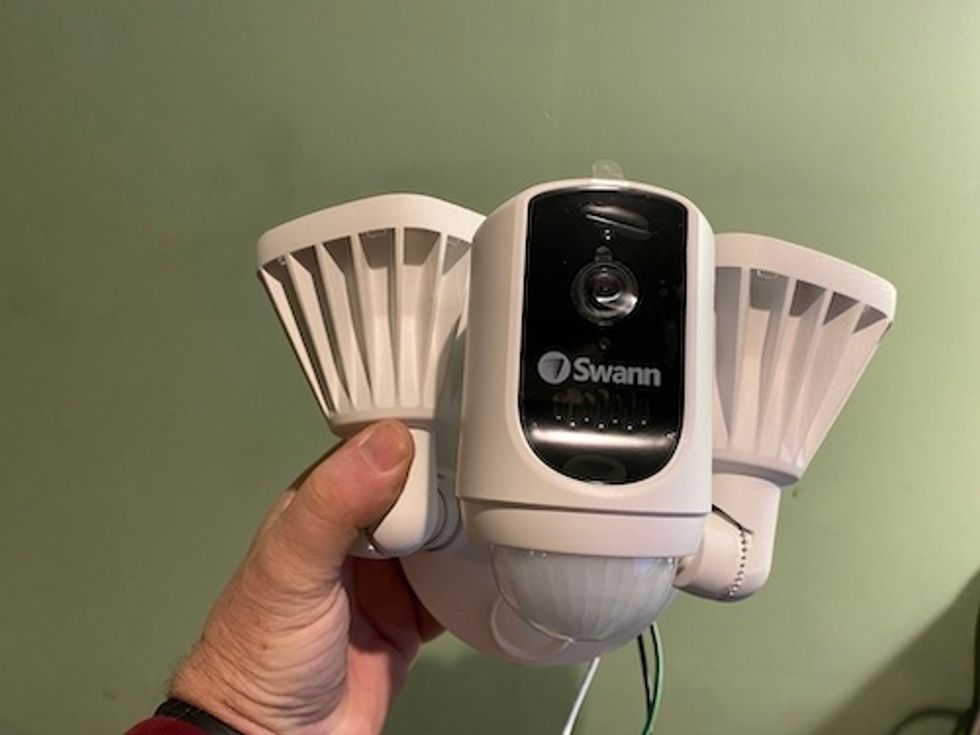 Swann Floodlight Camera is slightly smaller than other Floodlight CamsGearBrain
Smart Integrations
Swann does not have a big ecosystem of smart device integrations but their cameras do work with both Amazon Alexa and Google Assistant smart speakers and displays. If you have one of these devices, you will be able to ask Google or Alexa to show you video from your Swann Floodlight Security Camera as well as ask it to start to record if you hear a noise outside. You can even ask to have the siren to go off and scare away any unwanted visitors.

Free video storage
When buying a security camera, you are faced with figuring out where to store your videos. Can you do it locally (i.e. on the camera) or in the cloud. With Swann Floodlight Security Camera, you get seven days of free video storage in the cloud. It's a rolling seven days and you can easily download videos and pictures from their free mobile app which is available at App Store (iOS) or Google Play (Android).
Price
The Swann Floodlight costs $179.99 and is available on the company website as well as on Amazon, Best Buy and B&H.
Testing
For our testing, we will be looking at how well this floodlight camera performs in a real home. We are going to install it outside and monitor its performance and how it holds up to the weather. We want to see how easy it is to setup and operate. We will also report back on the setup process with a Google Assistant smart display. We will report back on test results in our review of the Swann Floodlight Security Systems Wi-Fi Series.
Ring did a nice job in creating a new market, smart video doorbells. They also were one of the first companies to come to market with a floodlight camera. It will be interesting to see if the Swann Floodlight Security System can be a good alternative to the Ring Floodlight which is very good but also very expensive.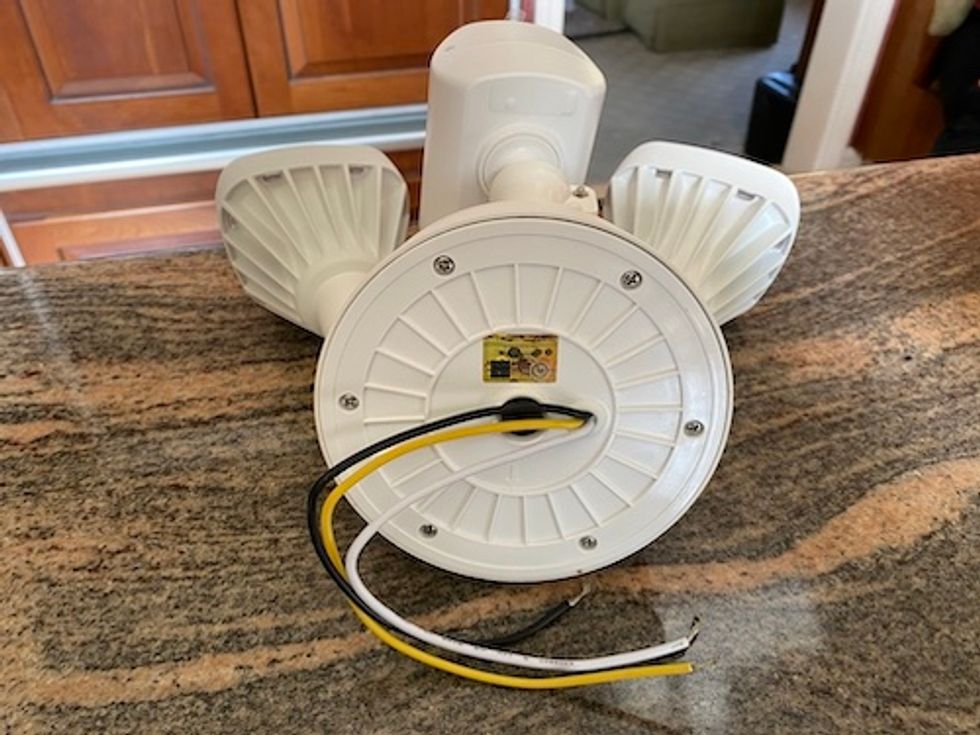 Backside view of Swann Floodlight Cam.GearBrain
From Your Site Articles
Related Articles Around the Web
Like GearBrain on Facebook