Like GearBrain on Facebook
We talk a lot about the smart home here at GearBrain, but the idea of a 'smart hotel' is gradually becoming more prevalent, too. In a bid to wow guests with gadgets, hotels are installing smart lighting, smartphone app-controlled concierge, and even robots to deliver your room service.
Some of the hotels featured here play it simple with ambient lighting, smart TVs, and an app for ordering food, while others serve up augmented reality-powered maps on the walls, and a giant robotic arm for managing bag-drop down at reception.
Read More:
Granted, those are not features you would likely install in your own bedroom, but hotels are also embracing the virtual assistants we are increasingly using at home. Alexa, for example, is being made available at Marriott hotels starting this summer, letting guests adjust the room temperature and lighting with their voice.

Here are eight of our favorite tech-filled hotels to visit on your next vacation:
Yotel, New York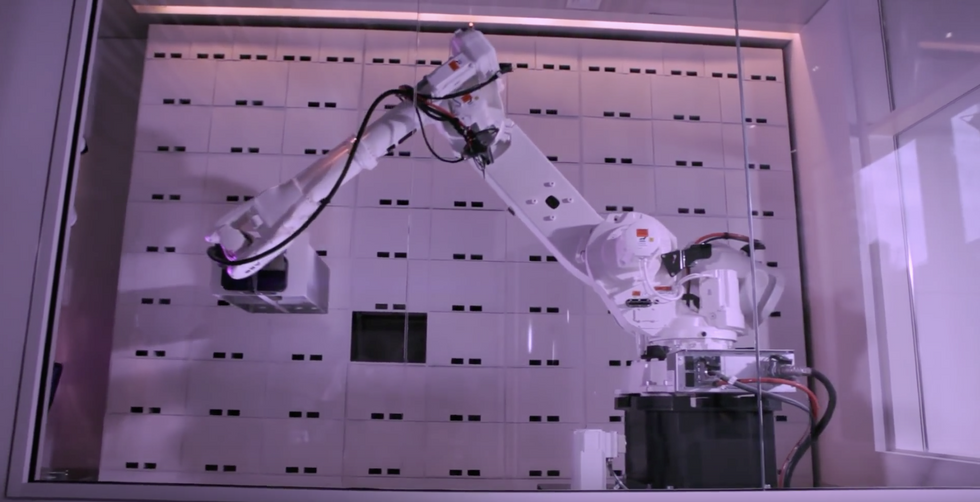 The Yobot manages a luggage storage service all by itselfYouTube: Yotel
Rooms at the Yotel include beds which transform into a futon with a push of a button, and the TV screens can be made to show the hotel's own 30-minute sleep-inducing relaxation video. But most impressive is the Yobot, a robotic arm which was installed back in 2011, yet still looks like something from the future.

The Yobot is stationed in the hotel lobby behind a glass screen (for its safety or ours, we're not quite sure), and manages a luggage storage system all on its own.
Using a 20-foot arm, the robot takes guests' bags and stores them in compartments until they return to retrieve them later.
Wynn Las Vegas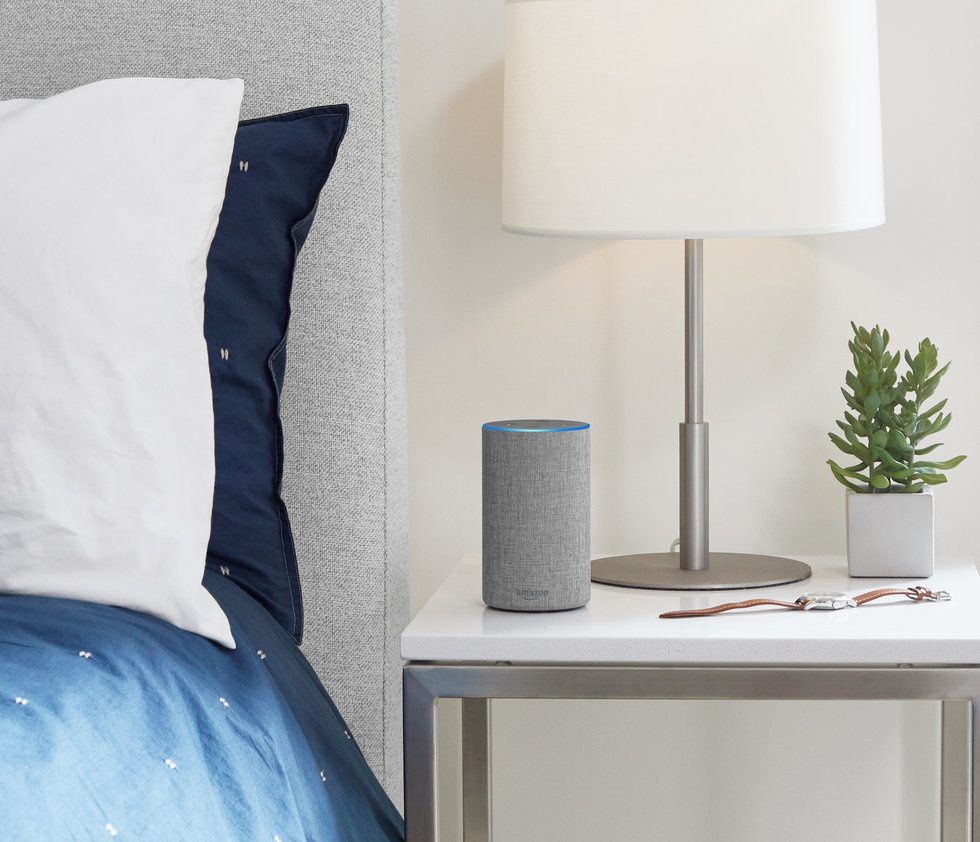 Alexa at the Wynn controls lighting and heating with voice commandsAmazon
Another early adopter is the Wynn hotel in Las Vegas, which installed an Amazon Echo smart speaker with Alexa in every one of its 4,700 rooms over the summer of 2017.
Amazon has since launched its own hotel-optimized system for the assistant, called Alexa for Hospitality, but Wynn opted to go its own way and get a head-start on the competition.
Guests at the Wynn can speak to Alexa to control the lighting, curtains and temperature in their room, and to play video on the TV or music through the soundsystem. Larger suites are given multiple Echo speakers so Alexa can hear instructions from wherever you stand, and hotel-specific skills include switching housekeeping on or off, and setting a do-not-disturb for your room.

Guests can also use Alexa for the regular tasks they might be more familiar with, like asking for a weather forecast and the day's news headlines
Hub by Premier Inn, London
The wall sketch turns into an AR map with a smartphone appPremier Inn
A new hotel chain opened in 2015 and offering basic, compact rooms, Hub by Premier Inn offers a smartphone app to speed up check-in and control your room's heating and lighting. As an alternative to using the app, a glass touch panel by the bed offers the same functionality. Every room has a 40-inch smart TV, which can be controlled from the smartphone app or with a regular remote.
Instead of hanging the do-not-disturb sign on your door handle, the app can be used to illuminate a sign outside when you fancy a lie-in without the cleaners disturbing you.

Augmented reality is used to turn a simple sketch of London on the wall of each room into an interactive map. Point your phone at it, and the map shows attractions and things to do in each area of the city, along with reviews of bars and restaurants.
Aloft Cupertino, California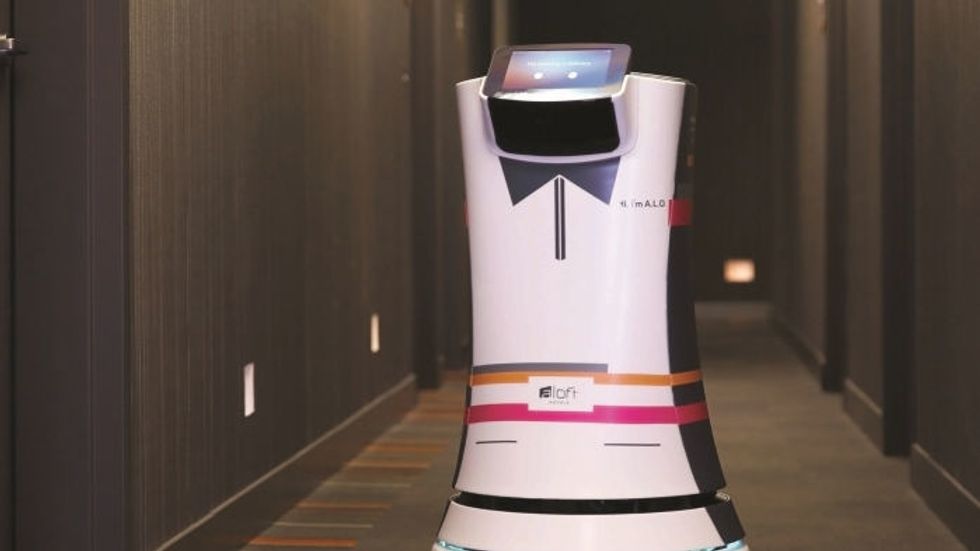 Because every hotel needs a robot butler...Aloft
Employed by the Aloft hotel in Cupertino, just across town from Apple HQ, is Botlr, a robotic butler who delivers room service without any human help. The robot is 3ft tall and has a storage compartment measuring two cubic feet, giving Botlr space for delivering forgotten essentials like toothbrushes and plug adapters, and snacks.
The robot is loaded up by staff, then calls itself an elevator and navigates to the customer's room. Once there, it uses the hotel's phone system to alert the guest, then unlocks its storage compartment when it senses the room door has opened.
Botlr can also be summoned to deliver fresh towels to you while you're at the pool, and is available for room deliveries 24 hours a day.
Room 2425, Hilton Panama City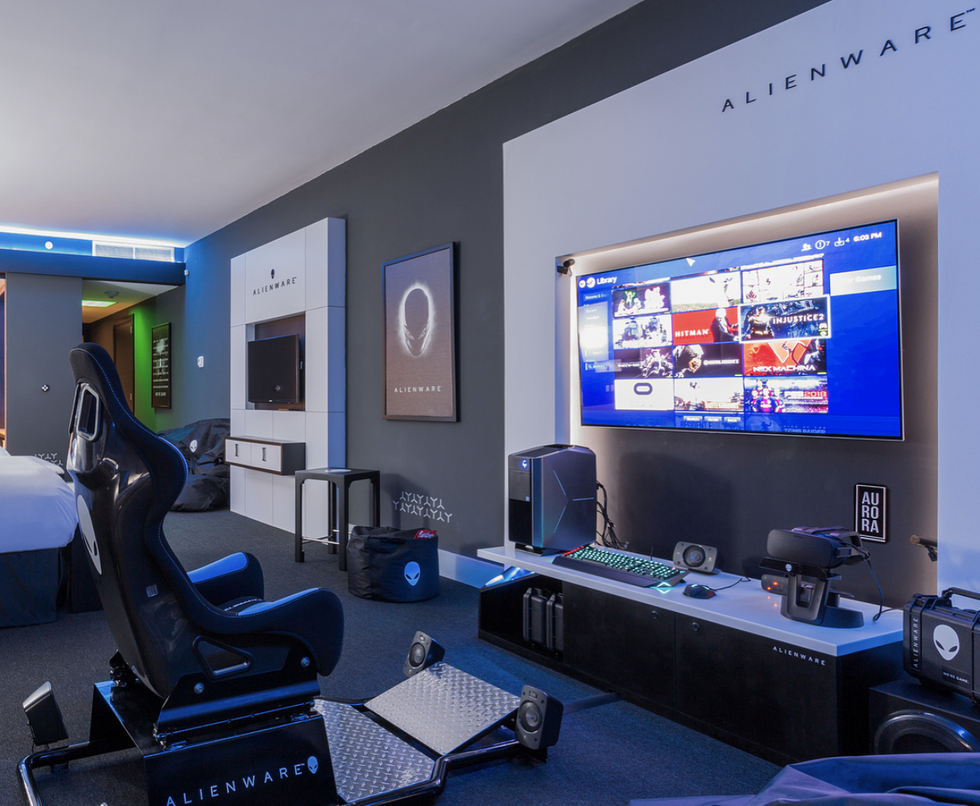 There are two beds in here, but you probably won't be using them Instagram: xataka
A trip to Panama City isn't exactly synonymous with video games, but that hasn't stopped Hilton from teaming up with Alienware to create the ultimate gaming den in one of its rooms.
Room 2425 of the Panama City Hilton includes an Alienware gaming PC, Oculus Rift VR headset and an Xbox One with Elite controllers. These are all hooked up to a massive 65-inch Ultra HD television, and you can choose from sitting at a race car-style gaming chair or on a huge bean bag.
Finally, there is a surround sound system and smart lighting which reacts to the action on-screen.
i hotel by 1688 Inn, Taiwan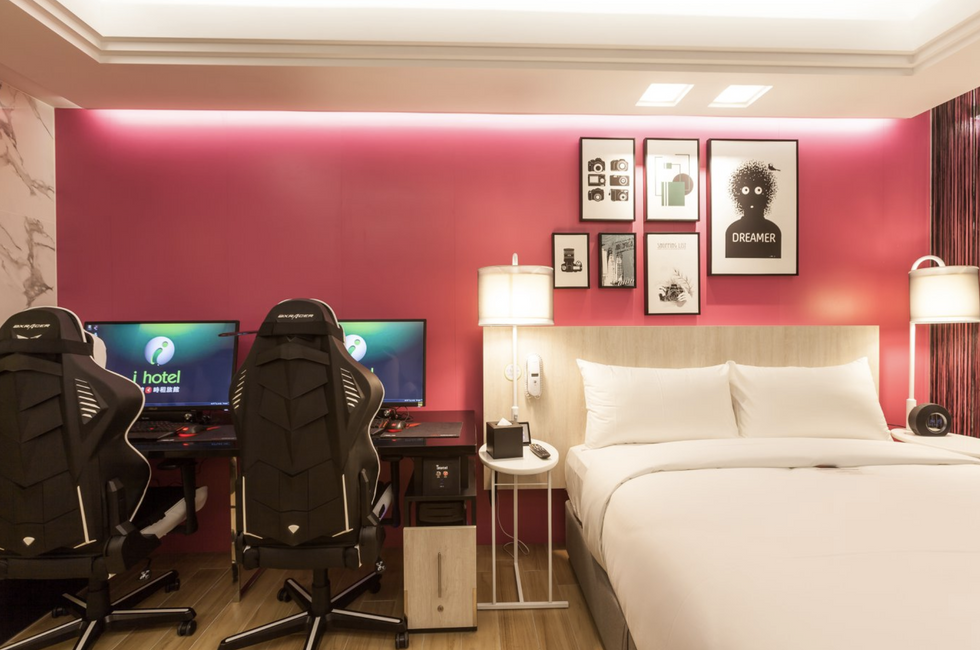 Every room comes with two gaming PCsFacebook: 168inn
Taking things a step further, the i hotel in Taoyuan District, Taiwan has two high-end gaming PCs in every room, complete with gaming mice and keyboards, 32-inch monitors, and a 46-inch television.
For a more social gaming session, guests can head downstairs to a purpose-built 12-seat gaming arena. Catering for guests who only want to game and not stay the night, i hotel offers an hourly rate.
Eccleston Square, London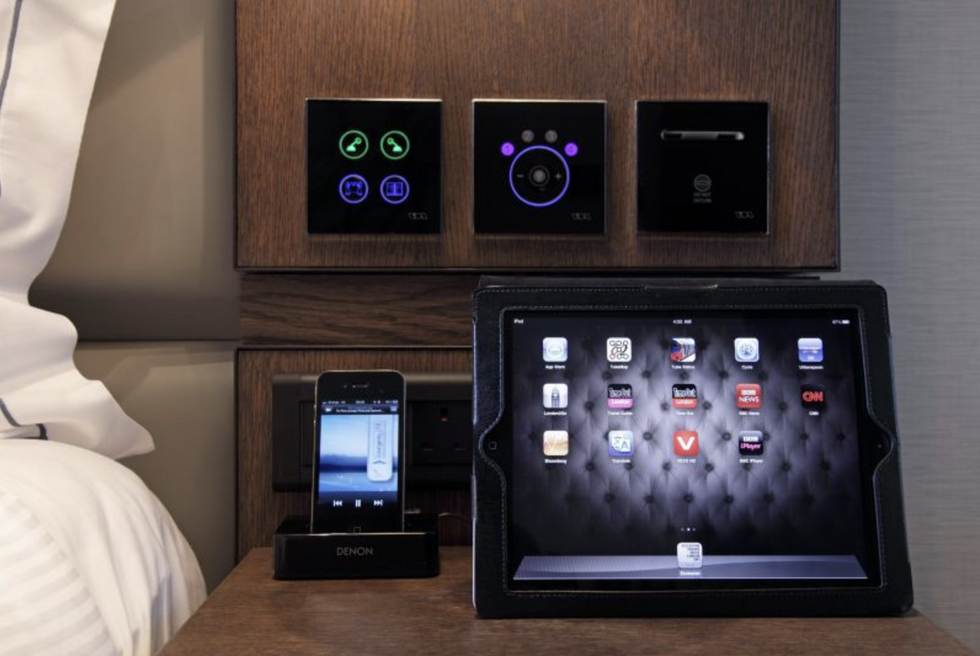 Room lights and heating are controlled with an iPadEccleston Square
This hotel takes a classic old building and injects modern technology by giving every room an iPad for controlling the heating, lighting and music. The iPad can also be used to order room service and contact the concierge, while there is a 46-inch television in the bedroom and a second, smaller screen embedded in the bathroom mirror.
Sticking with the bathroom, the showers of Eccleston Square have instant-frosting glass which can be switched on or off with a button. As well as the in-room iPad, guests are given a smartphone for the duration of their stay, offering free calls and unlimited data to be used while sightseeing.

The Scarlet Hotel, Cornwall, UK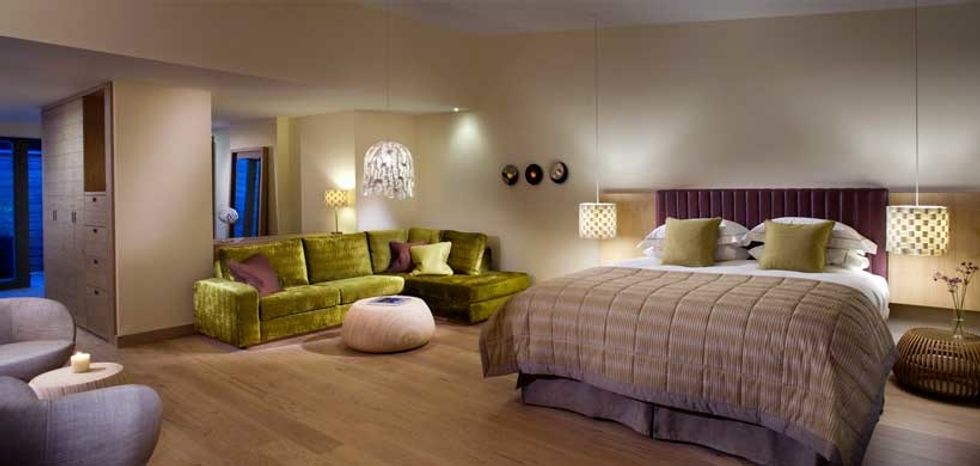 Philips Hue bulbs are used to lower the energy bills and offer guests a way to make their room uniqueScarlet Hotel
Highlighted as a case study by Philips Hue, the Scarlet prides itself on being environmentally sustainable, and part of this means LED smart bulbs are used everywhere. Guests can change the mood of their room by picking from several custom-made lighting scenes, including 'ambient', 'bright', 'relax', 'bath', 'night', and 'balcony'.
Motion sensors are used to switch off lights in vacant rooms, and ambient light sensors help lower the hotel's energy demands by only illuminating when necessary, depending on the weather and time of day.
Don't forget to check out The GearBrain, our smart home compatibility checker to see the other compatible products that work with Amazon Alexa and other leading smart home devices and systems.
Related Articles Around the Web
Like GearBrain on Facebook