As any green-fingered friend will tell you, there's much more to gardening than simply drenching the lawn and flowerbeds with a hosepipe each evening.
The climate can affect how much water your plants need, of course, but so too does the type of soil your garden has, and how much sunlight it gets each day. Because the weather often varies from one day to the next, how much water your plants need also changes – and different plants require drastically differing amounts of water.
Read More:
An increasingly important consideration here is water waste, which not only costs you money, but can be a waste of local resources and bad for the environment.
Thankfully, you don't need to be a horticultural expert to give your garden exactly the right amount of water each day. A number of smart irrigation can take care of this for you, and many also tap int smart home systems like Amazon Alexa, Google Home, Apple HomeKit, and IFTTT (If This, Then That).
With the summer approaching, here is GearBrain's guide to some of the most popular smart irrigation systems on sale today:
Rachio 3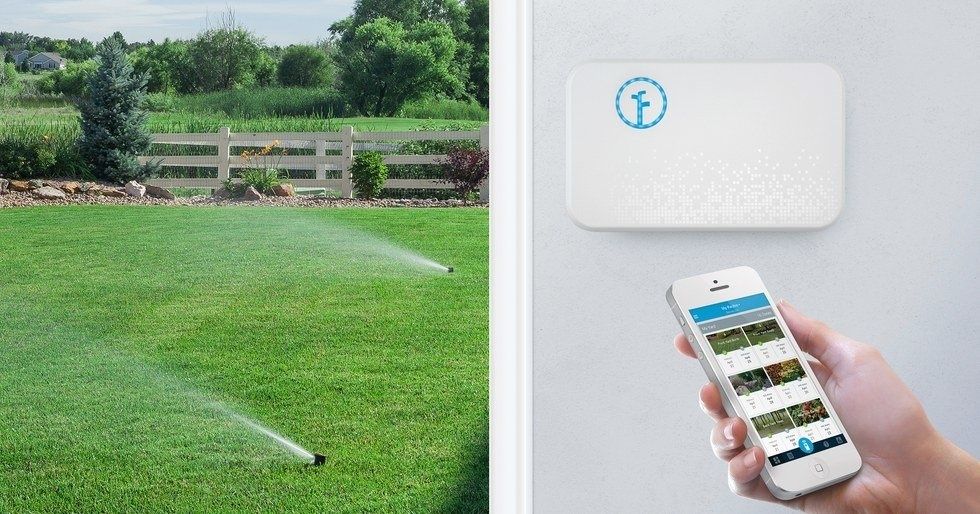 The Rachio 3 can water 16 different zones across your garden
Rachio
Just a year old, the third-generation Rachio smart watering system can control water in up to 16 zones across your garden.
Rachio claims this system can pinpoint the weather to within a 36-foot radius of your home. Keeping such a close eye on the local weather means the Rachio will adjust its scheduled watering based on the forecast. That way, your garden won't be flooded, while your plants and lawn get the exact amount of water they need.
For an extra $50, the Rachio 3 can be bought with the company's water flow meter, which attaches to your pipe and alerts you to changes in flow, which could be a sign of a leak.
The system can be configured to switch on when a security camera detects movement in a certain area — a useful burglar deterrent — and you can set a sprinkler to activate if a Nest Protect alarm senses smoke. Fitting a Protect sensor in your shed or garage, and a sprinkler by the door, could make for a useful fire containment system.
A neat feature is that the Rachio app warns you just before the sprinklers come on - useful if you're having a garden party and forgot to adjust the schedule.
There's a smartphone app for programming and controlling Rachio, but the system can also be used via
Amazon Alexa
, Google Home,
Samsung SmartThings
, IFTTT, Wink and even a Nest thermostat if you have one.
GearBrain reviewed
the second-generation
Rachio 2 ($170)
and gave it 9 stars out of 10. We liked Rachio's customer support, who are on-hand to help with installation questions, and how well it integrates with other devices.
Orbit B-hyve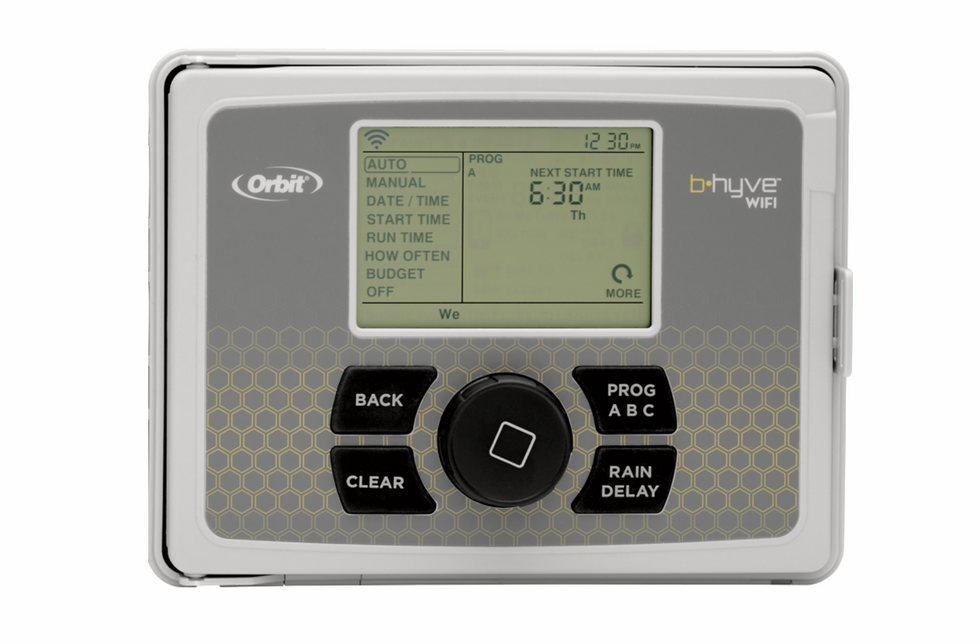 The B-hyve is a strong option for gardeners on a budget
Orbit
Starting at $79 for a system capable of watering six zones (or $99 for 12 zones), the Orbit B-hyve is one of the more affordable smart sprinkler controllers. But that doesn't mean it misses out on features, as it can still be tweaked based on the type of plants, sprinklers and soil in each zone.
The app also lets you input sun exposure, shade, and gradient data for each zone. It then adjusts its watering schedule based on local weather forecasts provided by the National Oceanic and Atmospheric Administration. If rain is due in your area, watering is delayed.
GearBrain reviewed the Orbit B-hyve and we were impressed with how the system splits each watering event into two halves with a short gap between; that way, water can soak into the soil and your plants won't drown.
Smartphone notifications let you know when watering has finished, if it has been delayed by rain, and when temperatures fall below freezing.
Orbit B-Hyve XR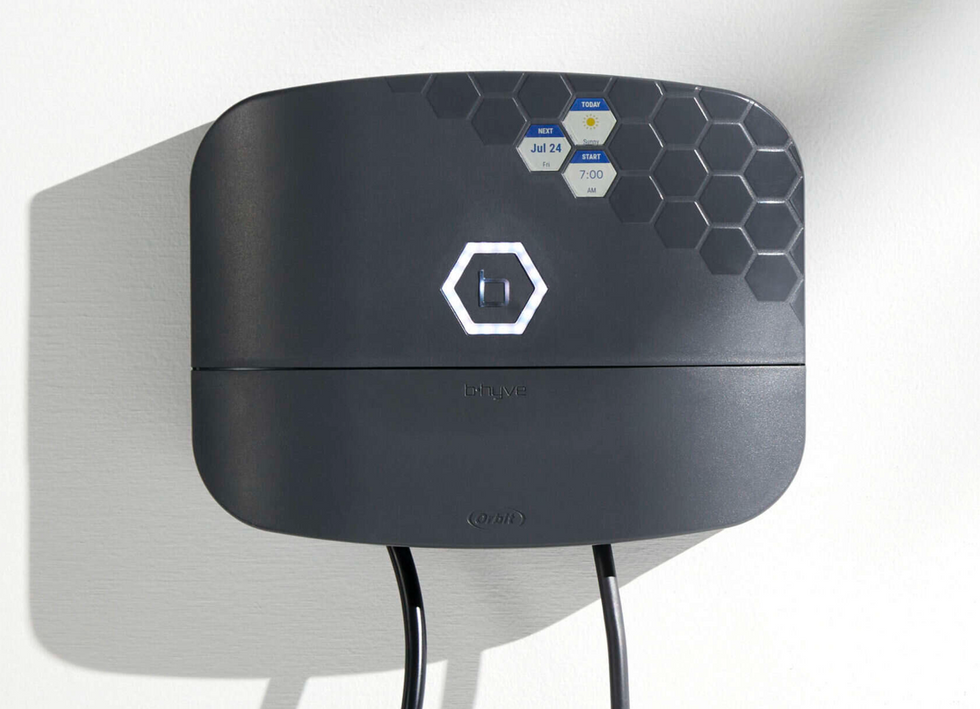 Obit B-hyve XR smart garden sprinkler
Orbit
A newer option from Orbit is called the B-hyve XR. This smartphone-controlled sprinkler adjusts water distribution depending on local weather forecasts to prevent over-watering, has a strong, dual-band Wi-Fi connection, and is designed to work with iOS and Android. The control unit comes in two versions, for connecting to eight or 16 sprinklers, and is weatherproof so can be installed outside.
A color LED display includes information on local weather and the sprinkler timer, such as whether the system has decided to delay watering due to rain. The B-hyve XR is priced at $150 for the eight-zone model and $180 for 16 zones, with free delivery.
Wyze Sprinkler Controller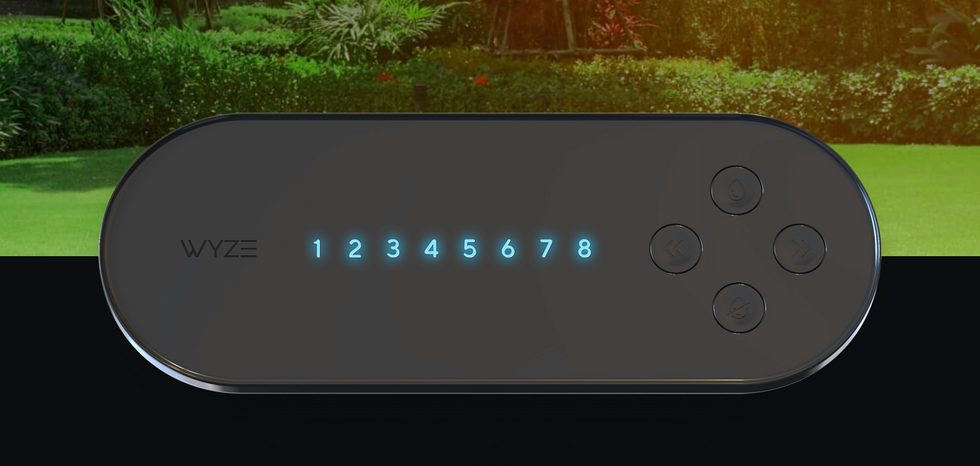 Wyze Sprinkler Controller
Wyze
At this point, there isn't much cut-price technology firm Wyze doesn't sell. One of the Chicago-based firm's newest products is the Sprinkler Controller which true to form, costs less than most others, at $57.98 plus shipping. Designed fo a DIY installation, the Wyze sprinkler can control up to eight zones uses local weather forecasts to determine when to water and when to hold back, has a simple scheduling system, and a smartphone app for iPhone and Android.
The sprinkler uses 12 parameters to determine how much water each of the eight zones requires, and you can implement daily water limits to comply with local restrictions, if in force. As well as the app, there are buttons on the control unit itself for manual control of the sprinkler.
Some of the more advanced features, like weather-based watering and soil moisture details, are only included with a subscription to Wyze's Sprinkler Plus service. A year is included with the sprinkler, but after that Sprinkler Plus is priced at $9.99 a year.
Netro Smart Sprinkler Controller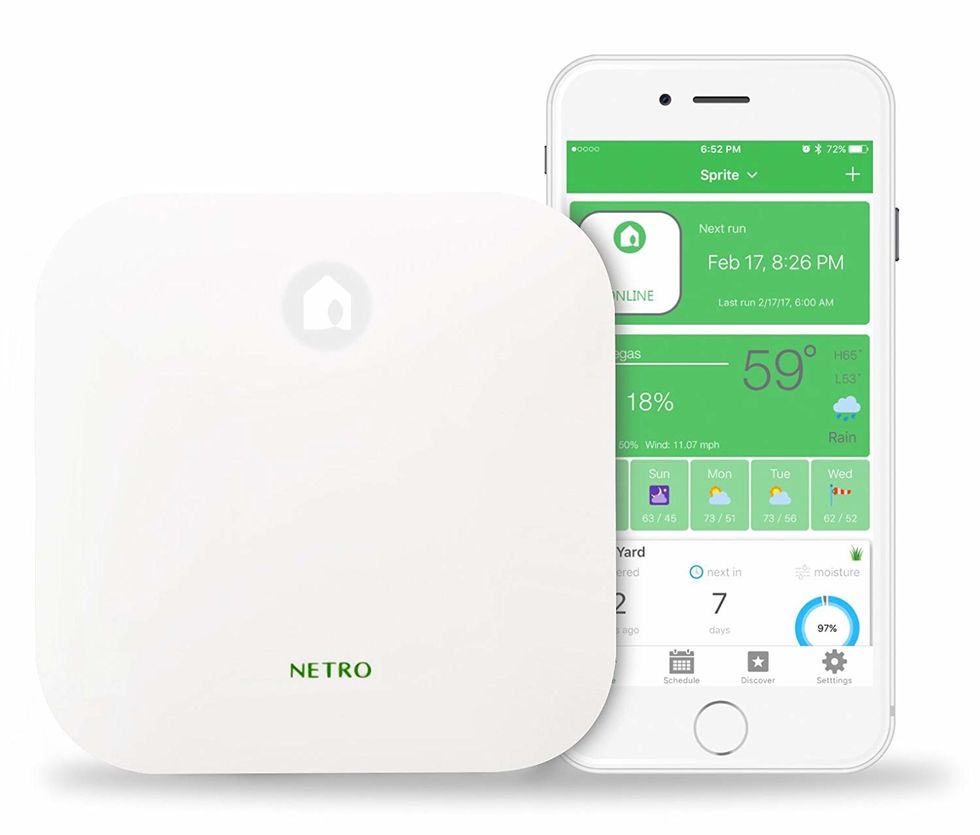 Installation takes just 15 minutes, Netro says
Netro
This smart sprinkler system by Netro can control six zones across your garden and is compatible with Alexa, so you can control it by speaking to the Amazon assistant.
The amount of water distributed in each zone is adjusted based on the plants you have living there, along with the weather forecast and historical climate statistics. Being connected to the Wi-Fi means you can control the system remotely - while away on vacation, for example - from your smartphone (iOS or Android).
Netro claims the system is simple enough to be installed in just 15 minutes, making this a good option for garden amateurs; no professional tools or skills required. The company also claims using the system could save you up to 50 percent on your water bill.
The Netro Plant Database contains the water requirements of over 1,000 common species of plant, so it's likely that whatever you are growing will be catered for, and the system will know how much to water them each day.
Rain Bird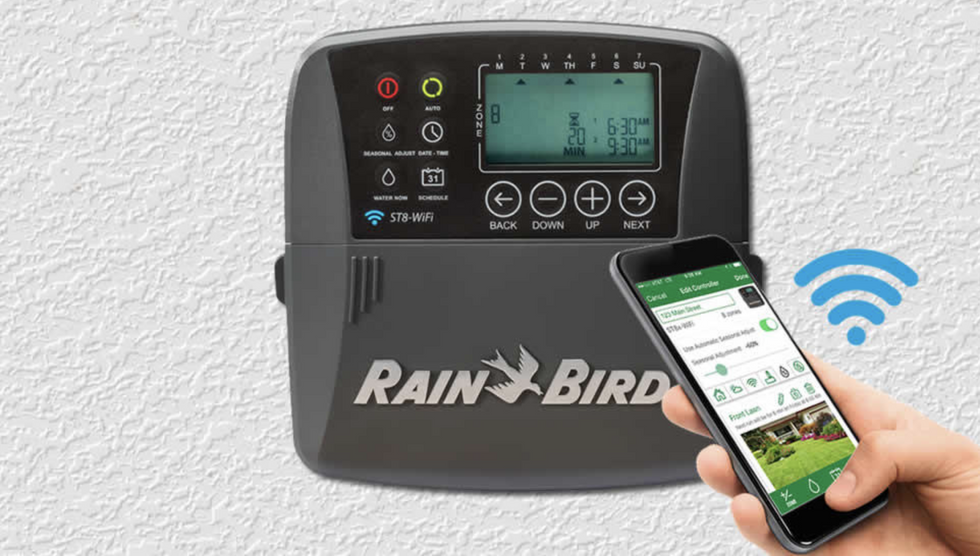 Rain Bird has made irrigation systems since the 1930s
Rain Bird
Rain Bird has been in the irrigation industry since the 1930s, so knows a thing or two about keep your garden watered correctly. The company's smart system combines a wall-mounted control center with a smartphone app and an internet connection via Wi-Fi to deliver the correct amount of water to each part of your garden.
The system, which can control up to eight individual zones, adjusts itself based on the weather forecast, but also seasonal changes in local climate and what your plants need throughout the year. You can set up to six start times per day, per zone, water for up to 199 minutes per session (useful if you need to give a new lawn a good soaking), and use an iPhone or Android handset.
Spruce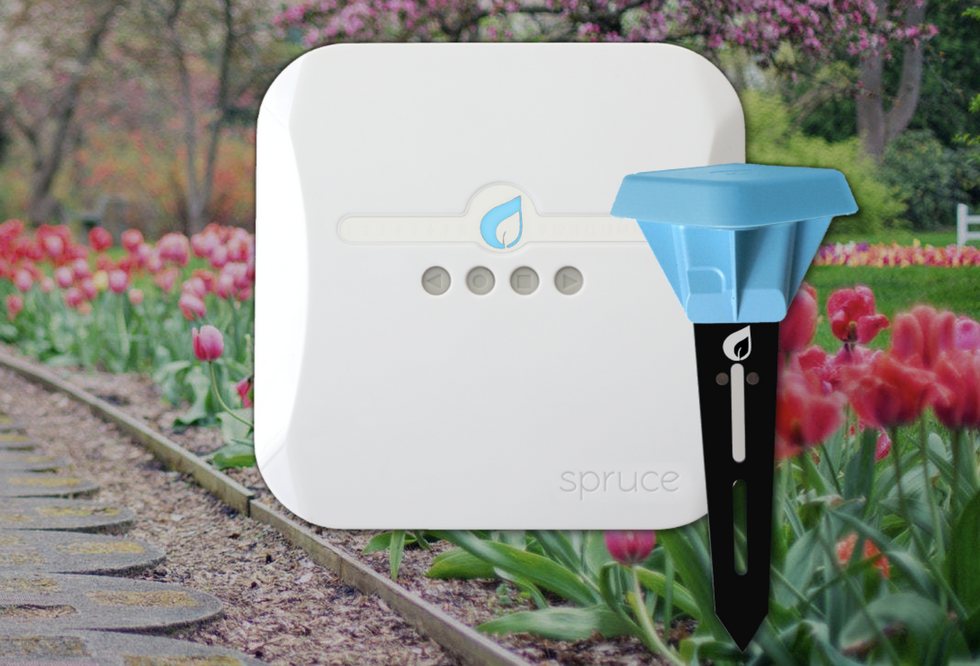 The Spruce system includes soil moisture sensors for real-time data
Spruce
For larger gardens - or gardens with a greater variation in plants - the Spruce is a good option, as it caters for you to 16 different zones. As well as delivering water based on the local weather forecast, the Spruce system also takes real-time readings from moisture sensors placed in your soil.
Spruce claims the system can lower your water usage by up to 60 percent if left to its own devices, although you can set up manual scheduling if you prefer to have more control over how much water is used. A water flow meter is also a part of the system, alerting you to any drops in pressure which could be the result of a leak in your irrigation system.
Amazon Alexa integration means you can control the Spruce by speaking to your Echo smart speaker. With Alexa you can ask the system to start or stop watering, enable or disable manual scheduling, and for information on recent waterings.
Scotts Gro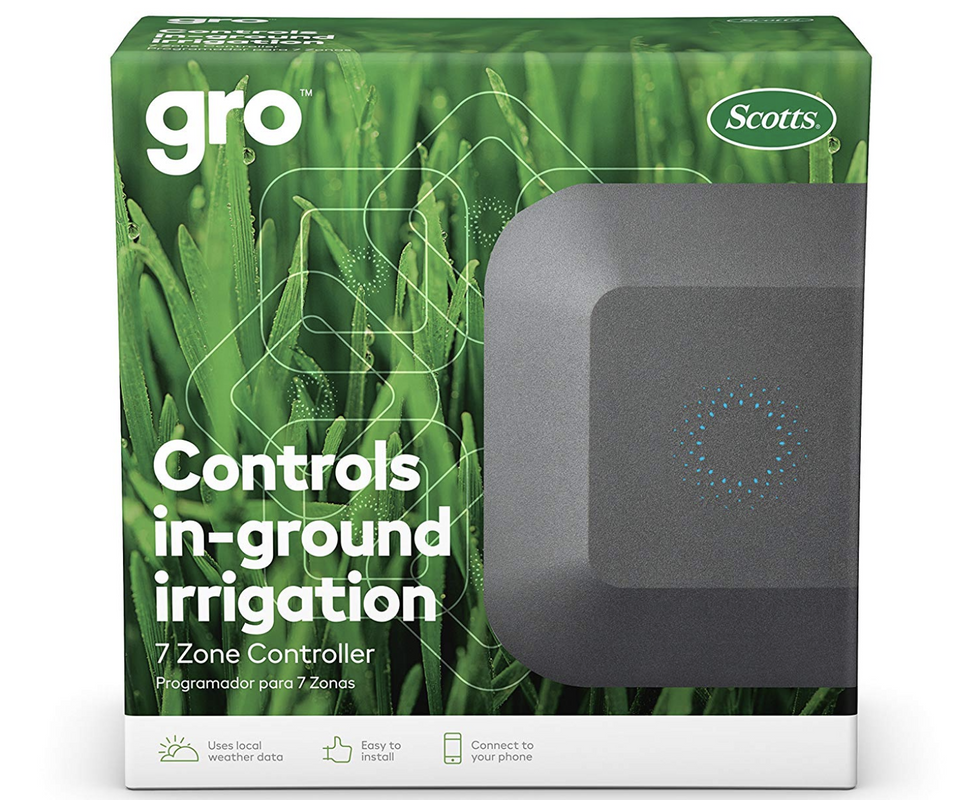 The Gro system by Scotts includes an Amazon Alexa skill for voice control
Scotts
Scotts Miracle-Gro will be a familiar name to anyone who is passionate about gardening, and its 7 Zone Controller was previously sold by Blossom, a startup acquired by Scotts in late-2016.
Giving the older company a leg-up into the smart garden sector, the 7 Zone Controller can control up to seven sprinkler zones across your garden. The controller unit needs to be installed indoors (so inside your garage or shed, ideally) as it isn't weatherproof, and once set up you can control the system from the Gro smartphone app for iOS and Android.
As with others, the Scotts Gro programmes itself based on local weather forecasts and it can be controlled by speaking to Amazon Alexa and Google Assistant.
RainMachine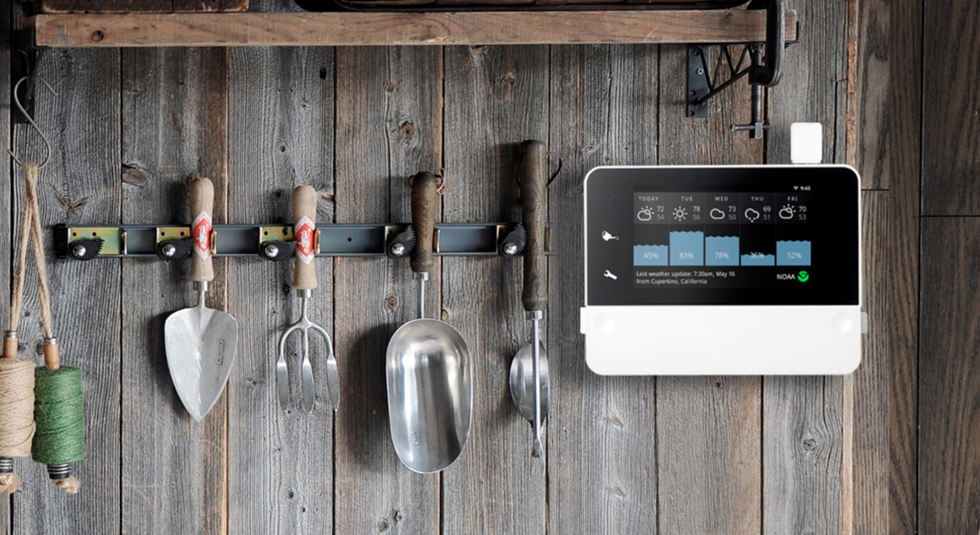 The Rain Machine features a 6.5-inch touchscreen display
Green Electronics
While smartphone and Alexa control of your sprinkler is all well and good, sometimes it's convenient to just look at the control panel itself. That's where the RainMachine comes in, with its 6.5-inch HD touchscreen for controlling every aspect of your watering system.
Because the RainMachine's internet connection is only used to check local weather forecasts (and adjust watering accordingly), every other aspect of its operation can be controlled and adjusted when your internet is down, unlike other services which require a permanent connection to the cloud.
As well as the control panel, the RainMachine has its own iOS and Android apps, and it can be bought with compatibility for 12 or 16 sprinkler zones. One of the most connected sprinklers around, the Rain Machine works with Alexa, Google Assistant, Apple HomeKit, IFTTT and Samsung SmartThings.
Skydrop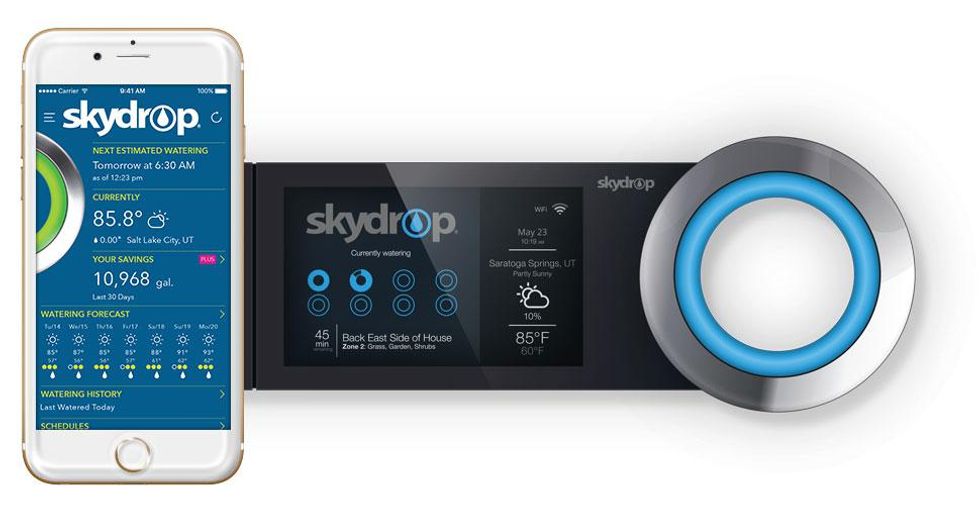 SkyDrop smart irrigation controller
SkyDrop
Finally, the Skydrop is an eight-zone smart irrigation system which checks hyperlocal weather forecasts hourly and has an integrated LCD display for direct control. There is also a companion app for iOS and Android, voice controls from Alexa and Google Assistant, integration with Nest thermostats, and the potential for connecting to many other devices via IFTTT (If This, Then That).
During setup, you can tell the app about the soil and plant types in each zone, plus the gradient of your land, how much sun and shade each zone gets, and what type of sprinklers you have. The Skydrop then automatically delivers the correct amount of water each day.
For controlling nine to 16 zones, a $50 expansion kit can be bought, and the controller unit can be placed outside if you purchase Skydrop's weatherproof housing, also costing $50.
And don't forget to visit The GearBrain see what other connected devices work with Google Home or Amazon Alexa enabled device.
Check out The GearBrain, our smart home compatibility checker to find the compatible smart sprinkler controller that works with your smart home devices.
The GearBrain, First Compatibility Find Engine for Smart Devices www.youtube.com