Like GearBrain on Facebook
With summer finally here – and many of us likely still spending more time at home than normal – now is the perfect time to start preparing your smart home to help keep you cool as the temperatures rise.
From smart thermostats and air conditioning units, to automated garden sprinklers, motorized blinds, robotic lawn mowers, and solutions for keeping your hay fever at bay, there's a lot to be done to get your smart home ready for the summer months. Here is the GearBrain guide to what you should install right now.
Smart thermostat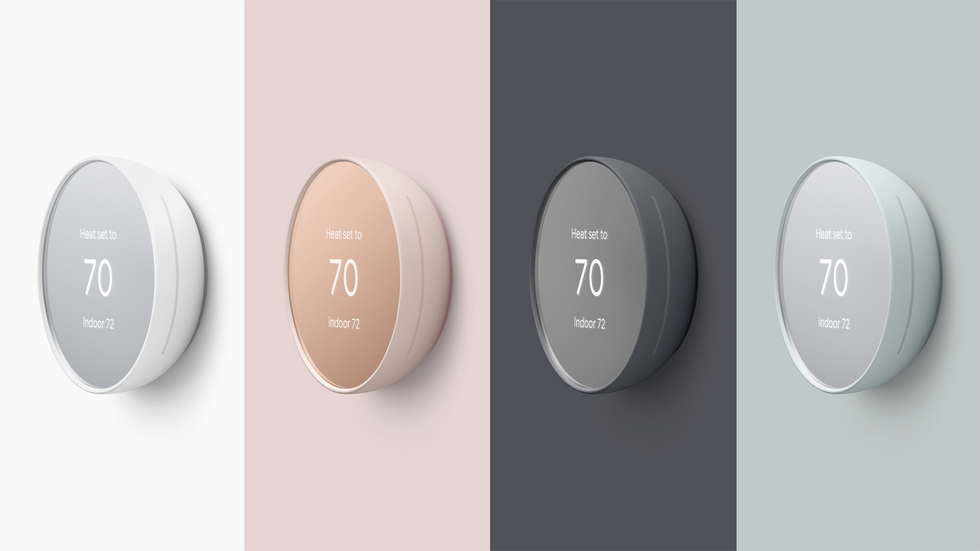 New nest Thermostat is available in four colors Google
Perhaps the most obvious smart device you'll want this summer in a connected, learning thermostat. The Nest Learning Thermostat and cheaper, newer Nest Thermostat both learn your preferences after a few days of use, then set about keeping your house cool (or warm during the winter) in the most efficient way possible.

Other solutions like those from Ecobee and Honeywell all offer smartphone and Alexa integration, and can take control of most HVAC systems. Additional sensors can be installed in your most-used rooms to make getting their temperature right a priority.
Read More:
Smart aircon controller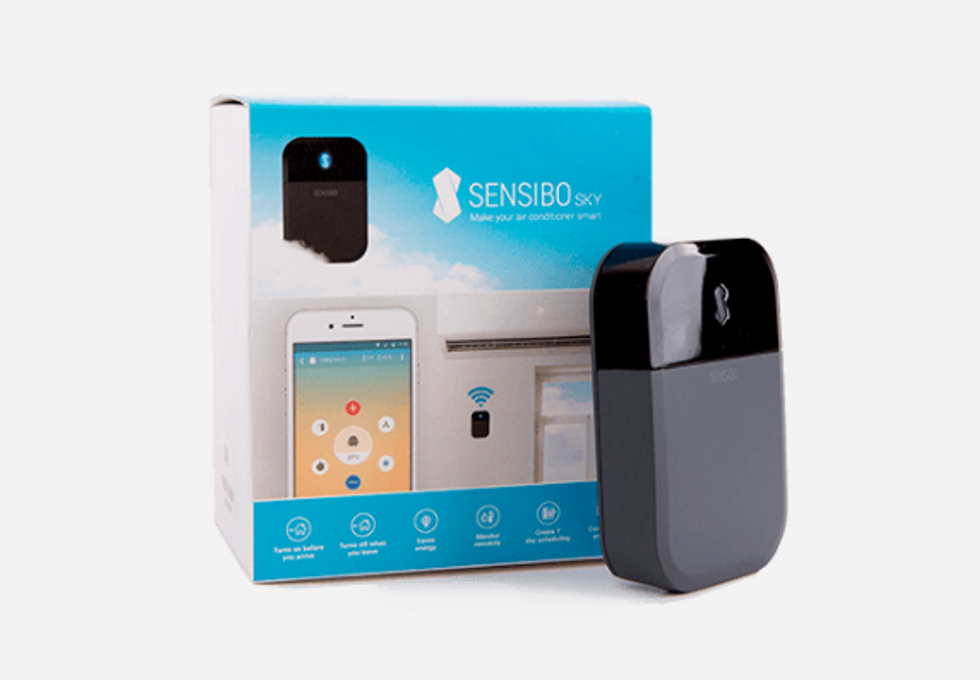 Sensibo
If you have air-conditioning units which are individually operated, they can be made smart with an infrared controller. The Sensibo and AirPatrol both cost under $180; they connect to your home Wi-Fi then send instructions to the A/C unit using the same infrared signals as the existing remote.
That way, you can control the A/C while away from home, cooling rooms down on your way back from the office, or shutting the system off when the weather doesn't get as warm as expected. These devices include built-in temperature and humidity sensors, and seven-day timers to further automate your A/C units.
Read More:
Fan connected to a smart plug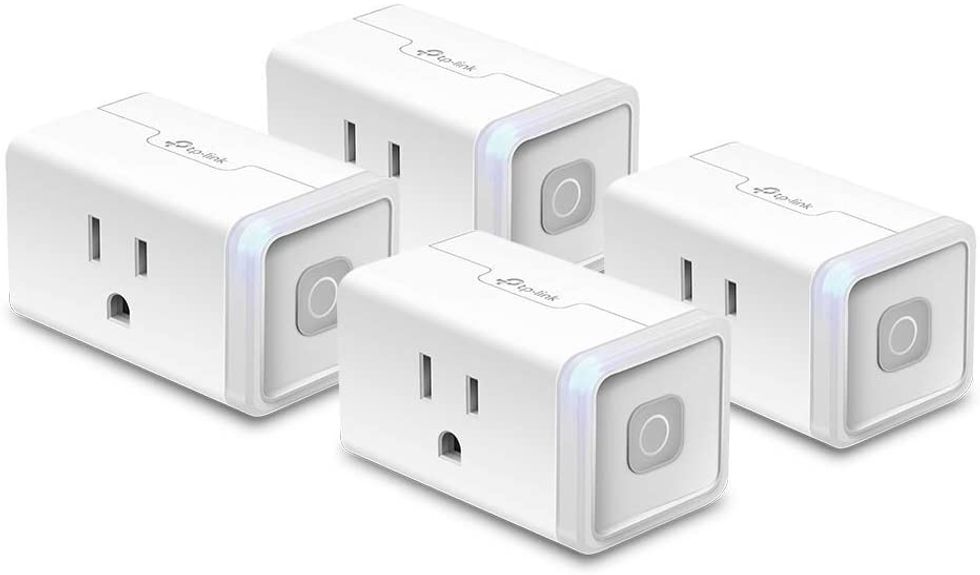 Smart plugs cost from around $7 to $10 each TP-Link
A low-tech, low-cost solution is to use the trusty smart plug. There are dozens available from retailers like Amazon and they can cost from less than $10. They connect to your Wi-Fi and a smartphone app, which switches them on and off.

Connect a smart plug to a fan or portable air purifier and that device can now be controlled remotely, and by speaking to Alexa, Siri or the Google Assistant. As long as the device starts working the moment it is switched on at all the wall outlet, then a smart plug can control it too. You can use the plug's app to control it manually or have to adhere to a custom schedule for each day and week. Add in IFTTT integration and you can configure a smart plug to switch on when the temperature reaches a certain level.
Read More:
Keep hay fever at bay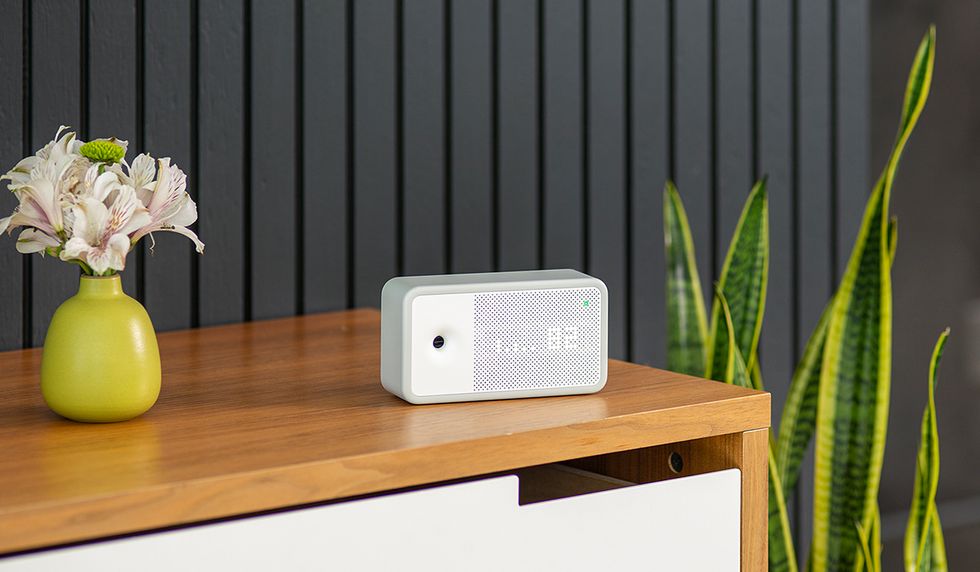 The Awair Elements air quality monitor Awair
Here at GearBrain we have previously looked at using the smart home to help keep our hay fever under control. At its simplest, this involves hooking up a fan or air purifier and a smart plug. But add an air quality monitor like the Awair, dig deeper into IFTTT (If This, Then That), and you can add a degree of intelligence and automation to your system. AirThings recently added pollen stats to its home air quality app, helping you understand the pollen levels each day, and even what time of pollen is most prevalent each day.

Read More:
Awair Element Indoor Air Quality Monitor
Door and window sensors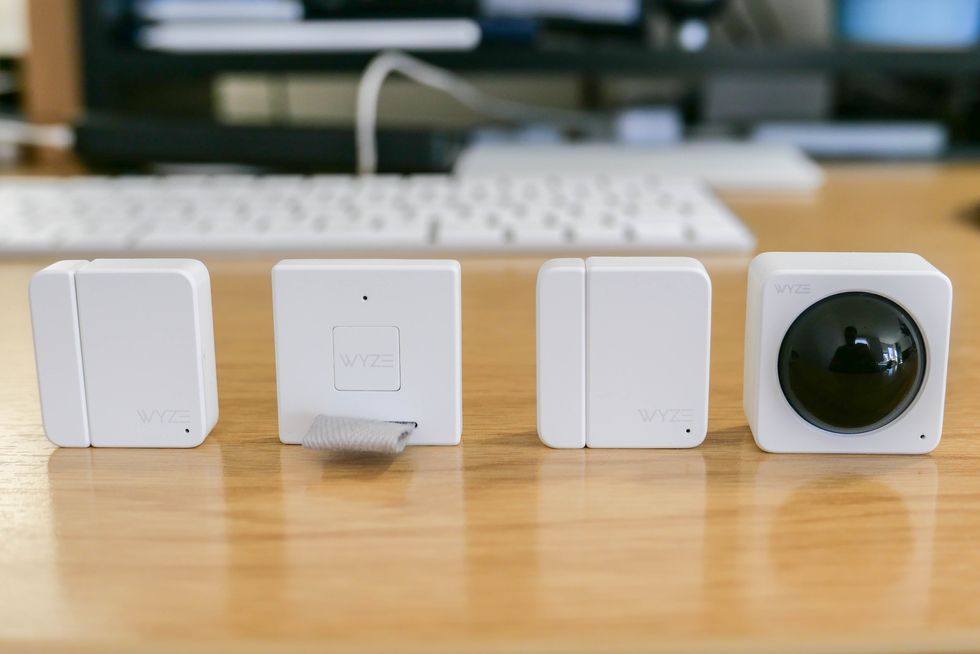 Wyze Sense includes two door/window sensors in a $20 kit GearBrain
When running the air conditioning, it's important to keep your windows and doors closed, keeping the cool air in and lowering your energy bills. As such, door and window sensors designed primarily to alert you to a break-in can also say if a window has been left open by mistake when the A/C is on.

Just pick up your smartphone (or, in some cases, ask Alexa, Siri or the Google Assistant) and you can see right away if a window or door needs closing before the A/C is switched on.
Note: The pictured Wyze Sense is currently unavailable (as of June 2021) and the company says customers can expect the next generation of Wyze Sense soon.
Smart blinds and windows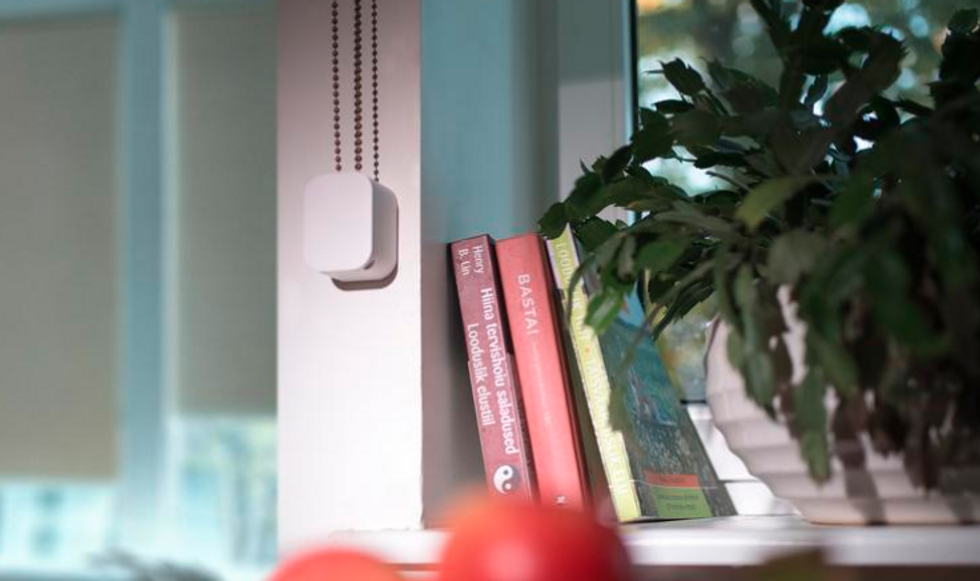 Soma
Motorized blinds from companies like Lutron, Somfy and Pella are not cheap – you'll be looking at around $300 per window – but they provide a complete solution.
Blinds can open and close at set times during the day, or based on the day's sunrise/sunset times and weather forecast. You can also speaker to Alexa (of course) and have the blinds lower with a voice command when you get too warm.
More affordable options come from Soma and Axis, which produce motors designed to attach to your existing blind. These both have Alexa support and the option to be solar-powered if installed in a bright enough location.
An option for European readers is the Velux Active system with Netatmo integration. This is a motorized windows that can be programmed to open and close based on the ambient temperature and local weather recorded using a Netatmo home weather station. This system automatically opens the window to reduce poor internal air quality, and works with Apple HomeKit.
Outdoor smart lighting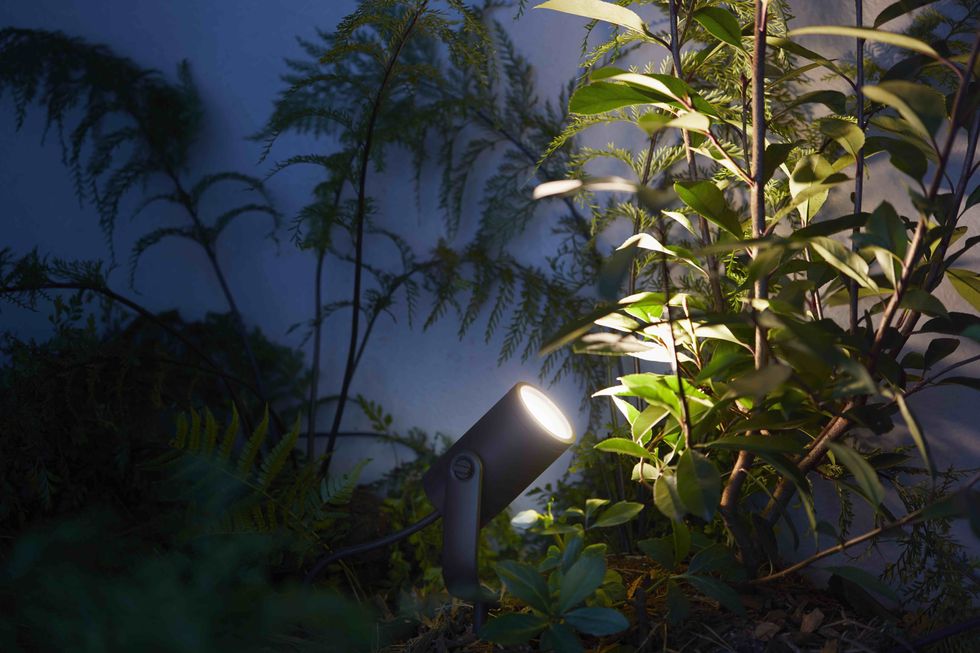 Philips
Signify has a large range of outdoor options as part of its Hue smart lighting system. This includes lights to attach to the walls of your house, spotlights for casting light onto particular parts of your garden, and bollard lights for illuminating a path or driveway.
Just like indoor Hue lights, the outdoor offerings are controlled via the Hue smartphone app, or via Alexa, Google Assistant and Siri. Each bulb can be set to millions of different colors, and you can add timers, switches, dimmers and motion sensors into the mix to create a truly unique and highly customizable system.
Garden sprinkler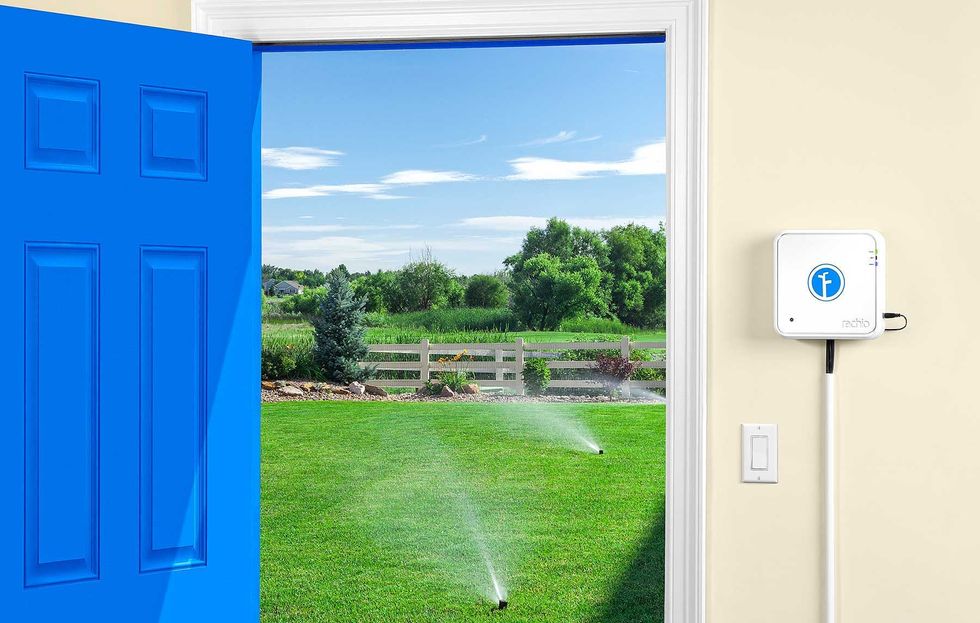 Rachio
Sticking with the garden, it's likely that your lawn and flowerbeds will need some help over the summer. Instead of using a conventional hose and wasting water as you navigate across the garden, a smart irrigation system will spray just the right amount of water, depending on your soil, plants, topography, and the weather.
Systems like the Rachio, Spruce and Orbit b-hyve monitor 'hyperlocal' weather forecasts to know exactly how much water to deliver, depending on whether it has rained or not.
You'll want to set aside an afternoon to get these systems installed and set up, but once you have done they will mostly look after themselves - and keep your garden healthy while saving money on your water bill.
Read More:
Robotic mower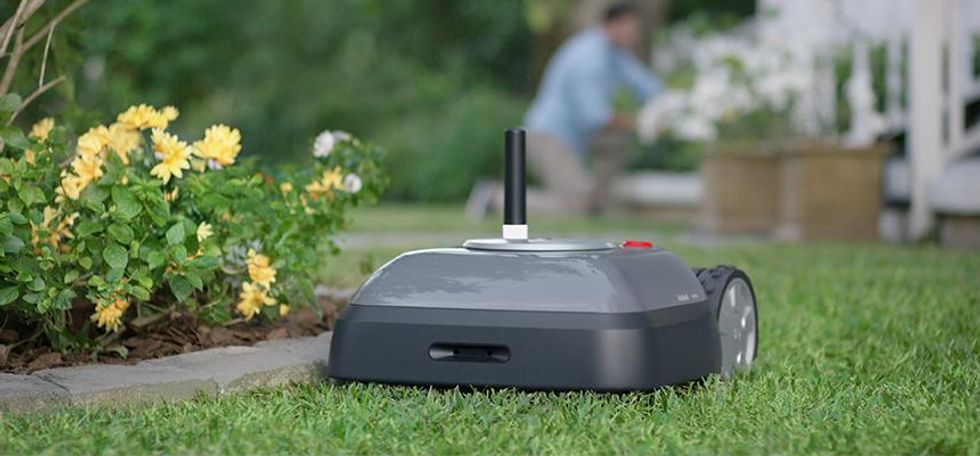 The Terra robotic lawn mower by iRobot iRobot
Finally, if you've already got a Roomba busy sweeping up dust from your floors, you'll probably want a self-driving mower for the lawn, too. An expensive gadget, we admit, with prices starting at around the $900 for the WORX Landroid, then rising to over $3,000 for the 30-pound Husqvarna Automower, which can cut lawns of up to 1.25 acres.

Read More from GearBrain:
Check out The GearBrain, our smart home compatibility checker to see the other compatible products that work with Google Assistant and Amazon Alexa enabled devices.
Like GearBrain on Facebook