Like GearBrain on Facebook
You'd be forgiven if you thought Toy Fair was a festival of stuffed animals, board games and colorful blocks. Certainly the toy makers hawking their wares at the Jacob Javits Center this year showcased many traditional toys children love. But robotic inchworms, Wi-Fi connected paper airplanes and augmented reality toys were on full display. Our favorites? All of them.
PowerUp Darts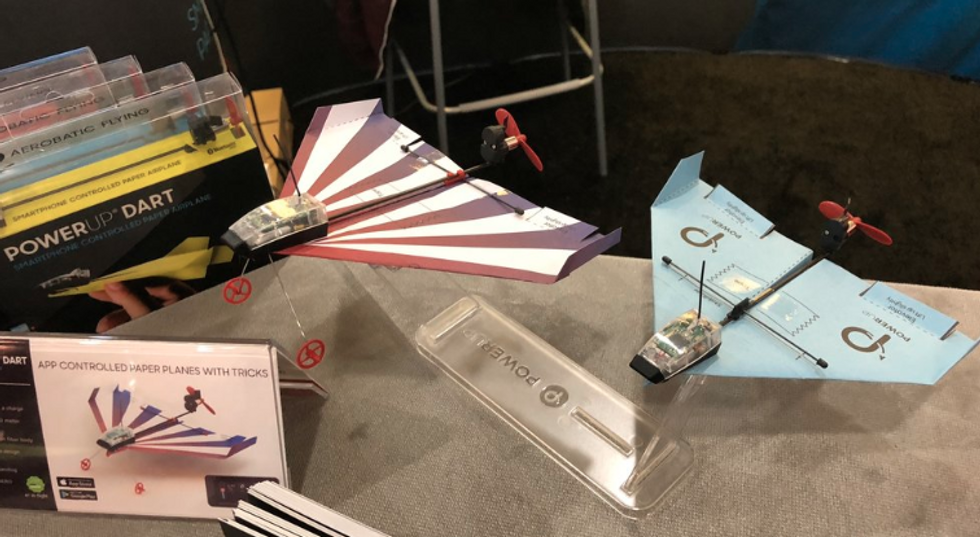 PowerUp Darts can takeoff and land via an app
GearBrain
Launched by Shai Goitein, PowerUp Darts has had a successful run on Kickstarter and Indiegogo with its latest, the Power Up 2.0, a kit that turns into a Wi-Fi connected, programmable paper airplane — one you can take off and land. Goitein says by increasing thrust, the airplane can now make loops, spins and other acrobatic moves. The new kit is available this spring, and will be priced at $50.
Sensors Alive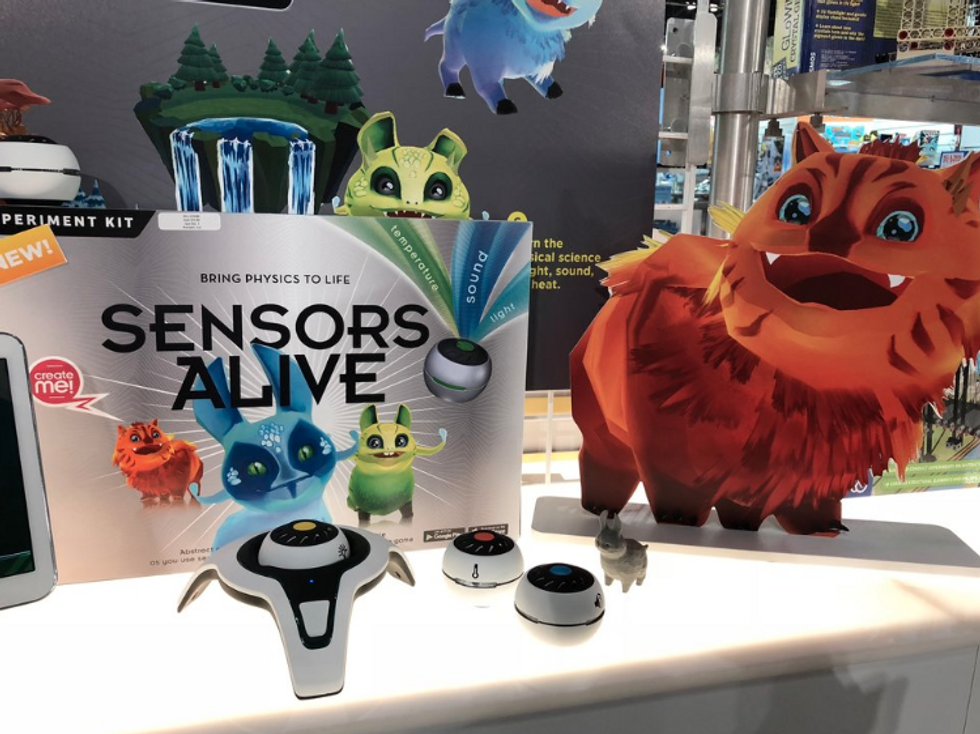 GearBrain
From the science kit masters Thames & Kosmos comes a new toy that ties gamification into learning about sensors, which are embedded in nearly every piece of technology, like smart home devices, that we own today. The Sensors Alive toy comes with three sensors — one that measures sound in decibels, one that measures light in lumens and one that measures temperature in Fahrenheit.
Children place the sensors anywhere they want: in a room as they watch a loud movie, near a window or even in the freezer. When done, data from the sensor is downloaded to an app, which generates a monster customized from the information. A sensor that read a cold temperature might create a blue, long-haired creature. One that reads a loud space will hatch a different monster. The toy will work with iOS and Android, launches this summer and is expected to retail for $75. And the company says it has plans to let kids eventually 3D print their monsters.
littleBits Hall of Fame Kits
From littleBits comes new kits that may entice parents of younger children. The Hall of Fame Kits are designed for simpler projects: a make your own night light, walking inchworm, bubble maker and pinball machine. Krystal Persaud, littleBits director of product design says each kit "has a different super power." Launching online in May, the kits are also priced at just $39.99 — much lower than the company's standard kits and perhaps a bit more appealing to those who want to try a coding kit. But the parts, as with all littleBits pieces, are interchangeable. That means if kids want to make a bubble machine that only works when the lights come on? They can.
Botley the Coding Robot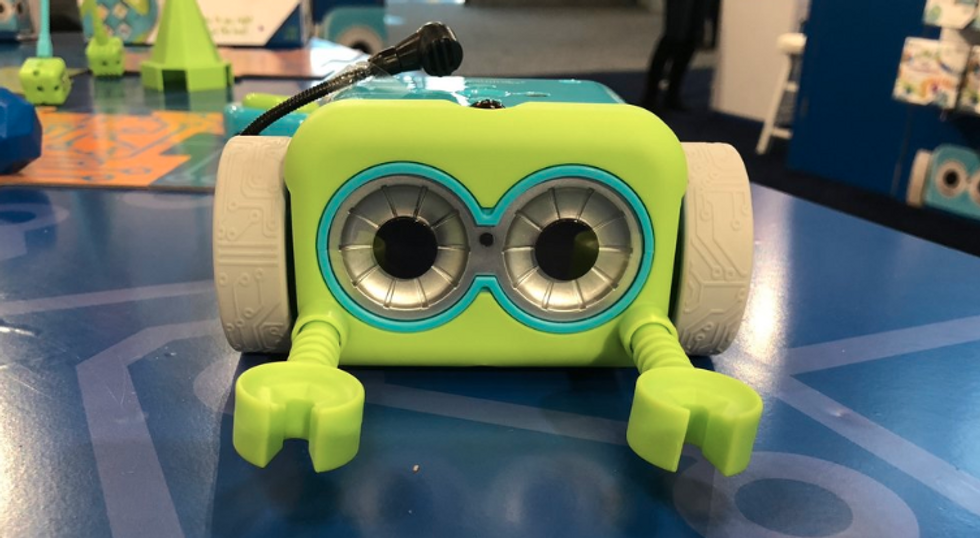 GearBrain
Learning Resources' Botley launched at CES this year, a robot that is designed around smart logic like IFTTT (If This Then That.) Packed with 77 pieces, the $79.99 toy can be programmed up to 80 steps, with a code that can unlock an additional 40. Inventor Michael Blaustein wanted to build a coding toy that not only was screen free — but also worked without an app or tablet.
Augie
Pai's back with a coding robot of its own named Augie. Children play with Augie by coding it to move through pre-designed maps — and are given goals such as picking up a donut. With five tries per goal, the game encourages kids to problem solve if they can't make it through the maze on their first attempt. Children play on a tablet or smartphone, and can also create their own maps, and the entire experience taps into augmented reality — letting them actually see the direction they want Augie to move through imagery on top of their screen. Augie launched in January at $199.
lunii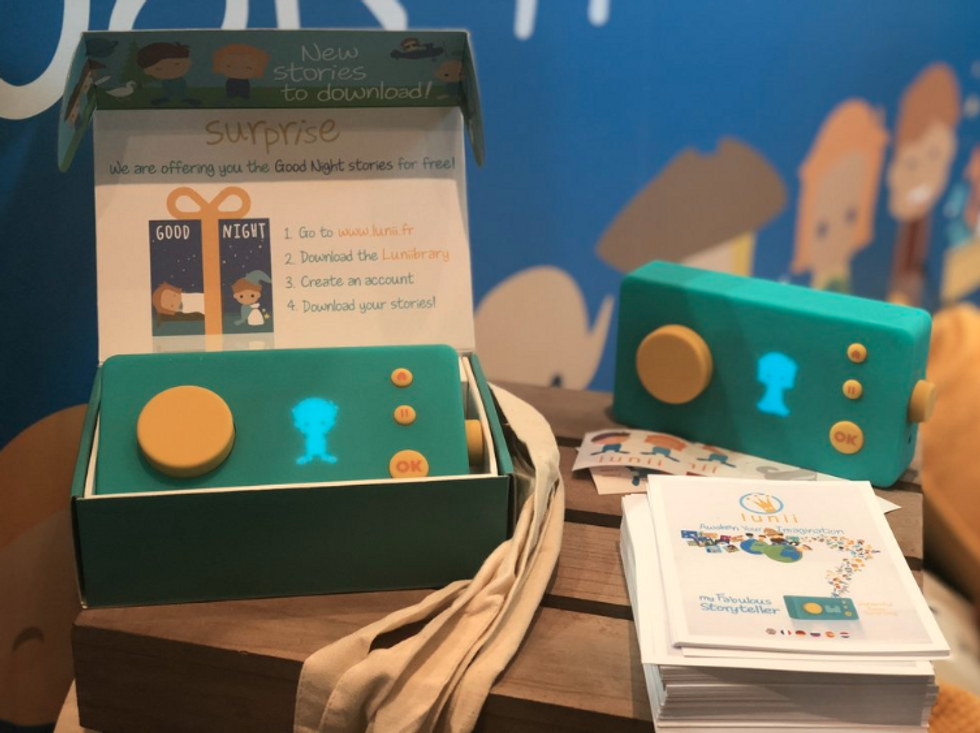 GearBrain
A tech toy without a screen, that doesn't have flashing lights nor robotic parts? That's exactly why we fell in love with lunii, a programmable toy that lets children select four items and create their own bedtime story. The toy looks very much like an old-fashioned transistor radio, with a few small dials where kids pick the elements for their tale: the hero, the place, an object and the storybook character. From there, one of 48 stories is told — audio only. Children will be able to select additional tales online which can be downloaded to the device. Designed in France, lunii is expected to go on sale in the U.S. this fall for $69.99, says co-founder and CEO Maëlle Chassard.
KidzRobotix
The first from Toysmith's STEAM Powered Kids new line of toys, KdizRobotix is a set of three kits that let children build their own moving robots, from a spider to a walking magnet for their fridge. The toy is meant to tie into the the science, technology, engineering, arts and mathematics (STEAM) emphasis on student learning today. Each kit launches in February at a price of $16.99 and is designed for kids ages 8 and up. The spider is particularly excellent, we think, for Halloween — or for any child hoping to find a way to keep younger siblings from entering their room. (Just our opinion.)
From Your Site Articles
Related Articles Around the Web
Like GearBrain on Facebook