Smart home security systems don't need to be complicated, and they certainly don't need to be expensive. For those on a budget, you can build yourself a simple but effective system, made up of cameras, motion sensors, microphones, and speakers for just $170.
Read More:
For this, we will be using the $50 Amazon Echo Dot smart speaker, a $20 Wyze indoor security camera, and the $100 Ring Video Doorbell. More expensive versions of all these products are available, and you can add more Echo and Wyze devices to make a more comprehensive system, but for now we're going to stick to the basics.
There are three key parts to this system Alexa Guard, the Wyze Cam, and Ring. All can operate entirely independently — so, if you are on a tighter budget, the $20 Wyze Cam is all you really need to get started.
Let's take a quick look at each system in isolation, before discussing how they can work together.
Alexa Guard - from $50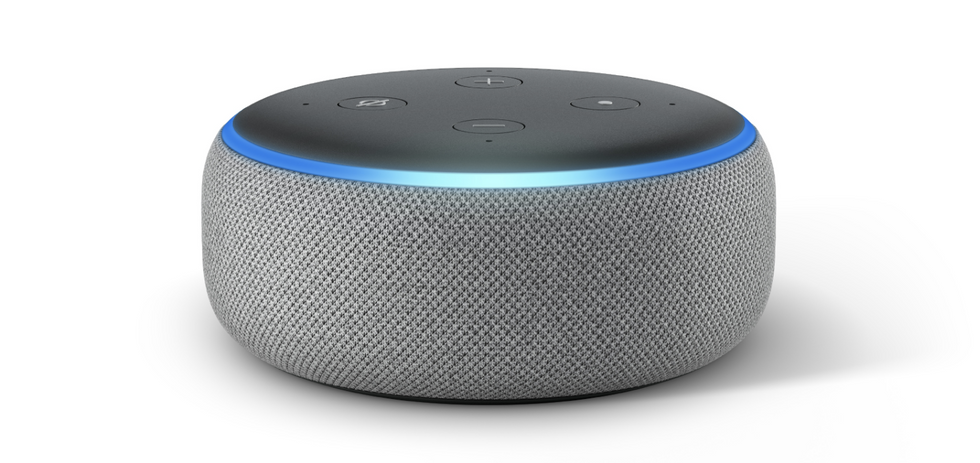 The Echo Dot costs just $50 Amazon
A free feature included with all Amazon Echo smart speakers — including the $50 Dot — Alexa Guard uses the device's microphones and speaker to create a simple burglar alarm.

Once activated from within the Alexa smartphone app, all you have to do is tell Alexa you are going out by saying: "Alexa, I'm leaving." The system will then arm, switching the microphone to a state where it is constantly listening for the sound of broken glass and a smoke or CO2 alarm.
If a window is broken within earshot of the Echo, Alexa will notify you via the smartphone app. From there, you can use the Echo's Drop-in feature to listen through its microphone. If you hear someone who shouldn't be there, you can then call the police or make a noise through the Echo's speaker; you could shout and tell them they are being recorded, for example.
When armed, Alexa Guard is also listening for smoke and CO2 alarms. That way, if you have a non-smart smoke alarm, its noise will trigger Alexa, which notifies you. You can then call a neighbor to check on your home, or look at a live video feed from a home security camera.
Wyze Cam - from $20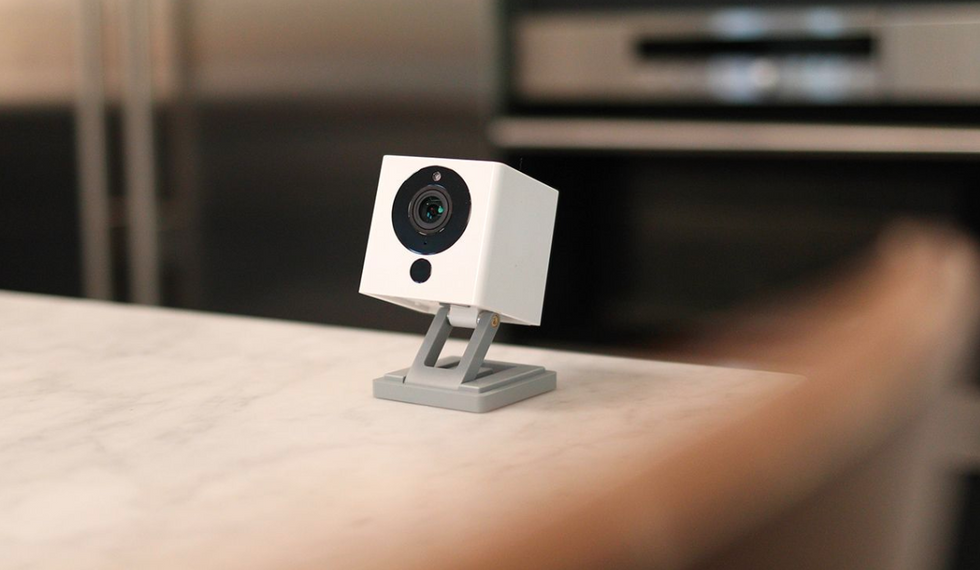 The Wyze Cam indoor security camera costs $20Wyze
This is where the Wyze Cam comes in. Priced at just $20, this is an indoor security camera which streams live video to the cloud and can be controlled by speaking to Alexa or the Google Assistant.

The camera shoots video in 1080p Full HD resolution and there's an automatic night vision mode for when there is no ambient light. Motion sensors are used to alert you via the Wyze app if the camera spots motion, and you can then view a live video feed of what's going on, and potentially what caused the alert.
Continuous video is saved to an SD card in full or as a time lapse, but 12-second long clips are also uploaded to Wyze's cloud service every time motion is detected, which you can view through the phone app. The cloud service is free and stores footage for up to 14 days, giving you plenty of time to view it before it is overwritten.
The camera also has a microphone and speaker for two-way audio, so you can warn a burglar that they are being recorded.
Ring Video Doorbell - from $100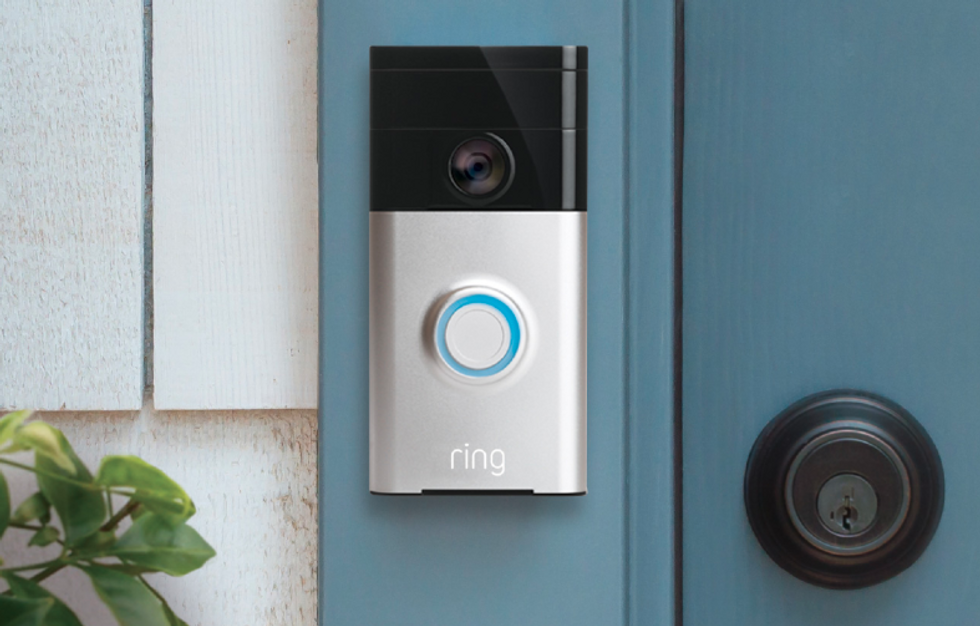 Video doorbells from Ring start at $100Ring
The third part of our budget smart home security system is the Ring Video Doorbell. This is the entry-level $100 model, but it offers many of the same features as more expensive models from the Ring range.

Available in black or silver, the camera is battery powered so you don't need to wire it up to your existing doorbell's power supply. The camera records in 720p HD video every time the button is pressed, but can also be set to record a short clip whenever motion is detected nearby, such as when someone is loitering outside.
You can set the Ring to alert you via the smartphone app when motion is spotted, and the area where the camera looks for motion can be adjusted to prevent it being triggered every time a car drives past. A microphone and speaker provide two-way audio, letting you tell a visitor you'll be there in a minute.
Because the Ring is connected to the internet via your Wi-Fi network, you can answer the door from anywhere in the world, via the Ring smartphone app. This can be really useful when you need to tell a courier that you're not in, and that they should leave a package on your doorstep, or elsewhere. You can also view the camera's live video feed at any time, helping you keep an eye on your home while away, or checking in on a noise you may have heard at night.
Notifications and live video are both free features, but if you want the Ring to save clips of video recorded when motion is detected, you'll need to pay for Ring Protect which starts at $3 a month.
How they all work together

Footage from the Wyze Cam can be views on the Amazon Echo Show or Google Home HubWyze
Once you have these three devices installed, you can use them together to create a smart home security and surveillance system.

Say Alexa Guard notifies you of a broken window. You can then quickly open a live video stream from the Ring to see if the door has been opened, then check in on your Wyze camera, which you could have positioned to give a view of the front room or wherever a burglar is likely to force entry.
You can use either the Wyze or the Ring to shout at the burglar, telling them they are being recorded and that you can see what they are doing. You could even say you are upstairs or just arriving home if you think that would scare them away.
Footage from the Wyze Cam will have been saved to both its SD card and Wyze's server, while video of the burglar approaching the front door may also have been captured by the Ring.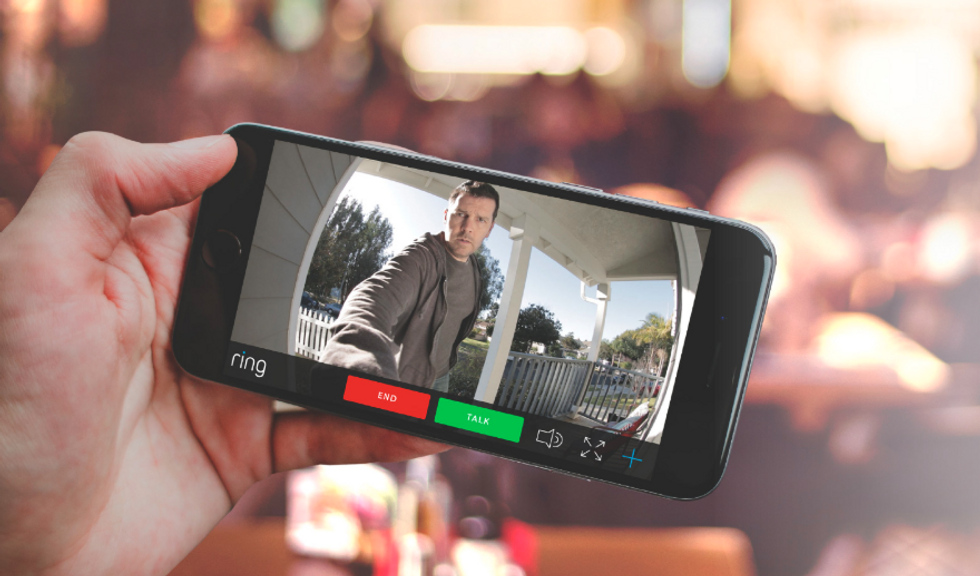 The Ring app alerts you to movement at your doorRing
Additionally, both Ring and Wyze have Alexa skills. For both, this means you can ask Alexa to show you a live video feed from either camera using an Amazon Echo Show (if you have one). If you have an Amazon Fire TV streaming stick or box, you can also ask Alexa to show a feed from your Ring or Wyze on your television.

These skills also mean that, when someone presses the button on your Ring doorbell, Alexa on your Echo speaker can be setup to say "someone is at the front door."
Expanding and upgrading the system
As Alexa Guard's hearing can only stretch so far, it's a good idea to buy several Echo smart speakers. You can pick up four Echo Dots for $200, and Amazon offers regular discounts, like three Dots for $70. That way, you could have multiple devices listening for broken glass and smoke alarms on each floor of your home.
Additional Wyze Cams can also be installed, giving you a broader look at the inside of your home from your phone.
Wyze recently expanded its smart home product offering to include the Wyze Sense kit, which costs $20 and includes a door or window sensor to alert you when it is opened while you're out, and a motion sensor.
The $30 Wyze Cam Pan works just like the regular Cam, but can be turned left and right via the app, giving you a 360-degree view of the room you put it in — crucial for recording a burglar as they move through your home.
Of course, you could upgrade to a different model of Ring doorbell, with a higher resolution camera and the option for being wired in (thus not requiring its battery charging every few weeks). You can also upgrade to security cameras with more features, like those from Nest or Arlo. But for getting started, we think the combination of Alexa, Ring and Wyze represents great value for money.
Check out The GearBrain, our
smart home compatibility checker
to see the other compatible products that work with Amazon Alexa enabled devices.
How to Use Amazon Alexa Enabled Devices www.youtube.com