The $50 Amazon Echo Dot has always been a good starting point for the first-time smart home builder. It brings the intelligence and convenience of Alexa, and gives you a means to control a huge range of smart home devices for a low price.
But Amazon has turned things up a gear this week, by offering a deal where three 2018 Echo Dots cost just $69.97, considerably less than the regular retail price of $150.
Read More:

We have written before about how two Echos are better than one, but it's worth a recap — and with three, things get even more interesting.

More Echos means more opportunities for Alexa to hear your questions and commands. This means you can ask her to play music or read out news headlines and the weather forecast from more places throughout your home.
It also means you can hear Alexa in more places, too. For example, if you have a Ring video doorbell, Alexa alerts you when someone presses the buzzer; three Echo Dots spread across the home will mean you're more likely to hear the alert, even if your smartphone is elsewhere.
More Echos means music in more places than before. And, while the Echo Dot's sound quality isn't great (although perfectly acceptable for the price), you can easily hook the Dot up to a better speaker via Bluetooth or a 3.5mm auxiliary cable. If you already have some spare speakers, you can treat your house to whole-home audio for the $70 this three-pack costs. Amazon says the price will remain in place while stock lasts.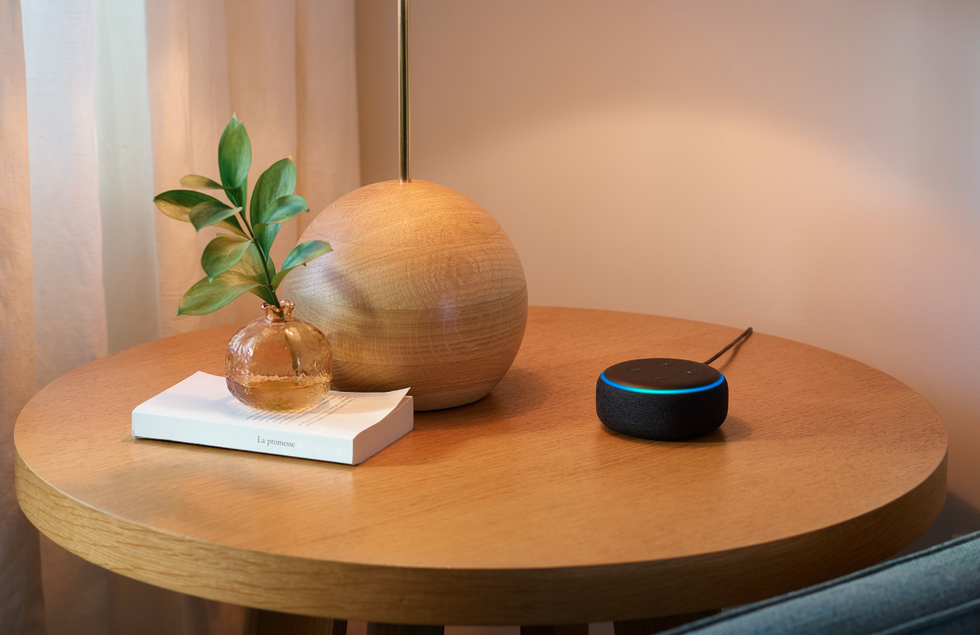 The small Echo Dot brings Alexa control to more places across your homeAmazon
Then there is the drop-in feature, which acts like a household intercom. If you need to tell the kids to come downstairs for dinner, you can speak to them through the Echo Dot in the kitchen and the Dot in their bedroom, or wherever else they are in your home.

When you have multiple Echos in your home, you can name them based on their location. For example, you can call them 'Kitchen' or 'Lounge', then ask Alexa for music in certain locations, such as: "Alexa, start my writing playlist in the office" or "Alexa, play music in the lounge." What's more, if you sign in to both your Spotify and Amazon Music accounts in the Alexa app, you can play different music in different rooms at the same time, simply by asking the nearest Echo Dot to play what you want, and where.
By installing more than one Echo device, Alexa truly becomes a home assistant, rather than an assistant that can only hear you in one room. You can ask it to adjust music from anywhere, change the temperature of your thermostat, turn down the lights, and lock the doors; just as long as you are near any of the Echos in your home.
Amazon has given each Echo device technology to make sure Alexa knows which speaker you are talking to, so the nearest one replies. Called Echo Spatial Perception, the technology works by having all nearby Echos listen to you, but then Alexa will only reply from the closest. In testing we found the systems works very well, even when the distance between ourselves and a pair of Echo Dots different by just a few inches.
Finally — and especially in light of news that Amazon staff hear some recordings of what you say to Alexa — it is worth remembering that an Echo Dot with its microphone muted is still a useful addition to your smart home.
For example, I have a muted Echo Dot attached to a speaker in the lounge, across from where I work, and which I can control via the Alexa app on my phone. In this scenario, the Dot is giving the speaker an element of Sonos-like smartness it otherwise missed — and my housemates feel more comfortable about the Dot's presence, thanks to the red light letting them know the mic is muted.
This muted Dot also serves as a doorbell chime for a Ring Video Doorbell 2 on the front door; when rung, the Echo says (through the attached speaker) that someone is at the door.
(Check out The GearBrain to see what other connected devices work with Amazon Alexa enabled device.)
How to Use Amazon Alexa Enabled Devices www.youtube.com