Like GearBrain on Facebook
As we have already featured on GearBrain, it is possible to start building your smart home from as little as $100. We have also previously looked at a budget of $500 and explained how much smarter your home can be at this price range.
Now, we are going to up the budget to between $1,000 and $2,000. At this level, you can buy a wide range of devices to make most areas of your home smarter - from the bedrooms and living room, to the kitchen and even the garden.
Read More:
Here, you can start looking into smart locks, doorbells and security cameras to make your home a safe one as well as a smart one.
We have chosen the budget of $1,000 to $2,000 in this article instead of sticking to one price, because at this level it is all about expansion and personal preference. Do you want just a handful of smart lights for $100, or do you want voice-controlled bulbs in every room, potentially costing thousands?
As such, you could spread your budget thin and far, or invest heavily in your most-used rooms. Hence the thousand-dollar range here. Let's get started...
How to build a smart home for between $1,000 and $2,000

Smart home hub or smart speaker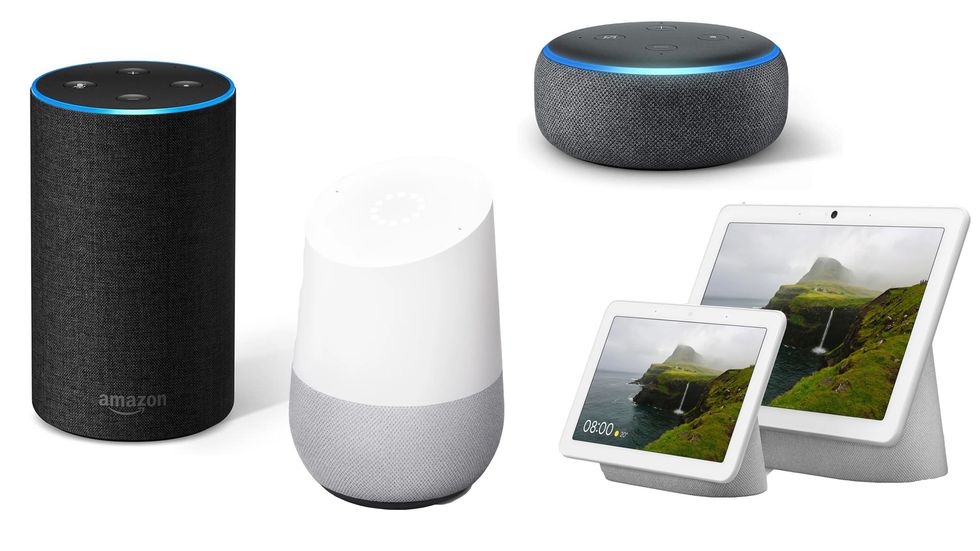 Smart speakers and displays are the starting point for most smart homesAmazon/Google
The foundations of any smart home are built on the hub or smart speaker. You could opt for a Nest Audio or Amazon Echo (4th Gen), each usually costing $100, or pick the cheaper $50 alternatives of the Nest Mini and Echo Dot (4th Gen).
There is also the Apple Home Pod, costing $299, or the newer, smaller HomePod mini, which is priced at $99 but lacks the volume and sound quality of the equally priced Echo and Nest Audio.
If you have a larger budget you could buy a smart display, like the Amazon Echo Show or the Nest Hub and Hub Max. These work in the same way as a smart speaker, but include a touchscreen for controlling smart home devices and showing video content. These start at around $90 for the Echo Show 5, but that model is currently discounted, as of February 2021, to just $45.
A dedicated smart home hub is also an option – especially if you want extra compatibility with as many products as possible, and you don't feel the need for a voice assistant. The circa-$55 Samsung SmartThings Hub is a good place to start.
For the sake of this article we will pick an Amazon Echo (4th Gen).
Total spent: Approximately $100 (Echo 4th Gen)
A second (or third) smart speaker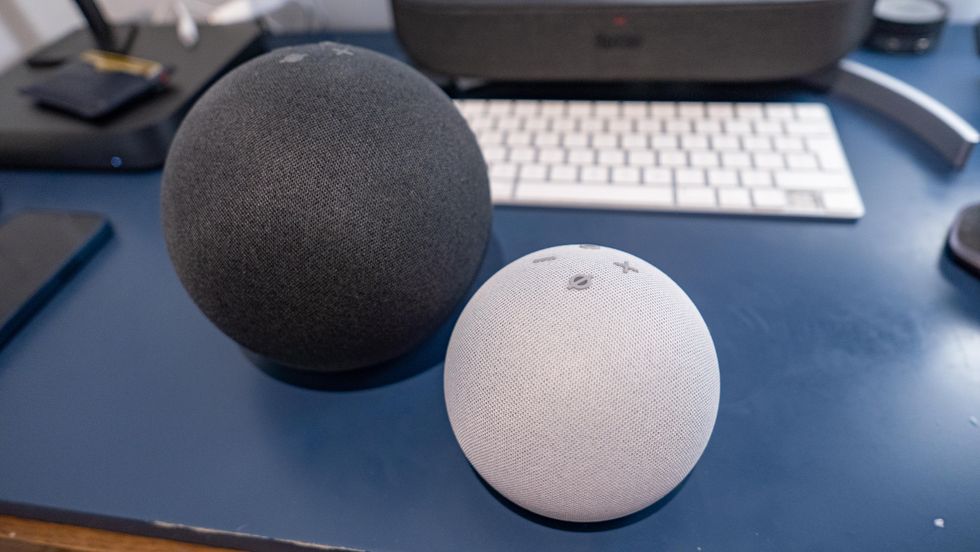 The fourth-generation Amazon Echo and smaller Echo Dot GearBrain
If you have opted for an Echo, Nest Home or Apple HomePod, then adding another can open up many new features.

For example, a second smart speaker can bring voice-controlled music to another room in your home. It also means that Alexa, Siri or the Google Assistant can hear you from a second location, so you don't need to return to the one smart speaker every time you want to ask something. This setup also means you can play two different music tracks, albums or playlists in different rooms at the same time, and broadcast house-wide announcements with each assistant. If that's your thing...
You might to connect the Echo Dot or Nest Mini to a speaker you already own, as their audio performance isn't great (although it has improved with the most recent generations of each). Alternatively you could spend more of your budget on a regular Home or Echo, or event splash out on something like the Sonos One, which works with both Alexa and Google Assistant. For the sake of this article we'll suggest adding a pair of Echo Dots or Nest Minis, at a cost of $100 for a pair.
Total spent: $200 (Amazon Echo and two Echo Dots, or Nest Home and two Nest Minis)
Read More:

Smart lights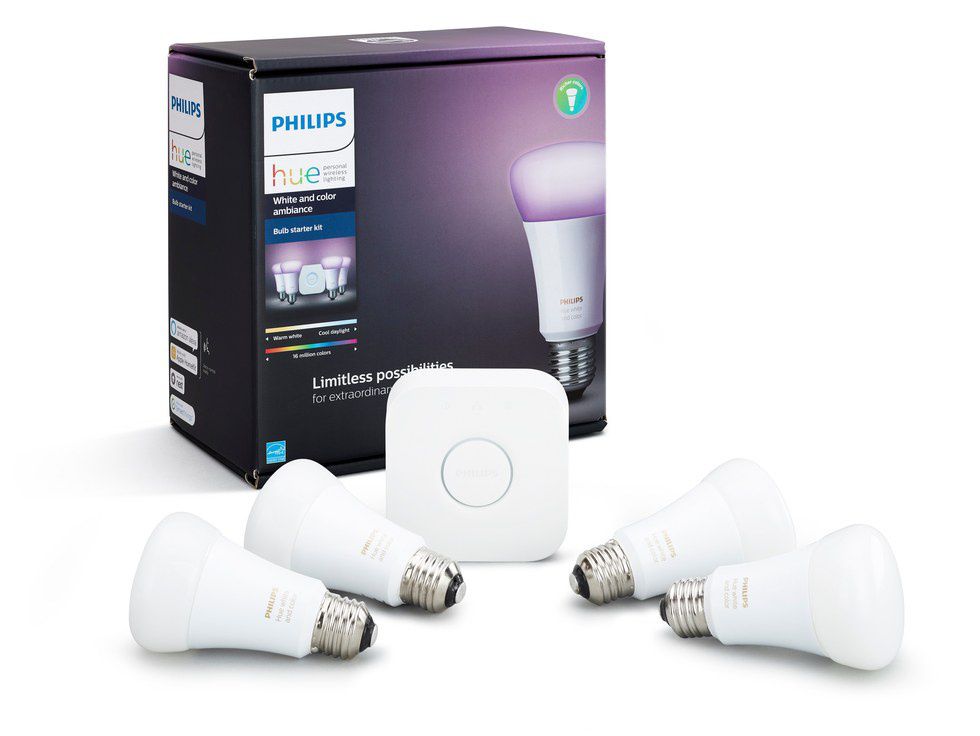 Philips Hue Starter Kit - A19 BulbsPhilips Hue
In our $100 and $500 smart home guides, we only really got chance to scratch the surface of smart lighting. At around $200 for a four-bulb starter kit, Philips Hue is an expensive system to build, and while alternatives from LIFX, Singled and Wiz can be a little cheaper, installing any kind of smart lighting on a whole-room basis is going to put a dent in anyone's budget.
At this point, even if you have $2,000 to spend, you need to ask yourself what you want from smart lighting. Do you want a few lamps scattered across the home? Maybe some lights in the garden and one behind the television, or a light strip under the kitchen counter? Or, do you want to replace every bulb with a smart equivalent? Naturally, the latter will cost a lot of money – and even more if you go down the route of creating a Hue Play system around your television.
For this article – and with a $2,000 upper limit in mind – we have opted for the $200 Philips Hue color starter kit, which comes with four color bulbs and a hub for connecting them to your Wi-Fi network. This hub, called the Hue Bridge, is requirement of Hue but something LIFX and Wiz do not need. C by GE is another option here, with two-bulb starter kits costing around $60.
For this article we have then spent an additional $275 on a motion sensor ($40), a dimmer switch ($25), an LED light strip ($90) and three additional color bulbs ($120). The motion sensors can be configured to switch a certain light on when movement is detected – handy when walking to the bathroom at night – and the dimmer switch has four buttons for turning a whole room on or off, dimmer or brightening, and cycling through a range of pre-set scenes.

Although expensive, the 80-inch LED light strip can be a great addition for lighting under your kitchen counter, above cupboards, or behind the television. For the latter, you could buy the Hue Play Gradient Lightstrip, but buying that and the required Hue Play HDMI Sync Box is going to add around $450 to your budget.
Although the prices and features are similar, you may want to consider LIFX as an alternative to Philips Hue. Getting started with your system will be a little cheaper as there is no hub required, and LIFX bulbs can be set to emit infrared light at night, illuminating the scene for any security cameras you have with night vision – more on these further down.
If you want to light the entire home, but on a tight budget, then Wyze sells four-packs of smart bulbs for $30. These only change their brightness and temperature, not color, but are considerably cheaper than more feature-filled alternatives. That way, you could get 24 Wyze bulbs for the same $200 that affords just three from Philips Hue.
Total spent: $625 (Echo, two Echo Dots and Philips Hue lighting)
Smart thermostat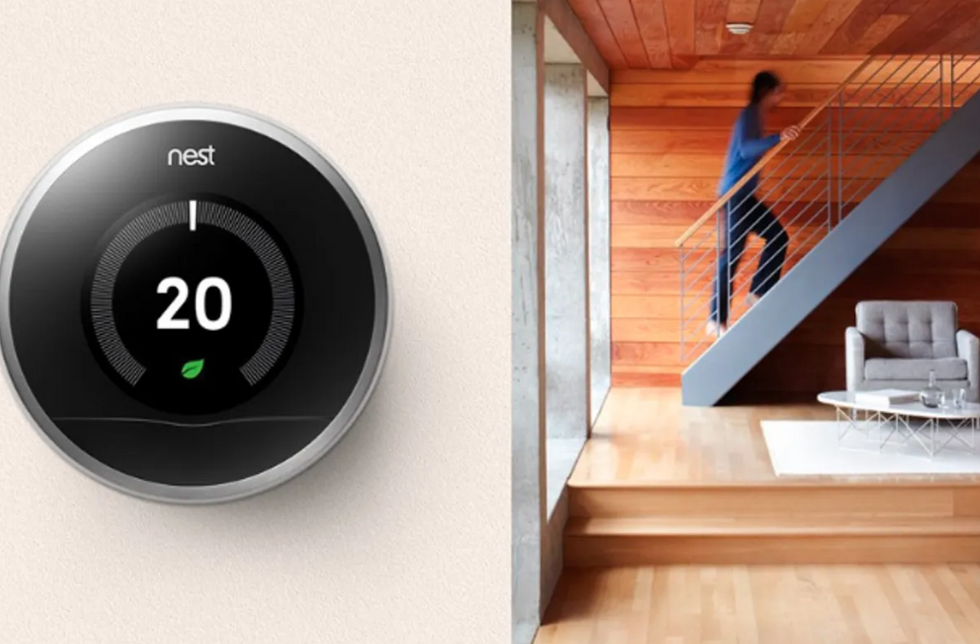 Nest smart thermostat Nest
In our $500 smart home article we recommended the cheaper Nest Thermostat, but given we have more money to spend here we can stretch to the $200 Nest Learning Thermostat. Its ability to learn your heating and cooling habits and run autonomously is the same, but this model has a touch screen display and more premium design that the cheaper model misses out on.

We know $200 isn't cheap for a thermostat, but Nest claims the device can save you an average of 10-12 percent on your heating bills and 15 percent on the cost of cooling your home. For an extra $39, the portable Nest Temperature Sensor helps to provide the thermostat with a more accurate reading, as often the thermostat isn't in the room you use the most – and remember, those sensors aren't compatible with Nest's cheaper model.
Although Nest might be the most recognizable smart thermostat, there are alternatives to consider, and some are cheaper too. Smart thermostats with Alexa support from Honeywell cost from around $160, while the Ecobee SmartThermostat - which comes with a second room sensor as standard - costs $249. What's interesting is how this thermostat includes full Alexa functionality, so you could use it instead of an Echo smart speaker to control your home, if you so wished.
If you don't require the latest and greatest, the ecobee3 Lite can currently be had for under $140.
Total spent: $865 (Echo, two Echo Dots, Hue light system, Nest Learning Thermostat and sensor)
Smart lock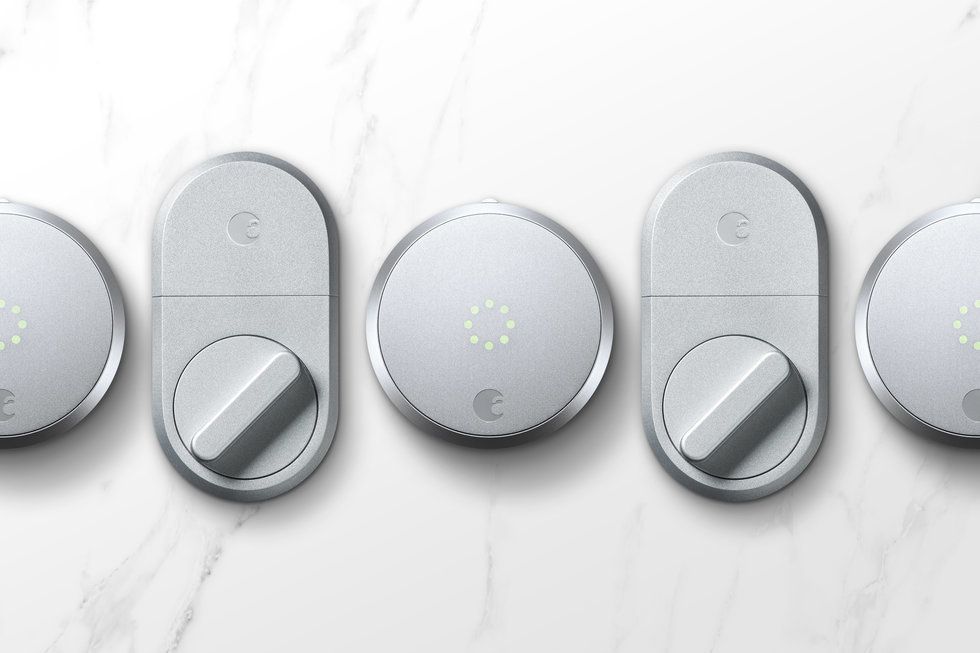 August Smart LocksAugust Home
You're unlikely to spend much time talking to Alexa or the Google Assistant about your smart door lock, but devices like the third-generation August Smart Lock Pro are useful all the same. The $230 device comes with a sensor, called Connect, for letting you know when the door is ajar or closed (as well as locked/unlocked), and offers a wealth of other features.
With a smart lock fitted to your door, it can be made to automatically unlock when you approach, or be controlled from your smartphone or virtual assistant.
When GearBrain reviewed this lock in late 2017, we were impressed by its integration with third-party alarm companies, Z-Wave compatibility, ease of installation, and how it talks to Alexa and Google Assistant.
Alternatively, you could try the $329 Level Touch, which hides all of its smartness inside the lock barrel, making it a smaller and far more subtle option compared to the large August. You can read our November 2020 review of the Level Touch here.
Total spent: Approximately $1,100
Video doorbell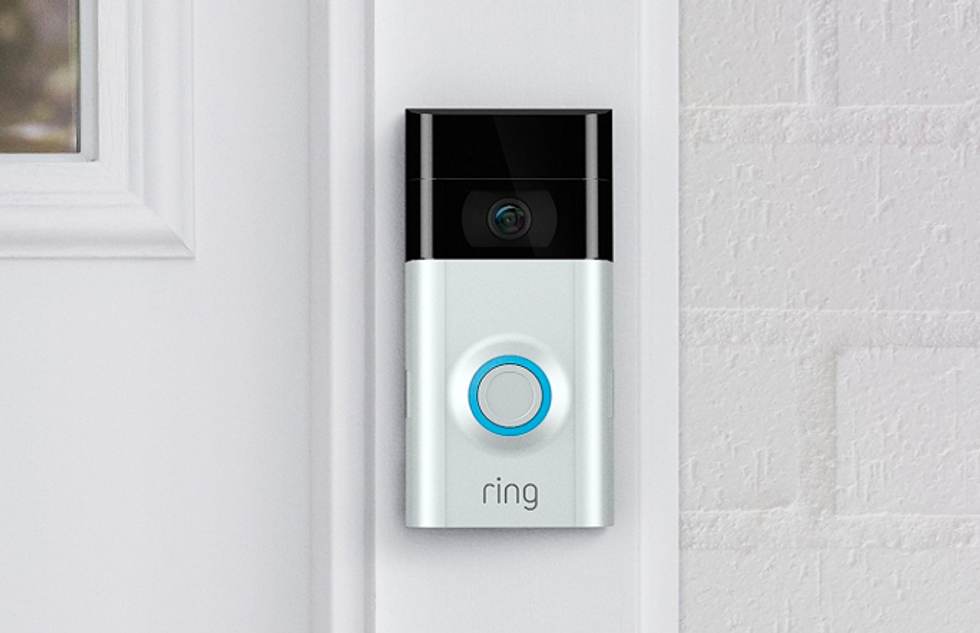 The Ring Video Doorbell starts at $99Ring
You will want to budget between $100 and $250 for a video doorbell, like the $229 Nest Hello, or the $249 Ring Video Doorbell Pro.
Both of these devices have a camera, microphone and speaker so you can talk with whoever is at the door via your smartphone – whether you are at home or not. They also start recording when movement is detected, such as when someone is loitering on your doorstep, making them a useful security device.
If you want a simpler option, Ring has just updated its entry-level video doorbell, improving the video quality from 720p to 1080p Full HD, while still charging $99.99.
Total spent: Approximately $1,250
Security cameras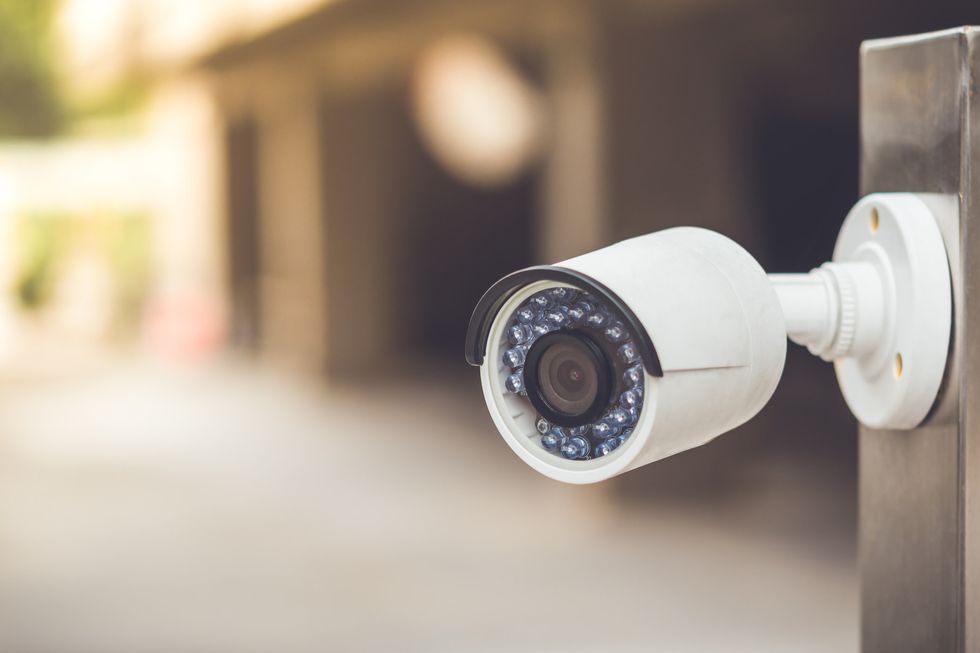 Security cameras iStock
Generally speaking, there are two types of home security cameras; indoor and outdoor. The former is useful for keeping an eye on pets and children while you're out, and the latter is weather-proof and intended for security surveillance.

Indoor cameras like the Nest Cam Indoor start at around $130, although Wyze is once again a cut-price option, with its Cam V3 priced at just $20.
You also need to bear in mind that many camera systems – indoors and out – offer subscription services to unlock extra features like face recognition and video storage.

Outdoor options include the $199 Arlo, which is weatherproof, battery-powered, has infrared night vision, and the most recent seven days of motion-triggered footage is free to view online. Alternatively, the Nest Cam Outdoor also costs $199.
For this article, we have budgeted for one indoor and one outdoor camera, for a total of $350.
Total spent: Approximately $1,700
Smart plugs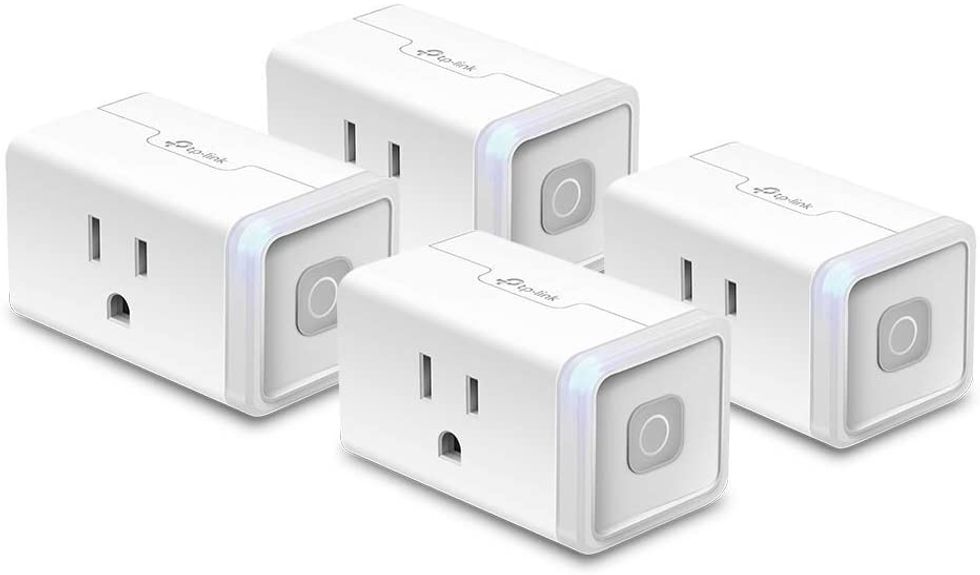 Smart plugs cost from around $7 to $10 eachTP-Link
Like the superhero utility belt of your smart home, the smart plug is flexible, dependable and simple to use. Just fit one to a wall outlet, connect it to your home Wi-Fi via the companion smartphone app, and fit almost any device to it. That device can now be switched on or off using the plug's phone app, or by speaking to your AI assistant of choice.

Smart plugs are useful for controlling simple devices like fans, heaters and air conditioning units, because they can only control the power outlet and no features of the actual device. Just make sure the device powers up and works as intended when it is switched on at the wall, and a smart plug will work just fine.
Some models of smart plug are very cheap – as little as just $5 each – but if you have a slightly larger budget, then we recommend plugs from the TP-Link Kasa range, which start at around $17 for two. In-wall smart plug sockets are also an option. They provide a more seamless look, and cost from around $25 for a twin socket model. You can also get water-resistant smart plugs for use outdoors, and smart power strips with multiple Wi-Fi connected outlets.
As part of the $2,000 budget for this article, we have opted for four plugs, adding around $40 to our total.
Garden irrigation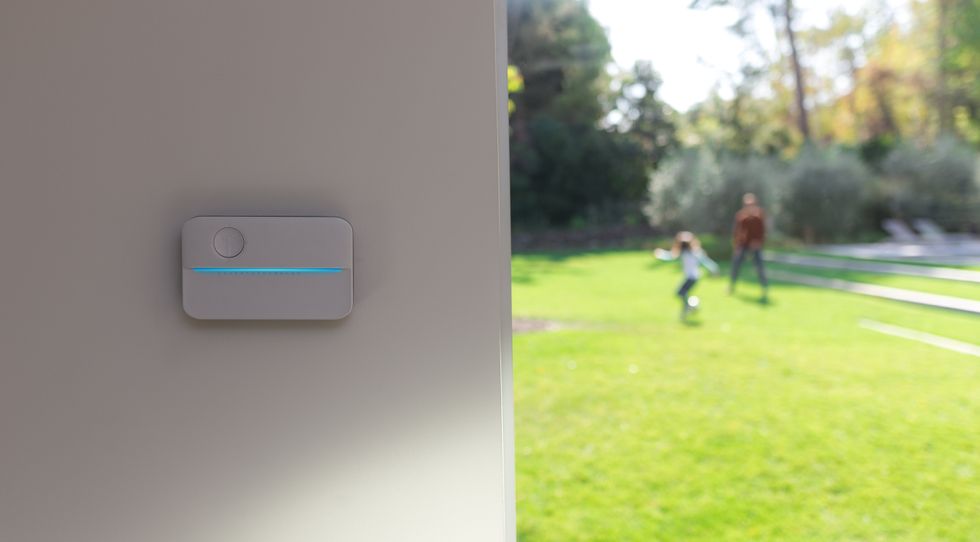 Rachio
The smart garden can be a whole separate topic, but given we have some budget left we thought we'd highlight smart irrigation systems like the Rachio 3. This hooks up to your existing system, but gives it real intelligence in the form of hyperlocal weather forecasts and the ability to give your plants and lawn exactly the right amount of water each day.
These systems take a while to set up, so block out an afternoon if possible, but once installed and configured (you need to tell it the plant and soil type, sunlight, shade etc), smart irrigation systems can reduce your water usage and save you money.
The latest Rachio system costs $230 for an eight-zone system and $280 for a 16-zone system. Alternatives include the $110 Orbit B-hyve and the $150 Netro.

Total spent: Approximately $1,870
For a little under $2,000, we feel this gives your home a huge amount of connected smart technology. For those on a budget closer to $1,000, we suggest going easier on the smart lights (as their cost builds up quickly), opting for cheaper smart plugs, and skipping the irrigation system until you have saved up for a little longer. You might also want to swap out these devices for something else and, for example, bring in a robotic vacuum cleaner instead of a smart lock. You could also add a TV streamer like the Chromecast with Google TV or the Apple TV 4K to round out that $2,000 budget.
We think $1,000 to $2,000 is a real sweet-spot for consumers who are new to the smart home but keen to jump in and discover what the industry has to offer.
Don't forget to check The GearBrain, our smart home compatibility checker to see which connected products work with other best of breed smart home devices like Philips Hue, Google Home, Amazon Alexa, Insteon and more.
Orbit 57985 B-hyve XR 8-Zone Smart Sprinkler Controller, Charcoal Gray
Like GearBrain on Facebook