For many, going camping for the weekend is about getting away from it all, leaving the stress and constant notifications of modern life at home, and enjoying the great outdoors.
But, inevitably, technology is more likely than ever to come along for the ride. So while we heartily recommend leaving the iPad and any Alexa device at home on your next camping trip, there are some gadgets you should pack in their place.
From water purifying bottles and fire starters, to wind-up torches, collapsible chairs - and, if you must, a solar charger for your phone - here are GearBrain's essentials for your next camping trip.
Therm-a-Rest Treo chair - $66 (currently reduced from $100)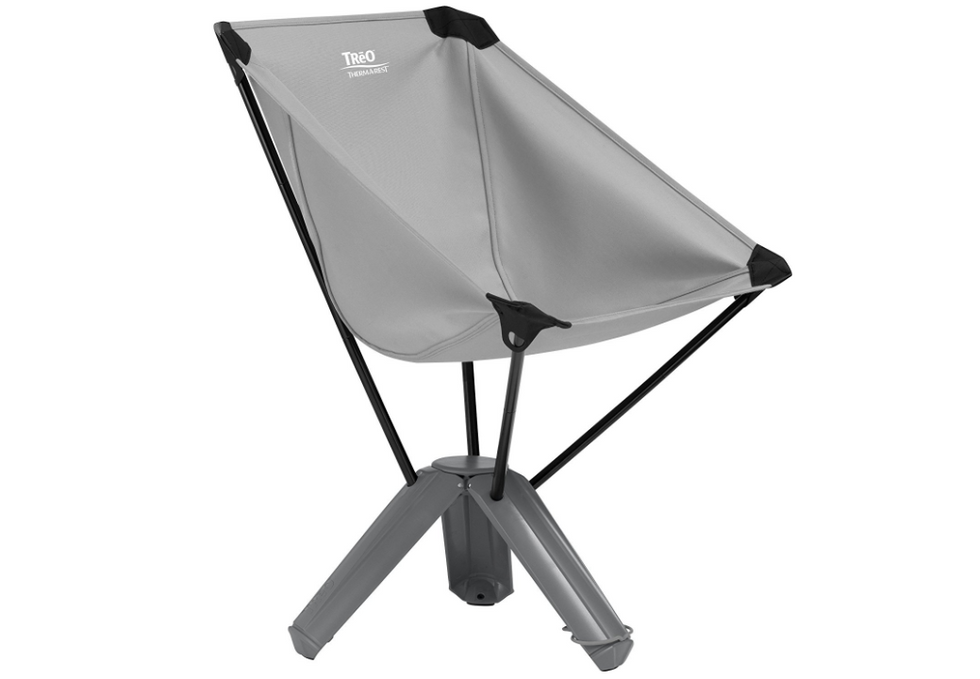 This chair folds up to the size of a drinks bottleTherm-a-Rest
At first we weren't going to include items like tents, chairs and sleeping bags, because we figured any camper reading this would have their own already. But then we came across the Them-a-Rest Treo chair and were amazed at just how compact it is.

It isn't cheap, but this two-pound chair folds up to the size of a water bottle — or the length of its gray legs in the above photo — meaning there is really no excuse for leaving it at home.
Eton Scorpion II - $34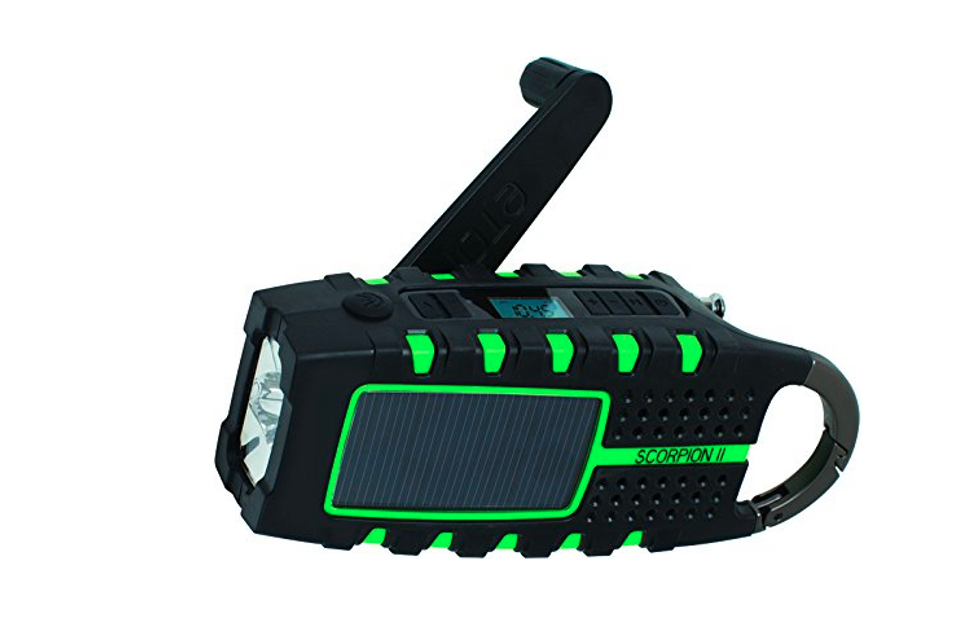 Eton
A must-have for any camping adventure, the Eton Scorpion is a rugged portable radio which tunes to AM, FM and NOAA weather alerts, so you won't be caught out by a storm. There's also a bright LED flashlight, a USB port for charging your smartphone or other small devices, and it can be charged away from home by the integrated solar power and winding handle.
Waterproof speaker - Various prices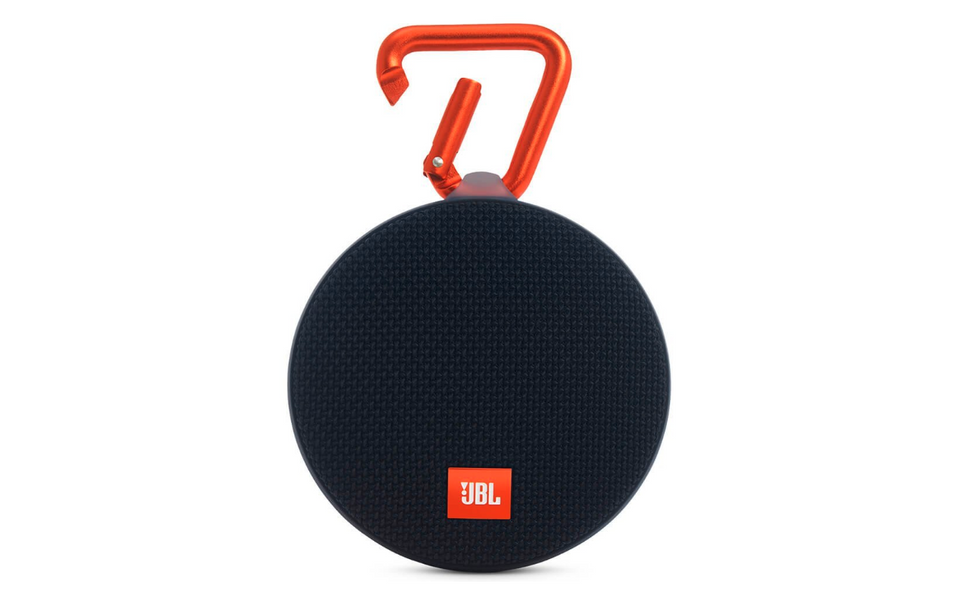 JBL
There are a lot of waterproof speakers on the market, so what you pick really depends on your budget. You could spend under $29 on the BassPal from Amazon, $45 on the JBL Clip 2, pictured, or try the highly-rated Wonderboom by Ultimate Ears, which costs $100, but is currently reduced to $67.
Hydaway collapsible water bottle - $22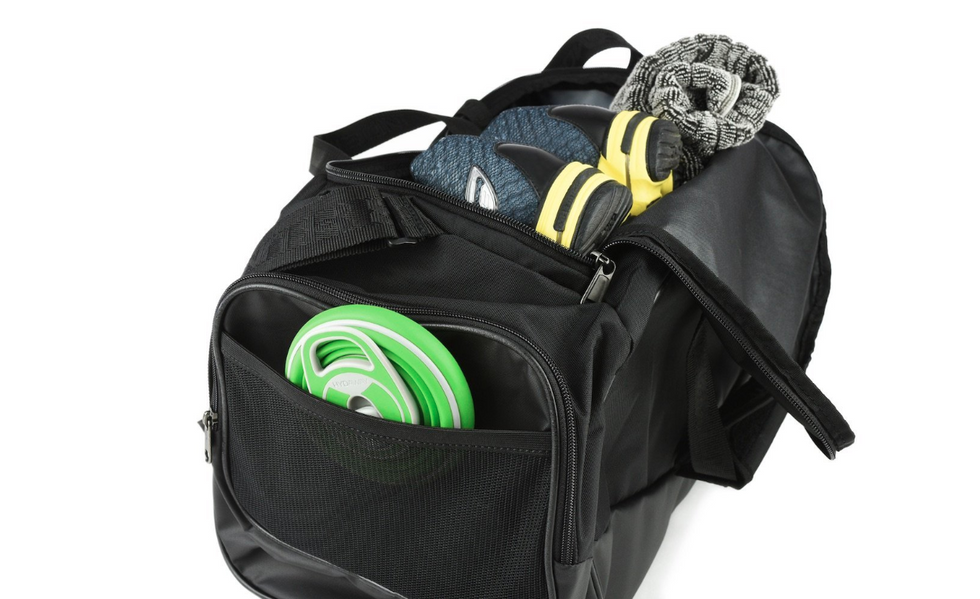 This bottle, in green here, folds almost completely flat when emptyHydaway
Space is a crucial factor when packing your rucksack for a camping weekend, so anything which can be collapsed is worth your attention. The Hydaway is a 21 oz bottle which collapses almost completely flat, costs $22 and is available in a variety of colors. You could also try the Que Bottle, which holds 20oz and costs $25.
LifeStraw water filter - $15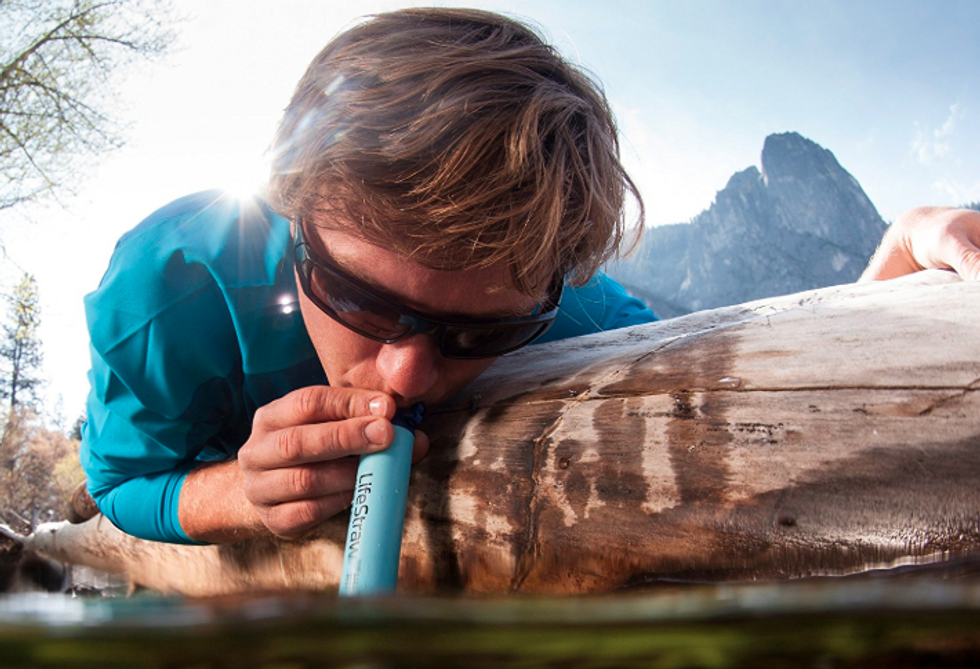 Drink water right from the stream with this purifying strawLifeStraw
This straw instantly purifies water as you drink from a stream or river. The filter can clean 264 gallons of water before it needs replacing, and the straw is claimed to remove 99.9999 percent of bacteria, including e-coli, cholera and salmonella.
Ralix Survival Spark - $7.95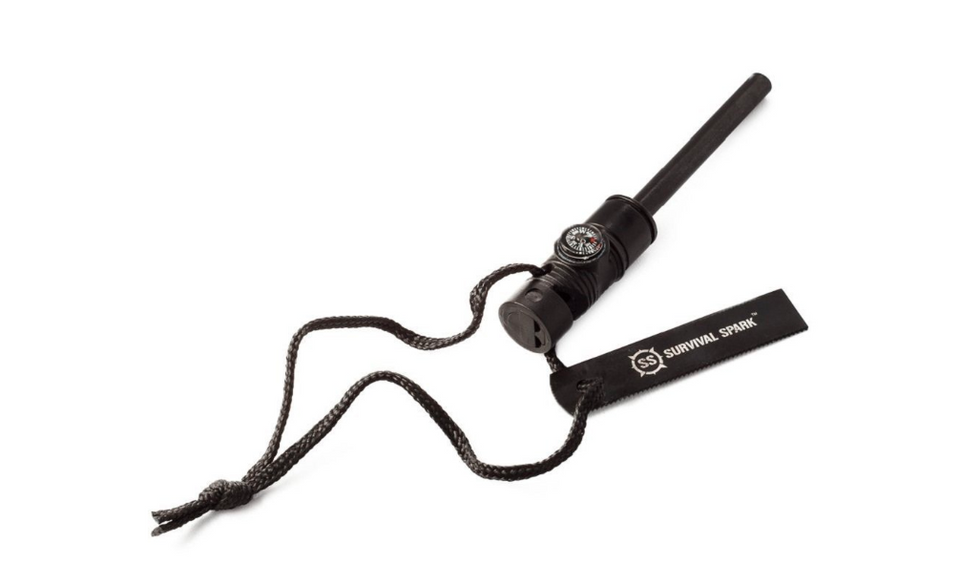 Fire lighter includes integrated compass and whistleRalix
Cheap, simple, but possibly a life-saver. This is a magnesium, 5.5-inch long fire starter claimed to strike up a flame up to 15,000 times. It is also said to be windproof and water resistant, and comes with an integrated compass and 150-decibel whistle.
BioLite Powerlight and SiteLite bundle - $80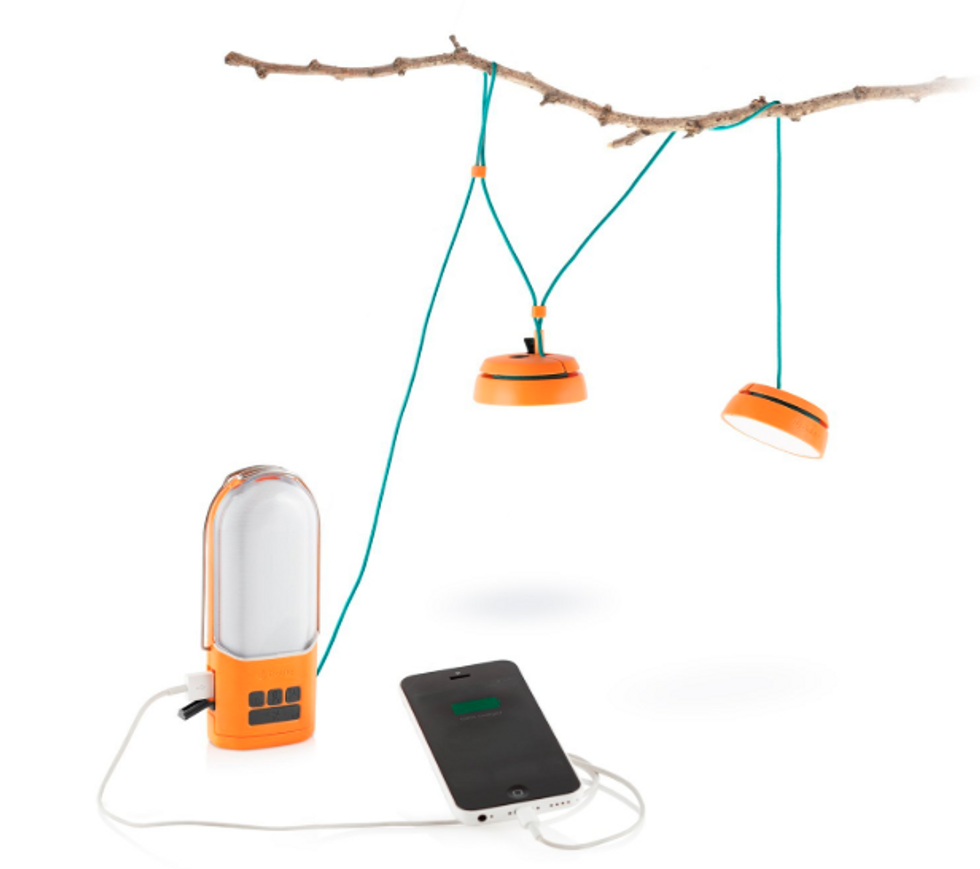 Powerlite can quick your smartphone a quick charge on an overnightBioLite
The Powerlite can be used as a flashlight, a lantern, or a phone charger thanks to its USB port. Power comes from the same batteries as used by Tesla in its cars (although there are just two cells here to keep it compact), and can provide light for up to 72 hours.
This bundle includes the SiteLite, which is a pair of additional lights daisy-chained together on 10 feet of cord. Plug these into the PowerLite and you can have a lantern on the floor, two lights hung up, and a connection to charge your phone. It's not Philips Hue, but it could make your tent positively homely.
RAVPower solar charger - $55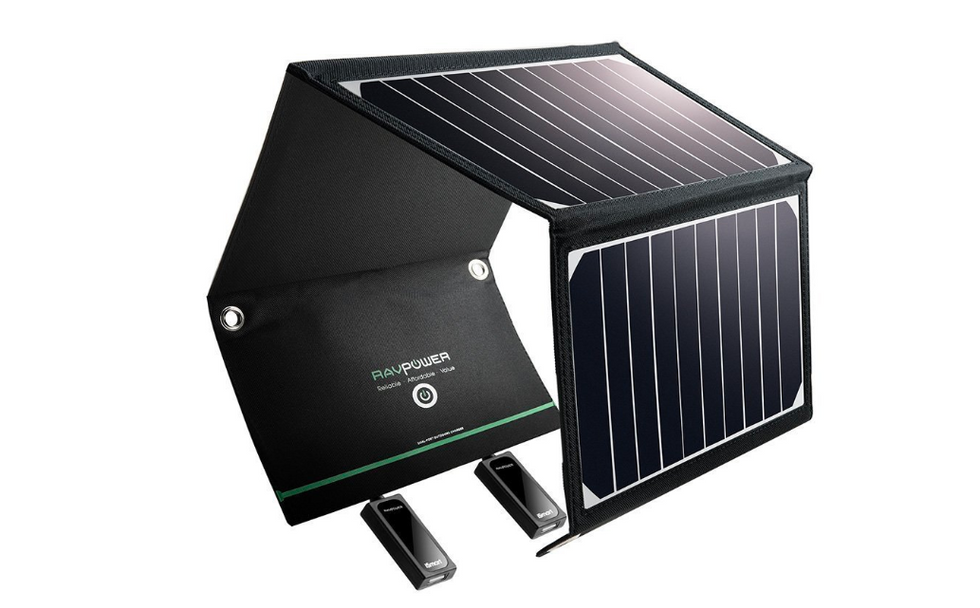 The panels of the RACPower fold flat when not in useRAVPower
As much as you might want to 'get away from it all' on your camping trip, there's no harm in taking a solar charger to keep your smartphone battery topped up. This model offers 16W of power, has two USB ports, and can be hung up to capture sunlight more effectively. The foldable unit measures 9.4 x 6.3 x 0.2 inches and weighs just under 16oz.
For $75 there is the larger 24W model, which has three USB ports, or for $30 there is the Solar Charger, which combines a 10,000mAh battery with a solar panel.
CAT S41 tough phone - $450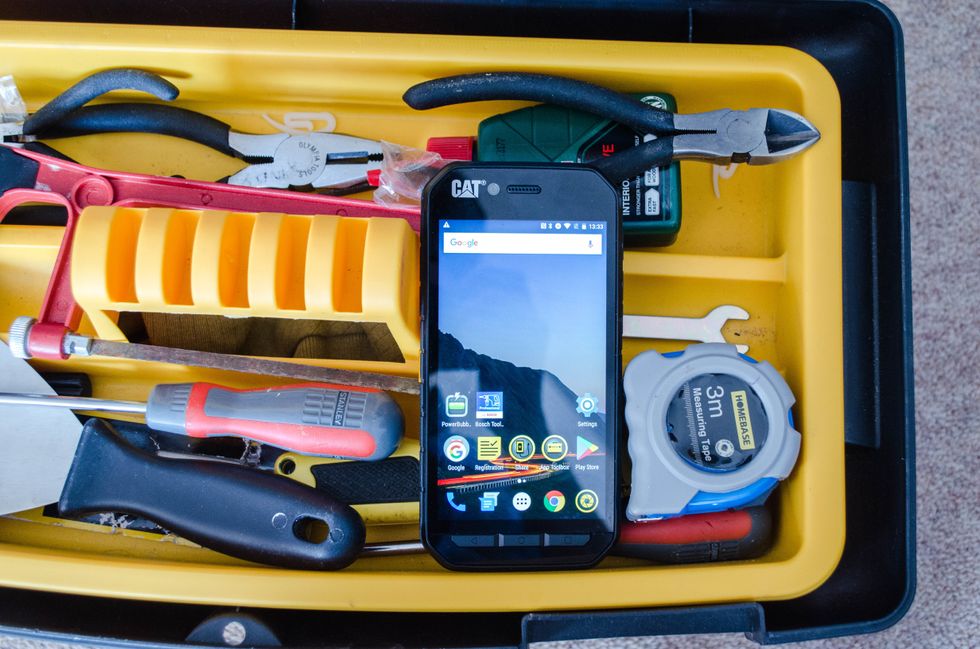 With CAT smartphones, you don't have to worry about shattering your device while hikingGearBrain
With their glass bodies and shiny stainless steel bodies, modern smartphones are fragile. They also lack the unapologetic sense of purpose you get from a tough phone like the CAT S41 (or cheaper, smaller S31). These phones are build to shrug off drops onto stone and gravel, dunks into muddy water, and really anything the average camping trip has to offer.
Handpresso Wild Hybrid - $149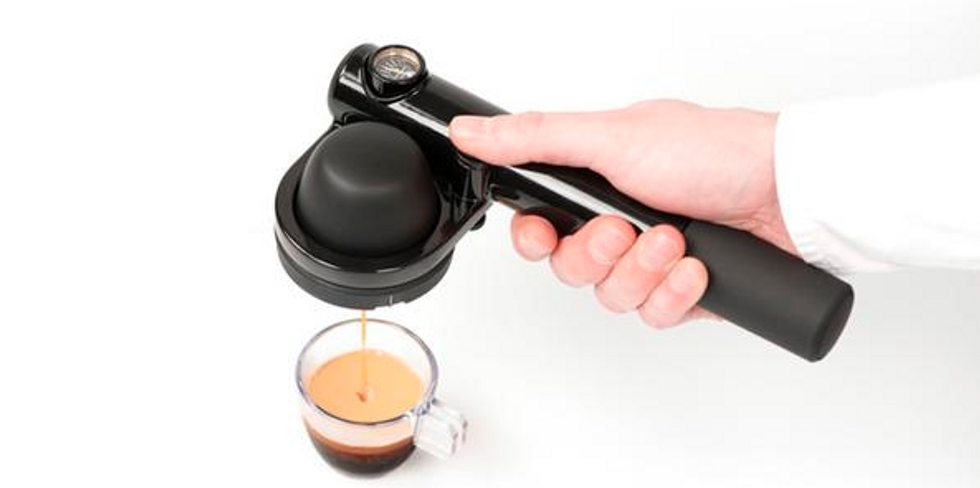 Handpresso lets you get your caffeine fix even while campingHandpresso
Finally, because we're feeling generous, there is the portable espresso kit. Built for outdoor use, this kit comes with four 'unbreakable' cups and a thermo-insulated flask to keep your water hot.
The device takes 1.7oz of hot water at a time, and there's a hand pump to create up to 16 bar of pressure. Fill the basket with coffee, lock it into place, pump pressure into the chamber then flick a switch to release it, pushing water through the coffee and into your cup. It might not be up to your usual coffee shop standards, but try asking Starbucks to bring your order to a forrest.