Like GearBrain on Facebook
Shopping for a new security camera can sometimes lead to option paralysis considering the plethora of smart home gadgets available on the market. While competition is always a good thing, it can be overwhelming when you're trying to decide which device is right for your needs.
One of the easiest filters you can use to pick-and-choose is the price: What's the best device you can buy while spending the least amount of money? With that in mind, let's take a look at the affordable, $99 Canary View, a more budget-friendly cousin to the Canary Flex.
Standing at about six inches tall, the View reminds me of a Cylon — a Battlestar Galactica robot turned sideways — an image only furthered by a red light that appears when the camera is recording. Aesthetically, the gray, modest design will blend-in relatively easy in most locations around the home.

Since the View can easily be used on its own, or with Canary's other cameras, its pretty easy to link it to your other smart gadgets with a notable exception: there isn't support for HomeKit. You can use view with Alexa, Google Assistant, Wink and IFTTT. But if you're married to Apple's ecosystem, this isn't going to be a good camera for you.
Like other Canary cameras, the View can be used without a hub which provides a great option for those who just want or need a single camera. Installation is straightforward, requiring you simply plug in the View, download the iOS or Android app, and sync.
It is important to note that despite looking quite similar to the Canary All-in-One, the View doesn't include a siren or an ethernet port. This means you'll need to be sure you're okay with adding another Wi-Fi connection to your home network.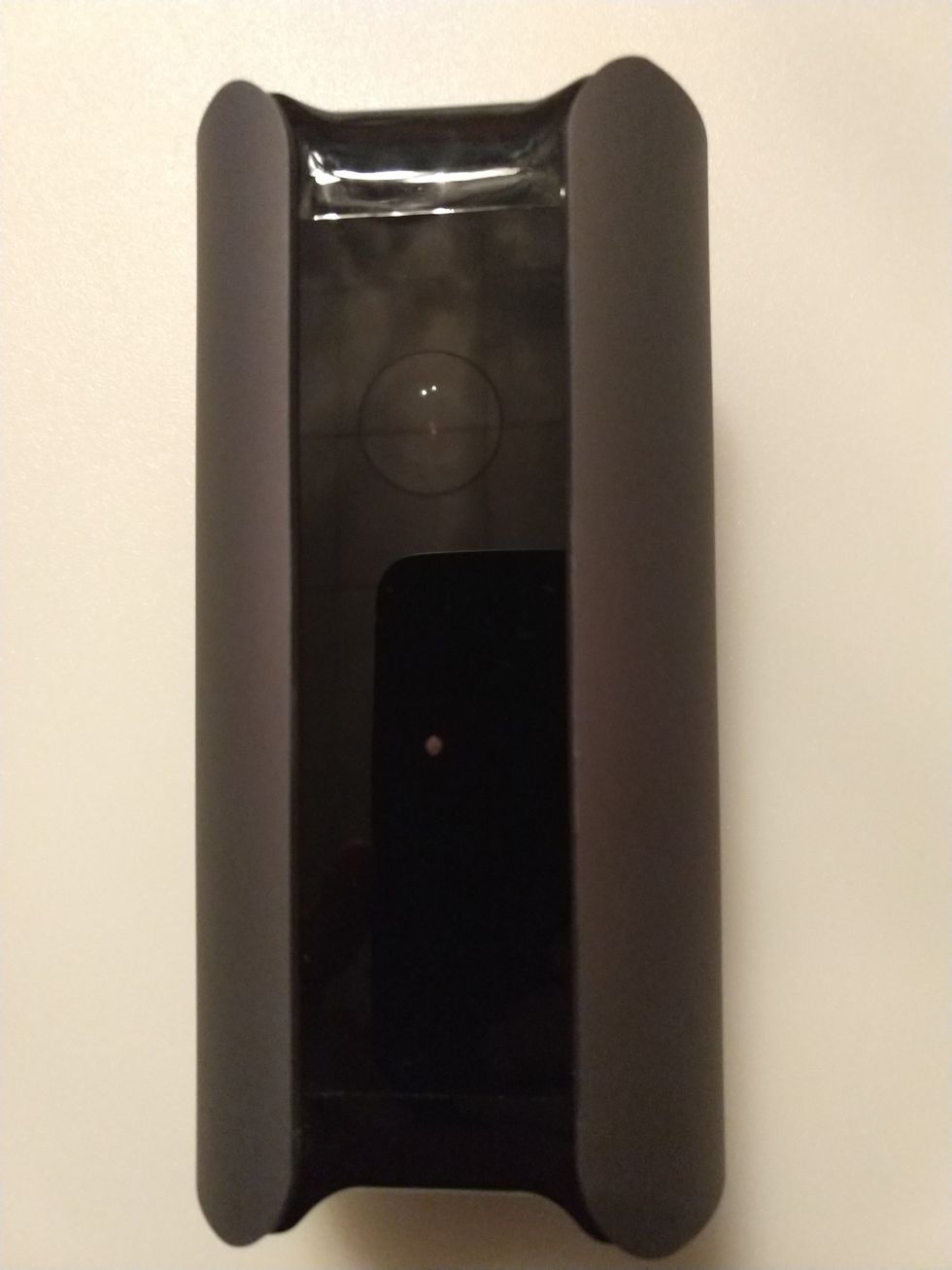 The Canary View's design is unassuming, but offers a 147-degree field of viewGearBrain
Practical Usage
Similar to the Canary Flex and other Canary cameras, while the View remains in home mode — in other words, while you're in your house — recording and notifications are disabled to protect your privacy. It's only after the camera detects you've left the house, that recording is activated. Then again, you can set up a privacy mode which turns the camera's functions off whenever you want. However, although I had zero connectivity issues during my testing of the View, I did frequently have trouble getting the camera to recognize when I'd returned home. Toggling the setting is easy enough via the app, but I would have liked a bit more consistency with the detection.
Alerts are sent to you via the mobile app when activity is detected, and any recorded video can be reviewed through the app, and, if necessary, emergency services can be notified. Bear in mind that Canary's app won't be able to alert emergency personnel like police or firefighters: you need to call them yourself. As with any DIY security camera, you're making the choice as to whether something you're viewing in the app is okay — or not.
For example, while you can set up activity zones in the settings, pets will trigger alerts. Yes, you can create spaces where you are essentially telling View not to notify you if it sense movement — say a room where your cat spends most of its time. But Canary View doesn't have specific pet detection features like Blink's home security system. For pet owners, that's something to note.

You can also set notifications and recording during the night time, even while you're sleeping, for peace of mind. And if you want a live view, the Canary app can support that kind of feed from the Canary View from your PC. Other options are limited via a browser, so aside from the occasional live view check-in, we think you'll spend most your time in the app.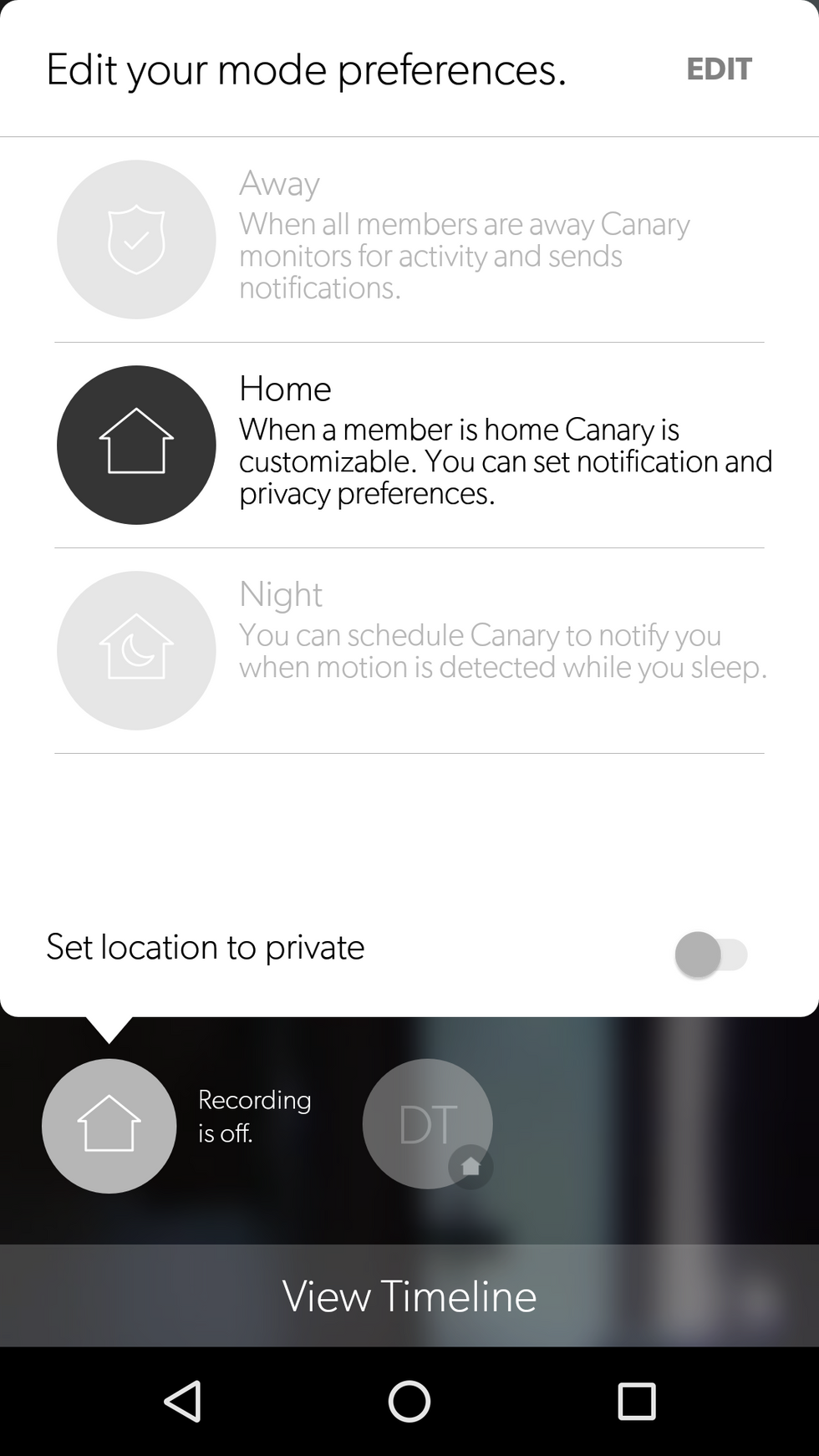 You can set notifications in the Canary app that also let you get alerts while you sleepGearBrain
Features
The View does support two-way "Canary Talk," just like the Canary Flex, but only if you're willing to pay for the monthly service. The camera also chirps when the feature is used, giving you a nice, loud audio cue when the camera is listening. That's pretty important, as you want to know if someone has dropped in on your space. If you're using the View in your own home, that chirp may also be a way to know something is connecting to your camera that shouldn't be.
As for imaging, the View captures video in 1080p which is stored in the cloud for 24 hours with Canary's free service, or for 30 days using the paid option. The lack of local storage is disappointing, considering the only other option is a monthly fee.
The video quality is pretty good, and the View also sports an automatic night vision mode which provides a clear image in very low lighting. Couple this with the View's 147-degree wide-angle camera and you've got a decent catch-all security camera for a good sized room. Considering Honeywell's Lyric C1 has just a 135-degree field of view, and the Canary Flex has just 116-degree field of view, we think the View stands up pretty well in this regard.
Considerations

Undoubtedly, the View is a solid security camera. However, the catch comes in the form of a monthly subscription to utilize the camera's full potential. Subscription models for these types of toys are hardly new, but the restrictions on the free service are a bit tight: there are no full-length recordings, you get just one day of video history, you can use Canary Talk, there are limited video downloads, you can't create custom modes, and you cannot stream live video to your desktop.
In our opinion, the most egregious of these limitations is the lack of full-length videos coupled with the mere 24-hour history. Furthermore, without the option to store video on the actual camera, those without a subscription will have a very small storage capacity. This means you'll need to keep checking the app constantly to check-in — and if you're thinking of using this for a second home, where you might want to be able to keep a week's worth of video, you're going to have to pay for the subscription.
If you're one of the people who don't mind paying for the subscription, or are fine dealing with the limitations of the free service, the Canary View is worth considering. The price is certainly good, the setup is simple and the features, including the field of view, are enough to offer some basic amount of security.
Pros:
Inexpensive
Good picture quality
Intuitive app with Alexa and Google Assistant capabilities
Cons:
Gated subscription features
No HomeKit support
No local storage
From Your Site Articles
Related Articles Around the Web
Like GearBrain on Facebook