Like GearBrain on Facebook
Despite the ever-increasing screens sizes and breadth of abilities on smartphones and tablets, sometimes it's just easier to hand over work from one of these devices to a proper computer.
This often means opening the same document or web page on your computer, or sending a portion of text from a smartphone to laptop by either emailing the link or texting the content to yourself. Even worse, you may need to type everything again on a laptop.
Read More:
Thankfully, Apple users can make use of a great hidden feature baked into all recent iPhones, iPads and Macs called Continuity.
Where to start
First, say you want to copy something from your iPhone or iPad and paste it on your Mac. It could be a website address, or a note you have typed on your smartphone but want to finish on your Mac.
To get this working, you first have to make sure both devices are connected to the same Wi-Fi network, and both are logged into the same Apple ID. Next, you need to check that your devices all meet the minimum system requirements to use Apple's Continuity feature, which is the backbone that makes all this work.
Next, make sure all devices have Wi-Fi, Bluetooth and Handoff switched on. You can find these in System Preferences on the Mac and in the Setting app on iPhones and iPads.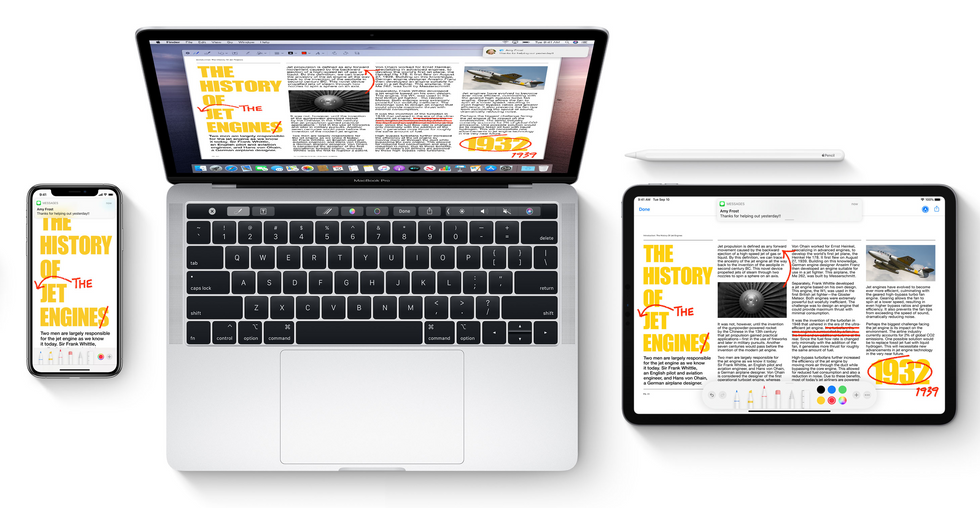 Continuity makes it easy to paste work between devicesApple
Now that's all set up, you just highlight the text you want to copy on your iPhone or iPad, and tap copy in the normal way.
Next, go to you Mac, right-click and select 'Paste,' and the text from your iOS device will be copied across.

Copying and pasting text from Mac to iOS device works in exactly the same way, making it easy to send a web address, written note or entire document from computer to smartphone.
Once you start, you'll likely find this shortcut is one you may use daily, a convenient way to quickly shift not just something you're writing — whether that's a letter or a paper — but also move shorter pieces of content that you don't want to re-type incorrectly, including usernames, passwords and other snippets from one device to another.
Do bear in mind, however, that you have a limited amount of time to take advantage of this cut and paste shortcut. Apple itself doesn't say exactly how long; instead it vaguely states: "The copied content is available to paste on your other devices only for a short time." So the copied text will only stay available in this way, moveable to other devices, for only a short period. That's typically not going to be an issue, but certainly something to note as you're using the feature.
Apple MacBook Air (13-inch, 8GB RAM, 128GB SSD Storage) - Silver
From Your Site Articles
Related Articles Around the Web
Like GearBrain on Facebook