Like GearBrain on Facebook
Transferring your data from one service to another can be confusing and time consuming – especially when the transfer potentially involves hundreds of videos and tens of thousands of photographs.
Thankfully, a new tool from Apple has arrived this week to make it easier to transfer your photos and videos from iCloud to Google Photos. This is particularly useful for iPhone users planning on switching to Android, but also acts as an easy way to create a backup of your iCloud photos on Google's equivalent.
Read More:
The transfer will not remove any of your photos and videos from iCloud, and that library will remain exactly the same once the process is complete. Instead, it will create an identical library in Google Photos, with images organized into albums.
There are some limitations, however, as only the most recent version of images that have been edited will be transferred, and videos are not organized into folders. And while the transfer tool promises to copy across a wide range of image types, Apple can't guarantee that every type of RAW photo will be copied across to Google Photos.
Before you get started, make sure your Apple ID has two-factor authentication enabled, you have a Google account to use Google Photos, and that account has enough storage. Apple shows you how much storage your iCloud photos and videos take up during the process, so you can then free up space on your Google account or pay for more storage before getting started with the transfer.
Next, you can head to privacy.apple.com and sign in with your Apple ID. You will then need to enter the two-factor authentication code generated by your Apple device.
Now click on 'Request to transfer a copy of your data', and on the next screen you will be shown how many photos and videos are in your iCloud Photos storage, along with approximately how much space they take up.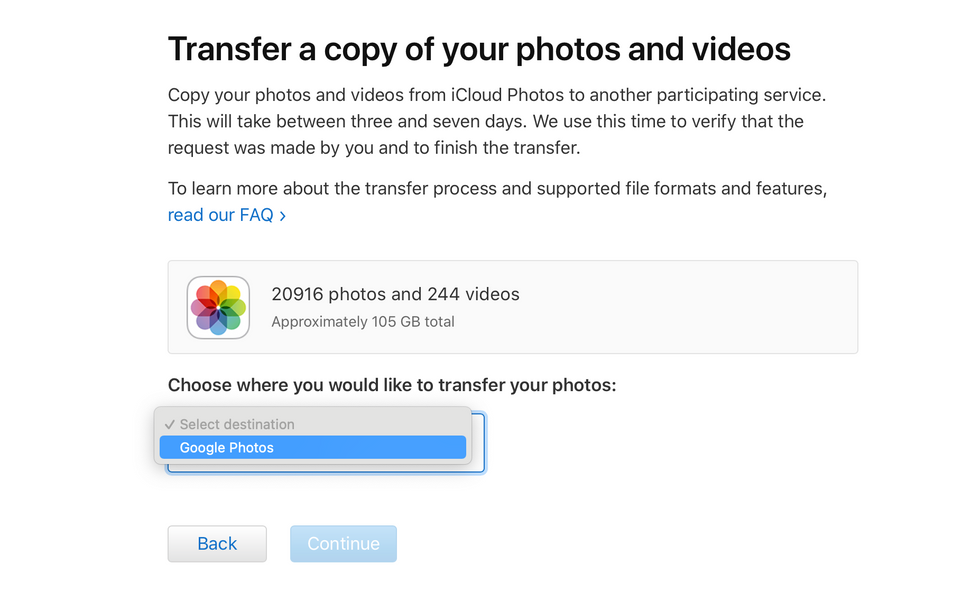 The tool shows how much space is required for your transferGearBrain
You then need to select a destination for your photos and videos. Despite the drop-down box Google Photos is the only option; we suspect this means more options will be added in the future. Apple says the transfer process will take "between three and seven days." We know this sounds like a very long time, but Apple explains: "We use this time to verify that the request was made by you, and to make the transfer."

Verifying you made the request is of course very important, given the potential harm that could be caused if someone else requested a copy of your entire iCloud photo and video library.
Next, you can choose to transfer only your photos, only your videos, or both. Finally, you'll be asked to sign into your Google account to confirm the destination for the transferred content.
Apple aims to transfer everything, but explains that this might not always be possible. The company says on a support page: "Photos and videos are transferred either in the original format or in industry-standard formats that are easy to open and read. In some cases, you may find that the transfer didn't include all the photos, videos, or formats that you expected.
Formats that can be transferred include:
.jpg
.png
.webp
.gif
Some RAW files
.mpg
.mod
.mmv
.tod
.wmv
.asf
.avi
.divx
.mov
.3gp
.3g2
.m2t
.m2ts
.mts
.mkv
Apple also explains that duplicates appear as one file, only the most recent version of edited photos are transferred and once transferred to Google Photos every file name begins with "Copy of".
Finally, Apple says: "Some content – including shared albums, smart albums, photo stream content, live photos, some metadata, and photos and videos in other folders or locations – is not transferred at all."
From Your Site Articles
Related Articles Around the Web
Like GearBrain on Facebook