Cortana now has more ways to control your smart home, through a new range of devices, along with the If This Then That (IFTTT) automation platform.
Microsoft's answer to Amazon Alexa, Google Assistant and Apple's Siri, Cortana is a voice-activated personal assistant which lives on Windows 10 computers, the Xbox One and within smartphone apps for iOS and Android.
Read More: What is IFTTT, and how to get started
New products now compatible with Cortana include thermostats by ecobee and Honeywell, plus lights by LIFX and smart plugs by TP-Link. This new round of compatibility comes after Cortana began working with Samsung SmartThings, Nest, Philips Hue. Wink and Insteon in October 2017.
One of the simplest ways to take advantage of this new update is to use a TP-Link smart plug or Geeni surge protector. Plug non-smart devices like lamps, heaters and fans into these, connect them to your Wi-Fi and Cortana, then ask the assistant to turn them on or off.
More interestingly, however, is that Cortana now works with IFTTT, allowing consumers to create 'applets' for the assistant to control smart home devices in new and innovative ways. Applets produced by Microsoft itself include ones which let Cortana control Philips Hue smart lights, Samsung robotic vacuum cleaners, SmartThings devices, LIFX lights and more.
There are already over 30 IFTTT applets for Cortana to use, and because IFTTT works with 600 services more will no doubt be created by users once they get to grips with Cortana's new functionality. Microsoft suggests: "You could add items to your shopping list on Trello, post a tweet, open your Link shades, extend tumble time on your GE Dryer and log your weight on Fitbit among many other things. There's a whole world of possibilities with Cortana on IFTTT."
IFTTT can also be used to create custom trigger phrases to instruct Cortana to do things. You could set "Hey Cortana, let there be light" to switch a lamp on. You can also use IFTTT to make Cortana perform several actions with one instruction. For example, say "Hey Cortana, movie time" and she'll turn down your Hue lights, switch the TV on and adjust the Nest thermostat.
Here is a selection of Cortana IFTTT applets to get you started: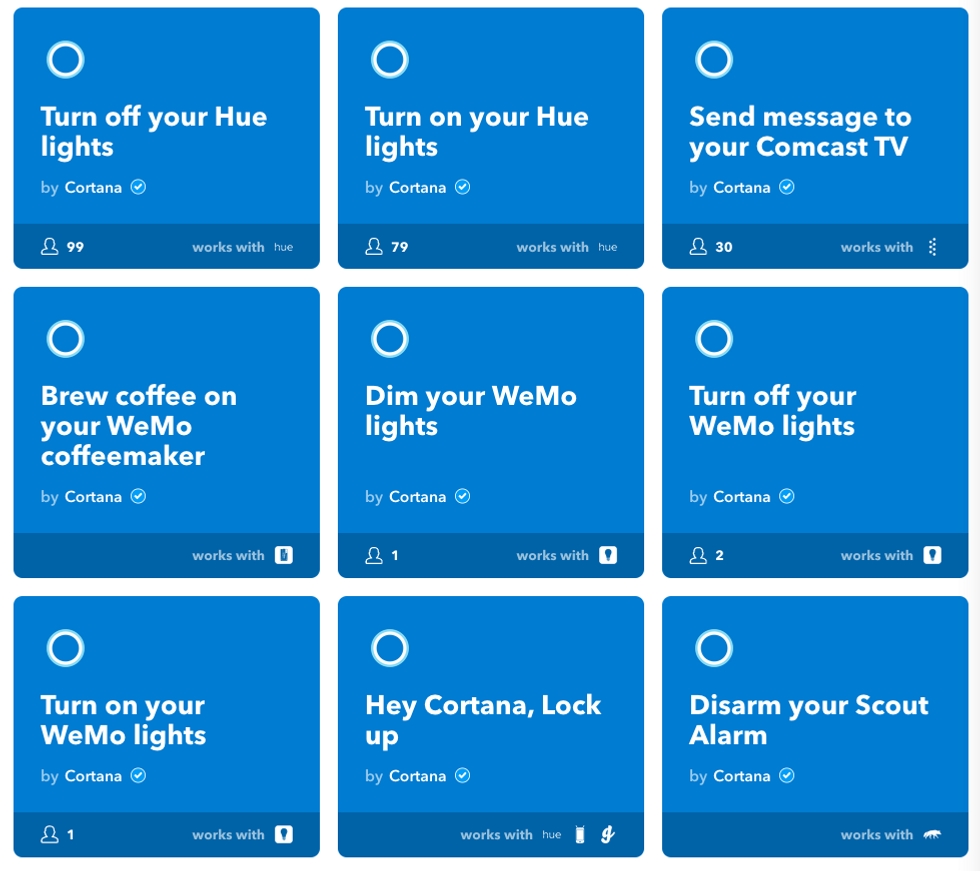 A selection of IFTTT applets for CortanaScreenshot