Like GearBrain on Facebook
Thinking about picking up an air purifier? You're hardly alone. As the pandemic hit, with people spending more time indoors in their home, the number of air purifiers in use around the globe has grown. To date, there are about 21 million purifiers in residential spaces, as compared to about 5.97 million in 2015, according to Statista.
Two air purifiers that can handle larger space — meaning more than a single room — include the Coway Airmega 250 and the Aura Air. We spent some time with both, and here's what we found in terms of how they compare and where they differ. You can then choose which one may be a better fit for your home and your needs.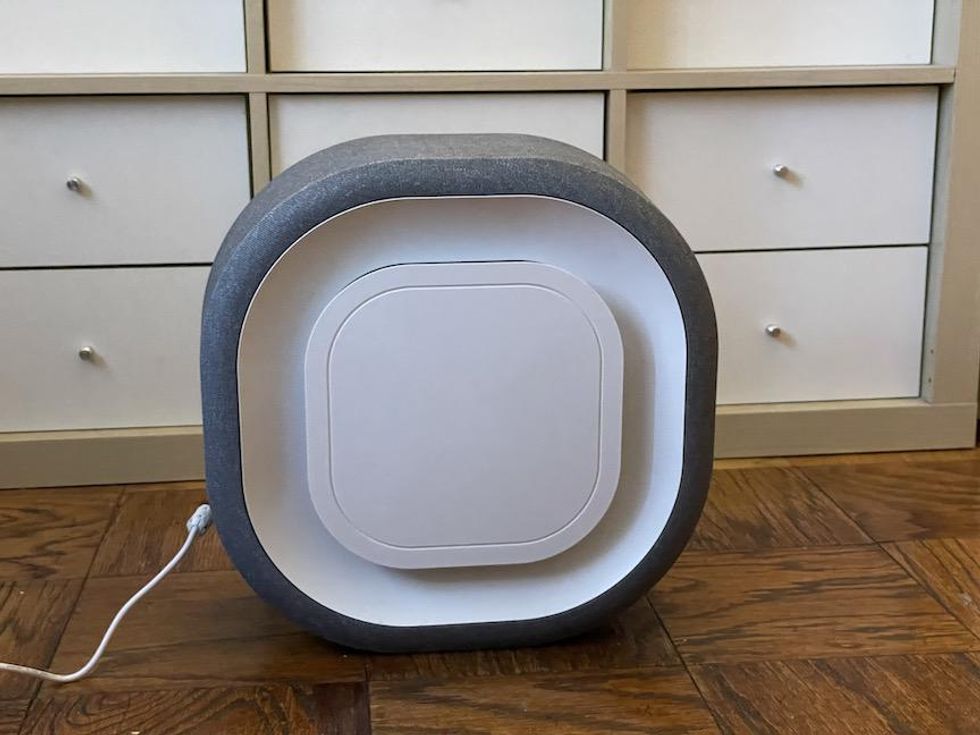 Aura Air both monitors and cleans your air GearBrain
Design

The Aura Air is a square-shaped purifier with rounded sides, and has a very unique placement: on the wall. We didn't install the device for the time we had it this way, but the air purifier is meant to be anchored on the wall, and on its own, to correctly clean the air in a space. It's almost architectural in its design with a white front face and gray softer sides — and there is a power cord needed to run this, which will snake along the wall to an outlet.
This is also a smart device meaning you can pull details that are being collected by the Aura Air from its app, and that's where you'll actually go to see details about the air quality in the room.
The Coway Airmega 250 is an air purifier, in contrast, designed to stand on the ground, like the Coway Airmega 150. It's more rectangular and has a power cord as well. But unlike the Aura Air, this is not a smart device and any controls — or features — are handled right from the purifier itself.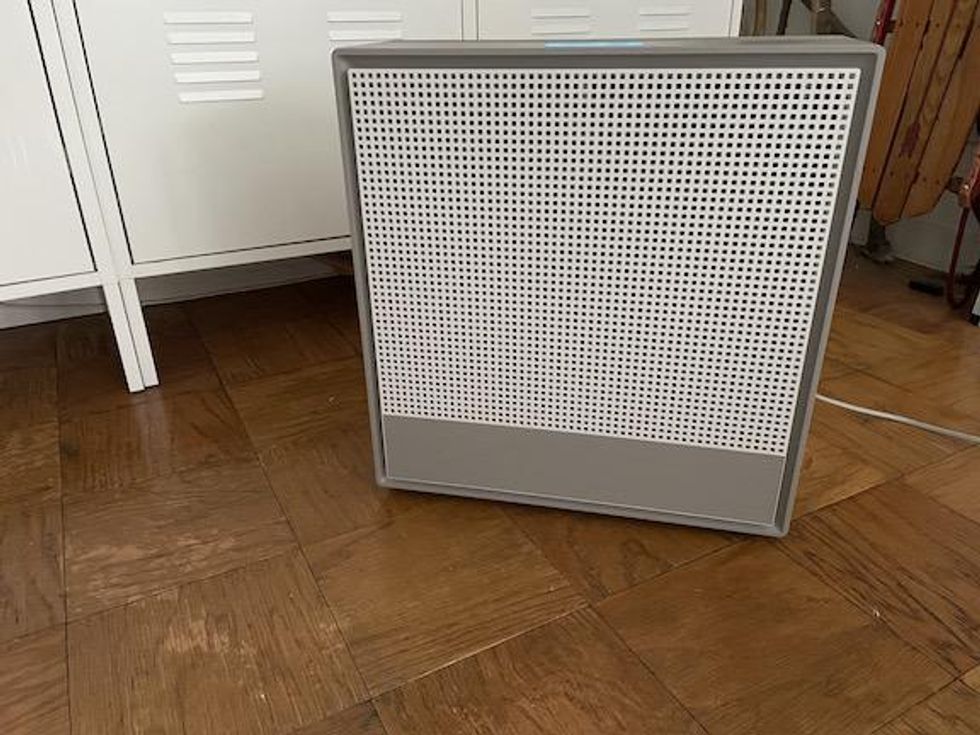 Coway Airmega 250 includes a pre-filter, carbon filter and a HEPA filter as well GearBrain
Filters

The Aura Air features two filters, one is a pre-filter, which most purifiers use, which is designed to capture items like hair and bigger things. Then there's something that Aura Air calls a Ray filter, which is the main one for this device. This includes a HEPA filter, a carbon layer and an anti-bacterial one, and is meant to pull out VOCs, odors, bacteria, small tiny particles and more down to .3 microns.
The Coway Airmega 250 has a pre-filter as well. Then there is an activated carbon filter, this will help stream out odors, and finally what the company calls a Green True HEPA filter which is designed to capture VOCs, plus very fine particles, allergens and contaminants down to .3 microns.
Monitoring features
Aura Air is designed to work as a monitor, and delivers an AQI score, (also known as an air quality score) from picking up seven different metrics in the air: carbon monoxide, carbon dioxide, VOCs or chemicals, PM10 or standard particulates, PM 2.5 or very small, fine particulates, humidity and temperature. You can also see this on the front of the device through a small light indicating the state of the air, and also in the app — and the app is extremely well designed.
The Airmega 250 also monitors the air in a space — which is how it determines when to start cleaning or not. These details aren't as spelled out as with the Aura Air, but you are also presented with information about how clean your space is via a large color indicator on the front of the purifier. These range from red, meaning bad, to green, yellow and blue, which means the air is good.
There's also a unique safety lock on the front of the Airmega 250 which when pressed prevents the settings from being changed by little fingers or anyone.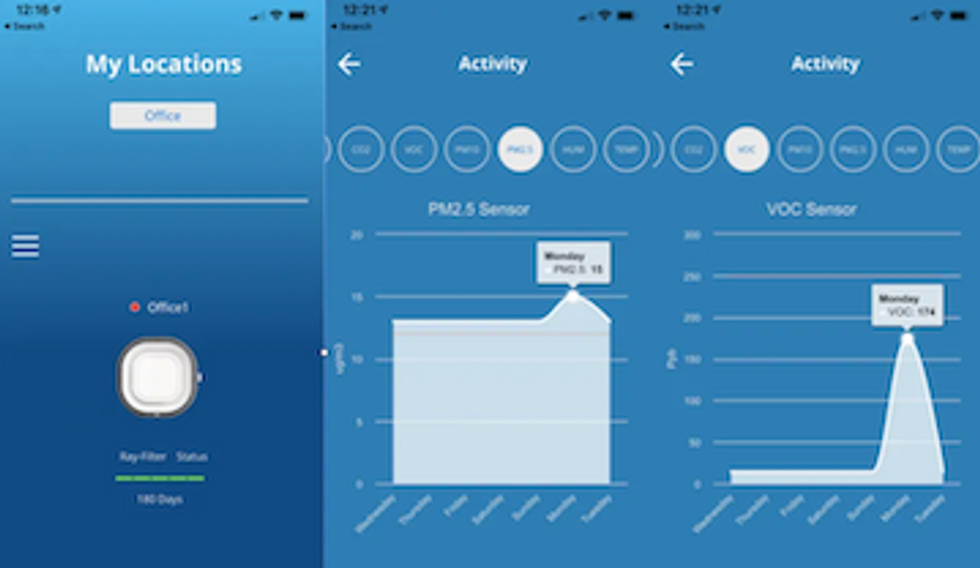 Aura Air connects to an app, where you can see the activity and also monitor air qualityGearBrain
What it can clean

The Aura Air can clean a 600-square foot space every 2.5 hours.
The Coway Airmega 250 can cover a much larger area — 930 square feet — and does this two times an hour.
Sound
The Aura Air? It honestly is a bit on the louder side when it gets up and running. While the sound wasn't constant, when the device certainly felt the air needed a heavy clean, I could hear it and this was enough that you may not want to install this purifier in a bedroom, or even a home office. When not in this heavy cleaning mode, the Aura Air was fairly quiet.
At higher levels, the Coway Airmega 250 was also very loud. This purifier runs from a level 1 to a level 3, the latter being the loudest of all. On the lowest setting, we found the device very quiet, near silent. But when it kicks in, if on Auto setting for example, then that was a fan level that would make it hard to hear a video conference call.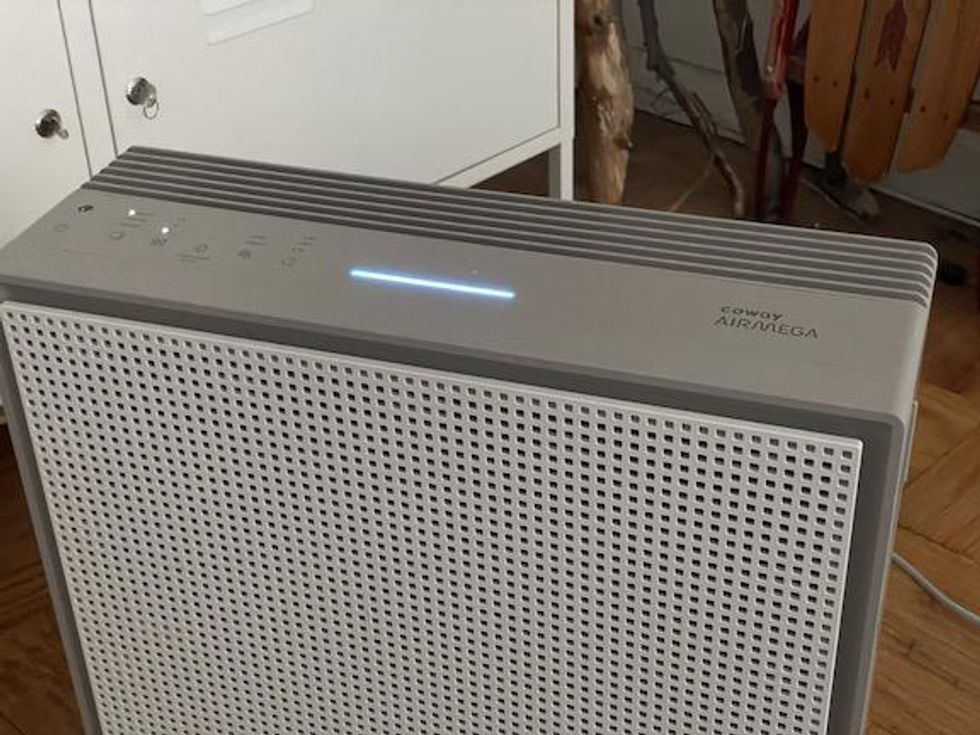 The Coway Airmega 250 has a large light on the type which through color, indicates the quality of the air. GearBrain
Smart controls

Because the Coway Airmega 250 is not a smart device, you can't connect to voice assistants nor to an app. For some, this may be a positive. It does have some automation, in that it can operate and move through the different settings, including eco mode to sleep, on its own by monitoring the air quality and making choices about when it needs to go into high cleaning mode or not.
Aura Air, as a smart device, does use an app to deliver details about air quality, and it also claims to work with two voice assistants, Alexa and Google Assistant. We were able to link up to Amazon's voice assistant in our tests, but not to Google Assistant.
Price
Aura Air retails for $499 on the company's web site. Its Ray filter, which you will need to replace at some time, is $79 as well.
The Coway Airmega 250 is available on the company web site for $399.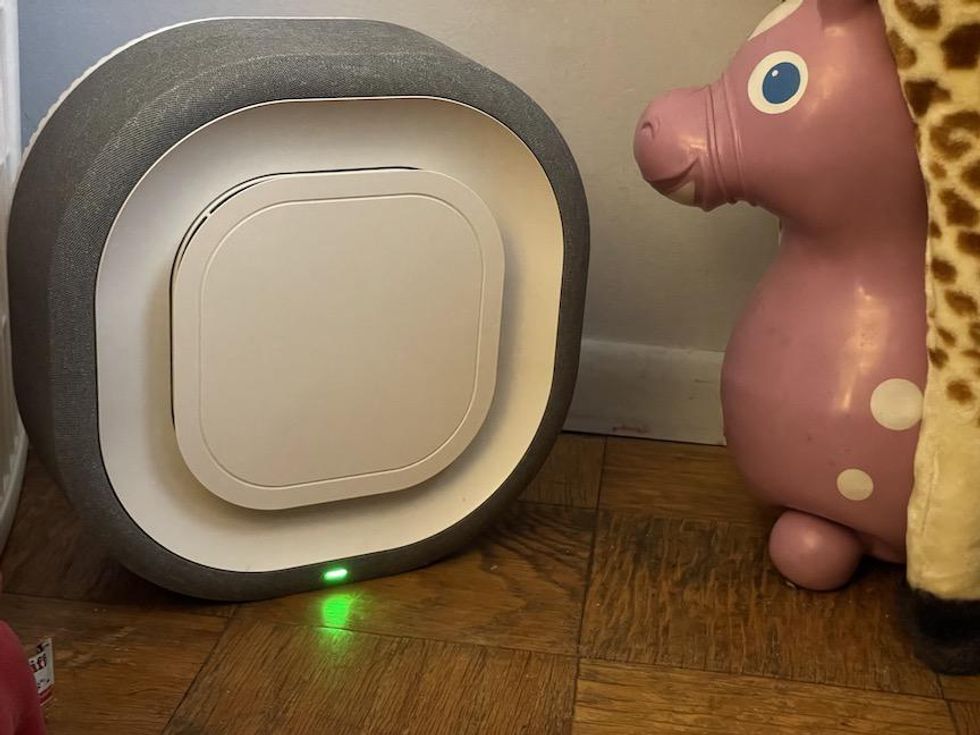 The Aura Air is beautifully designed and alerts you to the air quality based on the color of the light GearBrain/Lauren Barack
Which is best for you?

To start, anyone looking for a smart device, one that can work with voice assistants and has an app, the Aura Air is likely going to be a better choice. The device can be operated via Amazon Alexa (we had trouble with Google Assistant) and can be controlled though a smartphone, where you can pick up details about the quality of your air as well.
The Coway Airmega 250 is likely going to appeal to someone who wants some automation, but doesn't want to have to connect the device to Wi-Fi. It can still handle large spaces, more than 900 square feet, and it's even a bit less expensive than the Aura Air. You can also just plug this into an outlet, and let it run.
The Aura Air is meant to be installed on the wall, bringing some extra work into setting it up, but from there you're not going to need to touch the device much unless you're changing the filter or resetting the Wi-Fi. (Something we did need to do during our testing.)
We do like the look of the Aura Air better, which sports a clean almost architectural design compared to the boxy look of the Coway 250, and it can clean a fairly large-sized space as well, up to 600 square feet. But ultimately the decision of what someone needs in their space is your own.
For those who prefer a hands-off approach, the Aura Air may be more to their liking, while someone who needs to clean a bigger area and wants more visible clues about their air quality right there on the device, may want to consider the slightly less expensive Airmega 250.
Like GearBrain on Facebook