Like GearBrain on Facebook
The latest air purifier from Coway is the Airmega 250, a $400 device that is meant to cover a fairly large area — 930 square feet — and handle elements like VOCs, allergens and more. The company sent us a device to test, and here's how that air purifier fared in a small apartment.
Installing the Coway Airmega
Putting the air purifier together was a two-minute operation. To start you'll remove it from the box, then pull out the inner screen, and from there remove an activated carbon filter. Ours was enclosed in plastic, which we removed, and then replaced back into its spot. There's also what Coway calls a Green True HEPA filter inside which is designed to capture VOCs and also 99.97 percent of particles, allergens and contaminants in the air down to .3 microns. We can't verify the ability of the purifier to do this, but that is what Coway claims.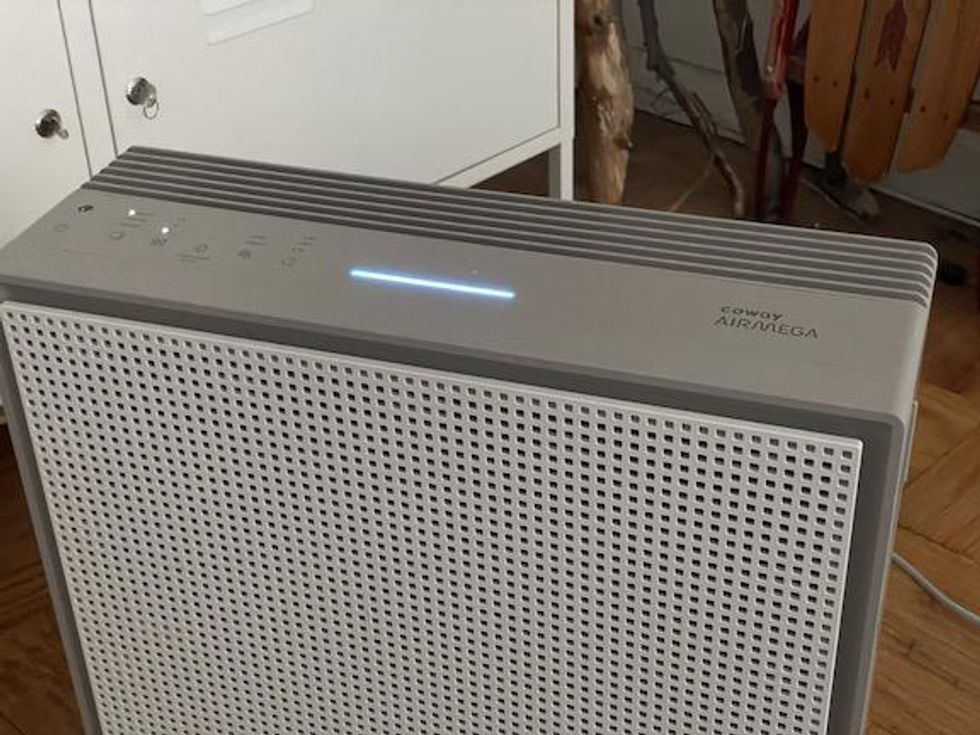 The Coway Airmega 250 is a boxy device, and comes in just one color option, greyLauren Barack/GearBrain
You're going to install a pre-filter, which comes with the device, and that's designed to pick up larger debris like pet hair, your own hair and large dust particles. This can be removed and washed — and you'll get a light on the device when it's time to clean it, and also when to change the HEPA filter. And the light will actually tell you which filter to address.

The entire device is plugged into an outlet, and it's not connected to Wi-Fi and therefore not to an app. And it doesn't therefore link up to smart assistants, like Amazon Alexa or Google Assistant.
How it worked
Having recently reviewed the Coway Airmega 150, and owning a Coway Airmega 200M, I immediately noticed the 250 was more like the 150, nearly silent at times when on a low setting.
I did occasionally notice the the air purifier shifting into a higher fan speed, but mostly it stayed in this low-level. The Coway Airmega 250 actually shifts on it own between three smart modes — Auto, Sleep and Eco, depending on the need. And this is determined based on details including the air quality, which is read at levels of 1 to 3. (3 being not great.)
Auto mode is what I noticed the most, as that's when I would hear the fan change. One night we cooked a bit of a smoky stir fry, and heard the purifier kick in after a few minutes. Sleep kicks into place when air quality is good for three straight minutes and Eco mode starts when levels are good for 10 minutes — and is designed to help conserve energy.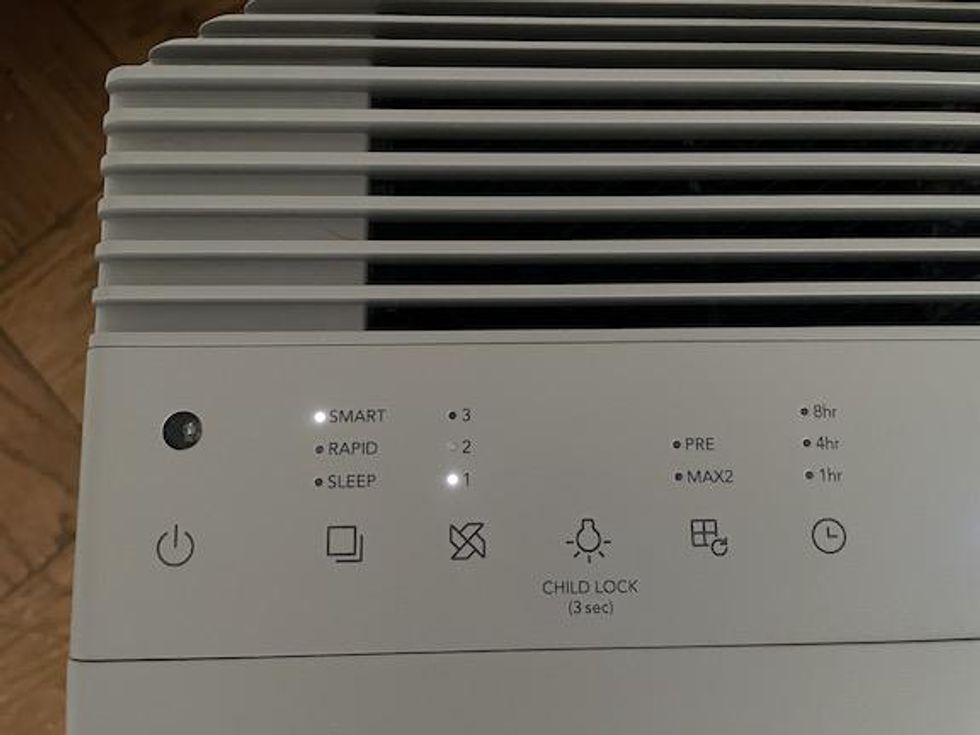 You can manage controls from the top, including putting the air purifier on a timerLauren Barack/GearBrain
You can also put the purifier on a timer, for 1, 4, or 8 hours, and then the device will turn off to save energy as well.

The air purifier can also go into rapid mode on its own, which makes it run at a higher intensity until it reaches level 1. And you can of course, manually, set the fan level to which ever intensity you'd like. I did find that while the lowest setting was nearly silent, higher settings were clearly audible, with a level 3 very loud — and not something I'd want on all the time, certainly not during a video conference call for example.
Finally, there are also color cues — which I think are a plus — that let you know how good the air is in the space. Blue is good, red is — as you would suspect — not good, and there are two in between, a green and a yellow. And that indicator light is big and large — and therefore easy to read from across a room.
Design
The Coway Airmega 250 is larger and stockier than the Airmega 150, but then again it covers a much bigger area, able to clean up to 930 square feet, two times an hour, which is a very generous space for a New York City apartment.
It is big though, so for small spaces this is something to keep in mind. The smaller devices from Coway, like the 150, may be better suited for some, and while they cover less square feet, they're perfectly able to handle a bedroom, for example.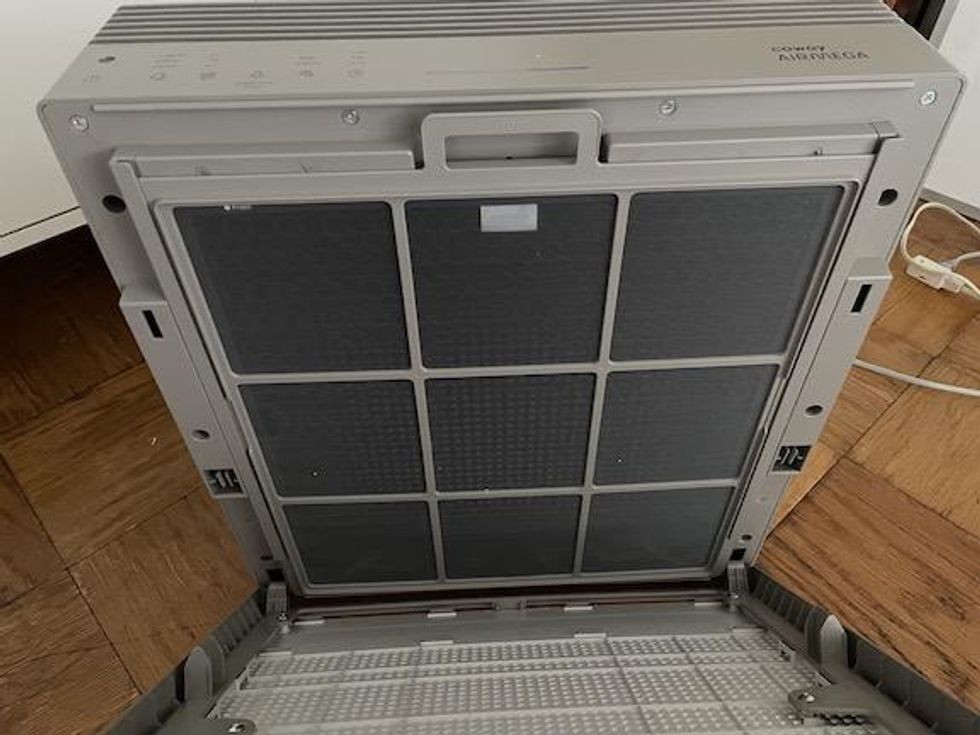 A pre-filter inside can be cleaned, and an indicator light will alert you when it's timeLauren Barack/GearBrain
The Coway Airmega 250 also doesn't have a wide range of color options like the Coway 150, and instead comes in a flat grey.

One thing I did like, and we're noticing this more across a range of devices, is a child safety lock button right on the top of the purifier, which basically shuts down the lights on the top of the purifier, and also locked settings into place, and made this less attractive to small fingers and eyes.
Price
You can pick up the Coway Airmega 250 for $399 on the company's web site.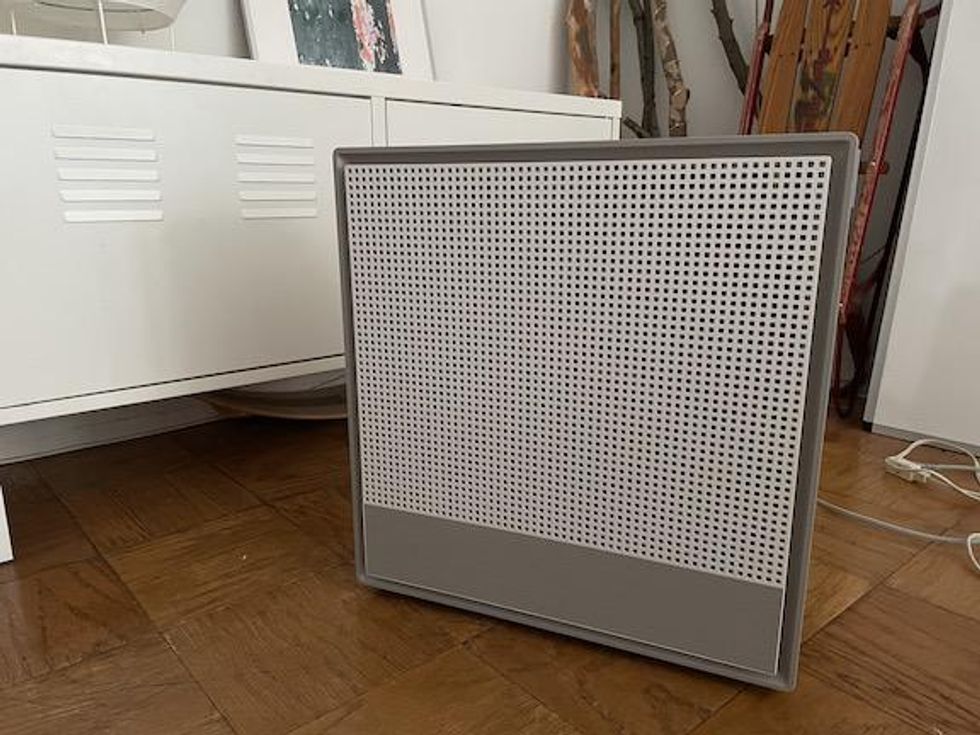 The Coway Airmega 250 is designed to clean 930 square feet, two times an hourLauren Barack/GearBrain
Worth buying for you?

The new Coway Airmega 250 is a large air purifier, something you'd want to pick up for a bigger room or space. It's efficient, and it's solid to have something that can kick into gear on its own, and even increase the intensity if it senses that's needed.
The child safety lock button is especially nice too. We do wish there were other color options, especially given the size. This is not a particularly attractive device, and while the muted color may mean it slips more easily into the background of a space, I think it would be nice if there were one or two other decorative choices.
Being able to easily lift out the pre-filter to clean it is a plus, and the option for a timer is solid too — a way to save energy.
Is this right for your space? That's something to determine if you need a purifier for a larger area or not. If you're looking for something for a single room, like a bedroom, a smaller purifier may be something that works better. For a big open space, where you're fine tucking this into a corner, the Coway Airmega 250 is certainly worth considering.
Pros:
Smart modes to shift cleaning when needed
Child safety lock
Can clean up to 930 square feet, two times an hour
Cons:
Large and boxy
Lacks color options
Is a bit more expensive than some other Coway models
Coway 250 HEPA Replacement Filter Parts for Airmega 250/S, Black
From Your Site Articles
Related Articles Around the Web
Like GearBrain on Facebook