Like GearBrain on Facebook
Air purifiers and monitors are devices that not only test the air in their surroundings, they can alter them as well. There's been an uptick in interest in these products, some of it because of the fires burning across much of the West, and other stemming from people spending more time indoors with the onset of the coronavirus pandemic. One brand that makes a number of these products is Coway, and we tested its smart Wi-Fi Airmega in January this year.

One of its newest is the Coway Airmega 150, which is a bit smaller than the smart Airmega and yet is designed to clean a space of about 214-square feet. GearBrain has been testing the $189.99 device for a few days now, which works as both an air quality monitor and an air purifier, and here's our thoughts on how it worked in our space.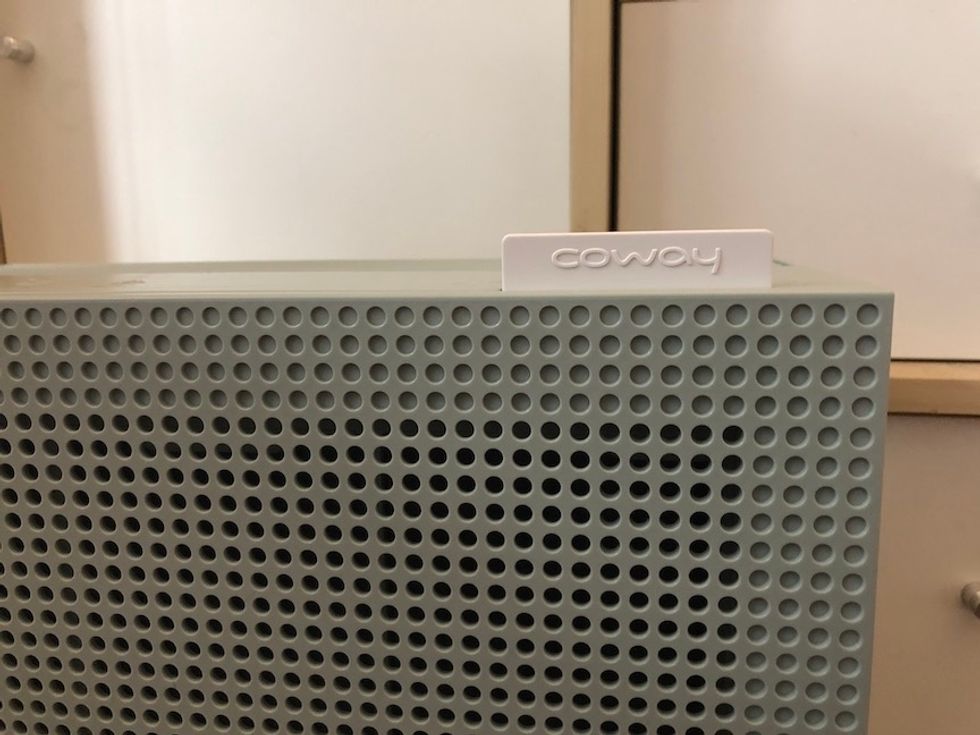 The Coway Airmega 150 has three different filters to clean and monitor the airGearBrain
What is the Coway Airmega 150

The Coway Airmega 150 is both an air purifier and monitor wrapped into one standalone device. It's 18-inches tall, rectangular in shape, and contains a filtration system, pollution sensors and eco-friendly cleaning features, including a pre-filter that can be pulled out, cleaned and air-dried, making it reusable.
The device can both monitor your air and clean it at the same time, and has visible indicators letting you know if what you're breathing inside should concern you or not.
It's a sturdy looking device, definitely about half the size of typical air purifiers and monitors. But this is not a tabletop-sized monitor like the Awair devices. You're going to need to find a bit of space on the floor, and yes, that's where it needs to live.
Housed in a plastic case, the front is an open grid of punched holes, allowing air to come into the purifier, and it comes out from a grill on the top. It's not going to win a design award, but it's simple, clean looking and does come in muted soft colors including sage green, white and soon a pale peony pink.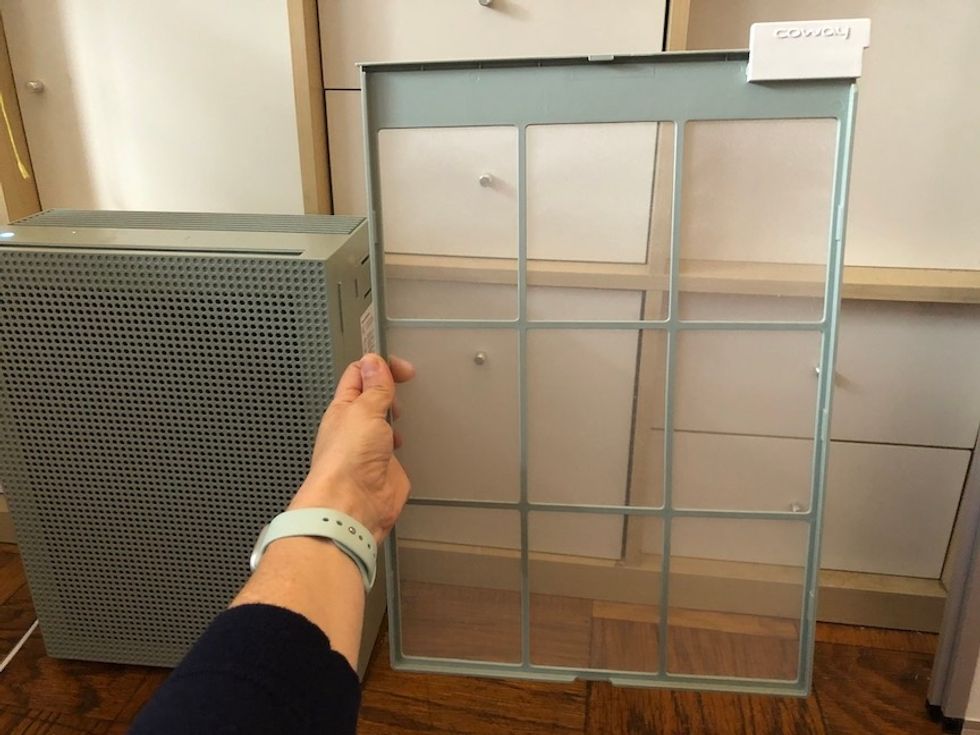 The pre-filter can be removed and cleaned easilyGearBrain
Air Purifier

The air purifier contains a True HEPA air filter, which stands for high efficiency particulate air. And as an air purifier, Coway has three filters inside: a pre-filter, one that deodorizes the air and the True HEPA filter as well, claiming to remove 99.7 percent of particulates in the air that are .3 microns, including dust, pollen and smoke.
Note though, HEPA filters are designed to remove 99.7 percent of particles in the air that are .3 microns in diameter, as per the U.S. Environmental Protection Agency, also known as the EPA. This isn't, then, unique to Coway's device. Also, just be aware that Coway's labeling of True HEPA is to delineate it from a HEPA like filter, which is not a HEPA filter at all.
Coway does make it easy to remove, clean and swap out the filters inside the Airmega 150 — very easy. There are three inside. To start, you'll pull open the front panel, punched with evenly spaced hole, to remove the two filters inside, the deodorizing filter and the True HEPA filter, which is thicker, a set of pleated combs, both of which are wrapped inside plastic. You need pull the plastic off to make sure they run correctly. The deodorizing filter should sit at the bottom, and then the HEPA filter. They're actually placed in the right order inside, you just need to remove the plastic and put them back as you found them. The front piece should snap easily back in place.
The pre-filter is the third filter, and this has a white tab that sticks out from the top. You can actually pull this up and out (it's not wrapped in plastic), which makes it incredibly easy to remove, then wash and clean which you should do periodically. It's one of the best designs we've seen for cleaning a pre-filter, which is great since Coway recommends you do this every two weeks.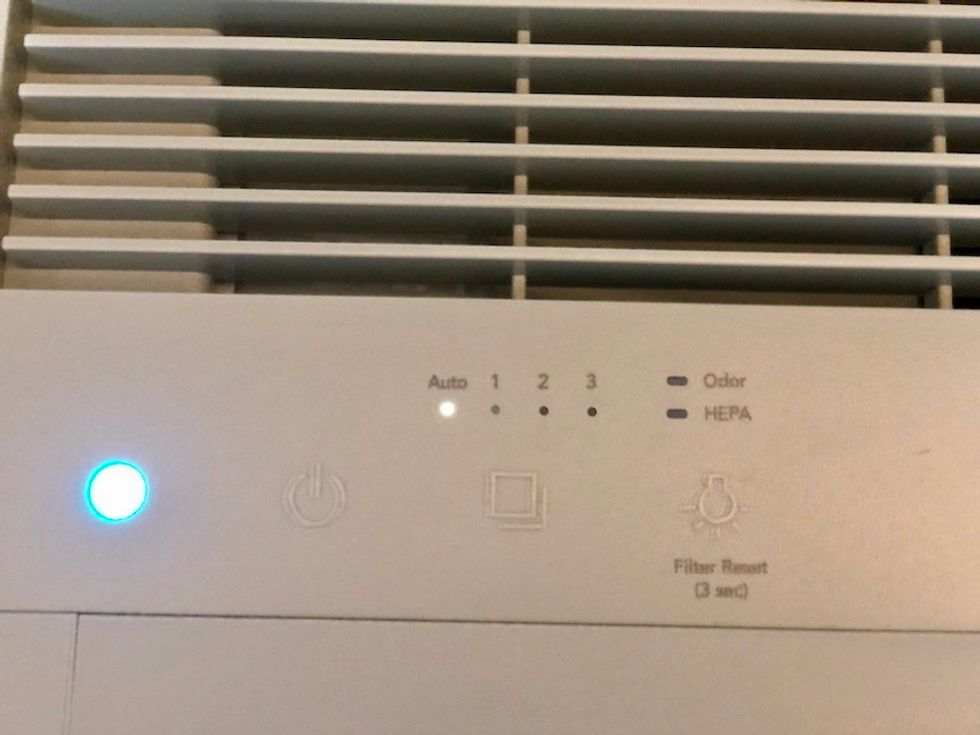 You can set the Airmega 150 to automatically monitor and cleanGearBrain
Air Monitor

On the monitoring side, the Coway Airmega 150 alerts you to the quality of the air through LED lights, which changes colors depending on how clean the air is inside. Air speed, the rate at which air is moved through the filter and cleaned, changes automatically, cycling through three different speeds.
You can of course control the fan speed as well, and also turn the device on and off. Filter lights will also alert you to when these need changing. Plugging it in, the light turned blue on the side and a light turned on indicating it was in Auto mode. Within seconds, though, the light turned green and then yellow, and the air purifier immediately started ramping up the speed of its fan. The room needed some cleaning.
Walking into the room also caused the purifier to also amp up, quickly turning the light to red, as it did for me once, and the fan to go into overtime, to the highest setting. And note that this is not a quiet air purifier. If you're a light sleeper, and kept this running at night, you'd want to consider overriding the auto feature and put the fan on low lest be in a situation where the fan could wake you up.
The fan has three air settings, and it will increase depending on the air pollution it senses in the room. Often, the Airmega 150 would give off a blue light, indicating the room was fine, and the fan would barely be on at all. It would then cycle to green, then yellow then red if it sensed the air was at its worst. At blue, it would be extremely quiet, and I would often put my hand over the top just to check if it was working. At that setting, the Airmega 150 is practically silent.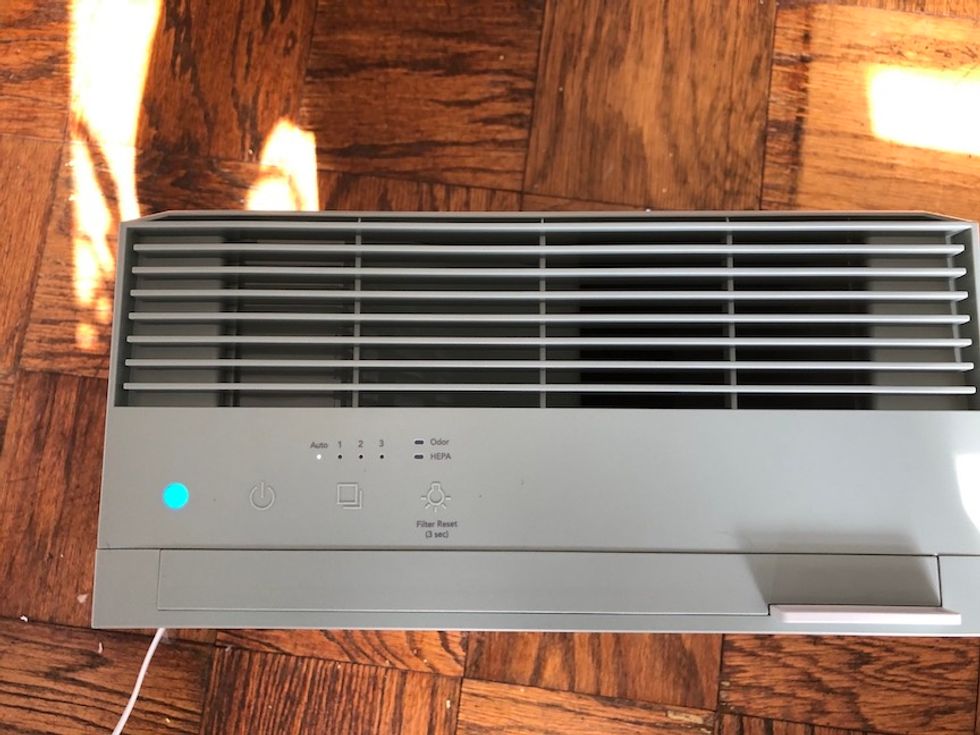 The top vent fans cleaner air into the roomGearBrain
Smart Home

Unlike the smart Wi-Fi Airmega, the Airmega 150 does not connect to smart home devices, nor to voice assistants including Google Assistant, Siri or Amazon Alexa. You can tell right from the start that this won't be able to communicate with connected deices — it's lacking a Wi-Fi connection on the monitor. That said, it's also about $100 cheaper.
Do we miss having a smart connection to Airmega 150? Not really. This is a device you optimally should have on all the time. A smart connection would give you more options on when to turn the device on and off, perhaps only use it when needed, as the smart Wi-Fi Airmega allows. But you can also turn the device off manually with a simple touch.
That said, having the option to control the Airmega remotely is something that's nice to have. It's a feature that we can understand is missing from a $100 less expensive model, but ideally would be worth having as option.
Price
The Coway Airmega comes in three colors, a sage green and white, with a pale peony pink set to be available in coming months, and is on sale for $170.99.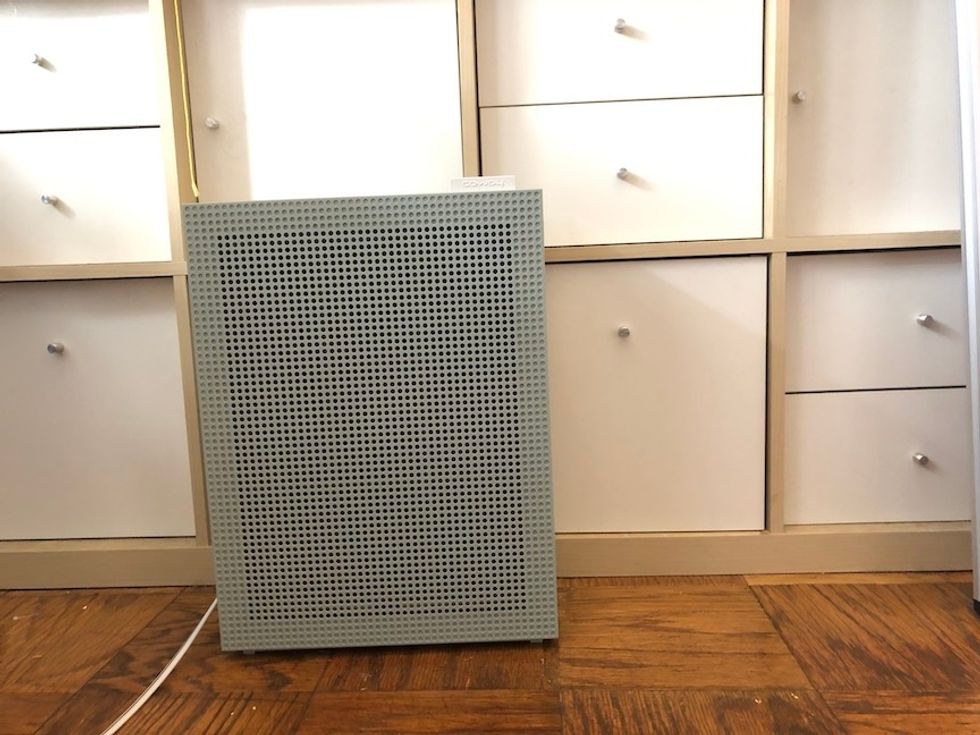 You can pick up the Coway Airmega 150 in sage green, white and, soon, peony pinkGearBrain
Summary

The Airmega 150 is a sturdy device. It both monitors the air, and activates automatically to start cleaning as well. The Airmega isn't going to win design awards, but it's muted, soft colors and squared-off look is innocuous — it can blend into a bedroom as well as a living room.
Do air purifiers actually work? It's hard to measure these, as we've explained, and to check if they actually do capture particles as small as .3 microns or less as they claim. We did see the Airmega 150 react measurably in different instances when it detected shifts in the quality of the air around it. And there's also some satisfaction in seeing the monitor read the air as clean. Testing the monitor in a room with about two dozen plants, a room that sometimes gives off an earthy odor, I did find that the scent also cleared out while using the Airmega 150 — a nice sign.
For those then looking for an air monitor and purifier with a HEPA filter, and one that's certainly affordable and works in a smaller space, we suggest taking a look at Coway's Airmega 150, which we think is definitely worth considering.

Pros:
Price
Quiet settings are very quiet
Simple to install and use
Cons:
Missing a smart, Wi-Fi connection
Gets very loud when the fan is at its highest setting
Design is very mundane
Like GearBrain on Facebook