At GearBrain, we like finding new smart devices that are easy to install, and compatible with many best of breed smart gadgets and systems. Take Danalock, which makes smart locks and solutions for both smart homes and businesses, a company we met at last year's CES in Las Vegas, and again at this year's CES too. The company offered us a chance to test its Danalock V3 Smart Lock. We put this lock through our testing procedures in a real home (and not a lab or the office) — and here is what we learned.
What is Danalock V3 Smart Lock?

Danalock's newest smart lock is a smart lock that reminds us of August Smart Locks. Both are easy to install, and require you change just one side of your lock. That gives you a backup plan to unlock your door in case you can't connect to your smart lock. Danalock, though, is much smaller and thinner than August Smart Lock, measuring only 59mm x 59mm (2 1/3 inches x 2 ½ inches) and weighing just 130 grams (4.6 ounces). It also works with a wide variety of doors and locks, and comes with country-specific adapters for quick installation.
Danalock V3 smart lock comes with AES-256 security encryption, the baseline requirement for Apple HomeKit. The smart lock also stores encrypted access keys in a Trusted Platform Module (TPM) chip, which the company claims cannot be hacked.
Its compatible with other smart home systems and wireless protocols — although not as many as August Home's — which means Danalock V3 can communicate on Bluetooth 4.0 LTE, Z-Wave Plus, Zigbee and Apple HomeKit.
Danalock V3 is available in only silver and has an anodized aluminum finish, which we thought looked nice. You also get four CR123A batteries to power the lock.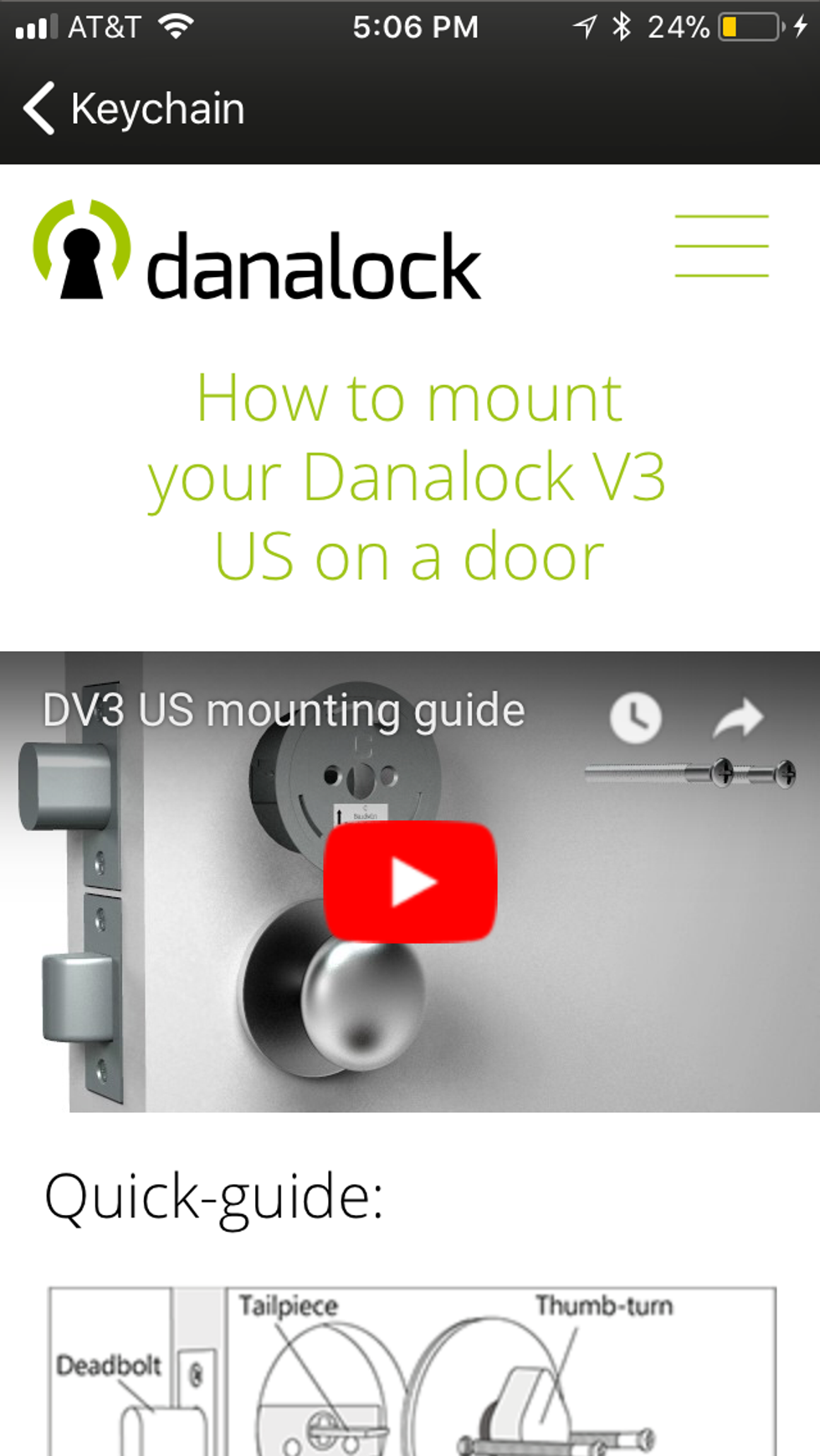 Danalock mobile app has very good installation videos. Will help simplify your installation of Danalock V3.GearBrain
Installation
GearBrain has tested many smart locks and some take a fair amount of time install. Not the Danalock V3: It's rather simple. It took us only a few minutes, but we have experience installing smart locks. We think the average consumer should plan to spend about 10 to 20 minutes, depending on your door type and the strength of your wireless signal — and the company provides very good instructions on their app if needed.
After downloading the Danalock app, available on either Google Play or App store, secure the front side of your current door lock by taping it to your door. Then remove the lock's backside. Keep the lock's original screws — you will need them again.

Next, you need to secure the backplate. Danalock provides three different types of backplates, and using the mobile app or supplied user setup guide, find the backplate that matches your existing lock. Remove the paper from the sticker on the backplate and fasten it to your lock on the door. Once secured, find the tailpiece adapter that matches the shape of your existing lock's tailpiece. Again, Danalock supplies a guide to help you find the right adapter for your lock. For our lock we had a Weislock and needed to use the white adapter.
Once you have the right tailpiece adapter, insert it into your Danalock and press until you hear it click. This means your adapter is secured and the Danalock is ready to be installed on your door.

Take your Danalock and fit it onto your backplate with the battery cover facing down. On the back of the lock, align the small marking at the edge of the backplate with the hole in the cover ring around your Danalock. Turn the Danalock clockwise until it clicks into place. This is key, because if the lock doesn't fasten to the backplate, it will fly off the door when you configure your lock. This happened to us — we thought the lock was secure. It wasn't.
Once the lock is on your door, pull out the plastic tab coming from the battery casing. A light should flash which means your Danalock is ready. If you don't see a light, your batteries are disconnected, so take the cover off and check to make sure they are connected.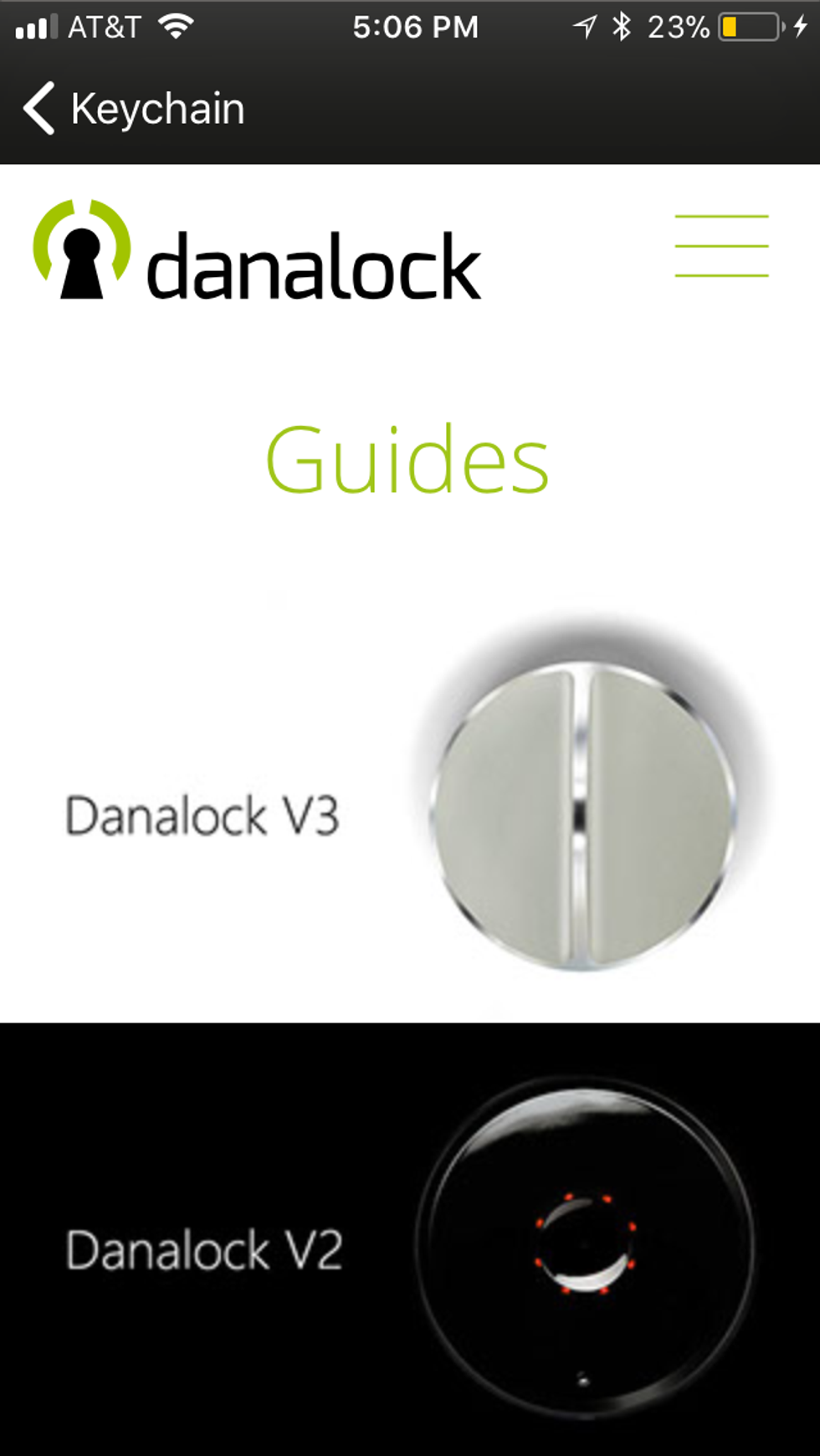 Danalock V3 mobile appGearBrain
Finally, log on to the Danalock app and start configuring your lock. During this step, make sure your door is open and not closed. The mobile app will walk you though calibrating the lock. You can also go to Danalock's website and view the mounting video. It's self-explanatory and helpful.
If at any point you need to remove your Danalock from your door once it has been secured, find the hole at the top of the lock on the inner edge, and place a pen tip inside. While pressing the pen inside the hole, turn your Danalock counterclockwise until it releases from the backplate. If you don't do this, you could damage the lock. When you go to put your Danalock back on, note you will need to recalibrate the lock.
Compatibility

The Danalock V3 smart lock is compatible with certain Z-Wave and Zigbee smart home systems, which means you can link to connected hubs like Samsung SmartThings, Fibaro Home Control, Homeseer 3 and Wink. Danalock is also compatible with Amazon Echo via IFTTT and should work with Google Home later this year, according to the company. (Check The GearBrain to learn more about what works with Google Home and Google Home Mini.) You can also use Danalock V3 with your Alarm.com home security system.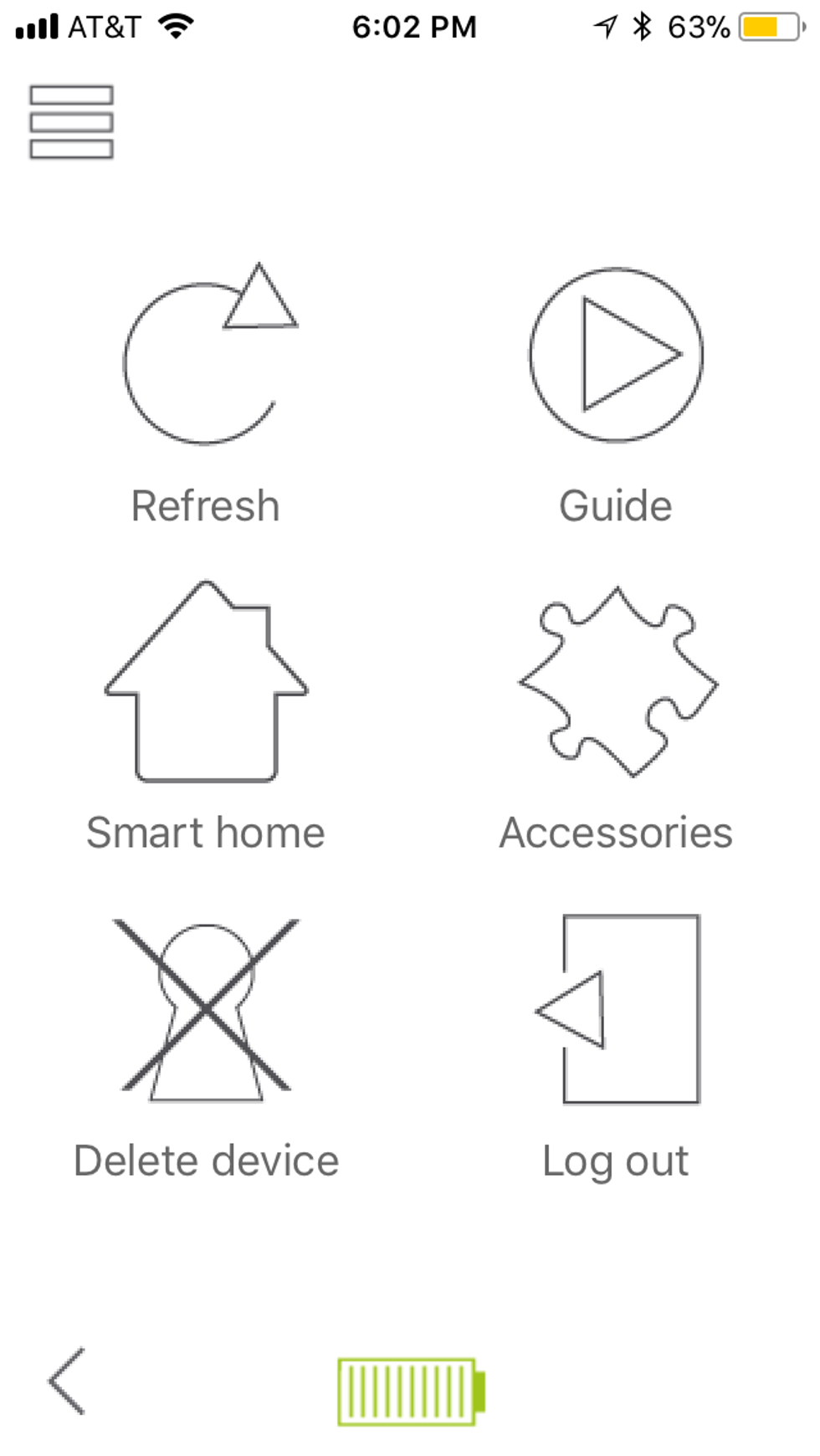 Use Danalock mobile app for smart home integrations.GearBrain
But note: Danalock does not require a hub to operate. However, if you want to connect Danalock V3 to a hub, it works with Z-Wave hubs (Z-Wave and the newer, secure class of Z-Wave called Z-Wave Plus.) During our initial testing,. we tried connecting our Danalock to an older-model Nexia Bridge which is a Z-Wave hub. They would not pair, as our Nexia Bridge didn't support Z-Wave Plus. (Nexia Bridge's new Z-Wave gateway does support Z-Wave Plus.) Today, you don't have to worry as long as your Z-Wave hub supports Security S0. Not sure if your current hub supports Z-Wave Plus or has Security S0? You can go to Z-Wave Alliance site and check.
If you do have a Z-Wave gateway that supports Z-Wave Plus or has Security S0, here's how to connect your Danalock V3 to the gateway. First, log in to your Z-Wave device's app, set your Z-Wave device to inclusion mode or press the controller bottom to confirm inclusion mode on the app. Then take your lock and place it next to the Z-Wave hub, and press one click on the top front hole. Inclusion should start. Danalock mentioned the time of inclusion may vary by Z-Wave device so have some patience. They also recommended we read the last page of the manual that comes with the lock about click functions on the lock.
Danalock's development team had developed a solution that will allow you to use its mobile app on either an iOS or Android device to connect to a Z-Wave or Zigbee hub. They also noted that if you do connect the Danalock V3 to a Z-Wave or Zigbee hub, you'll have limited use of the Danalock features. To get them all, you need to go through the Danalock app and not the hub's app.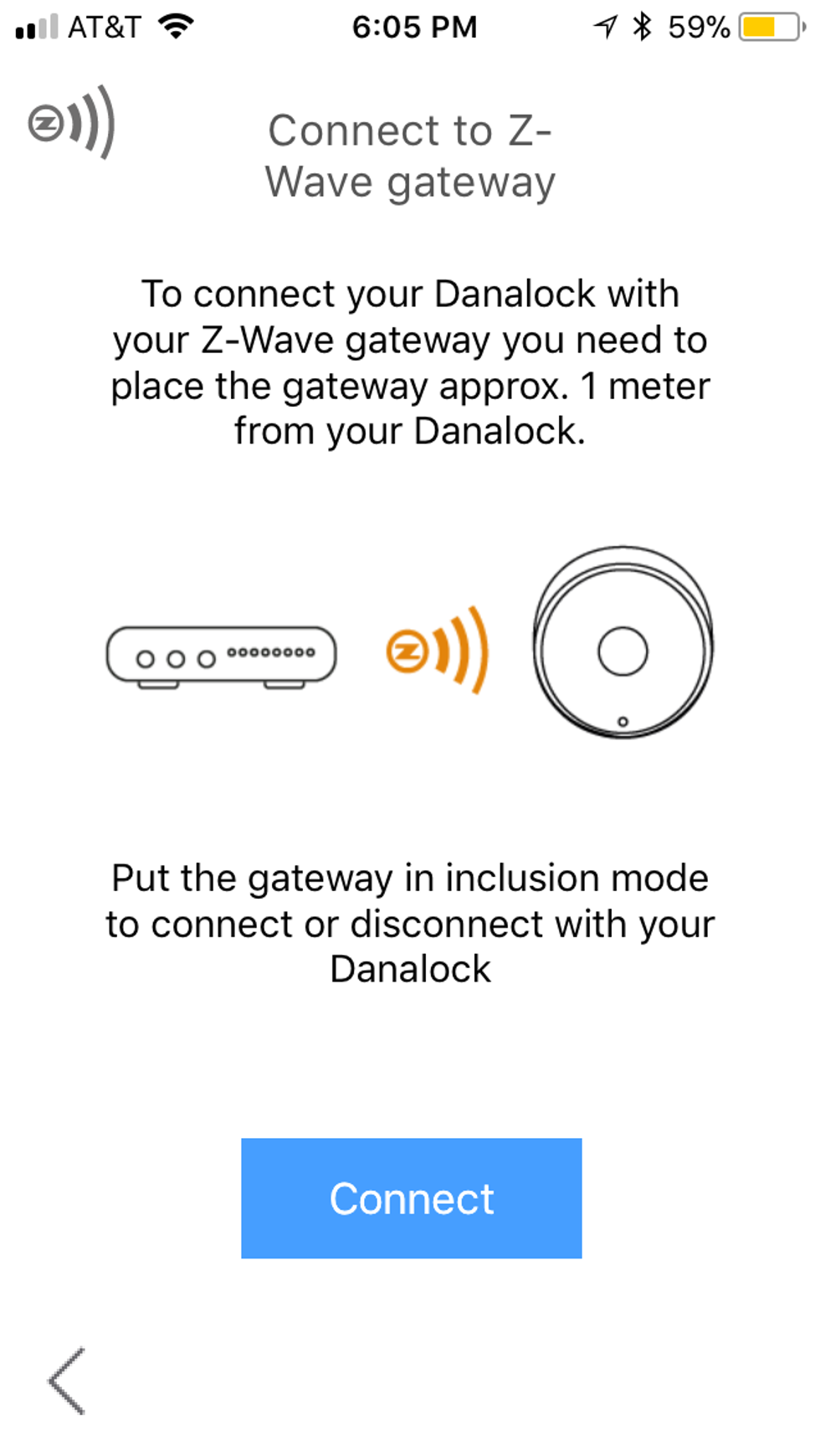 To connect your Danalock V3 to a Z-Wave device, you need to use Z-Wave Gateway's app. GearBrain
In addition to Z-Wave and Zigbee hubs, Danalock V3 is also compatible with certain Bluetooth-based smart home hubs. We connected our Danalock to a Harmony Hub via the Danalock app. But the company is taking that integration — as well as their Nest integration — offline for now as they work on what they say will be a better solution. That's a smart move to us. We found that connecting the Danalock V3 to a Harmony Hub using a Bluetooth 4.0 BLE wireless connection limited what we could do.
We were only able to set automatic actions when we locked and unlocked our Danalock from stopping all AV on the hub (which we thought was the most useful), to launching Netflix via devices connected to your Harmony Hub. Also be careful with this setting. If you lock the door while someone is watching something on the Harmony Hub-connected TV, they might get mad at you. Like your wife. (Yes, this happened to me.)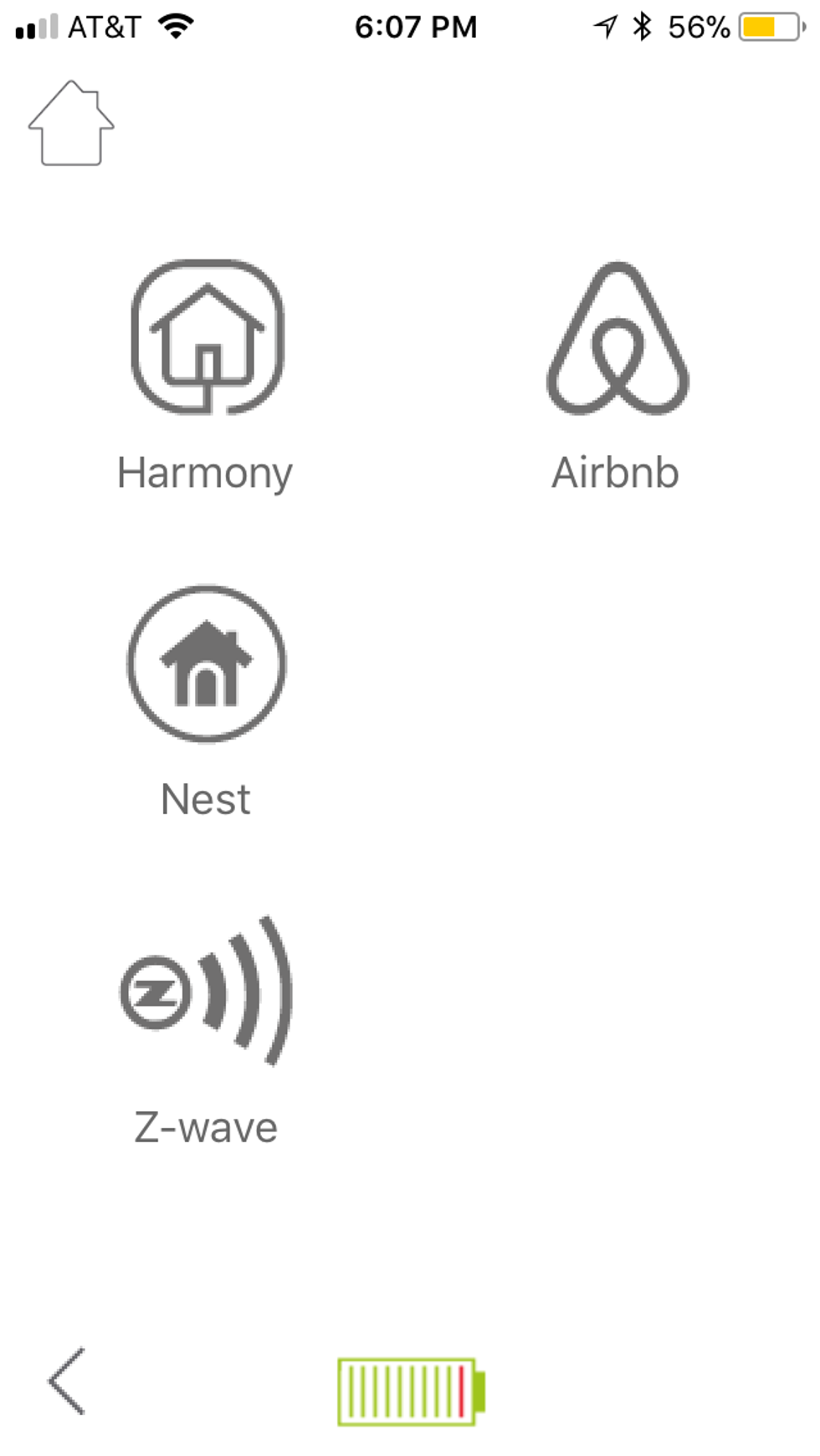 Danalock Smart Home Integrations. Nest and Harmony integrations are being updated and might not work for you. Company is upgrading these automations to improve customer experience. Expect new updates in coming months.GearBrain
Connecting through a hub
Lastly, like most smart locks today, to have true remote access you need to be connected to the internet. Some smart locks sell you a bridge or a second device to connect your smart lock to the internet. Others build the connection into the smart lock. Danalock has come out with a solution called Danabridge V3. This device is a smart outlet which you control using the Danalock app.on either your iOS or Android smartphone or tablet. It works off a Bluetooth wireless connection as long as its plugged in within 15 feet of your lock.
Danabridge V3 Plug is expected to be available in March/April 2019 . The Plug works similarly to the August Connect, You wilkl set it up using the Danalock app. If you go into your Danalock app menu, look under "my accessories" and follow the setup process. GearBrain is in the process of getting the Danabridge to test and will report on this new Danalock product once it's available.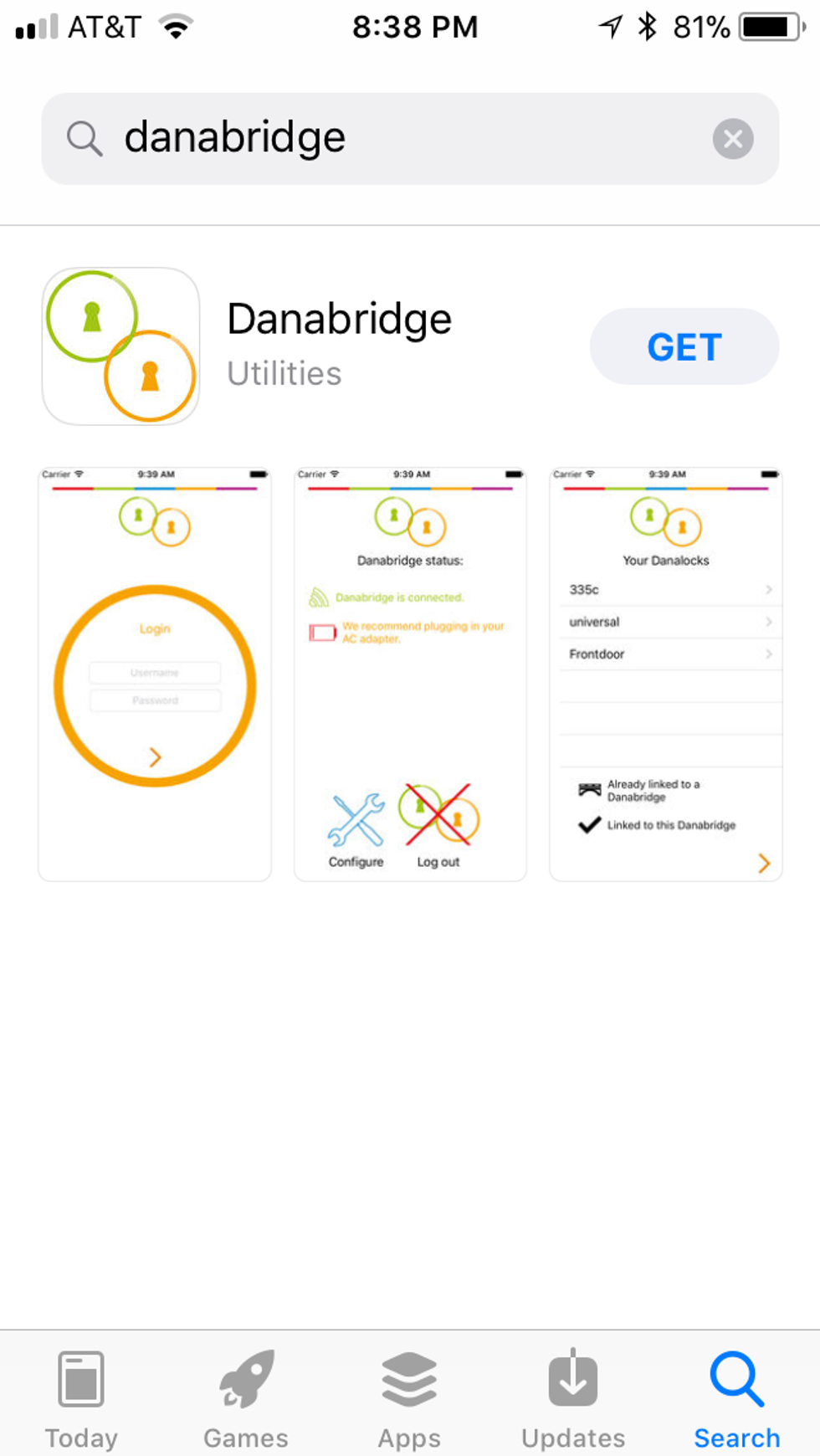 Danabridge mobile app is available in App Store or Google Play.GearBrain
Open source options
You can use the open source platform openHAB, which lets you create your own smart home automations with Z-Wave or Zigbee hubs. It's mainly used in Europe and works like IFTTT, but is a step or two above in its complexity. We would recommend using IFTTT unless you're very comfortable with coding.
IFTTT works well if you want to connect your Danalock to other smart home devices like Philips Hue smart lights or an Amazon Alexa enabled device, like an Echo or Echo Dot. You can get the applet from IFTTT — but will need to make sure your Danalock is always connected to the internet or your home Wi-Fi network using Danabridge. We didn't find this as simple as we'd hoped. We tested this, and found it not that simple. We could lock and unlock our Danalock V3 using Alexa, but we needed to use the right activation phrases. If you don't, Alexa gets confused and won't be able to operate your locks.
Danalock is a global lock company and their smart locks are available in 25 countries. On the company's website, you will see the V3 costs 149 euros for the Bluetooth-version. The company informed us they have new MSRP for Danalock V3: $172.95 for Bluetooth version and $229.95 for either Z-Wave or Zigbee versions. Their Apple HomeKit version will cost $199.95. You can also pick one up on Amazon UK or Amazon , Best Buy, Walmart or other major retailers here in the US. No matter where you live, you can always buy a Danalock V3 from the company's site if you're interested. (If you are a dealer in the US or Canada and want to buy a Danalock, you can go through either their US distributor, Petra Industries.or Aartech in Canada.)
Summary
Danalock is a nice smart lock which reminds us of August Smart Lock because you only need to install half of the lock. Installation is very easy and quick as well, and its compatible with a number of other smart devices and for those who rent their spaces through Airbnb. We like the fact the size of the lock is small and is not as big as the August Smart Lock cylinder. The lock does have a rather loud sound when it opens and closes, however, surprising for its small size. This was a little surprising to us since it's a rather small lock.
What we would like to see improved on the Danalock V3 is the way you connect the lock to Z-Wave and Zigbee devices. It's not easy and many consumers want turnkey solutions. We're also eager to see how the Danabridge V3 will perform to offer total remoste access for Danalocks. This can be a good solution and look forward to testing it when its available.
Overall, Danalock V3 is a good alternative to the August Smart Lock. This smart lock will be even better once all of its smart home integrations are in place, has new hardware solutions to connect to a hub, and works seamlessly with more Apple HomeKit and other Z-Wave or Zigbee smart home systems.
Pros:
Easy to Install
Works on Bluetooth, Z-Wave Plus, Zigbee wireless protocols
Global Lock - works in 25 different countries
IFTTT integrations for Amazon Alexa
Compatibility with various standard deadbolt locks.
Airbnb use
Cons:
Awkward setup to connect Danalock to Internet
Current Z-Wave Plus and Zigbee pairing process is difficult and time consuming
Price