Like GearBrain on Facebook
DJI just dropped the gadget of the summer on its drone-flying fans: a new consumer-sized drone that is about the size of a can of soda, fits in the palm of the hand—and flies right from it as well. The Spark, priced at $499, can take off from a pilot's hand, which will also double as the drone's controller. That's not to say a remote control doesn't work with Spark—or that you can't use a smartphone app to run the drone as well. But Spark is going to change the idea, and the expectations, of how pilots are going to want to operate their flying machinery going forward.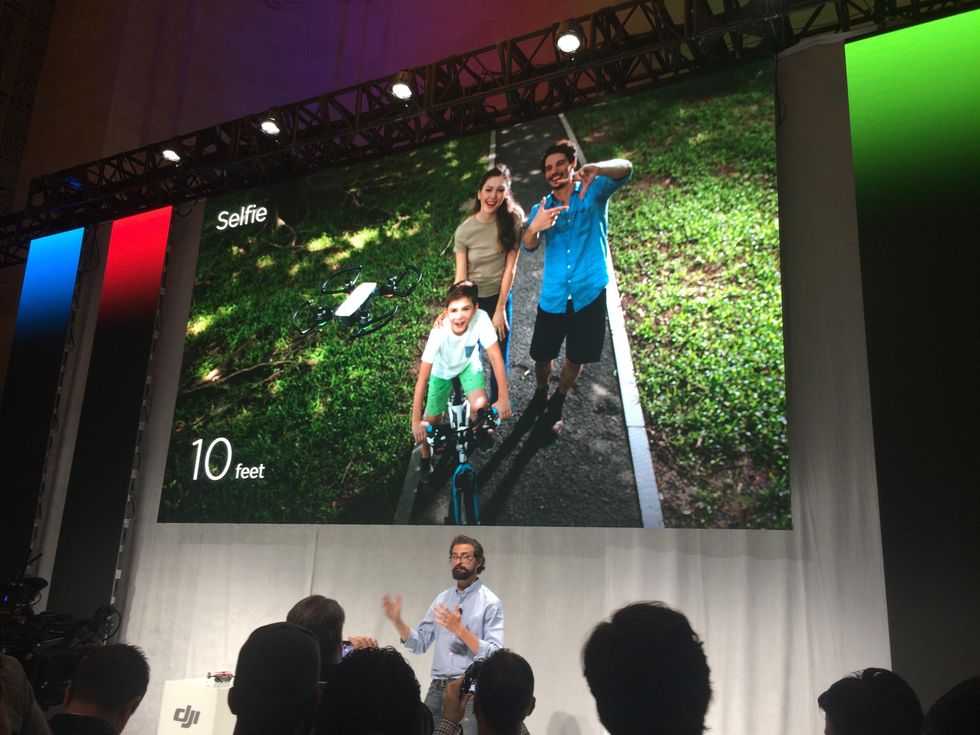 DJI Spark will take a selfie, and all you have to do is make a gesture with your hand.
DJI unveiled its smallest drone to date in Grand Central Station's Vanderbilt Hall, amid a crowd of reporters and those passing through Manhattan's iconic transmit terminal. Tagged, "Seize The Moment," the big reveal Wednesday alluded to the idea that this is a drone that you could tuck into a backpack, even a jacket pocket, and just have it take off and fly wherever you may be—on a walk with your dog in the Hollywood, Ca. hills or in New York's Central Park. One negative to this idea is that drones notoriously have short flight times and need to be recharged for quite a bit of time. DJI thought that through with Spark able to fly up to 16 minutes per battery, and offering a rechargeable battery pack with a USB port.
Known more for its robust, expensive drones more popular with hobbyists and professionals than consumers, DJI is clearly making a play for the more affordable drone market. Michael Perry DJI's director of strategic partnership told the audience that DJI's own polling showed that 46 percent of Americans have voiced and intent to purchase a drone this year. Spark appears to be the product meant to lure that buyer, with a device that's more consumer friendly in both price and ease of use.

"We've had one goal in mind," Perry said. "Simplicity."
Still, they've packed this device with plenty of tech that DJI is known for with its products. One way Spark can be flown is by what DJI calls Gesture Mode, which not only directs the drone as it flies, but can also tell it to snap a selfie with its 12 megapixel camera which also records HD 1080p video. The drone tracks the pilot while sensing its environment as well.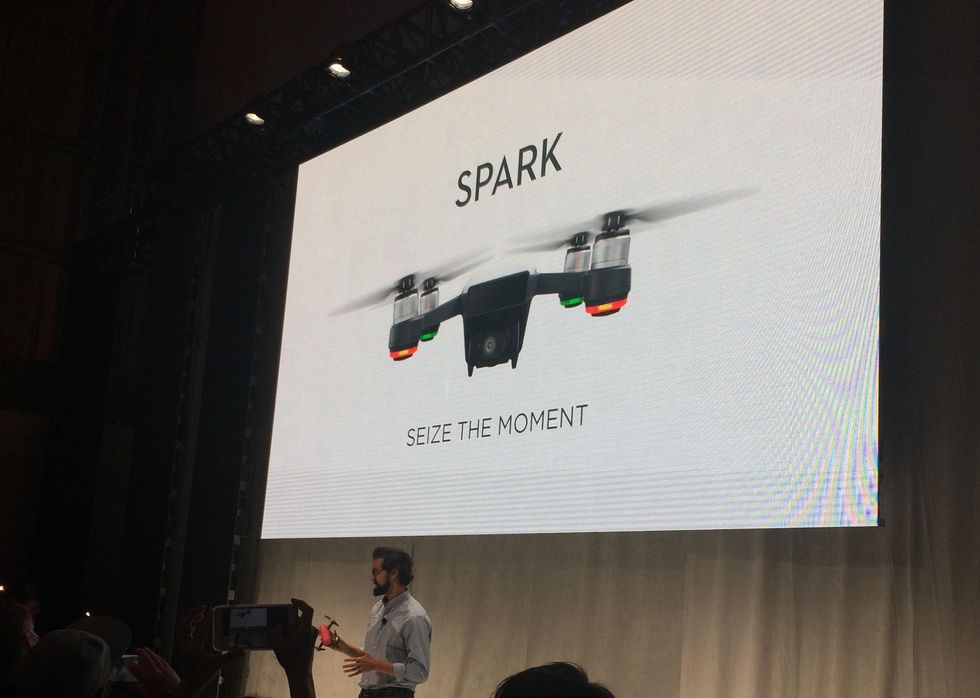 DJI unveiled its newest drone Spark at Grand Central's Vanderbilt Hall in New York.
The drone also has four automated camera moves called QuickShot built into its programming including Helix, which flies up and away into a series of spirals, Dronie which flies up and away from a subject and Circle which flies just as its name suggests—in circles around you.
Spark can be controlled via smartphone from more than 100 yards away and also fly up to 1.24 miles away. And there are editing tools baked into Spark which allows the drone to shoot up to five minutes of video, then edit into a 30 second film—complete with transitions, titles and music all from the drone's app.
The $499 price includes the Spark, an extra battery, three pairs of propellers and a USB charger. But for $699 DJI is offering an extra battery, four pairs of propellers, a remote control and charging hub. DJI will also be launching a new coverage plan they've named DJI Care Refresh which will let pilots replace the Spark (for a small fee, of course) up to two times.
Spark will come in five colors: blue, green, white, yellow and red. It's available for pre-order starting today, with shipments expected in mid-June.
Like GearBrain on Facebook