Like GearBrain on Facebook
We write a lot at GearBrain about air quality, and how best to improve it using your smart home. This often involves separate sensors, like those from Awair, then either a smart purifier, or something as simple as a fan attached to a smart plug, with a bit of IFTTT magic in-between.
These home-made systems certainly work, but if you are after an all-in-one solution that monitors your air, alerts you to problems, automatically turns up the purification, and is a bladeless heater and fan in one, we find it hard not to recommend the Dyson Pure Hot + Cool. Read on to find out why.
Dyson Pure Hot + Cool Air Purifier, Heater + Fan - HEPA Air Filter, Space Heater and Certified Asthma + Allergy Friendly, WiFi-Enabled - HP04
Dyson Pure Hot + Cool: Design and hardware
A tall, bladeless fan with a large base unit housing HEPA filters, the Pure Hot + Cool is a fairly hefty product (with a $650 price tag to match), and is specifically designed for use in larger rooms. But if you have the space, the Dyson fits in neatly with its attractive silver and glossy white finish, and it isn't as tall as it looks, at 30 inches.
The compact base unit (just under 10 inches in diameter) means the Dyson can be slotted neatly into the corner of a room, or between pieces of furniture.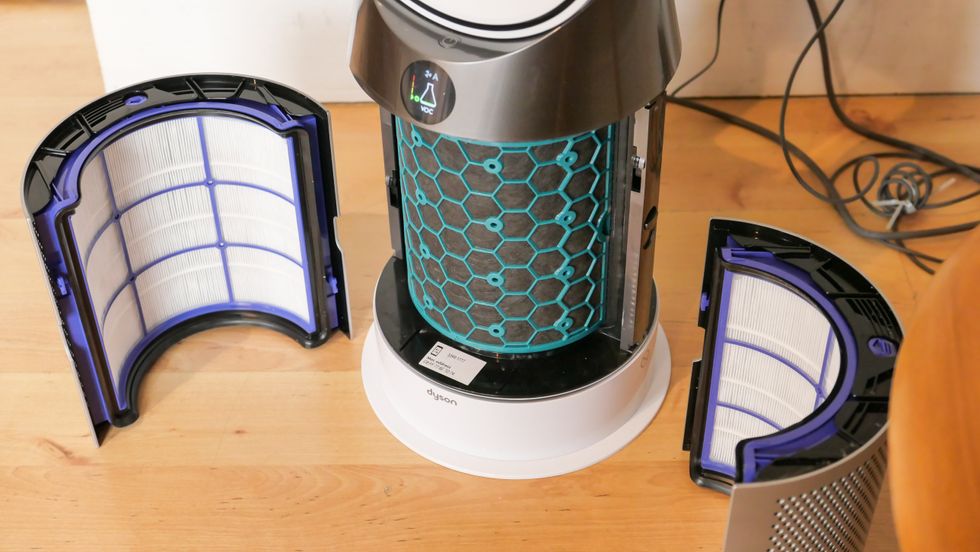 The two sets of filters are quick and easy to replaceGearBrain
The bladeless design means it is safe for pets and children to be around, as there are no exposed moving parts.

One element I found really convenient is how the included infrared remote attaches magnetically to the top of the unit for easy storage - a small detail, but it means you're far less likely to misplace it.
The whole unit can rotate itself up to 350 degrees, or you can set it to rotate by 45, 90 or 180 degrees depending on how you want air to be circulated around the room. It can also be manually tilted up or down by a few degrees, again helping to direct airflow however you want it.
When not used to heat or cool, it can be kept stationary, where it quietly gets on with automatically cleaning the air when pollutants are detected.
A circular display on the front of the base unit shows a line graph for ambient air quality over time. This rises and falls, turning from green to red depending on the quality at that moment. When pollutants rise a score is shown to give you an overview of the situation; the fan then kicks into high gear and works to clean the air, lowering the score and making the graph green again.
A single power button sits above the display, while all other controls are handled by the remote or companion smartphone app.
The filters detach with the press of two buttons, making them very easy to replace. You can check on their status via the app, or by pressing the information button on the remote.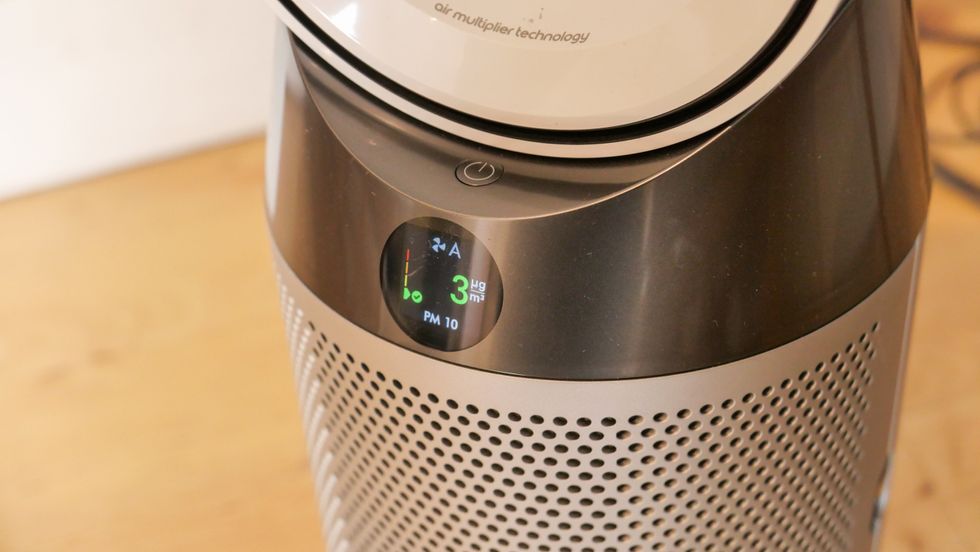 The display shows a score for your air quality (the lower the better)GearBrain
Dyson Pure Hot + Cool: Features and performance

I have been using the Dyson for the last couple of months, and have found that automatic mode is all you need for the majority of the time. In this state, the fan is constantly monitoring air quality and circulating slowly, then whirs into life when it detects a spike in nitrogen dioxide (NO2), allergens (PM10), volatile organic compounds (VOCs), or ultrafine particles (PM 2.5).
Dyson says the Pure Hot + Cool captures 99.95 percent of particles, before projecting purified air back into the room.
The fan usually wakes up when I start cooking, as it is in a combined living room/kitchen, with an oven and gas stove about 20 feet away. Like clockwork, when I start cooking the Dyson will get to work, first showing the rise in pollutants on its display, then turning up the fan to get things back under control.
If I've been cooking for half an hour, the Dyson usually keeps working hard for another 15 minutes or so after, before levels return to normal. It's actually rather satisfying seeing the air quality score fall from over 100 (bad), back down to zero (good), as proof that the device is doing its job.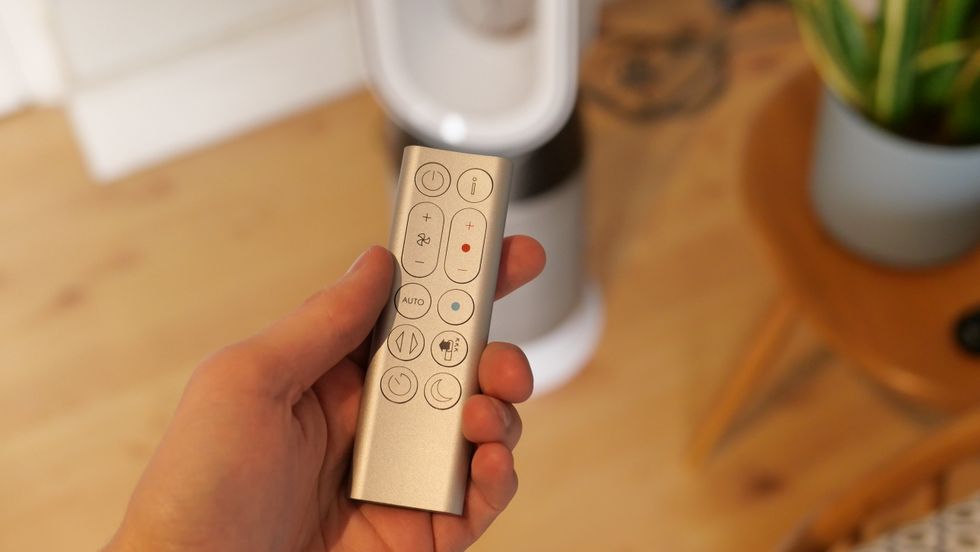 Remote control for the Dyson Pure Hot + CoolGearBrain
When idling in automatic mode, the Dyson is constantly, silently taking air in through the front, purifying it, and blowing it out the back. This can cause a slight draft, but it's nice to know my air is constantly being monitored and cleaned up when necessary.

Sometimes the fans will pick up seemingly for no reason, but I live next to a very busy road in London and it is likely that pollution leaking in through two old windows is causing the Dyson to react. It's somewhat reassuring to know it is working to keep the air clean, especially at times when I didn't notice there was anything wrong (ie, when not cooking).
As well as monitoring and purifying, the Dyson works as a heater and fan. This works by taking manual control either with the remote or smartphone app (or by speaking to Alexa).
Dyson Pure Hot + Cool Air Purifier, Heater + Fan - HEPA Air Filter, Space Heater and Certified Asthma + Allergy Friendly, WiFi-Enabled - HP04
For warming the room up, it works quicker than I'd expected. When cranked up to full and told to reach a temperature a couple of degrees warmer than the ambient reading, the Dyson quickly gets to work, blowing out a powerful stream of hot air almost immediately and making a noticeable difference to the room in a few minutes.

The fan is fairly loud when turned to maximum power (pushing out 290 liters of air per second), which can be annoying if it is still clearing the air after I've finished cooking and want to watch TV, but it isn't a dealbreaker. In any case, I could always move it to somewhere else in the room, instead of being next to the sofa.
Update, May 2020: I've now had chance to use the Dyson during much warmer weather. All you have to do it press the cooling button on the remote, which has a blue dot on it. This adjusts the fan so that air comes in the back and out the front, and you can then adjust the speed from one to 10.
I initially had high hopes, given the Dyson's price and how well it warms rooms. But then I remembered, there isn't much a fan can do to cool a room, other than blow air around. Air conditioning unit work in a very different way to actively cool the air; fans, no matter how expensive, just push it around. The Dyson is at least quiet, powerful, and without blades the air currents are smoother than the turbulent, buffeted air you get from a spinning fan. The air feels a bit cooler on your skin, but that's about it – and that's all you should really expect from a fan that isn't an AC unit, and doesn't have a water reservoir for active cooling.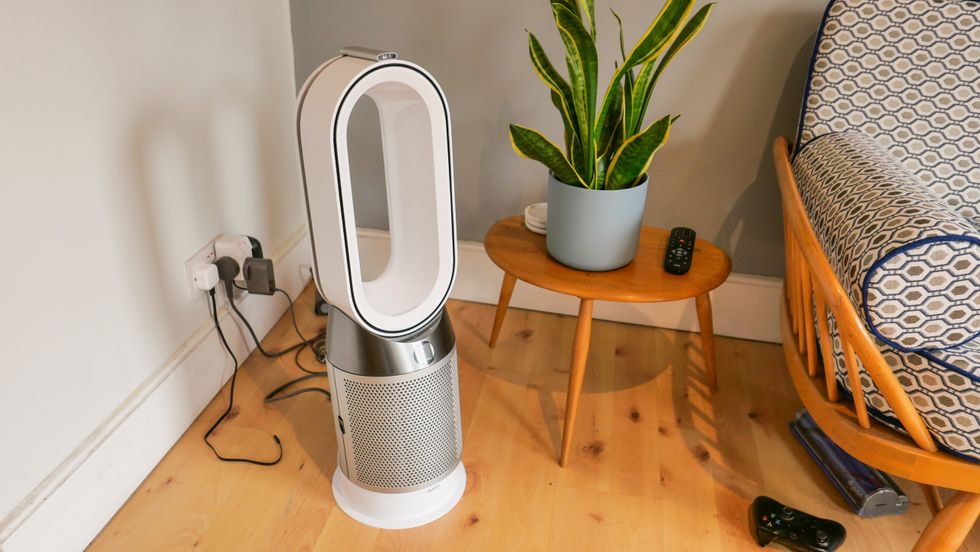 Dyson Pure Hot + CoolGearBrain
The smartphone app mirrors what the physical remote can do, so I haven't found much need for it, as the remote is almost always within reach anyway. That said, the app can be used to schedule the Dyson, so if I wanted it to warm the living room up during the evening I could set that, but I have my central heating on a timer for then anyway. The app also gives a reading for outdoor local air quality, helping you understand how it compares to the air inside your home.

Dyson Pure Hot + Cool: Alexa
Finally, the Dyson has support for Alexa, once connected to your Wi-Fi network. Just connect your Dyson and Amazon accounts in the Alexa app, as with any other smart home product, and you can ask the assistant to control the Dyson, or read out any of the measurements its sensors record.
You can ask Alexa to change the mode, adjust the temperature, and give information about the temperature and humidity of the room.
This is fine, but isn't a feature I used all that often. It's handy to have Alexa turn the Dyson on and off - especially if you go away for the weekend and forget to switch it off before you leave. But otherwise I am happy to leave it on automatic, then use the remote control to adjust the temperature when required. ( Check out The GearBrain, our smart home compatibility checker to see the other compatible products that work with Amazon Alexa enabled devices.)
Conclusion
I need to be up front about this: $650 is a huge amount of money to spend on a glorified fan. It's even a lot of money to spend compared to an air quality monitor, fan, heating, air purifier and a bunch of smart plugs to automate everything.
But Dyson has always aimed its product at the high end of the market, and the Pure Hot + Cool is no exception. For that chuck of cash you get a well-designed product that looks smart and feels like it is built to last. It also works very well, keeping a watchful eye on air quality, then springing into life when needed. Plus it's a heater for the winter and a quiet, powerful fan for the summer (but not an AC unit)
It's a lot of money to spend on any smart home product, but when left on automatic the Dyson is one which is constantly on, always looking out for its owner's health. Each time it fires up I'm reminded that it is protecting my lungs from the city pollution outside. You can't really put a price on that.
Pros:
Smart design
High performance
All-in-one heater, fan, monitor and purifier
Cons:
Expensive
Can be loud
Filters may need annual replacement (for $79) depending on use
Dyson Pure Hot + Cool Air Purifier, Heater + Fan - HEPA Air Filter, Space Heater and Certified Asthma + Allergy Friendly, WiFi-Enabled - HP04
Like GearBrain on Facebook