Ecovacs is one of the bigger names in robot vacuums, with more than a dozen that range in prices from $200 to $800. The Deebot Ozmo T8 AIVI remains at the top of the range from Ecovacs, while the newer Deebot N8+ is a bit more budget friendly. We recently reviewed both robot vacuums, and can help potential buyers figure out which one may best fit their specific cleaning needs.
The Ecovacs Ozmo T8 AIVI has a unique feature — a security camera built insideGearBrain
Ozmo T8 AIVI

Let's start with the, currently, most expensive of the Ecovacs robot vacuum — the $799.99 Ozmo T8 AIVI. This combo vacuum and mopping robot is unique in one other way — there is an actual HD camera built into the device which allows you to tune in, live, to what happening inside your space through the app's video feed, and even talk to someone, or a pet, through the vacuum's speaker.
We found that camera feed, when we tested it, surprisingly clear with a very wide 180-degree field of view as well. In fact, this, to us, turns the robot vacuum into a quasi-security system too. But you probably want to know more about how well it cleans.
The robot vacuum has three hours of run time on one charge through the 5200mAh battery, and works on its own or through the Ecovacs app over Bluetooth. The T8 AIVI works by mapping a space, and storing that inside the app. That mapping tech actually kept the robot from bumping into too many things — whether that was a piano or a charging cord.Too often we've seen robot vacuums hit furniture pretty hard, or turn the corner to see one dragging our phone charger with it along the floor. And once a map is created, you can, in the app, set schedules, virtual boundaries and more.
The mopping feature worked pretty well on the T8 AIVI. The robot has water tank on the back, and can handle light clean ups, although deep cleans are not something you should count on in terms of mopping. Ecovacs says this robot can remove nearly 99 percent of bacteria from mopping, although that is not a claim we can test ourselves.
As for smart assistants, the T8 AIVI does work with Google Assistant — which we verified and set up ourselves. The company claims it can also work with Amazon Alexa, but we could not get Amazon's voice assistant linked to the T8 AIVI through multiple attempts.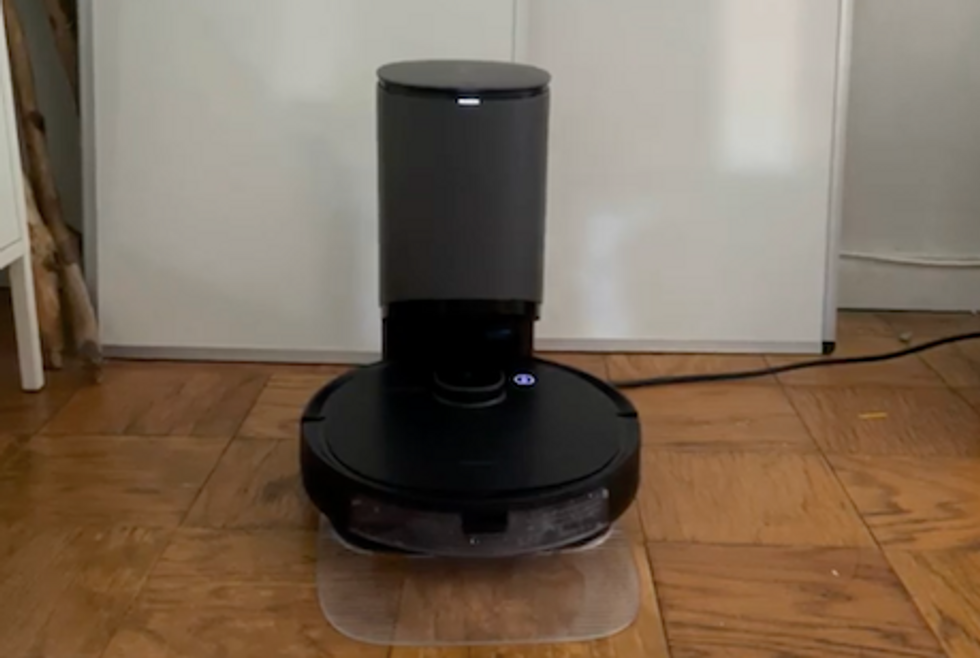 Ecovacs Ozmo N8+ comes with an Auto-Empty StationGearBrain
Ozmo N8+

One of the newest from Ecovacs is the Ozmo N8+, a $599.99 robot vacuum that comes with a big addition: an Auto-Empty Station. This accessory is actually literally big, a tall bin that doubles as a charger and lets the vacuum re-charge while also removing the dust and debris it captured without anyone having to handle that step. This is a nice perk, as the Auto Empty Station is typically an add-on — and you can in fact buy this on its own for $249.99, to work with other robot vacuums, like the T8 AIVI. But getting this with the N8+ makes the vacuum a bit more exciting.
As for features, the N8+ is similar to the T8 AIVI in that it can work on its own and also through the app to set virtual boundaries and schedules. This robot vacuum as well can handle mopping, and we found that this feature worked exactly the same as the T8 AIVI — fine for light cleaning, not something to rely on for big jobs.
The vacuum itself can run for 110 minutes on one charge — that's a long time, almost two hours, but not as long as the 3 hours that the T8 AIVI boasts. But we found this vacuum did a good job cleaning both rugs and floors, not leaving a trail behind it that other vacuums can. That may be because of the fact it can clear its bin more frequently and not rely on someone to remember.
That Auto-Empty Station is a perk — a loud one though. You can hear when it starts up, and the process takes about 25-30 seconds. We did find that sometimes the debris would remain behind a bit in the vacuum's bin, but most of the time it worked very well. Having this feature also means there's less dust re-entering the air from manually clearing the bin as the debris is sucked into a sealed bag, which can go months without needing to be changed.
Smart assistants? We found the same thing as with the T8 AIVI, meaning we could connect to Google Assistant — not with Amazon Alexa, even though Ecovacs says the robot vacuum works with both.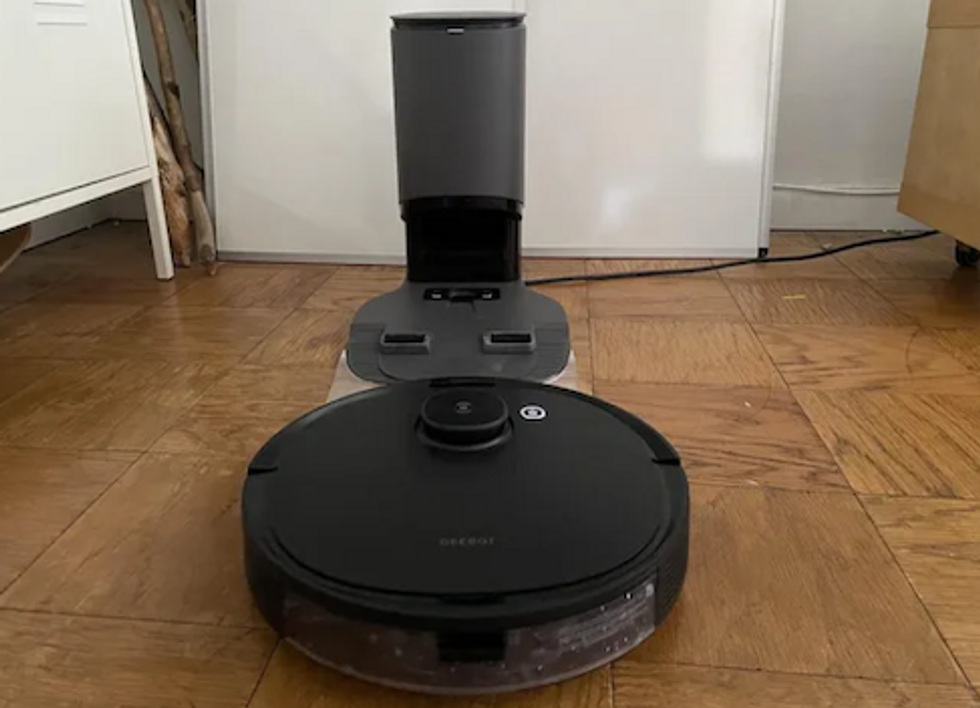 For a solid robot vacuum and mop, and an added bonus of an Auto Empty Station and charger, the Ecovacs Ozmo N8+ is very well pricedGearBrain
Which one to buy?

Both robot vacuums are similar in that they can both work to vacuum and mop floors in your home. The capabilities on that front are about the same, and so if you're looking for a solid robot vacuum, you may just want to choose the N8+ for the price alone, as it clocks in at $200 less than the T8 AIVI.
What's nice is that even at this lower price point, you're also getting the added Auto Empty Station, a great accessory to keep your hands a bit cleaner since it empties the bin itself.
However, with the T8 AIVI, you also get a camera, a very unique feature that lets you check into your home — live — and even chat with someone there, or a furry friend. That's a feature we're starting to see, robot vacuums that double as security cameras, and it's a nice addition as well.
If you're looking then for a basic robot vacuum that can also mop, the N8+ is a great choice, especially with the added Auto Empty Station. But if you're interested in adding on a unique feature with a security camera, the T8 AIVI is certainly worth considering. It's an extra $200, with the T8 AIVI priced at $799.99 compared to the $599.99 N8, but we think it's a solid addition as well, especially as people start to think about working away from the home again.
ECOVACS DEEBOT Charging Dock for OZMO 920/T5/T8/T8 AIVI/N7/N8 Pro
Check out The GearBrain, our smart home compatibility find engine to see other smart robot vacuums and if any are compatible with your smart devices.