Like GearBrain on Facebook
Robot vacuums are time-saving friends, able to clean your floors and rungs while you tackle other things in your home. The Deebot Ozmo T8 AIVI is one of the latest from Ecovacs, a sleek looking robot that is a champ at vacuuming but has one significant hidden feature that really makes this a standout: a hidden camera that can watch your home from an app.
We tested the robot for two months, and here's how it fared in our place with three people and a shedding, large Labrador.
What is the Ecovacs Deebot Ozmo T8 AIVI
The Deebot Ozmo T8 AIVI is the one of the more recent launches from Ecovacs, a robot vacuum that mirrors the size and shape of its competitors. It's round and black, with a metal finish on the top and a small piece that pops up on the top. The vacuum stays charged through a docking station that plugs into a regular outlet, and it connects to a smartphone app over Bluetooth.
In the box you get the robot, the charger, two side brushes, a microfiber cleaning cloth for mopping, the plate to attach the cloth and two filters.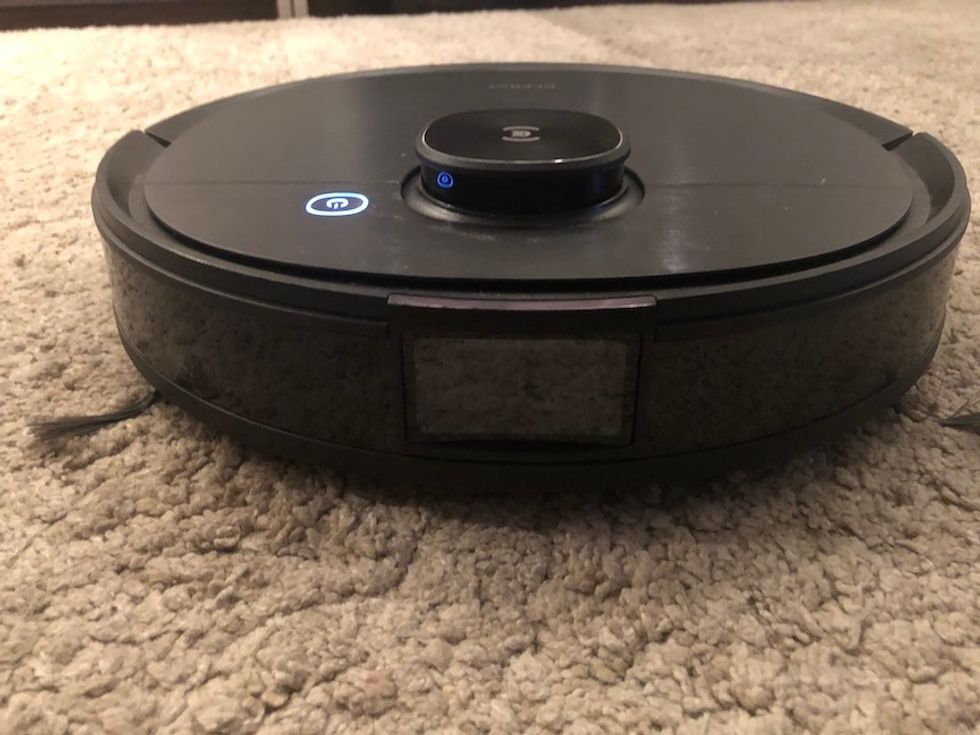 Ecovacs Deebot Ozmo T8 AIVI works on both carpeting and wood floorsGearBrain
Getting started

Getting started with the Ecovacs Deebot Ozmo T8 AIVI is fairly simple. You're going to need to charge the robot, and snap into place the roller. You don't need to fill up the water tank unless you're planning to mop immediately. If this is your first Ecovacs robot, you'll also want to download that app and pair the vacuum with the app. There are some key features unique to the T8 AIVI — and they'll need the app to operate.
You're going to want to send the robot out the first time to just map you space — and you want to leave it alone while it does this. It's best to pick up as much as you can from the floor, but have your rooms set up as they traditionally are. The T8 AIVI will store this configuration to use later.
It's just plain smart

We found the T8 AIVI excellent at cleaning, similar to other Ecovacs vacuums. But what genuinely stood out was the robot just seemed to get around better. There were fewer instances where the robot bumped into other items, and we didn't find ourselves needing to leap as much to save a cord or cable from its mouth. That's partly because we know how to set up our space now to protect it from roving robots, but also because the T8 AIVI uses something called TrueMapping, a feature which uses lasers to read a room and map it.
The robot also is capable of reading obstacles that come up in its path, whether that's a power cable or a chair, and just move around it. We saw the robot do this time and again, even refusing to roll over a sock. To be honest, knowing that the T8 AIVI had a lower chance of getting stuck, and seeing that in action, made me feel more comfortable about letting it clean on its own, even if I was in another room.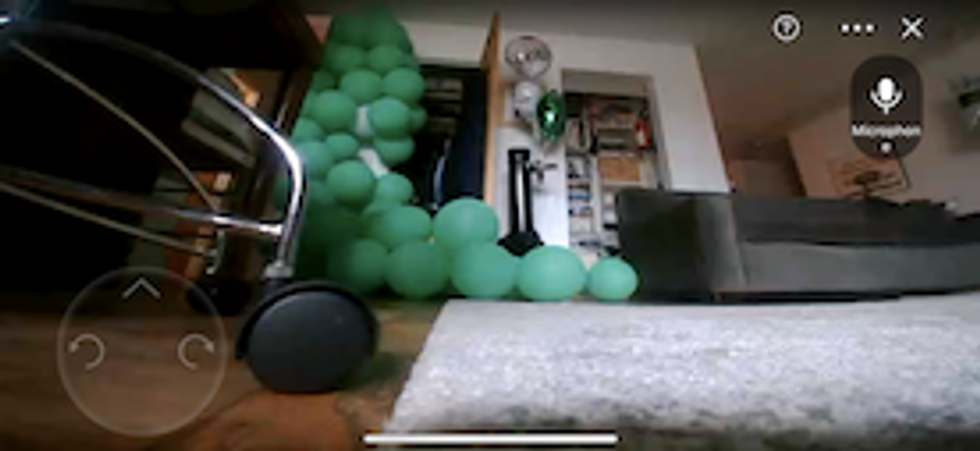 The camera angle is nice and wide on the Ecovacs Deebot Ozmo T8 AIVI GearBrain
Using the Ecovacs app

Like most robot vacuums you really never need to use the app to operate the device. Typically every one of these has a button on the top which can turn the vacuum on and off, and if that's really what you're using the T8 AIVI to do — clean — you may be set.
But you'd be missing some of the nice features that are packed into the Ecovacs app, you'll get updates to manage the robots. They can be as mundane as cleaning the sensor, and there's a nice tool on the vacuum which doubles as a brush and knife. But you can also use the app to change the suction power on the vacuum, to look at the water flow level, turn on the AIVI Smart Recognition feature and even set up your cleaning schedule.
One of the best feature though, is tapping in to the video camera that's on the T8 AIVI. That camera is placed on the front of robot, and it's actually not obvious unless you're looking for it. But it's present and in use when you activate the video feed.
Things to note: You do have to sign a privacy agreement (this is a robot sending video feed of your home to the cloud), and you'll have to create a separate password just to access this feature in your own app. That's actually a nice feature, meaning that there's an extra layer to jump through (in addition to the security features to open your own smartphone) to access this feed.
Video feed
So — let's focus on this live video feed, because honestly it's one of the best features about the T8 AIVI and a big bonus. The camera lets you look around — from the robot — at your living space, or wherever the vacuum is placed. This is a camera that's aimed very low, and it doesn't exactly tilt up. You can turn it side to side, but you're only able to do that by turning the actual robot at the same time. In other words, in some ways you're not going to get as wide a view as you would with a security camera on the wall. But the images we did pull we're very impressive with about a 180-degree view, and up to the ceiling.
On the other hand, you have a security camera here that's secretly hidden in a robot vacuum that can be sent to different areas of your home like a sentinel to check on noises or concerns. You can't actually tell when the camera is working, but you can see live images as things move around a home. In addition to viewing live video, you can capture still images, and talk from the robot through a speaker attachment. But you won't be able to hold a two-way conversation. In other words, you can talk from the robot, but someone can't talk to you through it.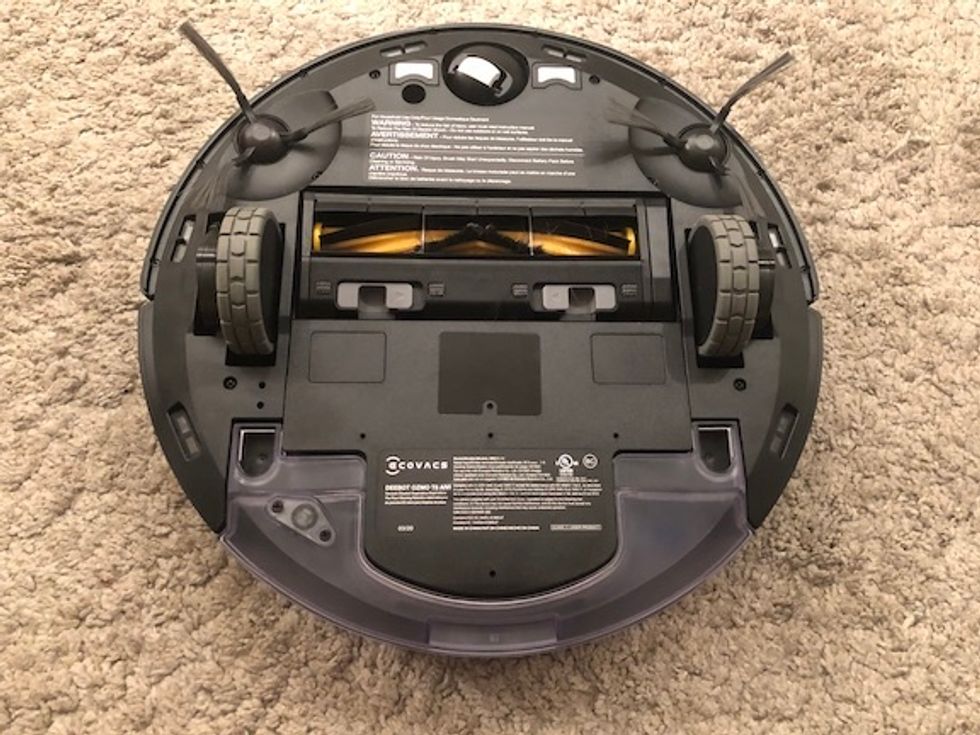 The roller on the bottom of the Ecovacs Deebot Ozmo T8 AIVI just snaps out for easy cleaningGearBrain
Through the video section of the app, you can also operate the robot, using your smartphone as a remote control and inching the vacuum forward and side to side. While this feature is starting to make its way to other vacuums, it's still very unique — and we think this is a standout in terms of home security.

If our dog didn't have a deathly fear of these robots (and years of living with them through my testing hasn't calmed his nerves) I could see how the T8 AIVI would also help me keep an eye on him while he's home. But just hearing the robot wake up is enough to get him on his feet and to his safe space, under the kitchen table.
Still, this is a very nice feature for anyone who wants to add a little extra security view into their living space or even an office or small business.
Operating time
The vacuum has a 5300mAh Lithium Ion battery which means it can just keep cleaning. We rarely saw it return to the charger. Ecovacs says it can go three hours on one charge, and we wouldn't argue with that.
The mopping feature was fairly strong too. The tank holds 240 ml of water, and can work for 100 minutes when the T8 AIVI is used this way. We found the mopping feature worked well. But then, we're on the record about our feeling of a robot vacuum and mop hybrid. They're just not our favorites, as we find the mopping isn't as good on a robot vacuum. The T8 AIVI will both mop and vacuum hard floors at the same time, and we found that it did a good job. If you have heavy dirt and stains, you're probably going to want to go over those areas first. But for daily cleaning, the robot worked at picking up dust and other particles.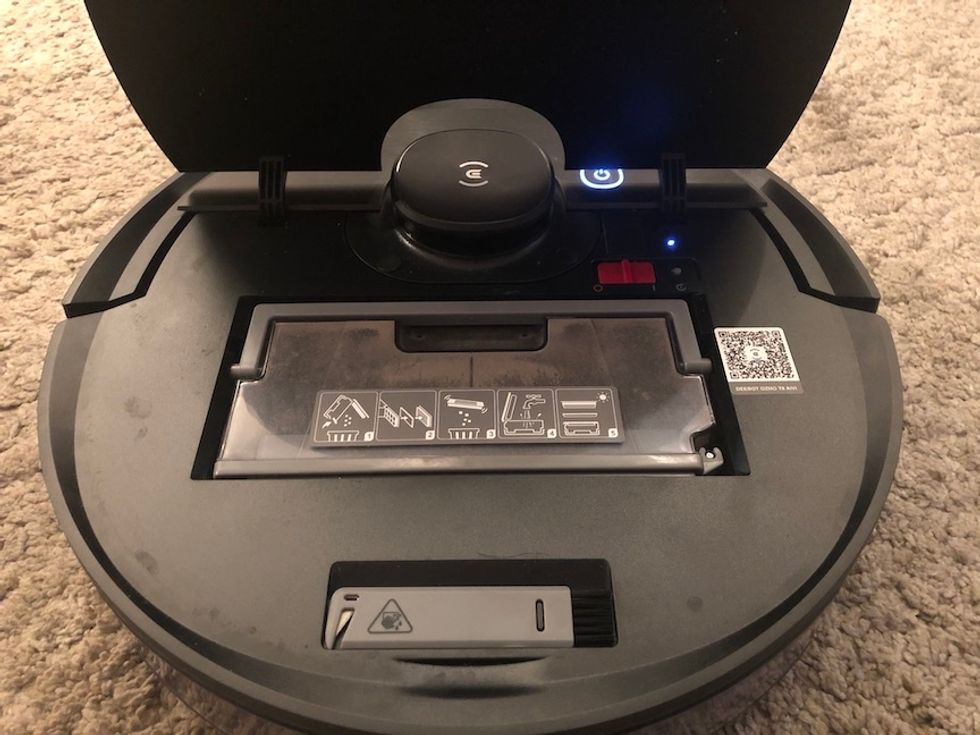 The bin is reached from lifting the top cover off the Ecovacs Deebot Ozmo T8 AIVI GearBrain
Bacteria removal

One of the features touted by Ecovacs is the ability of the T8 AIVI to remove bacteria through mopping and vacuuming. The company says that many of its vacuums can do this as well, including the Deebot Ozmo 930, 950 and Slim 11.
Deebot does provide documentation about the T8 AIVI being able to remove about 99 percent of bacteria — not viruses — when both mopping and vacuuming a full strength, and the filter on the vacuum can also pick up particles as small as six microns, but not as small as coronaviruses which the National Institutes of Health places as between 50 to 200 nanometers, or about .05 to .2 microns.
Price
The Ecovacs Deebot Ozmo T8 AIVI is a pricey robot vacuum, coming in at $799.99.
Smart Home

In theory, you can connect the Ecovacs Deebot Ozmo T8 AIVI to both Amazon Alexa and Google Assistant through the Alexa and Google Home apps. However, we notice that Ecovacs doesn't highlight this feature on its web site for the T8 AIVI. Also, we could not link the T8 AIVI to the Alexa app, even though we have been able to link other Ecovacs vacuums in the past. Even with the Alexa Skill for the Ecovacs Deebot downloaded, Alexa couldn't discover the robot vacuum.
As for Google Assistant, we notice that Deebot nor Ecovacs show up any more in the Works with Google list in the Google Home. We were actually able to connect the T8 AIVI to Google Assistant, and get the robot vacuum operating, but that's because we went through an old connection still in the Google Home app for a previous Deebot we had tested.
In short, we wouldn't count on being able to use these with Alexa or Google Assistant.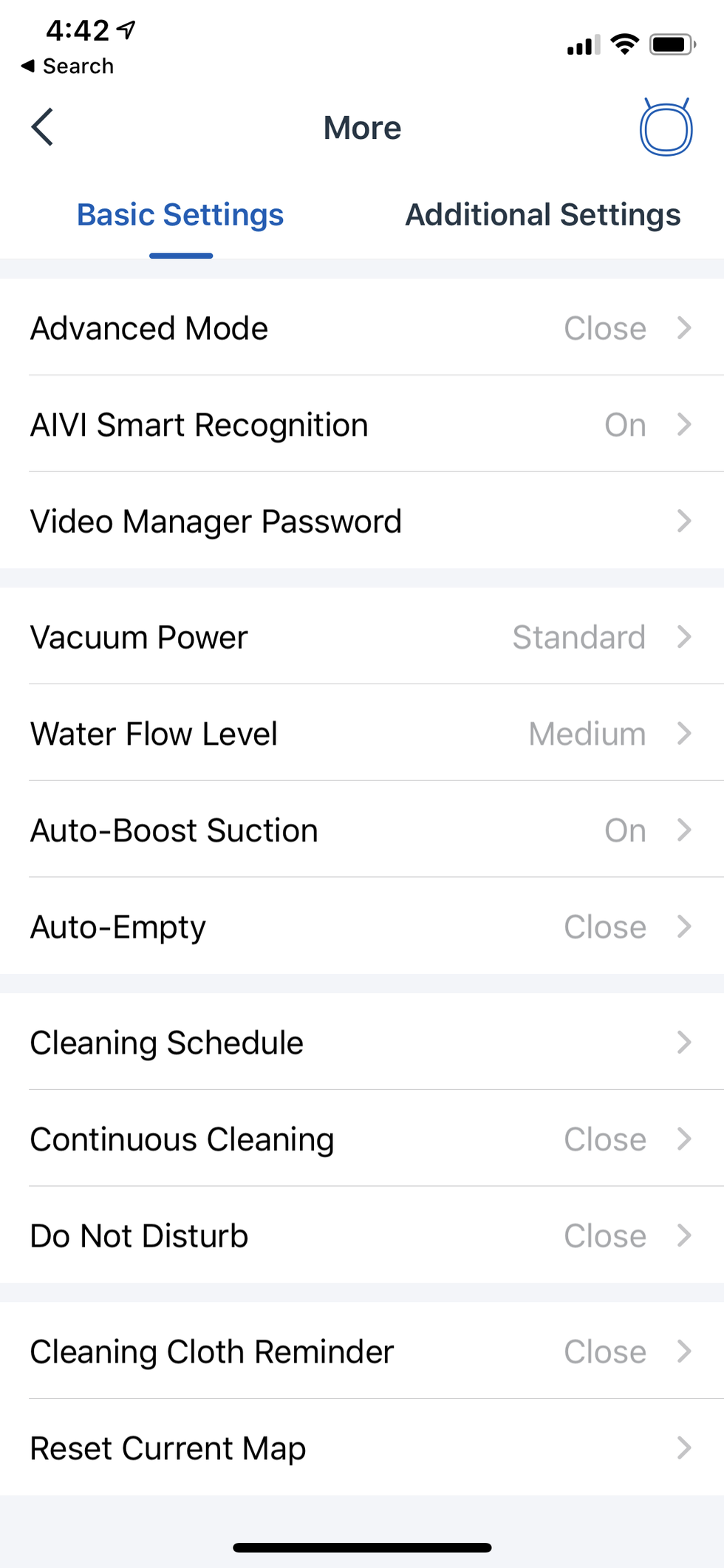 Inside the app, you can control details from vacuum power to cleaning scheduleGearBrain
Summary

If you have the money, we do think the Ecovacs Deebot Ozmo T8 AIVI is a worthwhile purchase. The vacuum works extremely well, can be scheduled to clean, can work around obstacles in its path and even avoid chewing up cables. The mopping feature is fine, as most are on robot vacuums. You shouldn't buy the robot as a primary mopping device, but it's a nice to have in addition to its vacuuming features.
The addition of a security camera you can tap into from your smartphone is a really nice feature. Being able to pull up live video feed, grab photos and even send your voice into the room — and tell your dog to get out of the trash, for example — is a great addition. You can't store the video, but you don't have to pay an additional monthly fee either.
This is a powerful robot vacuum, with a great extra security feature, that's extremely pricey, but a great buy if you can swing it.
Pros:
Powerful vacuum and decent mop
Great design
Has a security camera you can use to view live video from your smartphone
Cons:
Price
Had trouble connecting to Alexa and Google Assistant
You can't tell when the camera is on
Ecovacs for Models OZMO 920, 950, T5, T8 AIVI Deebot Accessory Pack (Replacement Brushes and Filter), New, White
Like GearBrain on Facebook