Like GearBrain on Facebook
In the world or Wi-Fi mesh, eero is the metaphorical forbearer of all the other mesh systems we're outlining here. When it first hit the market in mid-2015, eero and Wi-Fi mesh were a new concept. As a result, eero was a wonder, simply and stylistically solving our primary whole home Wi-Fi pain points.

Eero also has been the friendliest of Wi-Fi mesh system suppliers. In order to better understand its customers, the company dispatched a pair of reps to my abode for several hours (not knowing I was a reporter) to inquire about my eero and my Wi-Fi usage as part of a broader and admirable investigation into its customers' wireless habits. The company reimbursed me for my time by giving me a second eero, which I had planned to purchase to create my own mesh network.
As a customer – I actually purchased the eero when it was first available to solve my own Wi-Fi problems – I hear continually from eero about updates, improvements, et al, and are Johnny-on-the-spot in answering emailed support questions.
In short, eero as a product and as a company has served me well.

Except, in the nearly two years since its unveiling, eero's initially revolutionary performance has been surpassed in speed, range and even set-up ease by newer systems such as Orbi, Portal, Amplifi and Linksys Velop, at around the same effective cost or less than the eero: $199 for a single eero ($180.98 on Amazon), $349 ($329 on Amazon) for a pair and $499 ($454.90 on Amazon) for a trio.

Eero is still a viable choice for some environments thanks to its ergonomics, its customer service, and especially its superior parental controls.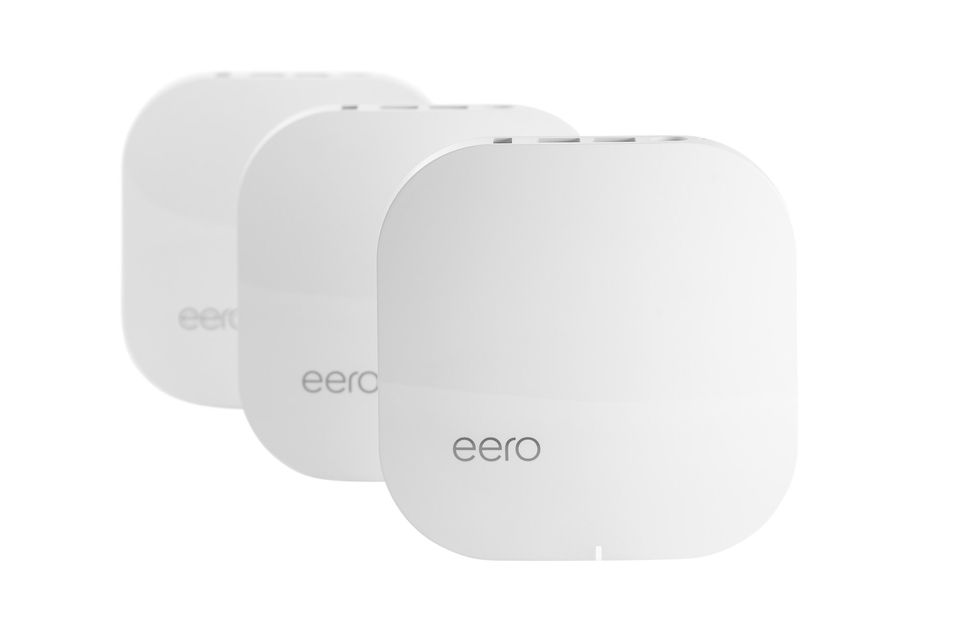 Ergonomics

Eero is a miniature Portal, a contoured 5x5x1-inch white block, which means it doesn't take up much room on a shelf or countertop. There's a small perpendicular LED status light crossing the top, front perimeter which shines blue during set-up, then either greenish-white to red to indicate positive or negative connectivity.
On eero's rear are a power jack, a USB jack to connect a networked printer or external networked hard drive, and two Ethernet jacks, compared the four found on Orbi, Portal and Velop. One of these Ethernet jacks is used to connect the eero to your cable modem, leaving just one extra for a smart home hub, a media stream such as a Roku or some other wired device. In average set-ups, this dearth of Ethernet jacks is unlikely to cause any hardships; I merely point it out for folks with heavier wired connectivity needs.
Amazon eero mesh WiFi system – router for whole-home coverage (3-pack)
Set-up

As with other mesh systems, it'd probably be helpful to view eero's set-up video before unboxing your system. But if you're technically bent, the insert cards in the box and step-by-step app instructions suffice to make set-up a fairly straightforward, seamless and speedy process.
During the initial set-up process, the app finds your eero, you tell the app in which room you're installing each node, you give your network its own distinct name, and create a single password for your whole eero mesh network.
Problems arose during placement issue of my second eero, however, the first indication of eero's range shortcomings. You're told to place the second eero "in range" of the first, but the app doesn't really indicate what that range is outside of a vague animation. As a result, the second node was a bit more persnickety about where it was placed than the second units of other systems, and you have to have your smartphone near each node as it's set-up. It took me several trail-and-error attempts – unplugging, plugging and waiting for the status light to turn greenish-white – before the second node was happily connected to the first.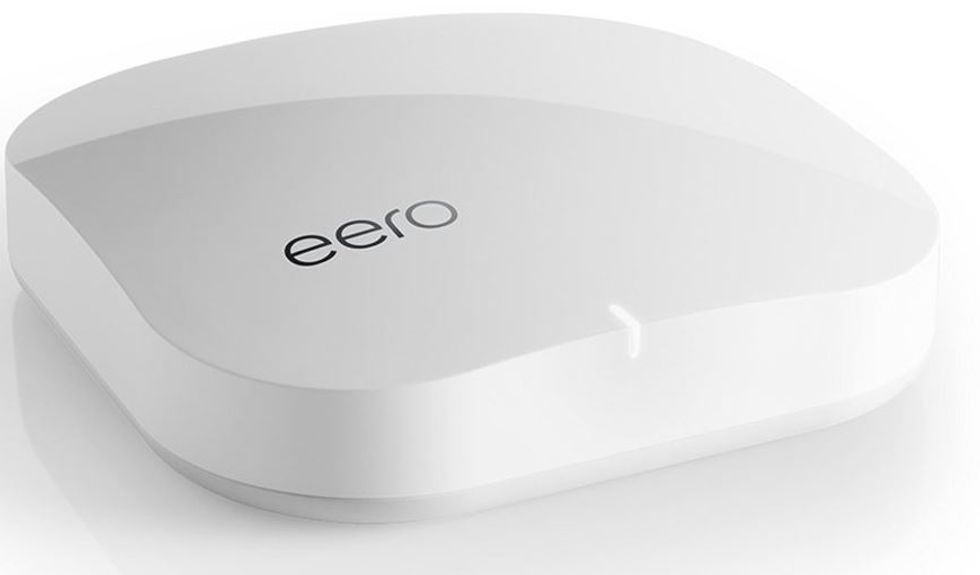 Performance
While both the multi-band Orbi and Portal each delivered a consistently higher percentage of my 300Mbps service, the dual-band eero served up a wild range of between 125 and 250Mbps in my decidedly unscientific tests, which means those getting 50 or 100Mbps service piped into their homes should have no complaints about connection speeds.
Range, however, as noted, is an issue. Eero says you should place one node per every 1,000 square feet, which means you'd need three eeros, at a total of nearly $500, to cover as much area as a single $199 Portal, which claims to cover 3,000 square feet. In practical terms, at around 50-65 feet outside my apartment, when every other system I tested maintained at least a couple of Wi-Fi bars of connectivity, eero's signal disappeared. This range shortcoming could hamper connectivity of outdoor devices such as security cameras or wireless speakers.
Where eero shines are its parental controls, or what eero calls "Family Profiles," in the eero app. You can create and name distinct profiles for each family member, indicate which pieces of detected equipment are covered, and set a schedule for connectivity. These are far more extensive connectivity controls than I've come across for any other Wi-Fi mesh system I tested, although the names of the varying devices in the list are assigned mysteriously technical sobriquets (I'm assuming the "dp-521402XU" assigned to Amazon Technologies Inc. is my Amazon Echo).

Also available are password-free guest network settings to set parameters on how and when visitors can access and your network.
Amazon eero mesh WiFi router
Conclusion

For pure performance, the best alternative to eero is the much larger but also more powerful, wider range, more expansive Ethernet-equipped and ultimately lower-cost Portal.
But all other mesh systems lack the extensive parental controls included in the eero. If you have a busy household filled with dependents whose internet usage you want to monitor and potentially curtail, eero is the best – only – choice of all the mesh systems we've looked at.
Pros: Extensive parental/user controls, easy set-up, original Wi-Fi mesh system
Cons: Below average range, only two rear Ethernet jacks, same or higher cost than better performing systems
From Your Site Articles
Related Articles Around the Web
Like GearBrain on Facebook