Elon Musk wants to replace airliners with orbital space rockets, blasting passengers from city to city at up to 16,000 mph and making anywhere in the world accessible in under one hour.
The SpaceX chief executive believes he can use his company's rocket-landing technology to make the trips convenient, regular and even affordable.
Musk says in an Instagram post: "Fly most places on Earth in under 30 minutes and anywhere in under 60. Cost per seat should be about the same as full fare economy in an aircraft. Forgot to mention that."
How Musk plans to bring the cost of space flight down to that of an airline economy seat remains to be seen. But at least some of the theory behind his rocket transport system is starting to make sense.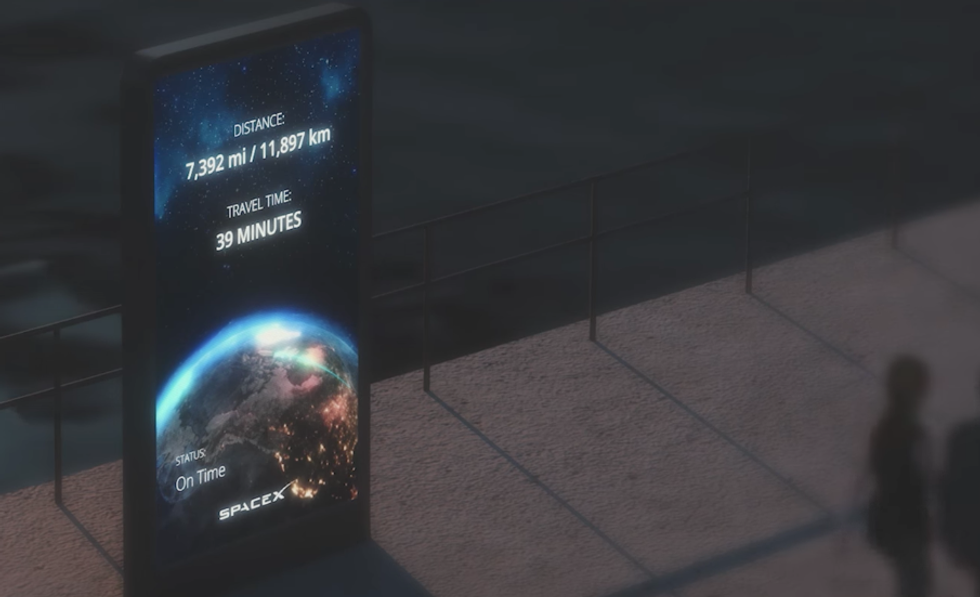 New York to Shanghai in 39 minutes, apparently...SpaceX
Over the last few years, admittedly after many explosions, SpaceX has mastered the art of landing rockets, rather than dumping them into the sea during each flight. Using downwards-facing boosters they land vertically on autonomous barges stationed off the coast.
What remains unproven is how comfortable the experience will be for humans, if anyone is willing to take the risk on the first flights, local noise pollution, the logistics behind offering a frequent service, and what immigration and aviation authorities have to say about it all.
Almost everything about this is theoretical for now, but Musk says he plans to start constructing the rocket in the next six to nine months. Musk wants to use the same rocket to send humans to Mars by 2024.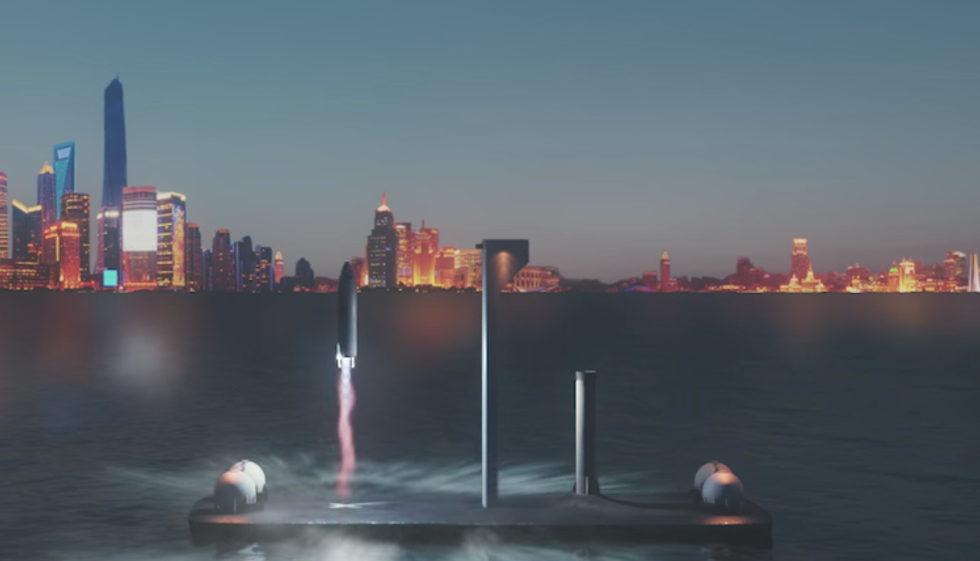 Rockets would land vertically on barges close to city harboursSpaceX
A computer simulation published by SpaceX shows how passengers would take a boat from a city harbour to a barge, acting as a launch pad for the rocket, which Musk refers to as 'Big F***ing Rocket' or BFR for short.
The video shows what a flight from New York City to Shanghai would be like and claims the 7,400-mile journey would take just 39 minutes from blast-off to landing. Such a journey currently takes 15 hours by commercial airliner.
Passengers then file into the rocket, blast off into space and orbit the Earth for several minutes, before landing vertically on a barge stationed outside Shanghai harbour.
SpaceX claims a trip from Los Angeles to Toronto would take 24 minutes, and Bangkok to Dubai would take 27 minutes. A trip between London and New York would take 29 minutes, six times faster than the current commercial record, set by Concorde in 1996.