Like GearBrain on Facebook
With Alexa, Google Assistant and Siri listening in on what we say within and around technology devices, it only seemed right for Facebook to get into the act. As it turns out, the social media network has been employing people — hundreds — to listen, and then transcribe, the audio messages Facebook users leave through the Messenger App, according to Bloomberg.
Read More:
Facebook has paused the practice of allowing human listeners hear the messages as of a week ago, it told Bloomberg. The social media company also claims that users who had their messages transcribed had given Facebook permission to do so within the Messenger app.
Messages in the Messenger app can be transcribed from audio into text. Users can opt into that option. However, GearBrain scrolled through Messenger's Help Center on its mobile app, as well as settings on the desktop version, to see where this permission to have human people listen and transcribe those messages would be located. We couldn't find that.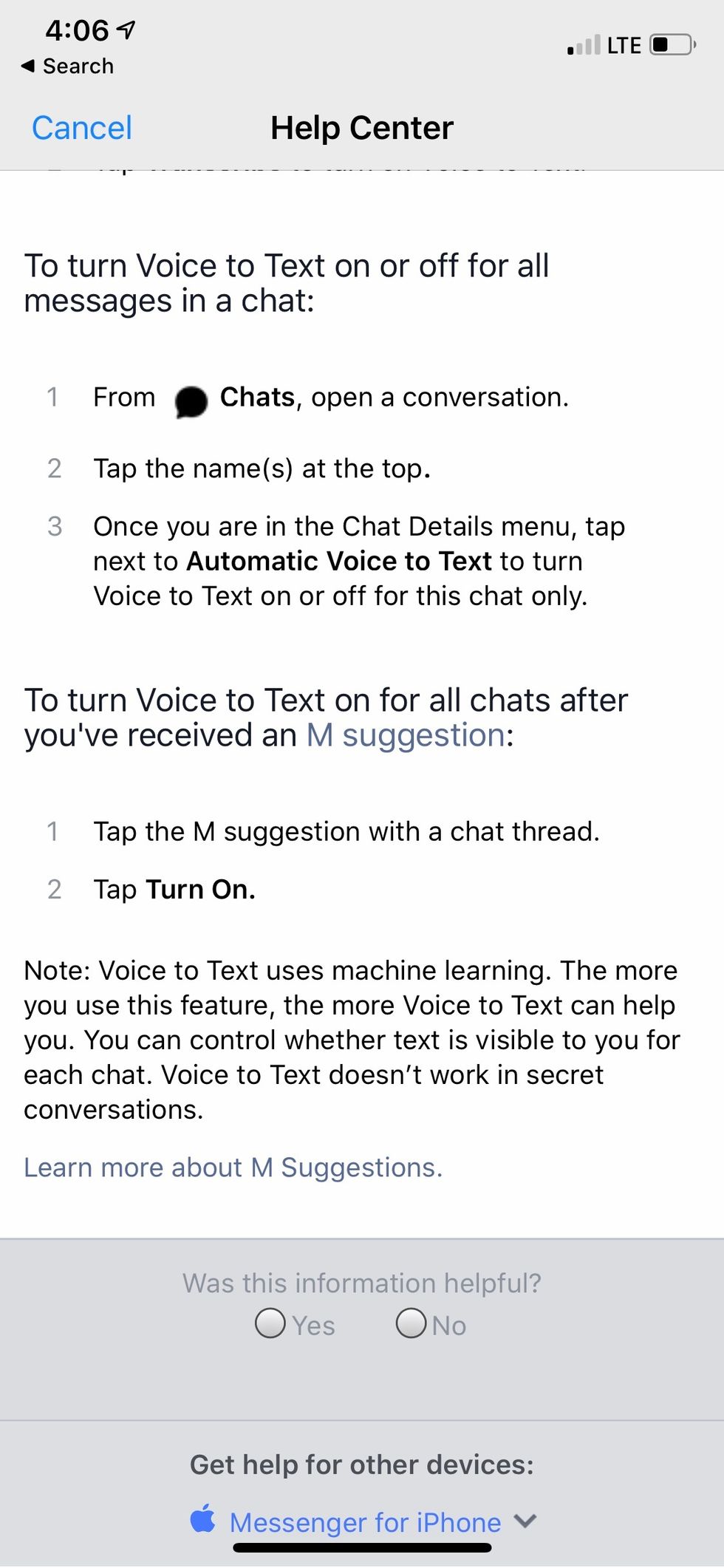 In Messenger's Help Center, Facebook states the "Voice to Text" feature uses machine learning, not human listenersGearBrain
Facebook says it had permission
Instead, we only found details around "Voice to Text," which Facebook clearly indicates "uses machine learning." That would imply that humans do not listen, but only an artificial intelligence, i.e. a computer.
The conversations within Messenger that have been transcribed are anonymous, said Facebook. But people who have been doing the work, who spoke anonymously with Bloomberg, have been "rattled" by the experience.
This is hardly Facebook's first foray wading into privacy concerns around its user base. The company's Messenger version for children, had allowed strangers to circumvent the parental permission and talk with kids without adults knowing. Facebook didn't publicly disclose the problem, and instead told parents who had signed up for the feature directly, in June.
The social media giant has also been found keeping millions of its user passwords unencrypted for years, and was just fined $5 billion (yes, a 'B') by the Federal Trade Commission for the Cambridge Analytica scandal.
However, the company is hardly the first to be caught listening to users. Amazon, Apple and Google have all been caught employing contractors to listen to conversations or audio captured by their smart speakers and smart assistants in recent months. The companies all claim this is to help them provide a better user experience.
The "Voice to Text," according to Facebook, is not available in all languages, nor in all locations — so this feature may not be showing up in your chat options as you send messages to other Facebook users. But Facebook says it has put a pin into listening to the audio files anyway.
"Much like Apple and Google, we paused human review of audio more than a week ago," the company told Bloomberg.
GearBrain TV: How to Secure your Smart Devices www.youtube.com
From Your Site Articles
Related Articles Around the Web
Like GearBrain on Facebook