Like GearBrain on Facebook
The Walabot Home is a monitor, meant to fit to the wall, that can detect if someone has fallen in the bathroom — and only the bathroom — and then contact a caregiver to send for help. Using the radio sensors found in other Walabot devices, the $149.99 Walabot Home is a new product line for the company, an accessibility tool designed for family and friends to have oversight in how an older or physically challenged adult in their lives is faring living alone. The idea is a good one, and the basic feature works very well, but the design could use some tweaking.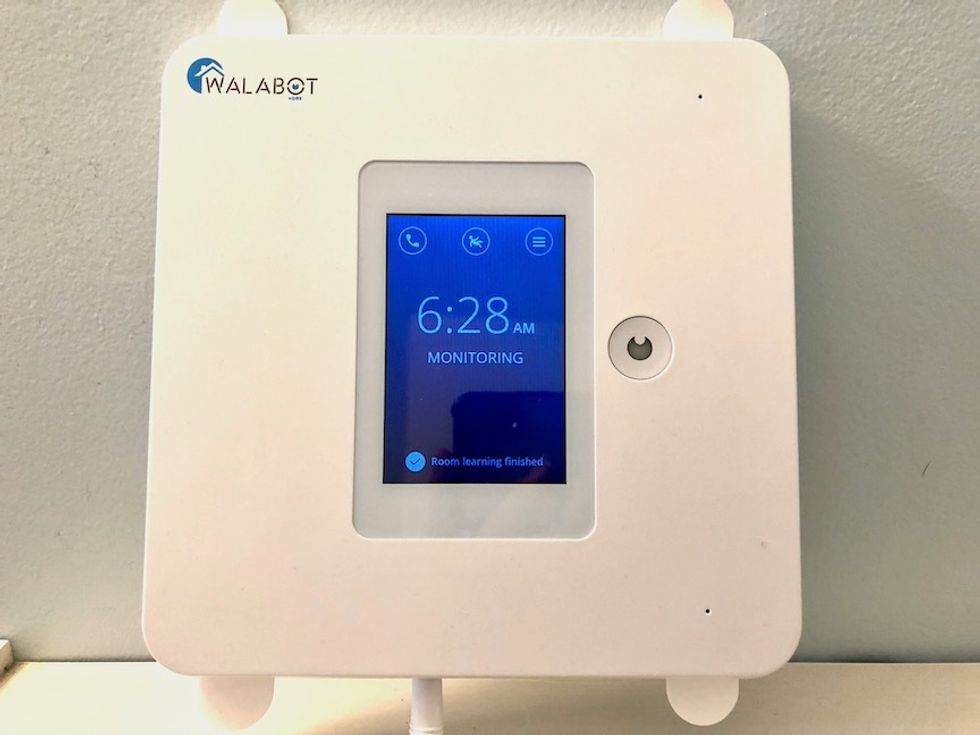 The Walabot Home spends several days in training mode to learn how someone moves in the bathroom, so false calls aren't madeGearBrain
Read More:

One of our every four people in the U.S. over the age of 65 fall every year — with at least 300,000 older people sent to the hospital every year with hip fractures, according to statistics from the U.S. Centers for Disease Control and Prevention. Falls, then, are a danger especially for older people who are living alone and don't have someone who can come to their aid immediately. That's the premise behind Walabot Home, which connects someone to help — even if they're not physically there.
What's in the Walabot Home box
In the Walabot Home box, you'll get the actual monitor, a power cord, four stickers that you'll use to affix to the back of the device and to the wall, and an instruction book. It's a very simple set-up, that includes downloading the Walabot Home app and sending invites to one or more caregivers, family members or friends. They'll also need to download the app, accept an invitation, and enter their contact information.
Setting up the Walabot Home
The four stickers are crucial to the set-up. The Walabot Home needs to be about 5 feet from the floor, on a wall, and not where a shelf can block it. You also need to make sure you're placing this close to an electrical outlet as that's how it draws its power: they aren't batteries. We have one outlet in our bathroom — it's a small room — and you need to think about whether you have an outlet you can give up for the Walabot Home as it needs to stay plugged in at all times.
The device is also not designed to work in bathrooms where there are multiple people typically — so not a group home or a dorm. It needs to monitor the behavior of one person at a time.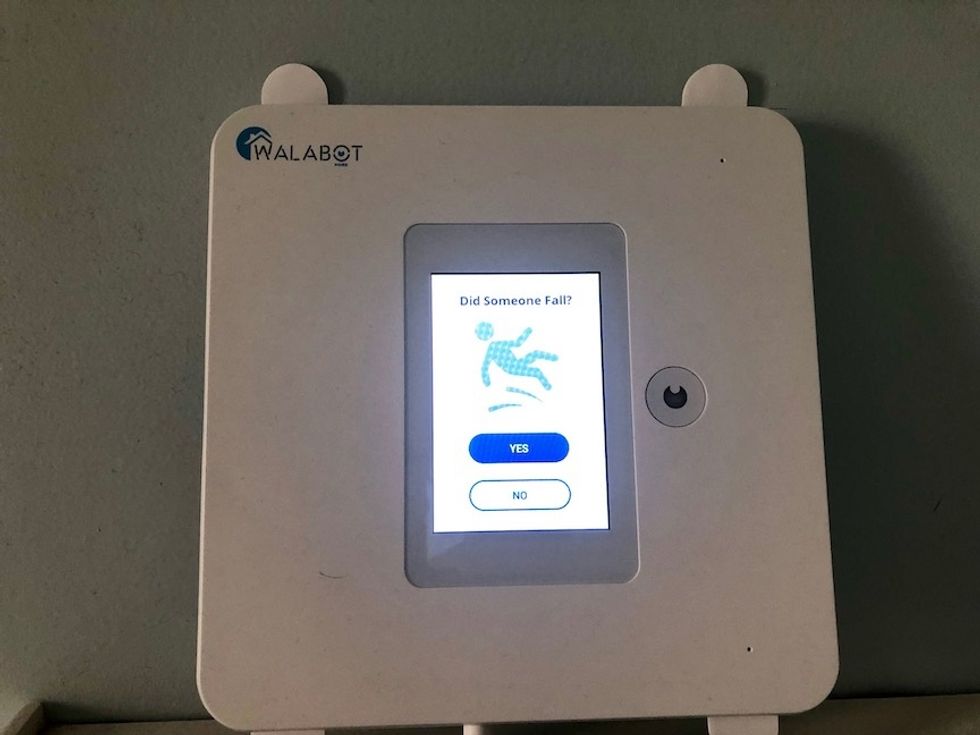 When a fall is detected, Walabot Home gives someone the opportunity to dismiss the alert if they haven't fallenGearBrain
We placed the Walabot Home in a bathroom with semi-gloss paint, a standard kind of paint found in most bathrooms, after wiping down the wall with alcohol to clean its surface from any dirt or oil.

Within two minutes the monitor fell. Applying more pressure did help it stick longer. But each time, the Walabot Home was able to stay on the wall at most 45 minutes. We can't imagine it would do better on high gloss paint or tile, both are also typical in bathrooms, and we'd like to see Walabot come up with another way to secure the device. In the end we resorted to placing the Walabot on a shelf for our testing at the right height.
Downloading the app
The app downloaded quickly, and the Walabot Home connected to Wi-Fi very easily. Note, however, that the despite the fairly large size of the monitor, it has a small screen. Typing is a challenge as the keyboard is smaller than a typical smartphone and getting the password in there correctly took a few times.
Next, the device needs to be calibrated, done by walking around the bathroom, and you even need to sit down on the toilet for about 40 seconds so it can detect where that is — and not send a false alarm when it's in use. The final step is doing a test call, after someone has accepted their invitation, by lying on the ground.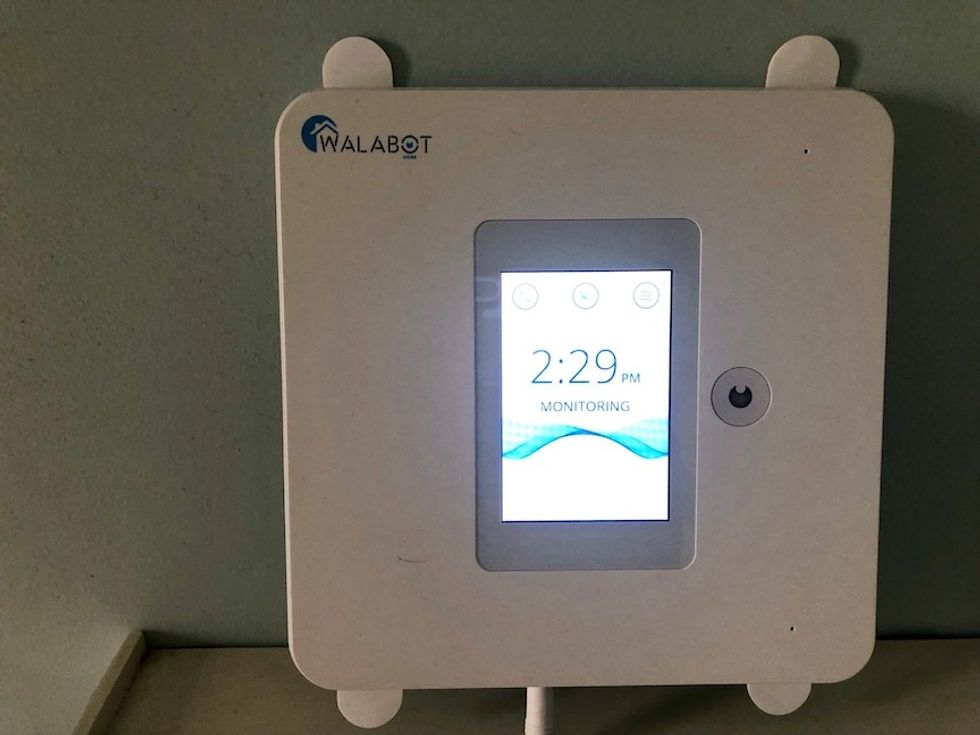 As soon as someone steps in the room, the Walabot Home begins to monitor to sense if someone has fallen to the floorGearBrain
Calling for help
Walabot Home calls people who are on the list of caregivers, first sending a text that alerts someone may have fallen, and then actually placing that call if someone doesn't get up off the floor. What it won't do is call 911, or any emergency services. That's key to know — you want to make sure you're picking people who will answer their phone, or you're willing to be on call if you're buying this someone else.
The device supports two-way audio. So when a call is made, and someone picks it up, they can talk to the person on the floor, and that person can speak back and ask for help — or if they don't respond, the caregiver or friend can call 911 themselves. That service, connecting to people from the device to someone's phone, is $4.99 a month, but the first month is free.
The quality of the audio, however, is not great and during testing we often only heard every other word on either end of the person, with the sound breaking up a lot. That's probably enough to understand that someone is — or isn't — in trouble. But it's not great for getting fine details of a conversation, and we'd like to see that improved.
Other ways to reach help
Even if you haven't fallen, there is a phone icon on the screen. So you can press this for help if you can reach the Walabot. That's a nice plus, as it means if someone is feeling ill but is mobile enough, they can get help without a phone nearby.
Walabot also gives someone time to cancel a false alarm. Within 30 seconds, the device, if it detects on the floor, will start speaking and ask if someone does need help, and if not, to press cancel on the screen. If they don't press cancel, that's when the call is initiated.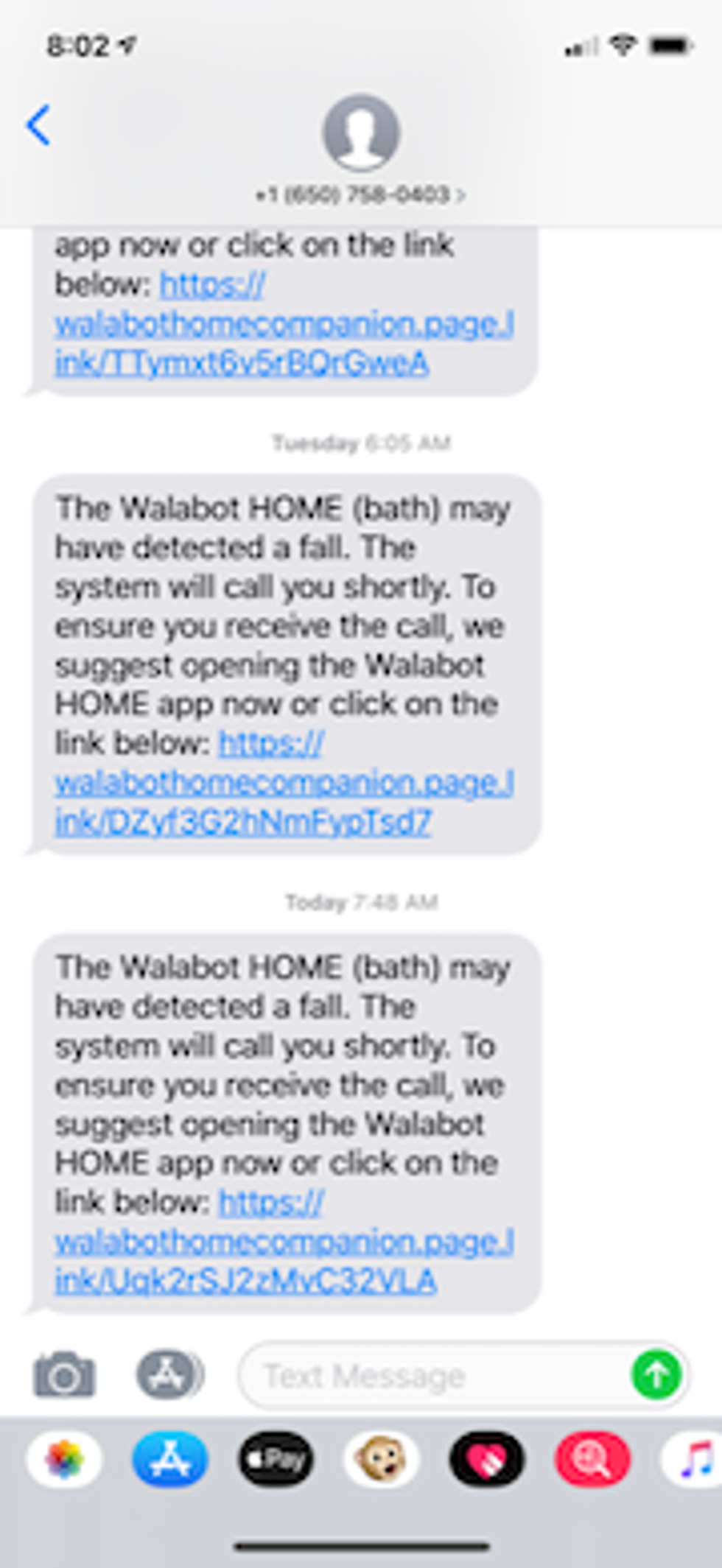 Friends and family are first sent a text message if a fall is detected, which is followed by a phone callGearBrain
In our tests, the Walabot Home was very accurate, even picking up if you sit on the floor to clean, or if you're looking at a low shelf — it went off quite a bit. But we wish there were adjustments we could make, such as extending how long before the alarm goes off or being able to put it in pause mode for certain reasons like cleaning.

Is Walabot Home right for you
Walabot Home is a solid device that did what it's designed to do: monitor a bathroom, and detect and reach out when someone falls in the space. Each test on that aspect worked quickly, and as it promised to do. We'd like to see Walabot develop another way to secure the monitor to a wall, especially as there are multiple kinds of surfaces in a room like that and keeping that secure is crucial. We'd also like to see if the two-way audio could be improved. But for what the monitor needs to do, allow two people to speak enough to know someone needs help, Walabot Home works fine.
Considering how dangerous falls can be for older people, having a device that works when a fall is detected, and that connects quickly to a family member or friend who can send help is crucial. The Walabot Home doesn't require someone get to a button on a wall, have their phone nearby or even press something on a wearable or watch — which, frankly, they may not have on them in the bathroom. That makes this a solid option, given its wrinkles, for anyone who has a loved one they're concerned about, living alone at home.
Pros:
Sends alerts in minutes to caregivers if a fall is detected
Can place a call through the device even if someone hasn't fallen
Simple to install and use
Cons:
Audio can break up when talking to someone through the device
Only uses stickers to secure to the wall
Monthly fee for monitoring
Like GearBrain on Facebook