Like GearBrain on Facebook
At its simplest, the Apple AirTag is a $29 device that is designed to help you find things using the Find My app that is pre-installed on your iPhone. It can be attached to possessions like keyrings and bags via a range of accessories sold by Apple and third parties like Belkin (and Hermes if you are feeling flush). It then uses Bluetooth and the internet connections of passing devices, like iPhones and iPads, to help you find whatever the AirTag is attached to.
If this sounds familiar, then you will likely be aware of Tile, the company that has sold similar possession trackers for several years now. Unlike the one-and-only AirTag, Tile sells several different trackers, including a credit card-sized one to slip into your wallet, and coin-sized Tiles with adhesive backs and designed to be stuck to almost anything.
Read More:
There are other AirTag alternatives too, in the form of Chipolo, Cube and the Samsung Galaxy SmartTag. But Apple hopes the AirTag will stand out thanks to the millions of iPhones, iPads and Macs that form the Find My network, where the passing of a stranger's iPhone can tell you the location of your lost AirTag. Tile and others do this too, but the assumption is their lack of scale compared to Apple will count against them. We will compare these devices more directly soon, but for now here is our review of the AirTag.
Apple AirTag review: Hardware and design
The AirTag might well be the smallest and simplest product Apple has ever sold. And at $29 for one or $99 for four, the AirTag is certainly one of its cheapest. A simple coin-like device, the AirTag is made of glossy white plastic with a shiny stainless steel cover on the back – compete with Apple logo, naturally.
The plastic body and metal back unscrew from each other to reveal a CR2032 cell-type battery, like those used in Quartz watches. Apple says the AirTag complies with the IP67 standard, meaning it can survive being submerged in water one meter deep for up to 30 minutes. In the real world, dropping it into a puddle or attaching it to a backpack worn in the rain won't cause any harm.
Apple says the battery will last for more than a year, but also says this estimate is based on very frequent use – specifically, four plays of the AirTag's internal speaker, designed to help you find it, every single day. We suspect the battery will last a while longer than the quoted year, unless you really do lose your keys almost 30 times a week.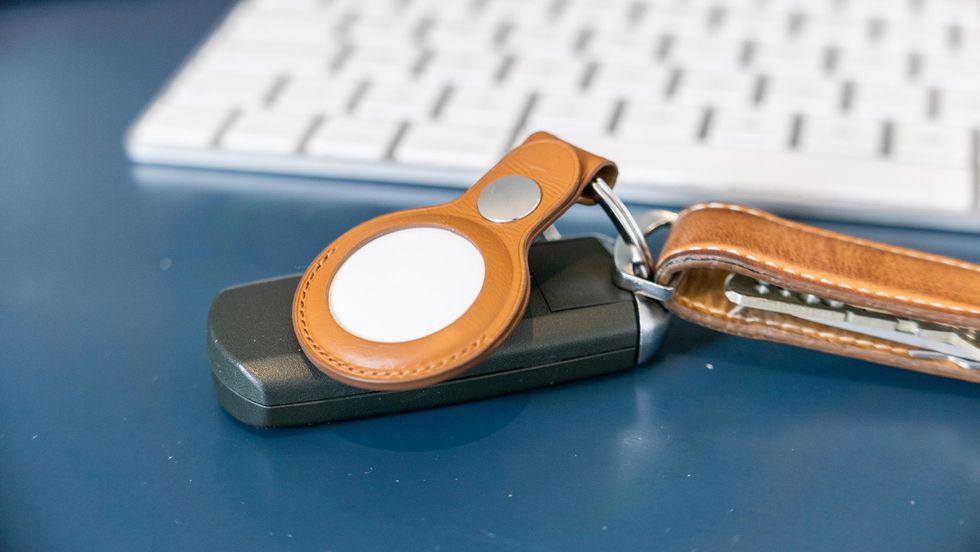 Apple AirTag inside Apple's leather keyring holder GearBrain
While the AirTag looks all shiny and new when first unboxed, the ease with which the steel scratches will be familiar to anyone who bought an original iPod. Attach an AirPod to your keys and it will be covered in scuffs and scratches almost immediately. I really don't mind this, but it's just something to be aware of. Some third-party cases are designed to completely cover the AirTag, but rest assured, scratches to the body don't affect how it works in any way at all.

What I found much more annoying was the lack of a hole for attaching it to things. Most of Tile's trackers have a hole for attaching a keyring, string, strap or similar. The AirTag does not, so while the $29 price is attractive you'll need to add a few more dollars for a case that attaches it to a keyring or bag strap. The cheapest Apple accessory for attaching the AirTag to things is $29, followed by $35 for the leather keyring seen in this review.
Thankfully Belkin sells keyring cases and bag straps for $13 each. Or you can go the other way entirely and drop $299 on a leather bag charm from Hermès, or $349 on an Hermès leather key ring.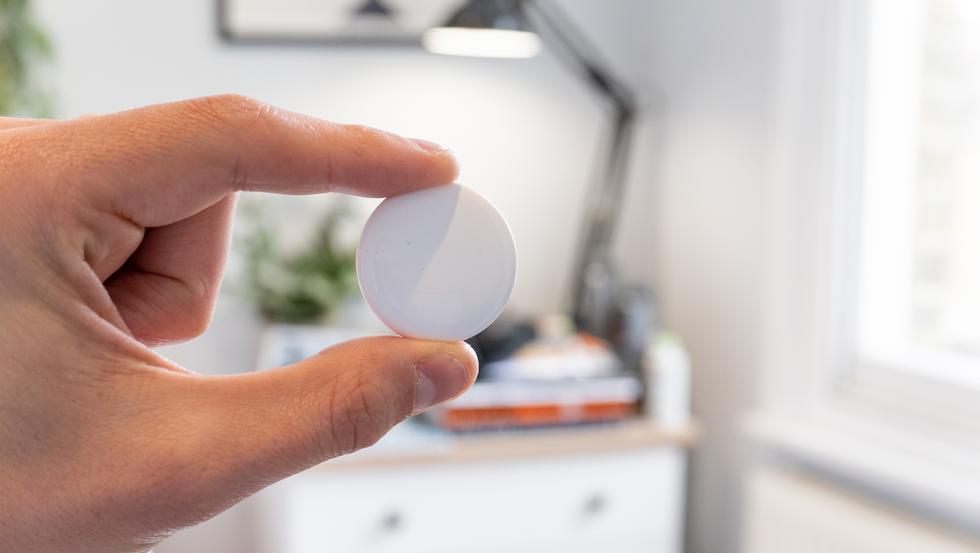 The AirTag is roughly the size of a large coinGearBrain
Apple AirTag review: Setup and software

Just like pairing a new set of AirPods to an iPhone, setting up an AirTag is the work of a moment. Removing its plastic wrapping pulls a tab out of the case, connecting the battery and firing the AirTag into life with a friendly chirp from the speaker.
As long as it is nearby, your iPhone will notice the AirTag and invite you to pair it and add it to the Find My app. You can then give the AirTag a name – I chose Alistair's Keys – and that's it. I then attached the AirTag to my keys using Apple's leather keyring, and that was the entire setup process complete. Talk about 'set it and forget it'. After set up, you can choose to rename the AirTag or remove it from the Find My app if you don't want to use it anymore.
It should almost go without saying, but the AirTag only works with iPhones. Android users will have to look at rival options from Tile, Chipolo and Samsung instead, but they can at least help reunite an iPhone user with a lost AirTag.
Apple AirTag review: How it works
Now to the important bit; finding your lost stuff with an AirTag. First, if you have misplaced your keys in your home you can have the AirTag play a (surprisingly loud) tune with a tap of the Find My app.
If this doesn't help, you can then locate the AirTag using a combination of Bluetooth and the Ultra-Wideband technology of the iPhone 11 and 12 (older iPhones will just use Bluetooth instead). Tapping the Find icon opens an interface on your iPhone that shows the direction of your AirTag and how far away it is. There are animations, sounds and haptic feedback to help you work your way towards the target, and the responsiveness of this feels really impressive.
Instead of vaguely saying the AirTag is nearby, the Find My app points you in precisely the right direction, measures the distance to your AirTag accurately, and even adds a button to switch the torch on if your phone notices you are searching in the dark.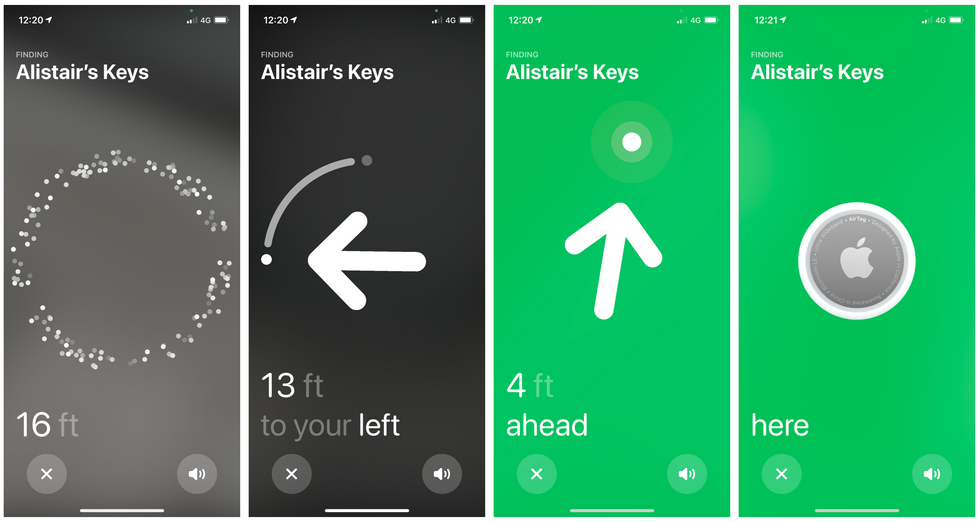 Precision Finding feature of the Find My app when looking for an AirTagGearBrain
This system, called Precision Finding, is only possible with members of the iPhone 11 and iPhone 12 families, thanks to their Ultra-Wideband chips. Owners of other iPhones can still hunt down their AirTag locally using Bluetooth, but it isn't quite as accurate.

If your lost item is further away, the Find My app has a two-step process for recovery. First, the app will show you where the AirTag was last connected to your iPhone. I tested this by putting the AirTag in my car, then walking back to my apartment a block away. There was no notification to say I had left the AirTag behind (Tile has an option to do this), but the last-known-location in the Find My app remained accurate.
If you dropped your keys in the store and didn't realize until you got home, the Find My app would at least point you towards the store, and potentially a certain part of it, using only the AirTag's last-known location.
Next up, you can get anonymous help from other Apple users with the Find My network. To test this, I turned my iPhone off and left it at home, then took the AirTag back to my car a block away, left it there and returned home. I then turned my iPhone back on and, because it hadn't seen the AirTag leave home, the Find My app thought the AirTag was nearby.
I then enabled Lost Mode and waited. Within about 20 minutes I got a notification on my iPhone to say my AirTag was seen at a specific address. I opened the Find My app and saw how the AirTag's location was now exactly where I'd parked; it was even on the correct side of the street. This was triggered because someone with an iPhone – and therefore a fellow member of the Find My community – had walked within Bluetooth range of the lost AirTag, and its location was pinged to my phone via iCloud. Whoever that was would have had no knowledge of their helping me.
I was impressed by how quickly this happened, and can only image the joy such a notification would cause if I had lost something for real, then been told by my iPhone precisely where it was. I suspect we'll be treated to a montage of overjoyed people finding stuff during the intro of Apple's next big event.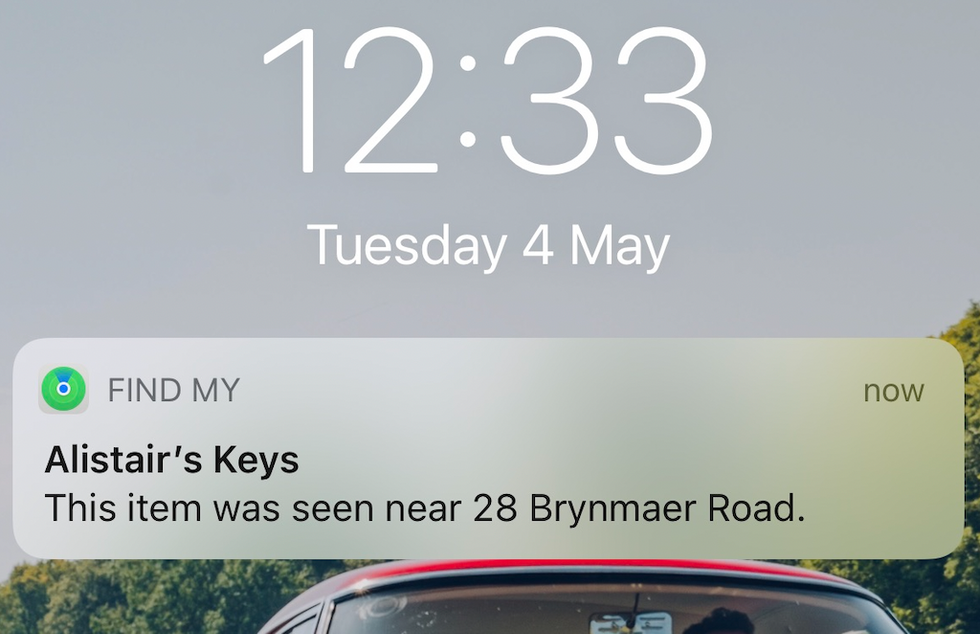 Find My app notification for a found AirTagGearBrain
Lastly, AirTags can also be reunited with their owners with a good, old-fashioned phone call. When you enable Lost Mode you are asked to type a short message and provide a phone number (this can be any number, it doesn't have to be your iPhone). Then, if someone discovers your lost AirTag and holds it against their iPhone (or Android) a notification appears with your message and phone number.

I got this to work instantly on one iPhone I tested, but on another wearing a sturdy case the AirTag wasn't discovered. It looks like the AirTag's NFC chip is low-power to preserve battery life. A useful tip here would therefore be, if you find a lost AirTag, take your phone case off if you don't get a notification when holding them together.
Apple AirTag review: Malicious use

We will be covering this topic in greater detail in a follow-up piece, but for now it is worth explaining what measures Apple has baked into the AirTag in a bid to prevent it from being used maliciously. Unlike its rivals, an AirTag that doesn't belong to you will alert your iPhone to suspicious activity. For example, if someone has hidden their AirTag in your bag, or slipped one into your coat pocket, then walked away and used this AirTag to track your location, your iPhone will notice this and let you know.
If the AirTag remains undiscovered for a while longer, it will play a sound to alert you and help you find it. Apple says these alerts are only triggered when a stray AirTag is near your iPhone but also away from its owner, so it won't notify you unnecessarily.
For now, it isn't clear exactly how long it takes for this notification to appear, and what measures Apple has included to prevent false-positives; for example, preventing a spouse's AirTag from wrongly warning you about it being nearby for an extended amount of time. We'll have more on this soon.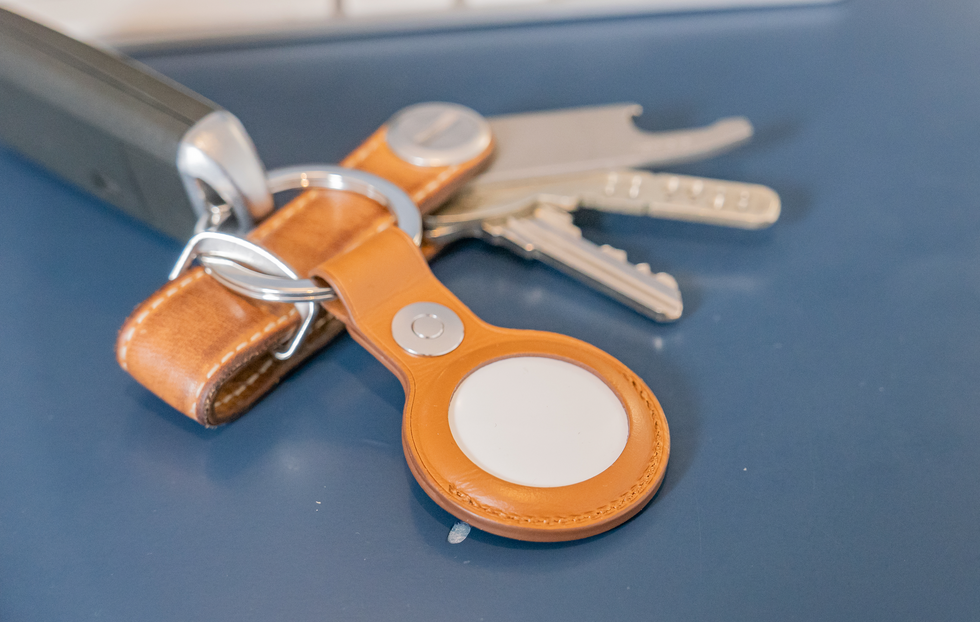 At $35, the Apple keyring holder is more expensive than the $29 AirTag itselfGearBrain
Verdict

The AirTag makes a complex task look simple. It also offers a surprisingly affordable way to keep an eye on your most valuable possessions, while integrating flawlessly with Apple's ecosystem. The setup process is the work of a moment, the Precision Finding function is fun and intuitive to use, and the Find My safety net means millions of iPhones, iPads and Macs can help you find your stuff, and quickly.
Of course, the latter won't work as well in countries where iPhones aren't as possible; I'm in London, where anecdotally it feels like Android users are in the minority. But even here I was surprised by just how quickly my 'lost' AirTag buzzed me with its precise location, even on a very quiet side street during a working day. There is no doubting that, in the right city, this is a very good system for finding lost items.
But there are some drawbacks. Android users are left out, unsurprisingly, and I feel bad for companies like Tile who have built up an entire product category, only for Apple to bulldoze its way through with a network of hundreds of millions of iPhones.
It's also slightly frustrating that, while the AirTag is good value at $29, it can't be attached to anything without purchasing an accessory, and those from Apple start at $29, immediately doubling the price of entry. At least the battery can be replaced and there is no subscription. For comparison, the cheapest Tile is $24.99 but currently reduced to $19.99, and can be hooked onto the keyring you already own. There's also only one AirTag and no rival to the wallet-friendly Tile Slim, at least for now.
The AirTag is a very strong debut in a new product category for Apple, and I hope to see more versions (including one for my wallet) soon.
Pros:
Simple setup and use
Makes finding things easy
Water resistant and user-replaceable battery
Cons:
Cannot be attached to anything without an accessory
Won't work as well where iPhones are less popular
Not for Android
Check out The GearBrain, our smart home compatibility find engine to see the other compatible trackers that work with Apple HomeKit and Airtags.
New Apple AirTag Leather Key Ring - Saddle Brown
Like GearBrain on Facebook