Like GearBrain on Facebook
Some Android smartphones hold a key advantage over all models of iPhone in terms of storage — and that's thanks to the microSD card slot, which makes it easy and affordable to massively increase storage space.
But, for owners of Android phones without space for a memory card — or for those who find even that option is quickly getting used up — there are several ways to free up some extra space. Deleting unused apps and large videos is the obvious place to start, but as with the iPhone, there are plenty of other tricks to help win back some gigabytes.
Here are five ways to free up storage space on your Android smartphone (or tablet).
Read More:
Delete unused apps

First, the obvious steps you can take to free up those precious gigabytes. If you haven't used some apps for a while (especially those hogging a lot of space, like games) it's time to bid them farewell.
You can always download them again later (those you've paid for will be free), and when you do, all their associated data will be restored too.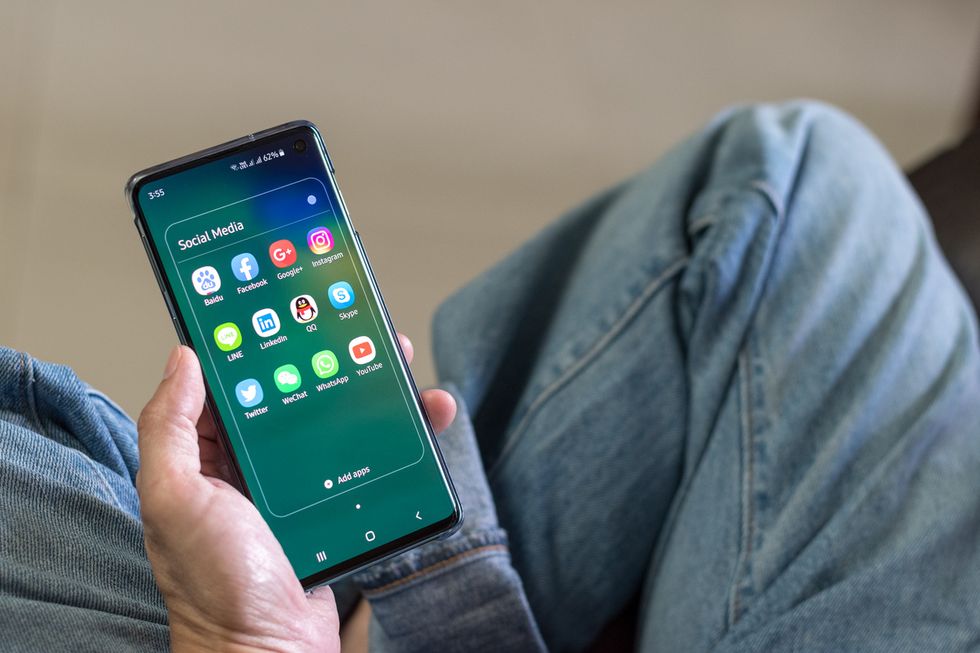 Some apps and their associated data can take up a lot of space Getty Images
Delete large media files

Another obvious one, but if you have lots of large media files, like movies downloaded in the Netflix app for a flight you took a year ago, it's time to delete them. Even files like podcasts and audio recordings can take up a chunk of space if you have a lot of them (we recently cleared out 17GB of podcasts), so be sure to check the downloads section of every media app on your phone.
Remove backed-up photos
If you use the Google Photos app then photos and videos taken with your Android are automatically backed-up to the cloud. This means your content is always available no matter what device you are on, but also means you can delete everything from your phone that has been backed up online.
Open the Photos app and tap on the 'Free Up Space' button in the left-hand side bar. The app then shows how much space can be saved by removing photos and videos from your phone that are safely backed up in the cloud. Tap the blue button and that space will be instantly freed up.
You can still pull any photo or video back down from the cloud at any time (providing your phone has space, of course).
If your photos aren't already backing up automatically, open the Photos app, tap on the menu icon in the upper-left corner and tap on Settings. Now tap on 'Back up & sync' and make sure the toggle is switched to the On position.
You can set your phone to automatically remove photos that are safely backed-up to the cloud every 30, 60 or 90 days. This is called Smart Storage and is found by opening the Settings app and navigating to Storage then tapping on Smart Storage and picking which of the three schedules you'd like to use.
Use the Files by Google app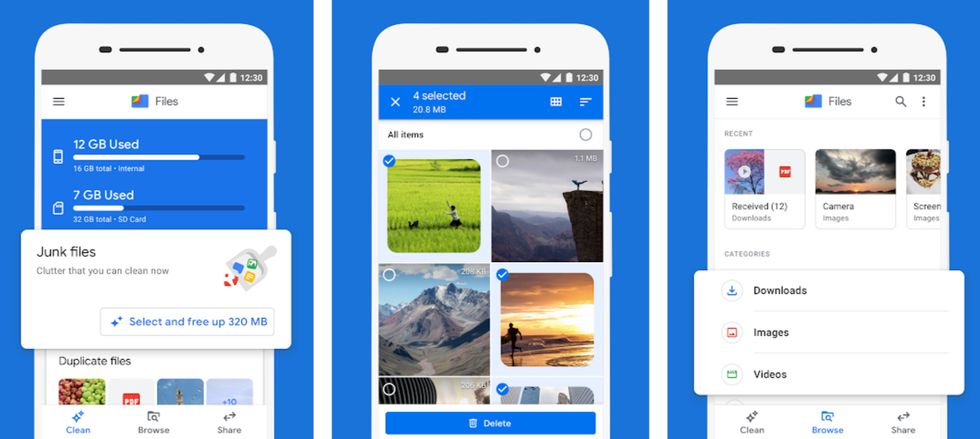 Files by Google app for AndroidGoogle
When it comes to making more space on an Android phone, much of the heavy lifting can be done by Google's own Files app. If it isn't already installed on your phone, you can grab it from the Play Store for free.

Files by Google shows how much storage you have remaining (on both your phone and its SD card if one is inserted), and which applications and files are taking up the most space. The app also flags up duplicate files, helps you delete all downloaded files with a tap, and recommends apps to uninstall if they are taking up lots of space.
More feature-rich apps like this are also available for Android, but for most users we recommend sticking with Google's own product. That way you won't accidentally delete anything important.
Clear app cache and data
For more advanced users, Android phones also include a way to clear out the cache associated with applications. The cache often includes files that are no longer needed by the app, yet take up space on your phone. That said, you should always take a moment to understand exactly what you are deleting, to avoid wiping anything important from your handset.
To get started, open the Settings app and tap on Storage, then tap the blue 'Free Up Space' button. This works a lot like the Files by Google app mentioned above.
Next, go to the Storage section and pick a category of app to see how much space is being taken up, for example by your games or by your media apps. Now tap on one of the apps listed to see exactly how much it (and its associated data) is taking up, and tap the 'Clear cache' button to remove data that is no longer required.
Anker PowerCore 10000 Portable Charger, One of The Smallest and Lightest 10000mAh Power Bank, Ultra-Compact Battery Pack, High-Speed Charging Technology Phone Charger for iPhone, Samsung and More.
Like GearBrain on Facebook