As more consumers cut the cord from their TV provider, they're turning to streaming services for TV options. One of the driving factors is cost, along with the wealth of programming available through streaming services like Netflix, Apple TV+, Disney+ and more. However, with streaming people sometimes miss out on local channels. You can pick these up through your ISP provider — if it's a cable or telecommunications company. Some streaming sources, like Sling TV, also offer local channels. The other option? Getting a high definition, or HD, antenna.
These antennas provide over-the-air programming in HD for free. GearBrain was able to test one of these HD antennas from Jasco called the GE Enlighten HD Antenna with Bias LED Lighting. Here's how it worked for us, and if you can see if it will work for you.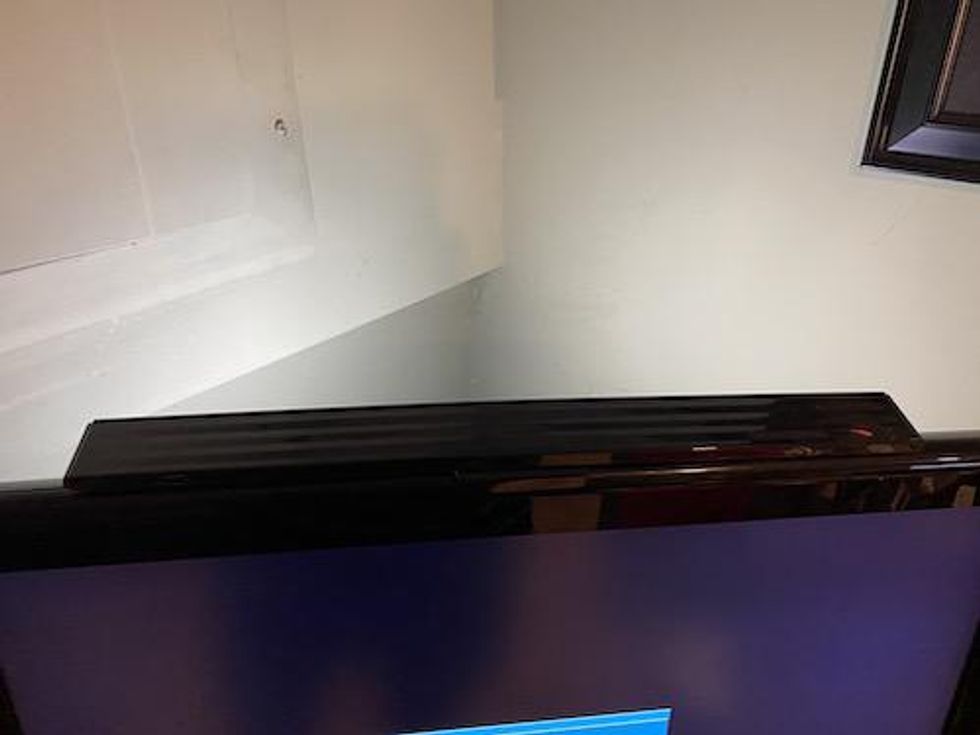 GE Enlighten HD Antenna with Bias LED Lighting on top of a TVGearBrain
What is the GE Enlighten HD antenna with Bias LED lighting?

The GE Enlighten HD Antenna with Bias LED Lighting is an HD TV antenna that delivers free, local HD TV. The device also has an LED backlight to enhance someone's TV viewing or gaming experience, a soft, white light designed to reduce eyestrain and enhance picture quality.
The new GE Enlighten HD antenna can pick up Internet Protocol — or IP — based broadcasting systems over the air. In that way it works with NextGen TV (ATSC 3.0), meaning it which allows it to pick up the broadcast signal from any station this broadcasting technology, which includes 4K ultra high definition video quality, theatre-like sound, mobile reception and other features. Currently, NextGen TV is only available in 28 markets in the U.S, with 19 coming this summer and 50 more later this year. (You can check out NextGen's site to see if its available in your market.)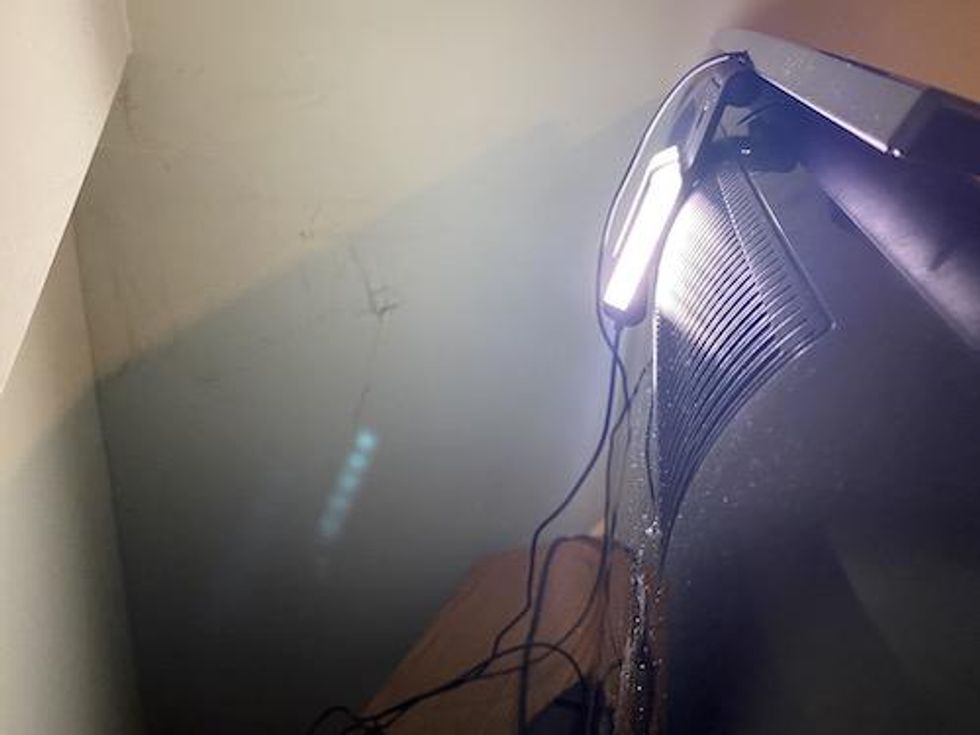 Back of TV with GE Enlighten HD Antenna with Bias LED LightingGearBrain
How to set up?
The Enlighten HD antenna is easy to install, mounting on top of your television and connecting to the back of your TV for power. It's supported using a bracket on the antenna, which can pick up HD programming over the air within 55 miles from the broadcast source. It's worth checking Antennaweb to see the distance between the local broadcast source and your home. For our test, we checked their stations map and found 28 local channels in our area ranging from NBC, ABC, Fox and CBS affiliates as well as local independent stations.
You will need to connect the antenna to your TV's antenna or cable jack, or you can use the USB port as the power source on the back of your TV. You can also purchase a USB power adapter.
Cost
The GE Enlighten HD Antenna with Bias LED Lighting costs $34.99 and is available on Amazon and Jasco's site. Pricing for an HD antenna ranges from $30 to $1,200 for an outdoor HD antenna. The price range for a good indoor HD antenna like Enlighten ranges between $28 to $40, putting GE's right in the middle.
So why would you use this HD antenna?

The Enlighten HD Antenna is great for gamers and cord cutters who don't want to pay for local cable service, but still want local channels in HD or 4K. It can easily mount directly on top of your television (unless you have a thin smart TV), and can provide a backlight for your television to enhance the viewing experience too.
It's worth noting that the GE Enlighten HD antenna is slim and will only work indoors. Do make sure you have enough room behind your television or between the back of your television and the wall. If using this on top of a table, make sure you have at least 6 to 18 inches of room behind your TV to get the optimum performance from your Enlighten HD antenna.
Performance – How did it work?
Our TV did not have a cable box, but it was wide enough for our us to mount the antenna on top of the TV. We were using a gaming console to connect to the Internet via our home router but didn't have local channels. We did find, as GE suggests, that the bias lighting did help our gaming experience, but it didn't have much of an impact on our TV viewing.
The HD antenna was definitely easy to install, taking seconds to set up. And we found the picture quality was good for local programming, especially if you remember the days when homes had antennas on their roofs, and picture quality was often spotty. We found the video resolution from our Enlighten antenna was the same as the signal coming from our local cable provider, but at a considerably lower cost. And we liked that we could access 28 channels locally with HD quality programming.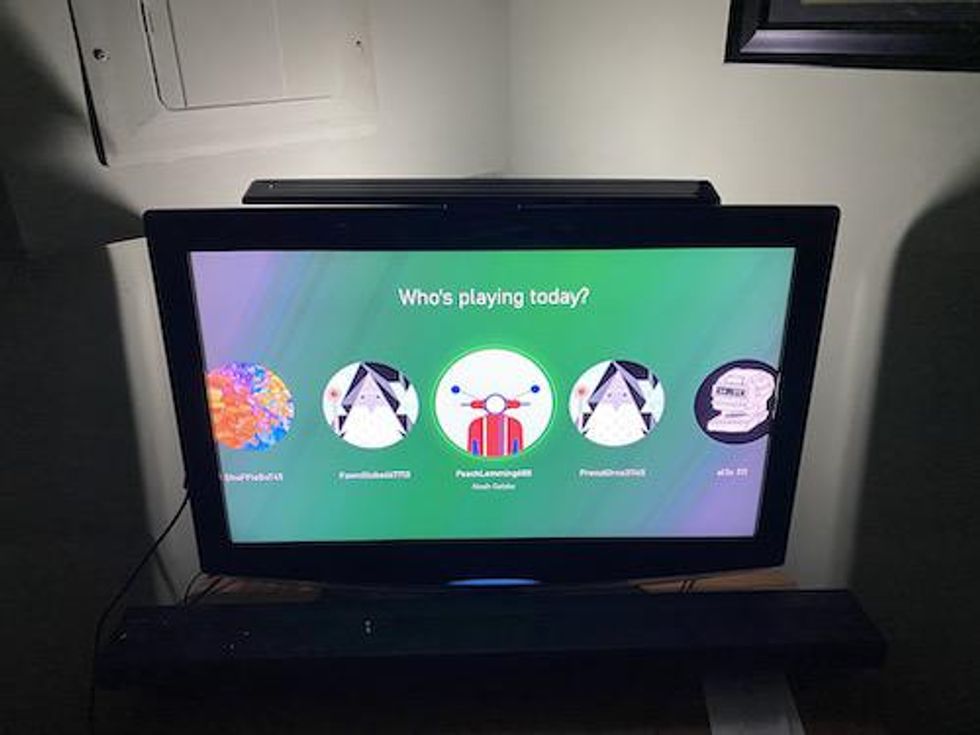 GE Enlighten HD Antenna with Bias L:ighting is good for gamers.GearBrain
Summary
HD antennas are something to consider for those who are getting rid of their cable provider, and turning to streaming services. An HD antenna can help you access local programming for free — although we definitely recommend checking your streaming services first to see if you can get your local channels through them. If that's not an option, then check that channels in your area are available over-the-air — and can be reached then via an HD antenna.
If you have a smart TV as well, check that your local channels aren't already available through your streaming services. Most smart TVs don't have antennas, connecting to the internet via Bluetooth or Wi-Fi. If these streaming services don't have local access, then an HD antenna is also worth considering.
What's really unique with the Enlighten HD antenna is its ability to provide enhanced programming over-the-air from a HDTV, VHF or UHF signal without any interference from cell towers and other radio frequencies to any TV, especially 4K UHD televisions. It can do this because the antenna has a built-in 4G/5G LTE filter which can block unwanted cell phone interference and boost the broadcast signal so you have a clearer picture.

We would then recommend this product for any gamer or cord cutter who was looking to add local channels, plus a new type of enhanced viewing, at a low cost in their home. It's also perfect for homes and apartments that have multiple TVs but don't want to pay for an extra box from a cable provider. Again, just make sure your streaming services doesn't already offer local channels, or that your smart TV does not provide over-the-air broadcasts without an antenna.
Pros:
Price
Easy setup
HD Broadcasting and enhanced viewing
Cons:
Limited NextGen TV coverage
Lighting was average for TV viewing
Need strong signal from local stations to view
GE LED Lights TV Antenna, TV Bias Light Improves Picture Quality and Reduces Eye Strain, 6500K, 4K Ready 1080P Digital HDTV VHF UHF NEXTGEN TV, Long Range Indoor TV Antenna, 53592