Like GearBrain on Facebook
It has been a busy few days for GM, with the unveiling of the new Hummer electric SUV on April 3, followed three days later by the announcement of an electric Chevy Silverado truck.
Both of these vehicles promise big power – 1,000 horsepower and a sub-three-second 0-60 time for the Hummer – and a long range – more than 400 miles for the Silverado. They will both achieve this by using a form of GM's new Ultium battery platform.
Read More:
Announced a year ago, in March 2020, the Ultium platform is to become the backbone of over a dozen new electric cars and trucks to be announced by GM over the coming years. With a $27 billion commitment announced by GM in 2020, the company hopes to launch 30 electric vehicles (EVs) globally by the end of 2025.
Key to this mission will be the flexibility of the modular Ultium platform. GM says it can be transformed into 19 different battery and drivetrain configurations, including battery capacity options between 50kWh and 200kWh – the latter being double that of today's largest Tesla.
The Ultium platform can also operate using either the 400 or 800 volt architectures, with 200kW and 350kW charging rates respectively, the latter being well above Tesla's current 250kW ceiling. GM's electric vehicles can be front-, rear- or all-wheel-drive, thanks to having one, two or even three electric motors.
On the topic of charging, however, Tesla's Supercharger is still far-and-away the superior option compared to the numerous public charging networks offered across the US and Europe. GM is working with EVgo to build its US charging network, while Rivian recently announced plans for a Tesla-style, 10,000-charger network of its own.
What range will GM vehicles have?
GM estimates its electric vehicles will have up to 450 miles of range, although this is yet to be tested by the EPA. For context, the latest Tesla Model S Long Range has an estimated range of 412 miles, rising to a claimed 520+ for the Plaid+ version, although that isn't due to arrive until mid-2022. Rivian, an EV startup working on an electric SUV and pick-up truck, is targeting 300 miles of range this year, then over 400 miles for models launched in 2022.
Being highly modular isn't unique to GM. The Volkswagen Group has its own Modular Electric Drive Matrix (MEB) and Mercedes has the MMA modular architecture. But what GM hopes will set it apart is a different approach to the individual cells of the battery, not just the pack itself.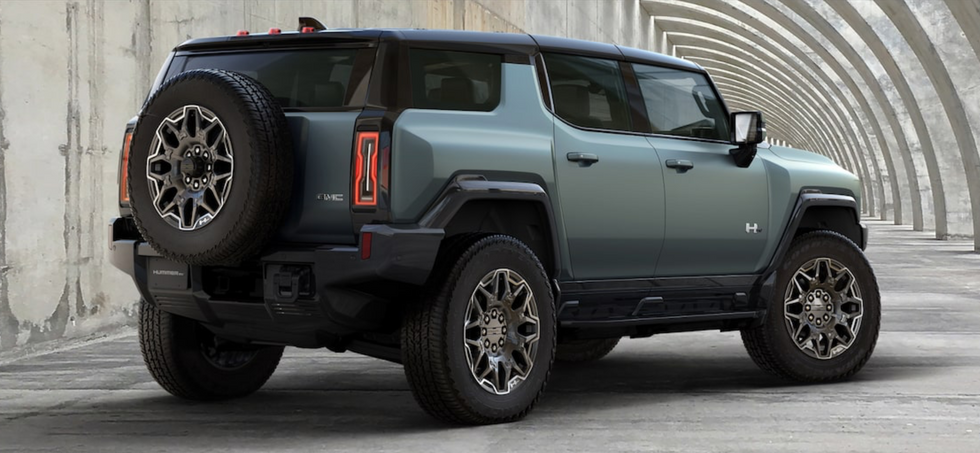 The Ultium platform will give the electric Hummer 1,000 horsepowerGMC
A different shape of battery cell

Whereas Tesla and others fill their packs with cylindrical cells similar in appearance to the AA batteries in your TV remote, GM and manufacturing partner LG Chem is using pouch- and prismatic-style battery cells that are flat and rectangular. The different shape allows the cells to be arranged horizontally or stacked vertically, with the former suited to battery packs in regular cars, and the latter being better for larger trucks and SUVs.
Also key to GM's battery plan is energy density. Speaking to IEEE Spectrum in late-2020, the automaker said how the first-generation of Ultium batteries will have 60 percent greater energy density than the batteries used by GM's first electric car, the Chevrolet Bolt.
In a move also taken by Tesla, the batteries will use less cobalt than before, in GM's case a 70 percent reduction for its Ultium batteries. This lowers manufacturers costs, as cobalt in the most expensive component of EV batteries, and also helps distance GM from a material that has been linked to child labor.
Reduced manufacturing costs
As well as high performance, fast charging and a reduced reliance on cobalt, GM says it hopes to lower battery cell costs to below $100 per kWh, from its current level of around $130/kWh. This could reduce the manufacturing cost of the company's larger 200kWh battery packs from $26,000 to $20,000 – a saving that could eventually be passed onto consumers and result in more affordable EVs for all.
It isn't possible yet to say whether GM's approach is better or worse than that of Tesla and other electric car manufacturers. It also can't be said with any certainty whether drivers will notice any real difference at all, at least until the first vehicles powered by Ultium batteries hit the road. But what is important is that GM is at least taking a different approach, and this should encourage others to also go their own way.
If they don't, and every car manufacturer uses the same battery cells from the same manufacturer, sitting in the same 'skateboard' chassis and powering the same one or two motors, distinctions between vehicle models, and even those from unrelated manufacturers, will be more difficult to spot.
GM says how its Ultium platform offers 19 different combinations of battery and drivetrain, which sounds like a lot until you learn that GM currently has 550 combinations of internal combustion powertrain.
Electrification will inevitably simplify the automotive market, but at least the different approaches of GM, Tesla and others – Porsche with its two-speed gearbox, for example, and Rivian's innovative tow-charging system – will keep things interesting, and above all ensure consumers still have a choice in the electrified decades to come.
From Your Site Articles
Related Articles Around the Web
Like GearBrain on Facebook