Like GearBrain on Facebook
When we reviewed the Google Home Hub earlier in 2019, we suggested it would be even better if it could be made portable with an internal battery and wireless charging pad.
Google hasn't fully made our dreams come true just yet, but with a new Android feature called Ambient Mode, it has taken us a step closer.
Read More:
Announced at the IFA technology show in Berlin this week, the new mode partially turns an Android smartphone or tablet into a Google Home Hub — or Nest Hub, as they are now called.
Ambient Mode brings many of the Hub's features to Android phones and tablets, include their Google Assistant interface, plus the same notifications, reminders, music control, weather forecast, and a slideshow of your photo library on the home screen.
That said — and for reasons Google doesn't make clear — the interface isn't exactly the same as on the Nest Hub. One big omission here is the swipe-down smart home control panel of the Nest Hub. Instead, there is a limited set of options on the Ambient Mode home screen for interacting with smart devices, and you can always give voice commands to the Assistant.
Also strange is how Ambient Mode isn't rolling out to all Android devices. Instead, at launch it will only be available on the upcoming Lenovo Smart Tab M8 HD (when placed in its charging dock), and the Lenovo Yoga Smart Tab (when sat up using its kickstand). Those two devices are starting to roll out in September, with the Yoga Smart Tab going on sale first.
Ambient Mode is also coming to the new Nokia 7.2 and 6.2 smartphones.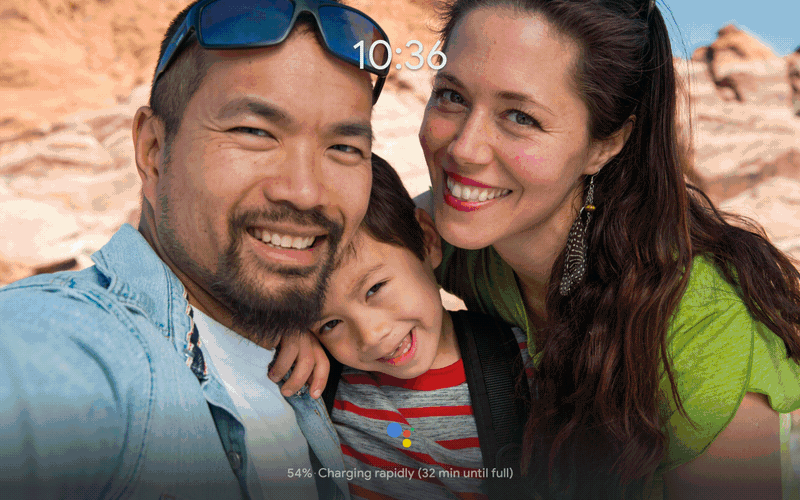 Ambient Mode looks similar to the Nest Hub, but works differently Google
There is no mention of Google's own Pixel devices, but we wouldn't be at all surprised to see Ambient Mode on the upcoming Pixel 4 , which is due to launch later this fall.

We like what Google is doing here, but can't help wonder why the interface on these devices differs slightly to the Nest Hub itself, and why so few devices will include Ambient Mode at launch.
Google has a habit of duplicating its own products and services — just look at how many messaging platforms it has had over the years — and we worry that Ambient Mode merely takes the Nest Hub, then replicates it in a slightly under-baked way. We hope the two systems can either merge into the same unified interface, or diverge into two clearly defined platforms with their own use case.
From Your Site Articles
Related Articles Around the Web
Like GearBrain on Facebook