Like GearBrain on Facebook
Google Pixel 4 news and rumors are building ahead of the smartphone's expected launch this fall. Just as it has become easy in recent years to predict when Apple will announce the new iPhone (September, of course), Google's Pixel smartphones now follow a similar schedule. The next model is expected to arrive in October, a year on from the Pixel 3.
This year we expect to see the Pixel 4 and larger Pixel 4 XL, which will be sold alongside the cut-price Pixel 3a which launched earlier in 2019.
Read More:
Google took the unusual step of teasing the Pixel 4 on Twitter. Back in mid-June, the company published a photo of the rear of the upcoming handset, embedded below, just as the rumor mill had begun to get excited about renders of the phone drawn up based on leaked technical drawings.
If Google carries on like this, we can expect the build-up to the launch of the Pixel 4 to be unlike the Pixel 2 and 3, which were leaked heavily ahead of the big reveal. That said, by September the phone has already leaked several times, giving us a very good idea of what it looks like and what features it has.

Here is everything we know so far about the Pixel 4 and Pixel 4 XL. This article will be updated as more information comes to light between now and October.
Google Pixel 4: Release date
Google is holding a hardware event in New York City on October 15, where it is very likely to announce the Pixel 4 and Pixel 4 XL smartphones. Invitations to the event say Google will reveal "a few new" products from its Made by Google division, which includes Nest smart home devices. We therefore expect to see new smart speakers and potentially other connected devices from Google, too.
The Pixel 4 duo will likely go on sale soon after the launch event, nice and early in the holiday shopping season. The Pixel 3a launched in May. It seems unlikely that a 4a would launch alongside the Pixel 4, so instead we wonder if the cheaper 'a' version of each year's Pixel will launch at Google's I/O event, which takes place each May.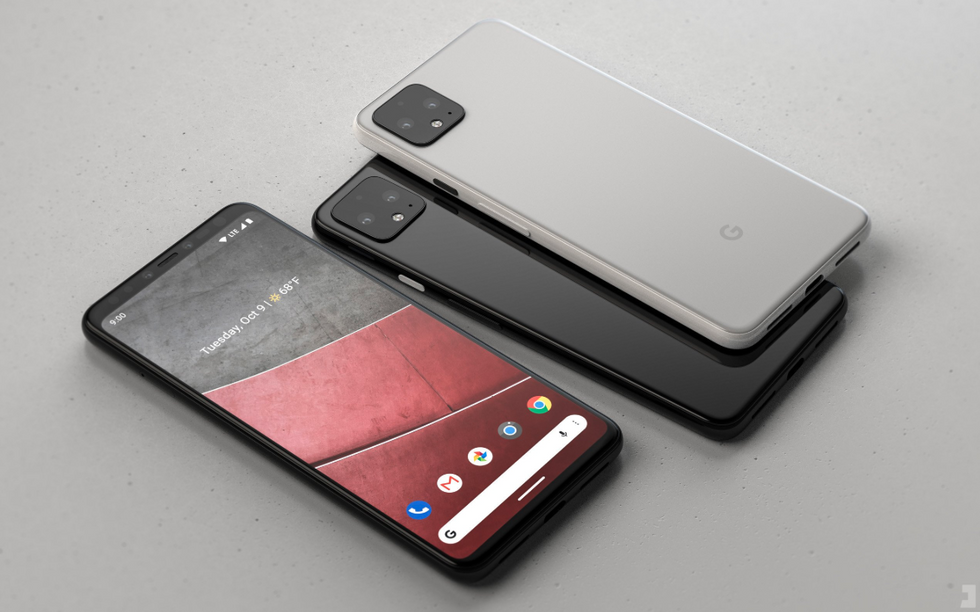 Unofficial renders showing what the Pixel 4 could look likeJonas Daehnert (@PhoneDesigner)
Google Pixel 4: Design and screen

Since Google has already published its own photo of the Pixel 4, we have a good starting place for what it'll look like. The phone will be a rectangle with rounded corners (of course), but what makes it different to all previous Pixels is the rear camera system, which sits within a large square cut-out. We'll go into more detail on this in the following section.
As for the rest of the phone's design, we can see the familiar Google 'G' logo in the lower-third, a power and screen lock button on the right-hand edge, and...well, that's about it. Apart from the phone will be available in black, obviously. Other options are likely to include white and a couple of soft colors, as the Pixel range has become known for, complete with contrasting power buttons.
Examples of the Pixel XL leaked in September show color options as matte white, glossy black, and matte coral/orange. Less is known about the smaller Pixel 4, as that phone doesn't seem to be available on the black market.
The front of the phone was more of an unknown at first. Initial renders based on leaked technical drawings suggest the phone will get a dual-lens cutout similar to that of the Samsung Galaxy S10, instead of the large and unsightly notch of the Pixel 3 XL. But more recent renders created in the wake of newer leaks claim the Pixel 4 will have a small 'forehead' across the top of its display, housing the front-facing cameras and a facial recognition system.

Just as with the Pixel 2 and Pixel 3 before it, the Pixel 4 has now leaked online, with several working handsets appearing in the hands of blogs and technology news sites, having been sold by a retailer in Hanoi for $1,000, seemingly right off the production line.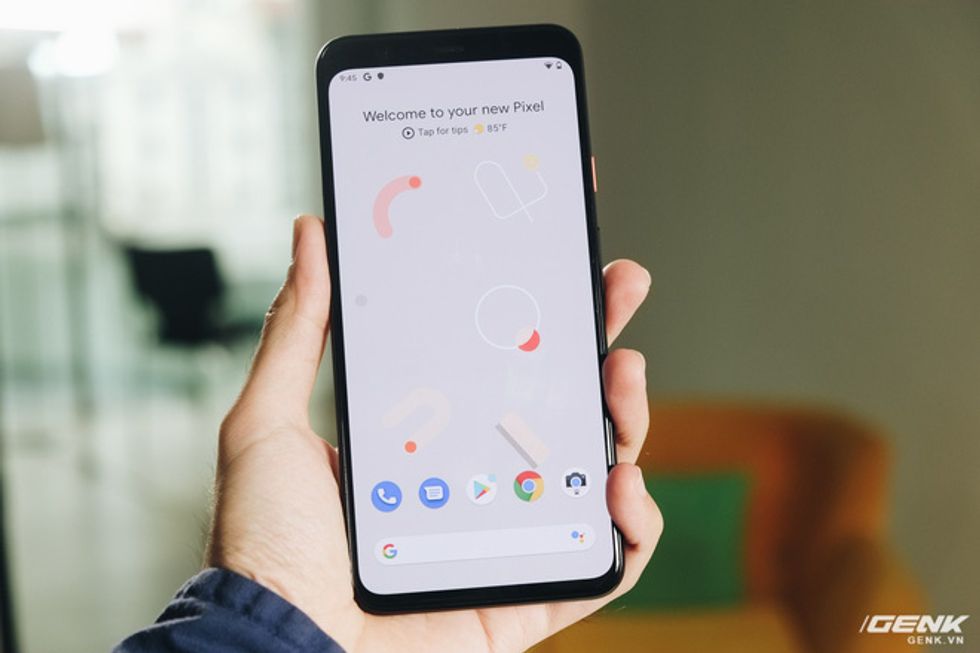 Leaked Google Pixel 4 XL shown ahead of debutGenk
These leaks reveal the Pixel 4 XL has a fairly large forehead above its display, with a smaller but still obvious chin below. That forehead may look unsightly, but it has a purpose as it houses the phone's all-new face unlock system, which we will discuss in more detail later.

The leaks also reveal the phone has a fully textured matte finish instead of the part-textured, part-glossy design of the Pixel 2 and 3.
According to the often-reliable OnLeaks from Twitter, the Pixel 4 will measure 147 x 68.9 x 8.2mm, making it slightly taller than the Pixel 4. Meanwhile, the Pixel 4 XL (which gets a larger display, reportedly somewhere between 6.2 and 6.4 inches) will measure 160.4 x 75/2 x 8.2mm.
As for screen sizes and resolutions, it is believed the Pixel 4 will be 5.7 inches and 2160 x 1080, while the larger Pixel 4 XL will measure 6.23 inches and have a resolution of 3040 x 1440.
Most importantly, it is being rumored that Google will give both versions of the Pixel 4 a 90Hz refresh rate. This is the number of times the display refreshes per second, and the higher number makes for smoother motion compared to the usual 60Hz. This could make using the new Google phones feel far superior to rivals, even from Apple.
As the Pixel 4 launch draws nearer, the inevitable has happened, and a bunch of handsets have leaked out into the wild. One, a Pixel 4 XL photographed in great detail by Vietnamese website Genk, is reported to have a 90Hz display. The report also mentions a new 'Ambient EQ' feature, which automatically adjusts the color tone of the Pixel 4's display based on its surroundings - just like how Apple's TrueTone works on the lates iPhones and iPad Pro.
The handset also gives us our first look at how Google's new face unlock system is set up - a process which also explains what the technology's limitations are.
We applaud Google for being up front about what its face unlock system can and cannot do - for example, Google warns that the phone can be unlocked if someone takes it and points it at your face. Google also warns that identical twins might be able to unlock each other's phones.
Google Pixel 4: Cameras
Arguably the biggest feature of the Pixel 2 and 3 - and for many the number one reason to buy Google's phone - is the camera system. While rivals opted for two or three rear lenses, Google stuck to one with the Pixel 3, backed up by best-in-class artificial intelligence to produce extraordinary photos.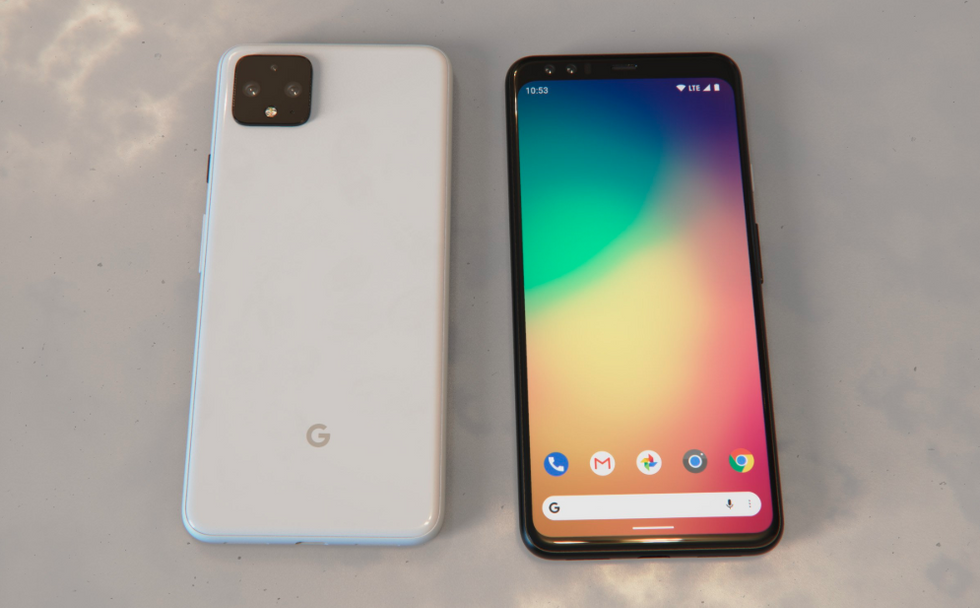 Unofficial renders show a 'forehead' housing two front camerasJonas Daehnert (@PhoneDesigner)
But this is set to change for the Pixel 4. As per Google's own teaser image, the new phone will have at least two rear camera lenses, housed inside a large square cut-out. This also looks to house the flash and another sensor, perhaps a time-of-flight (ToF) sensor for aiding with blurred-background portrait shots.

Earlier fan-made renders, like those by the @PhoneDesigner Twitter account embedded in this article, show a more compact dual-lens rear camera setup.
It isn't clear at this stage if the Pixel 4 and 4 XL will both get the same rear camera.
We now know - thanks to leaked Pixel 4 phones being sold on the black market in Vietnam - that the rear camera is 12.2 megapixels, with an 8x zoom and a redesigned user interface.
As for the front camera, Google has revealed how the Pixel 4 will have a facial recognition system, very similar to Face ID on the iPhone. An image released by Google shows how the front 'forehead' of the phone (the area of above its screen) will house an infrared camera, front-facing camera, ambient light and proximity sensor and a speaker, plus a new Google-designed Soli radar chip, a dot projector like the one used on iPhones, a second IR camera, and a flood illuminator for the face unlock system.

In short, there's a lot going on here and we expect good things from the Pixel 4 when it comes to quickly unlocking the handset with a glance. We also hope the front-facing camera is as good as it was on the Pixel 3, especially as it looks like Google has done away with that phone's second wide-angle selfie camera.
According to OnLeaks, and differing to other reports, the Pixel 4 will house its front cameras in a large bezel at the top of the display, as per the embedded tweet below. The resolution of that front camera is claimed to be 6.0-megapixels.
Finally for the camera tech, it was briefly claimed the Pixel 4 would include a form of dSLR attachment, potentially to fit camera lenses to the phone. But this was quickly quashed, and blamed on a translation issue; what was actually meant was, the Pixel 4's camera will have dSLR-style digital photography features in its software, not hardware.
Google Pixel 4: Features and spec
Google hasn't said much yet about the Pixel 4's features and specs, but for some details we can take an educated guess. It is likely the phones will be powered by the Qualcomm Snapdragon 855 processor, with RAM increases from 4GB to 6GB, a nice 50 percent bump from the Pixel 3.

A report by Genk, which got hold of a Pixel 4 XL before the phone officially debuted, confirmed in mid-September that the phone used a Snapdragon 855 chip, with 6GB of RAM and 128GB of storage. The report also confirmed a 3,700mAh battery.
IP68 waterproofing and wireless charging will surely remain in place from last year's Pixel 3, while a headphone jack and microSD card slot are both unlikely, since they were not part of the Pixel 3.
According to Google itself, via a July 29 blog post, the Pixel 4 will have a facial recognition system for unlocking the handset. This will likely work in a very similar way to Apple's Face ID, and Google says it is secure enough to be used to make payments, so it won't just be a camera-based recognition system, but one which scans the shape of the user's face in 3D.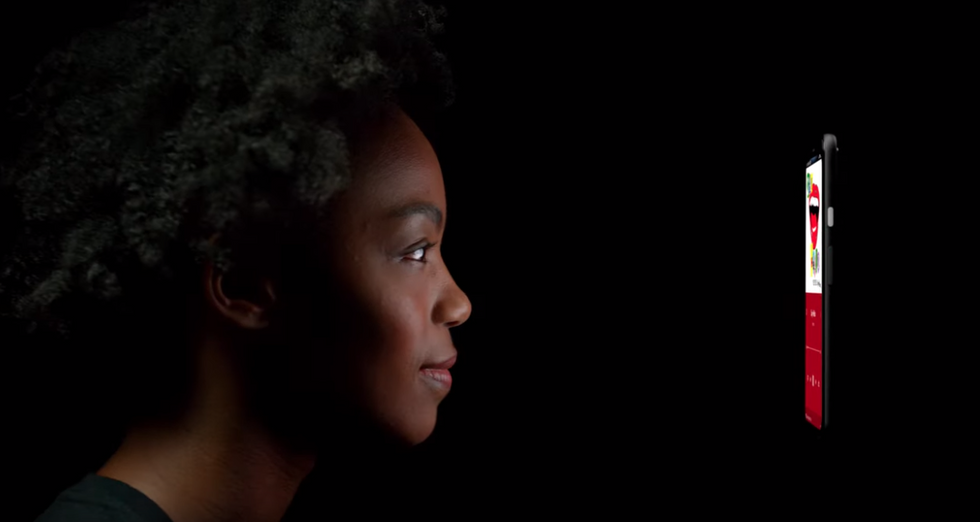 The Pixel 4 has a system similar to Apple's Face IDGoogle
Google also says it is equipping the Pixel 4 with a new technology called Motion Sense, where the phone recognizes when you pick it up, then arms the face unlock system so it is ready to scan and unlock the moment you glance at it. The system does this by using a small radar chip Google calls Soli, which can recognize hand gestures too. That way, Google says, you can "skip songs, snooze alarms, and silence phone calls, just by waving your hand." The company also says Motion Sense will improve and "evolve" over time, but that it will not be available in all regions the Pixel 4 is sold in at launch.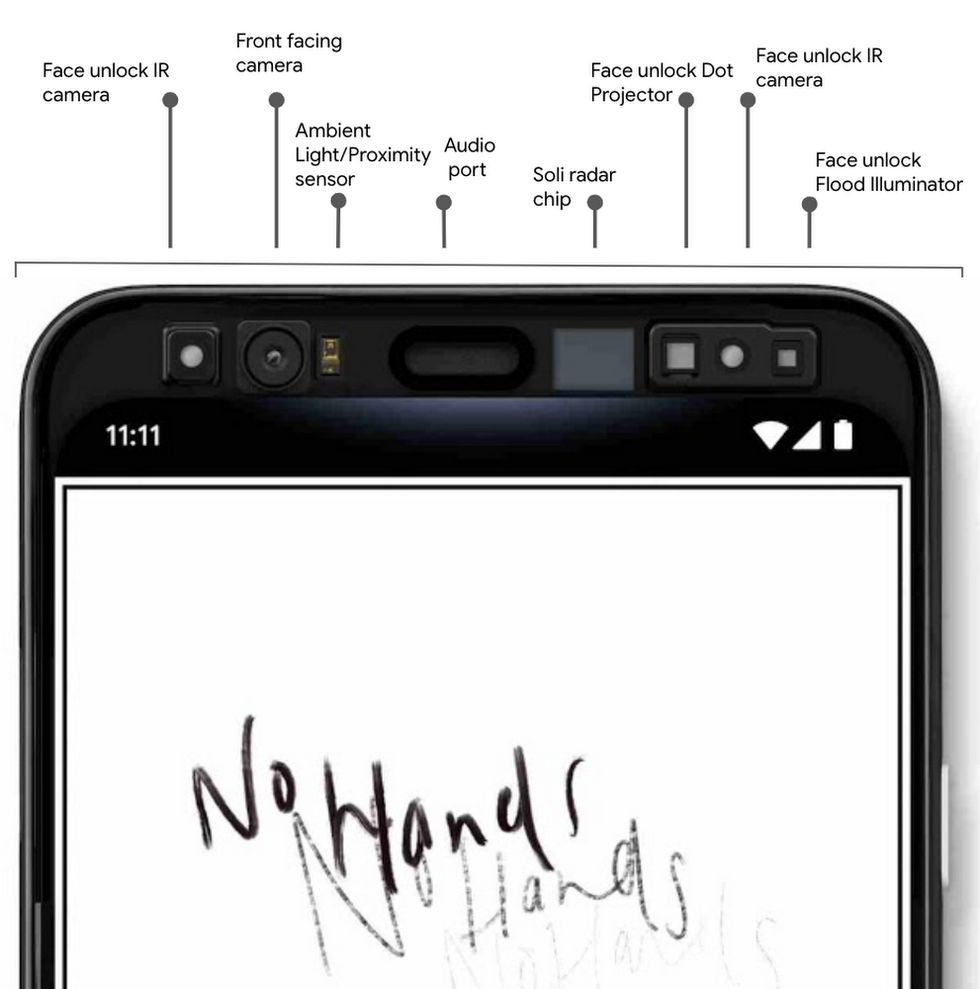 Google image shows the Pixel 4's front camera systemGoogle
Google Pixel 4: Software

The Google Pixel 4 and 4 XL will run the company's new Android Q operating system out of the box. Android Q (yet to get its full name) was released as a beta earlier in the year and, as has become the norm from Google, will appear on the new (and old) Pixel models first, before branching out to Android phones from other companies later.
We now know that this year's version of Android departs from tradition and is not named after a confectionary. Instead, it is simply called Android 10. This is the operating system the Pixel 4 and 4 XL will run when they go on sale.
Google Pixel 4: Price
The Pixel 3 is priced from $599 on the US Google store, and the larger Pixel 3 XL starts at $699. We expect Google to stick to similar prices for the Pixel 4 and Pixel 4 XL.
Like GearBrain on Facebook