Like GearBrain on Facebook
Google Assistant has started giving away information about the upcoming Pixel 3 and Pixel 3 XL smartphones, which are expected to be revealed at a Google launch event on October 9.
It perhaps shouldn't come as a surprise that the assistant is letting slip some of Google's plans, as the Pixel 3 is quite probably the most-leaked smartphone in history. No device has leaked more comprehensively since that time Apple left an iPhone 4 prototype in a tequila bar.
Read More:
Thanks to seemingly dozens of Pixel 3 phones appearing on the black market weeks before the launch date, the specs, design and features are widely known, likely leaving Google with few surprises up its sleeve for the big launch on October 9.
And now, the Google Assistant is joining in. If you ask the assistant: "What's this announcement about?" it replies: "I'm rehearsing my lines as we speak. Looks like there might be something about a new phone — and maybe, just maybe a few other new things."
If you ask how to find out more about the announcement, the assistant replies: "You can watch the livestream on YouTube on October 9th. Or you can try going to a palm reader before that."

Asking "When are you making this announcement?" gets the reply: "I've got a little something planned for October 9th. You can watch the livestream on YouTube."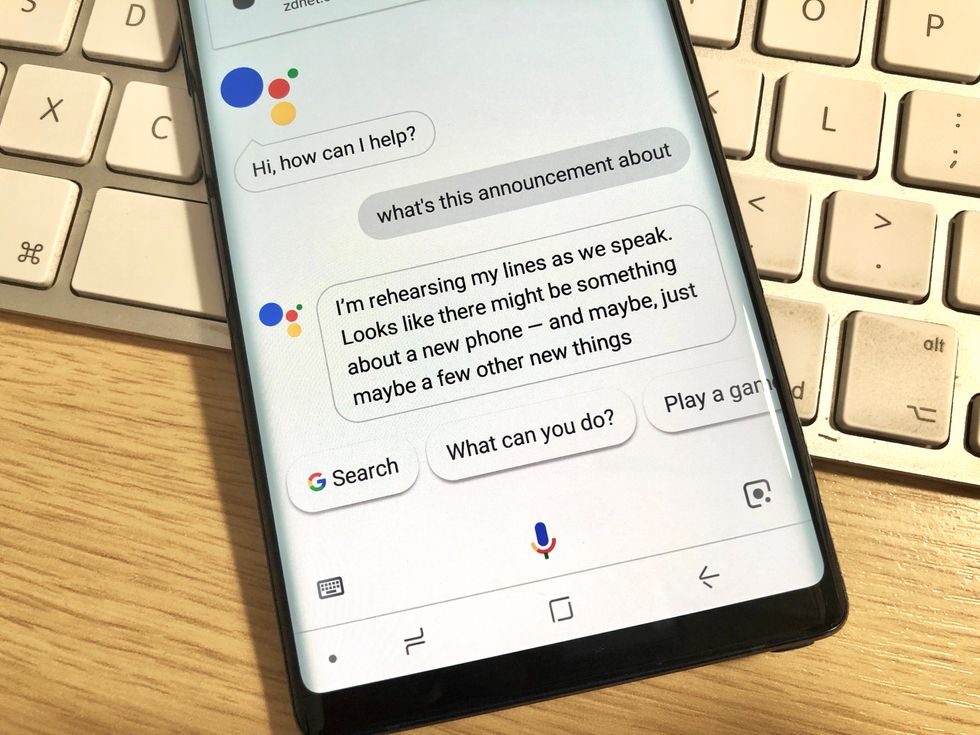 The Google Assistant says a new phone is comingGearBrain
The assistant's revelations come as Google has begun sending out emails to customers, with the most intriguing part saying: "We'll have a lot more to talk about on October 9. To get the full scoop, catch the big reveal via livestream. Preorders start immediately after the event."
So it looks like the Pixel 3 and 3 XL — and whatever else Google has in store — will be up for pre-order right away on October 9, and likely arriving in stores soon after. A gif included in the email, seen by 9to5Google, shows the number 3 in three different colors — black, white and the same mint-green color which the Google Home Mini smart speaker began shipping in this week. We suspect the Pixel 3 and 3 XL will be sold in these three shades.
On the topic of smart speakers, Google is also expected to reveal a new device next week called the Home Hub. This, according to leaked images, will be a new Home smart speaker with a touchscreen display.
Other products tipped to launch at the event, which is taking place simultaneously in New York and London, include a refreshed Chromecast video streaming dongle, a wireless charging stand for the new Pixel 3, second-generation Pixel Buds earphones, and a new Pixel-branded Chromebook laptop.
GearBrain will be attending the London event to bring you all of the news and our hands-on first impressions of the Pixel 3 and everything else Google reveals.
(Check out The GearBrain, our smart home compatibility checker to see the other compatible products that work with Google Home and Home Mini)
From Your Site Articles
Related Articles Around the Web
Like GearBrain on Facebook