Like GearBrain on Facebook
Google is adding a wide range of new features to its Maps applications for Android and iOS, using artificial intelligence to help you navigate, and even find your way indoors.
The biggest new feature is an addition to the Live View system first revealed in 2020, which uses your smartphone camera and augmented reality to recognize where you are then precisely show you where to go.
Read More:
Initially designed to work outside, Live View can now be used in airports, train stations and shopping malls, laying out signposts and directional instructions over the top of the view of your smartphone camera. That way, if you are unsure of how to get to the right airport gate and railway station platform, you open Maps, switch on the camera and move the phone until Google works out where to go; the app then shows where the stairs and elevators are, with instructions of where to go next to reach your destination.
Google says: "Live View can help you find the nearest elevator and escalators, your gate, platform, baggage claim, check-in counters, ticket offices, restrooms, ATMs and more. Arrows and accompanying directions will point you the right way."
Live View is available now on the Google Maps app for iOS and Android, and features malls in Chicago, Long Island, Los Angeles, Newark, San Francisco, San Jose and Seattle, with more locations rolling out in the coming months, including Tokyo and Zurich.
Up next, Google Maps has been given a new weather layer to show current and forecasted temperatures and weather conditions in the area you are viewing. There's also a new air quality layer to show how healthy (or otherwise) the air is in a certain location. Google says this information can be particularly useful for those who suffer from allergies, or are in a smoggy area.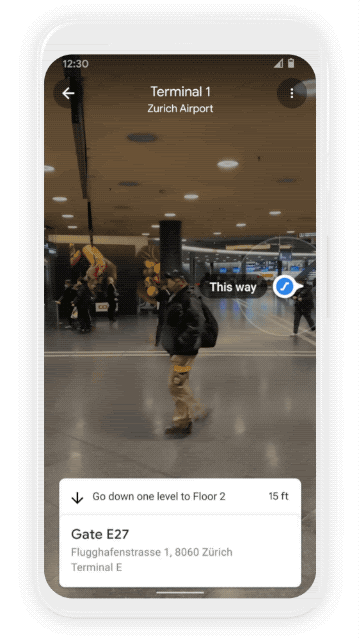 New Live View feature of the Google Maps appGoogle
Weather data is coming to the Google Maps app globally "in the coming months," and the air quality layer will launch first in Australia, India and the US. Data powering these new mapping layers comes from The Weather Company, AirNow.gov and the Central Pollution Board.

In a bid to lower fuel use, Google Maps is also being updated to include a new routing system that optimizes for lower fuel consumption based on factors like road incline and traffic congestion. Soon, Google says, the Maps app will default to the route with a lower carbon footprint so long as it has approximately the same estimated time of arrival as the fastest route.
If there is a big difference in ETA, the app will let users compare to decide which route to take. There will also be an option on the settings page to let Google Maps always pick the most eco-friendly route, if that's what you want.
The app is also being updated to cater for low-emissions zones in cities around the world, alerting drivers about the rules as they approach such an area and informing them about whether their vehicle is welcome there or not, and if a fee might be applicable. You can then continue on your route, pick a route to avoid the low-emissions area, or choose an alternative mode of transport, like an e-scooter. This system will launch in June in Germany, the Netherlands, France, Spain and the UK, with more countries added soon.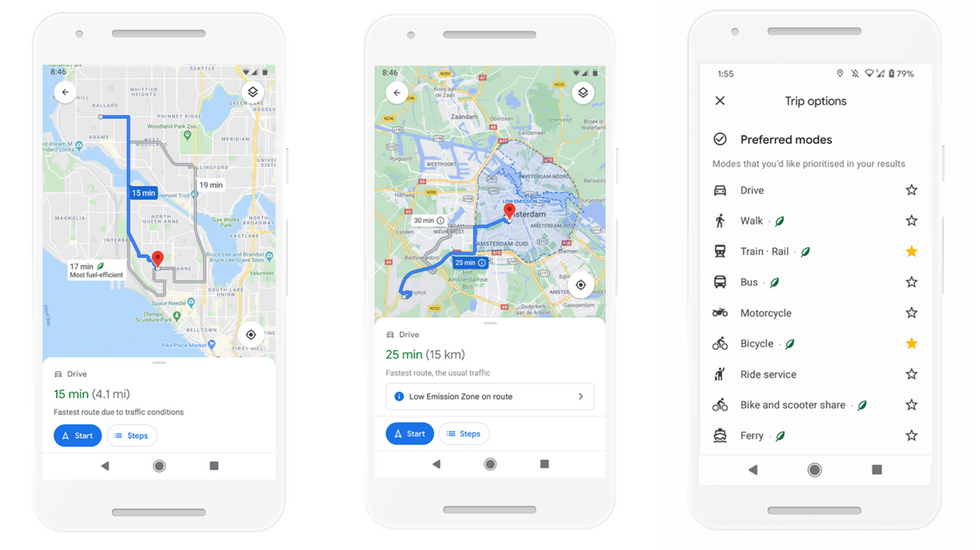 New features coming to the Google Maps app in 2021Google
Speaking of different transport options, a further update will see the app show you different routes based on your mode of transport, all at the same time. Currently you have to switch between driving, walking and cycling, whereas the updated app shows these routes all at once, helping you work out which is best for you. If you cycle a lot, that route will be prioritized, but if you are in a city like New York or London where the subway is popular, that will be ranked highly. Google says this will roll out globally in the coming months.

Lastly, Google Search (not the Maps app) is becoming a more advanced way to find food outlets. With the rise of delivery and curbside pickup during the pandemic, these services are now being integrated more tightly within the app. Google is adding information to the Maps app about delivery providers, pickup and delivery windows, fees and order minimums for food outlets. This will begin with Instacart and Albertsons Cos. stores in the US, with plans to expand to other partners in the future.
From Your Site Articles
Related Articles Around the Web
Like GearBrain on Facebook