Google Maps is a mainstay on many of our smartphones, an app that's tapped daily by iOS and Android users alike. But we probably use just one-tenth of the features woven into the app. Directions? Sure. But there's so much more. We've cherry-picked our 12 favorites, the features we like to use often, or imagine we'll use one day in the future. Some are perfectly tailored, too, for our current Covid-19 lives, while others may help us save a few dollars along our way.
Take a walk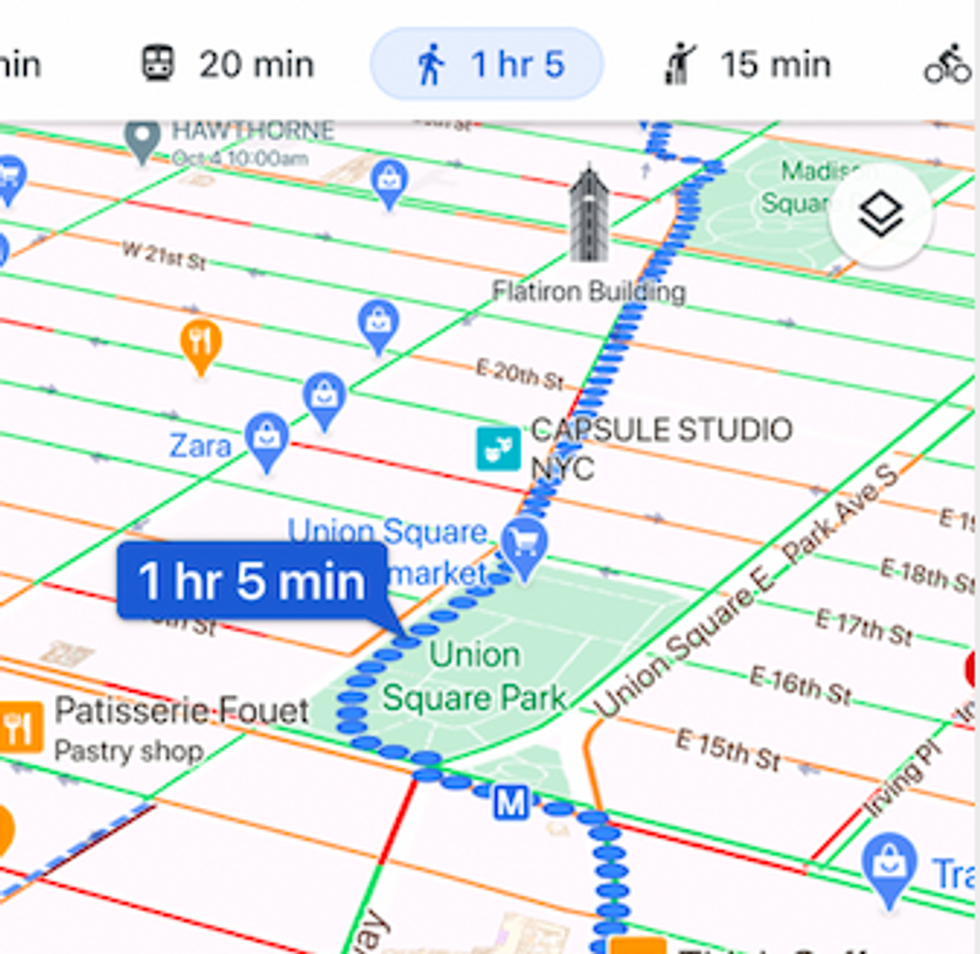 You can find walking maps that are tailored just for walkersGearBrain
We know Google Maps can find us the quickest route to our destination. But one feature that's a personal favorite are walking routes. Living in New York City, walking is our default mode of transportation, and our feet can take us along paths our cars — and even bikes — don't necessary want to go. Google Maps tailors a route just for walkers, which sometimes means we get an even more scenic route than those on two or four wheels get to see. You can even see crosswalks as well — extremely useful to help you find the best path to your destination.

How to find it:
Type in your destination in the top search bar
Click on "Directions," at the top, and enter your starting point
Select the walking stick figure on the top and find your suggested route
Pay for Parking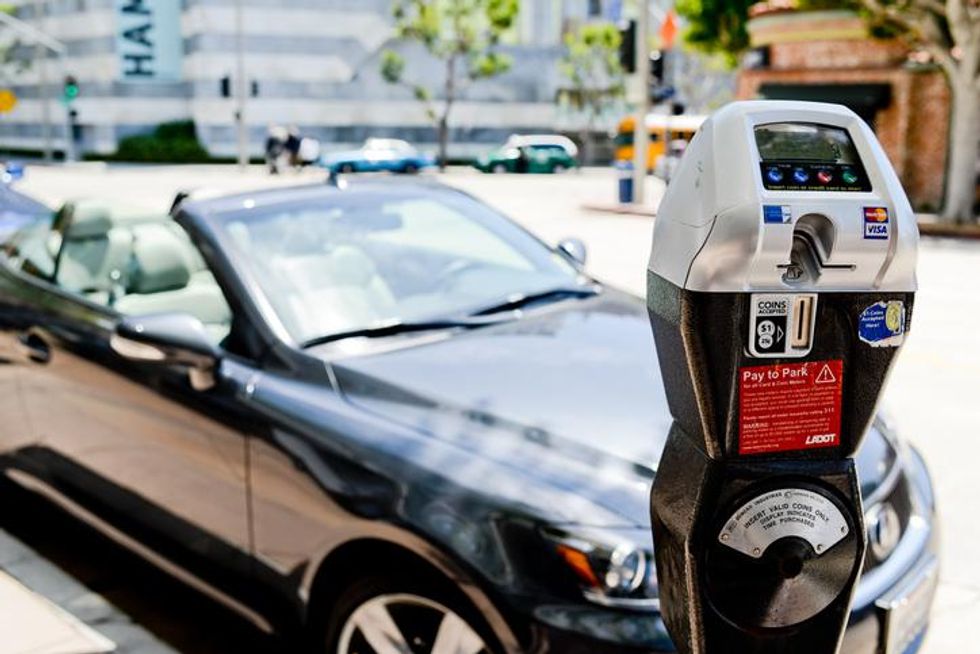 You can pay for parking right from Google Maps if you have an Android phoneiStock/Getty Images
While iOS users still need to wait, Google has added a new feature to pay for meter parking right from inside Google Maps itself. After reaching their destination, and parking, they can just enter the meter number and then pay for the amount of time they need. And if parking regulations allow, people can even top up their meter from the app, without having to rush back to their car and add more money.
How to find it:
Type in your destination into Google Maps and start driving navigation
As you get close to your destination, you'll see a button at the bottom, "Pay for parking"
Click on this and then click, "Start new session"
Enter the parking zone number from the parking sign, or the actual parking meter number, and then click "Continue."
You'll need to select your car that you're driving, and click "Continue."
Select the amount of time you want to pay for, which will show the amount of money you'll owe, and then click "Continue to payment."
You'll make the payment with Google Pay which you'll need to set up if you haven't yet.
The option to "Add time" will be avaialble in the app
Spy traffic lights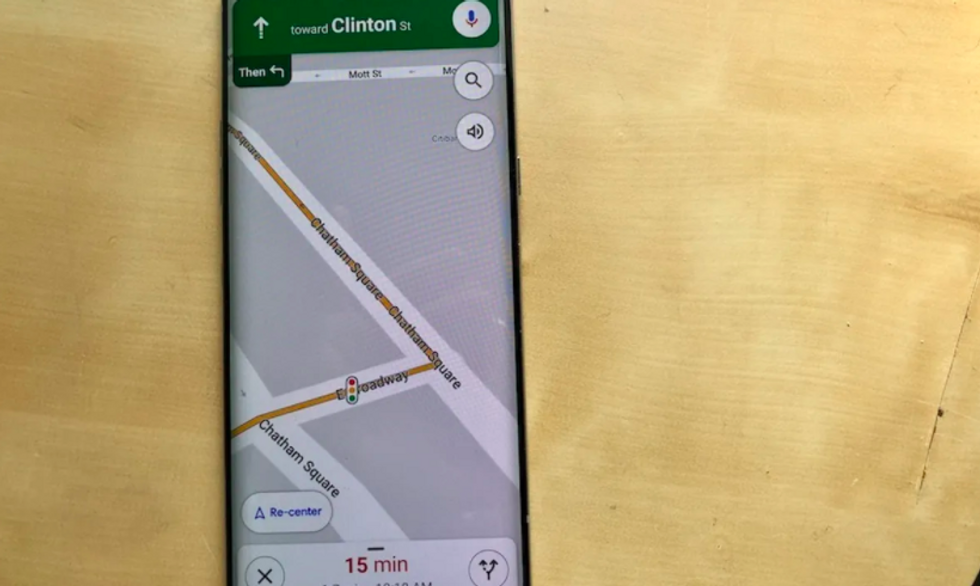 Zoom in, and you can see traffic lights on routesGearBrain
Google Maps know shows you traffic lights on any route. And while these aren't live, and you can't see how fast they turn or if a certain road has timed lights that all go green at once, they're helpful in knowing how often you may be forced to stop on that route.
How to find it:
Type in your destination in the top search bar
Click on "Directions," at the top, and enter your starting point
Select driving, biking or walking directions
Zoom in on the route as far as you can, and you'll spy the tiny traffic light icon at certain intersections.
LGBTQ-friendly, Transgender Safe Space, Women-led, Black-owned and more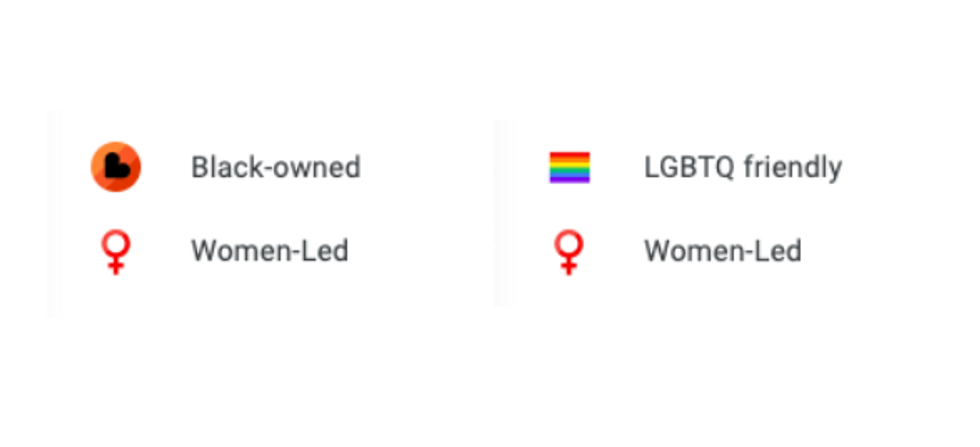 Icons for Black-owned, Women-Led and other details show up on listings in Google MapsGearBrain
Some businesses are claiming certain labels for themselves, and letting customers know as well — all through Google Maps. When you click on a company, whether it's restaurant or a book store, you can scroll down into their details and see if they've adopted these labels, which are spelled out and also marked with easy to read icons. Unfortunately, you can't reverse search (yet) for Black-owned businesses, for example, in Google Maps, but having the labels is a solid first step.
How to find it:
In Google Maps, click on one of the icons for restaurants, groceries, or just type in a kind of business into the search bar.
Click on one of the results in the map, which opens a small stub at the bottom.
To see if that business has added any of these labels, you'll need to tap on the smaller stub, and then scroll down to the bottom.
Covid-19 testing sites

Find Covid-19 testing sites and details such as whether referrals are neededGearBrain
Here's one that may come in handy whether you're home or on the road. When searching for hospitals in Google Maps, you can tap on any site, and it will tell you not only if it's a Covid-19 testing center, but if you need an appointment, if you need a referral and even if they're testing any patient who walks through the door or just some. This is a very helpful bit of information particularly today — because no one wants to head over to a medical site to find out they're not going to be able to help you at all.

How to find it:
Run a search for "Hospitals" in the search bar when you're in the area where you want to look.
Tap on one of the hospital names, and then tap on the short stub that appears at the bottom.
Inside a box, in red, you'll be told if this site is a Covid-19 testing center.
Tap that box again, which will open up a Google.com page, which will outline the details, who can be seen, appointment requirements and more, of that location.
Charging your electric vehicle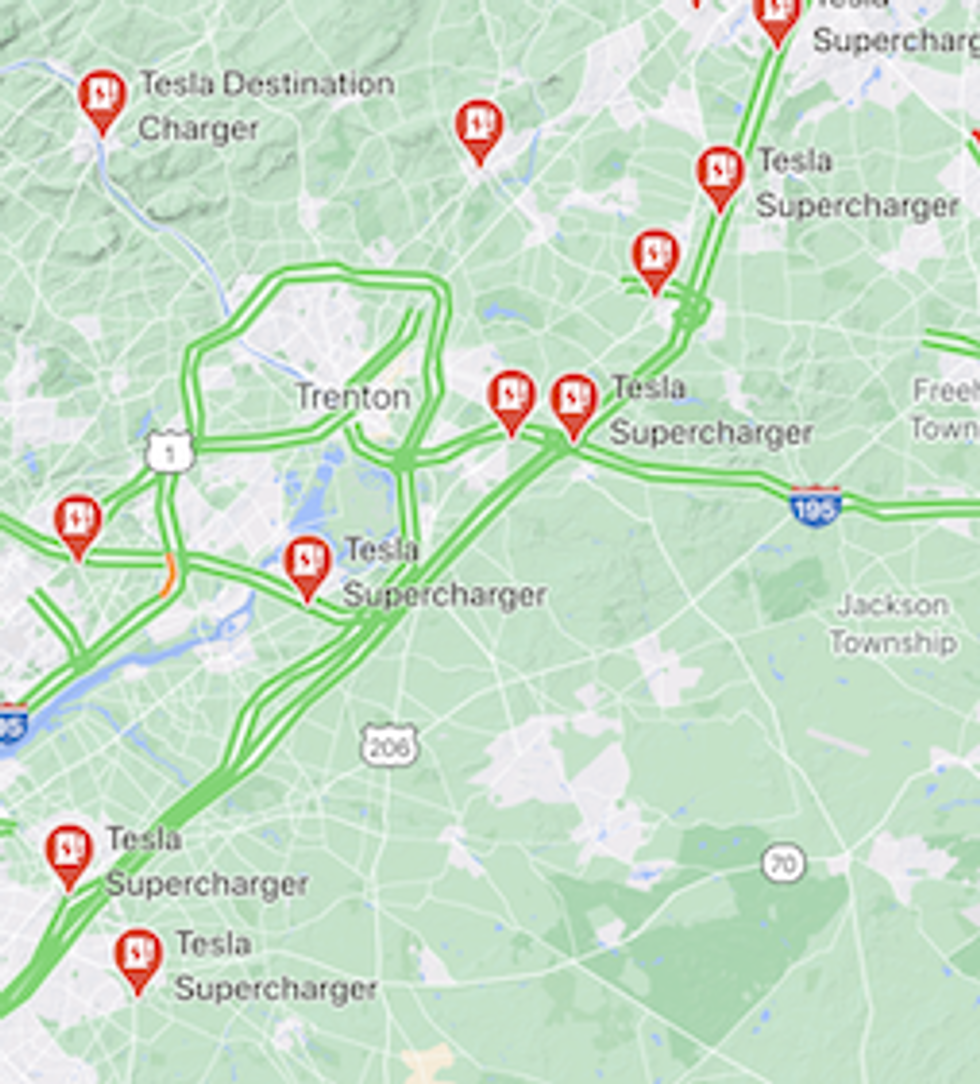 Search for EV charging stations, even the specific charger for your carGearBrain
For those who own electric vehicles that need a charge each night, you can find EV charging stations in Google Maps. Even better, if you add the kind of plug your car specifically needs, the app will filter and find the EV charging stations specific to your needs. For those thinking road trip in their EV, this is likely to prove invaluable.

How to find it:
Type "EV charging stations" into the search bar.
Tap on the phrase "Any plugs" at the top to open a pulldown menu
Tap "Add plugs" to see charging stations that only work with you EV
Select from the following: Tesla, CCS Comba 1, CCS Combo 2, J1772, Wall outlet, Type 2, and CHAdeMO.
Go back to the top and click again on the "Any plugs" drop down menu, and then select "Your plugs"
Subway entrances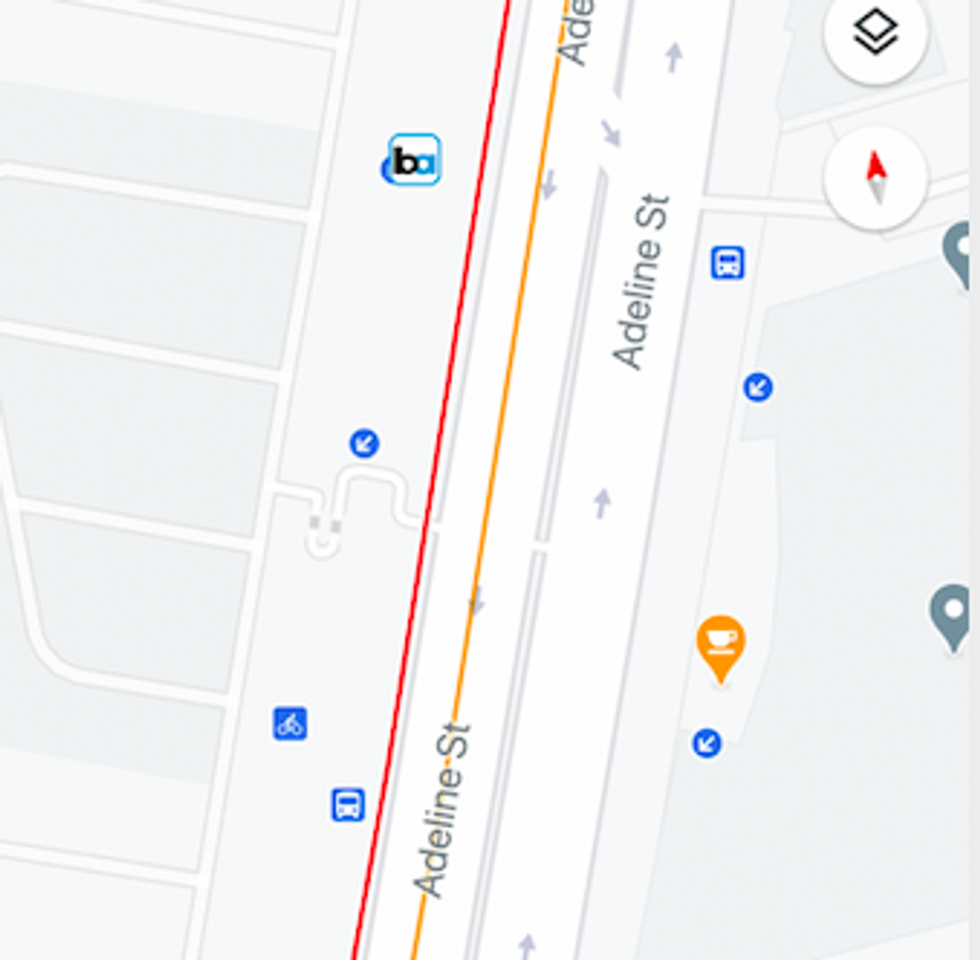 Look for the small blue arrows, which show you exactly where to enter a subway or underground stationGearBrain
Google Maps is already great at showing you full subway and underground stops in any area. But you can also find the actual entrances, where you enter to get into the train system. This is a great feature to use when you're traveling and not sure about an area, or if you're out late and want to know exactly where to walk — the exact corner — to quickly get on the train.

How to find it:
Finding this was tricky. You need to actually be in walking directions to locate these entrances. So first go back to the first tip, and set up a walking direction.
Next, click on the cube icon on the upper right side of the screen
Under "Map details," which will pop up from the bottom, select "Transit."
Click on the "X" to close the pop up
Now, zoom in to a map near any transit station, and you will see blue arrows that designate the specific entrances to that station. It won't show whether it's stairs, an escalator or elevator, but you can see exactly where in a block or which corner the entrance sits.
Bike lanes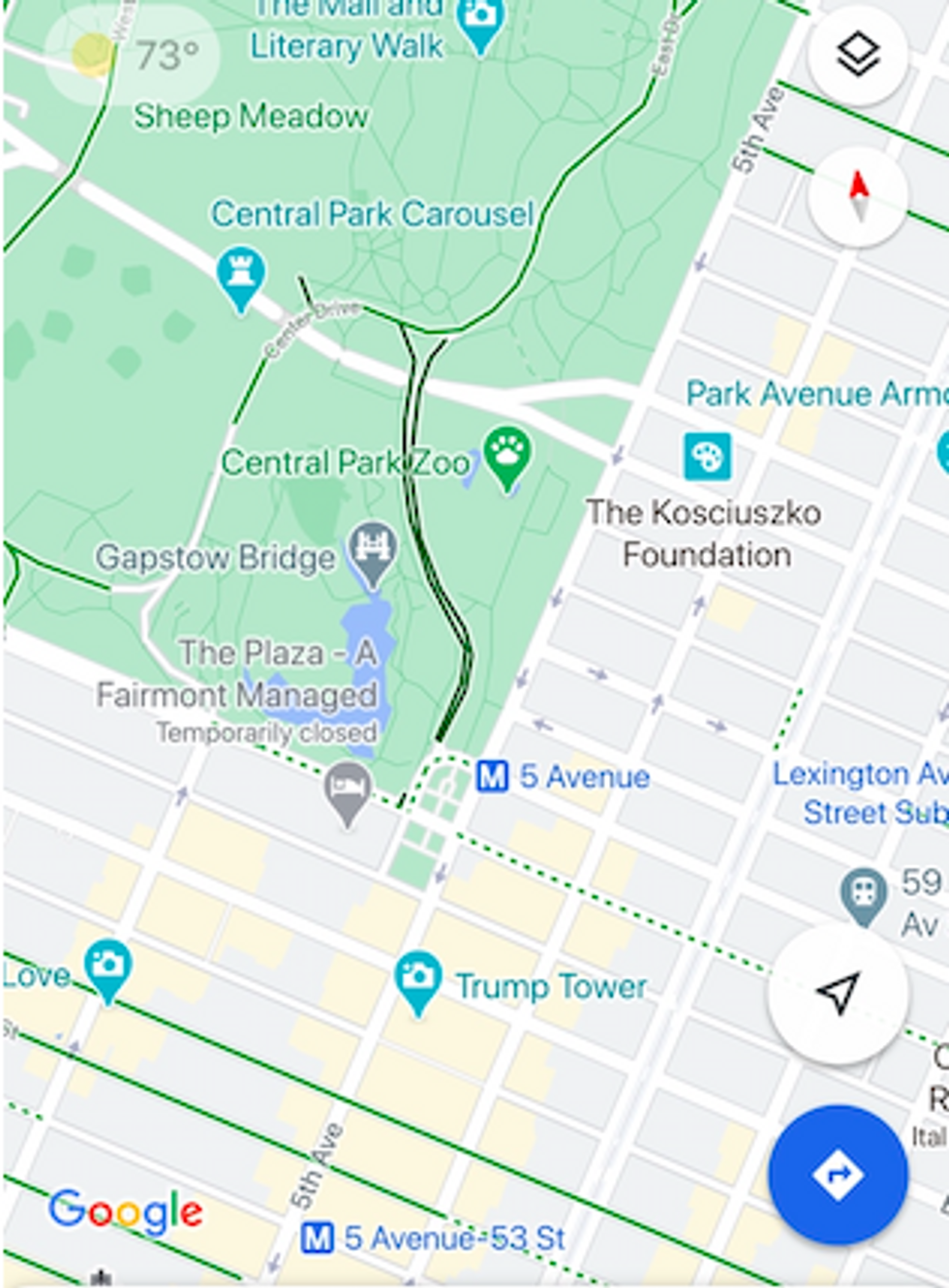 Locate specific bike lanes on Google Maps in parks and on city streetsGearBrain
In some locations on Google Maps, you can pull up where bike lanes exist, and not just suggestions where you can bicycle to get to a location. And you can find these in parks and also on city streets.

How to find it:
Tap on the cube icon on the upper right
Select "Biking" under Map details
Click on the "X" to close this pop up menu
Now just zoom in to find bike lanes in area where you want to search. They'll show up as single lines through parks, and along streets.
Gas prices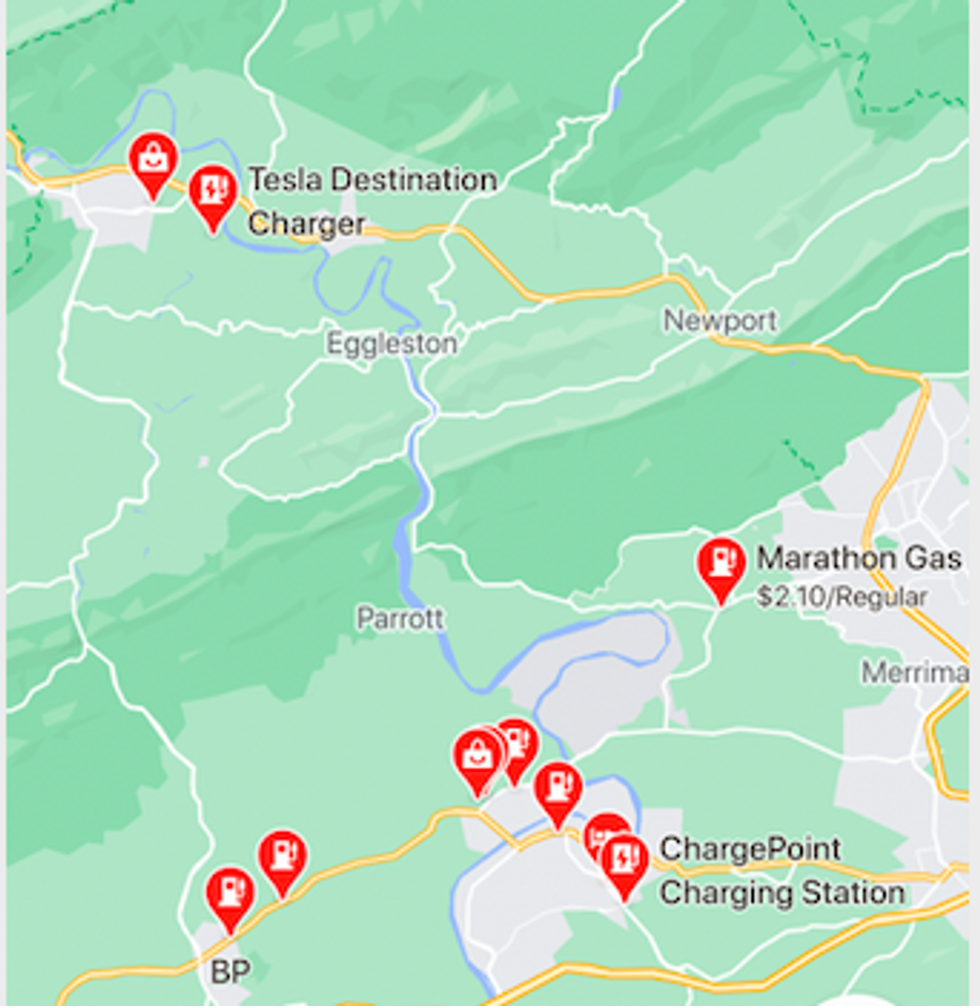 Compare gas prices as you're travelingGearBrain
A search inside Google Maps for gas brings up stations that are close to you, along with hours, and even customer ratings — but keenly, also prices for a gallon of regular gas, allowing you to price check before you even get to the pump. For filling up on a long road trip this is a nice feature.

How to find it:
Scroll left on the line of search terms, like "Restaurants," and then tap on the "…More" under the search bar
Scroll down on the new menu to "Gas," and tap on that
In the area where you're currently searching, gas stations will appear — long with the current price for a gallon of regular gas.
Avoid highways (and tolls and ferries)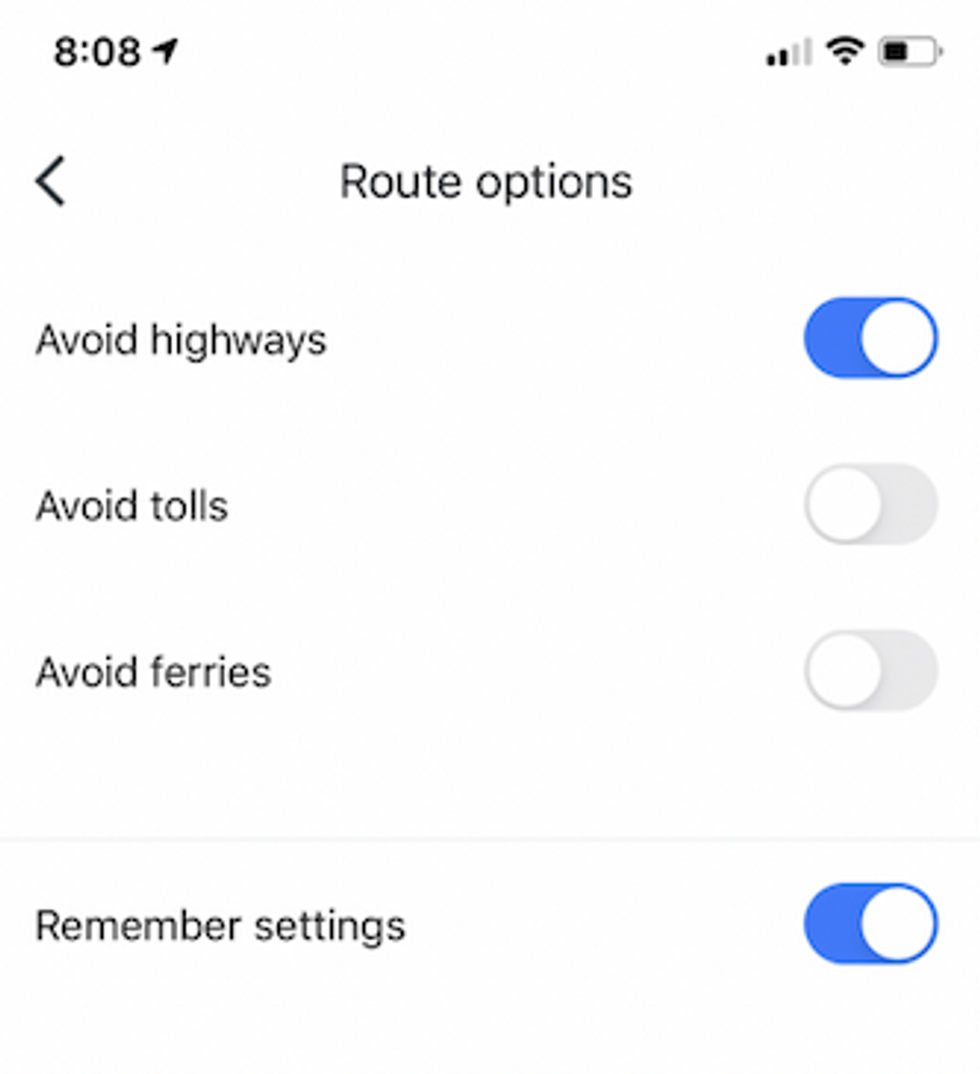 You can select to avoid highways, ferries and tollsGearBrain
Sure, we know you really only want to hear about routes that you get somewhere as quickly as possible. But you can, if you'd like, filter out highways and freeways to take you along city streets and backroads — sometimes the nicer, even more scenic option, if you have the time.

How to find it:
In the search box, type in your destination.
"Tap the blue button at the bottom, "Directions."
Type in your starting point at the top
Tap on the three dots "…" to the right of your current location
Tap on "Route options"
Select "Avoid highways"
Bonus: You can also avoid tolls and ferries if you want in this same field
Share your trip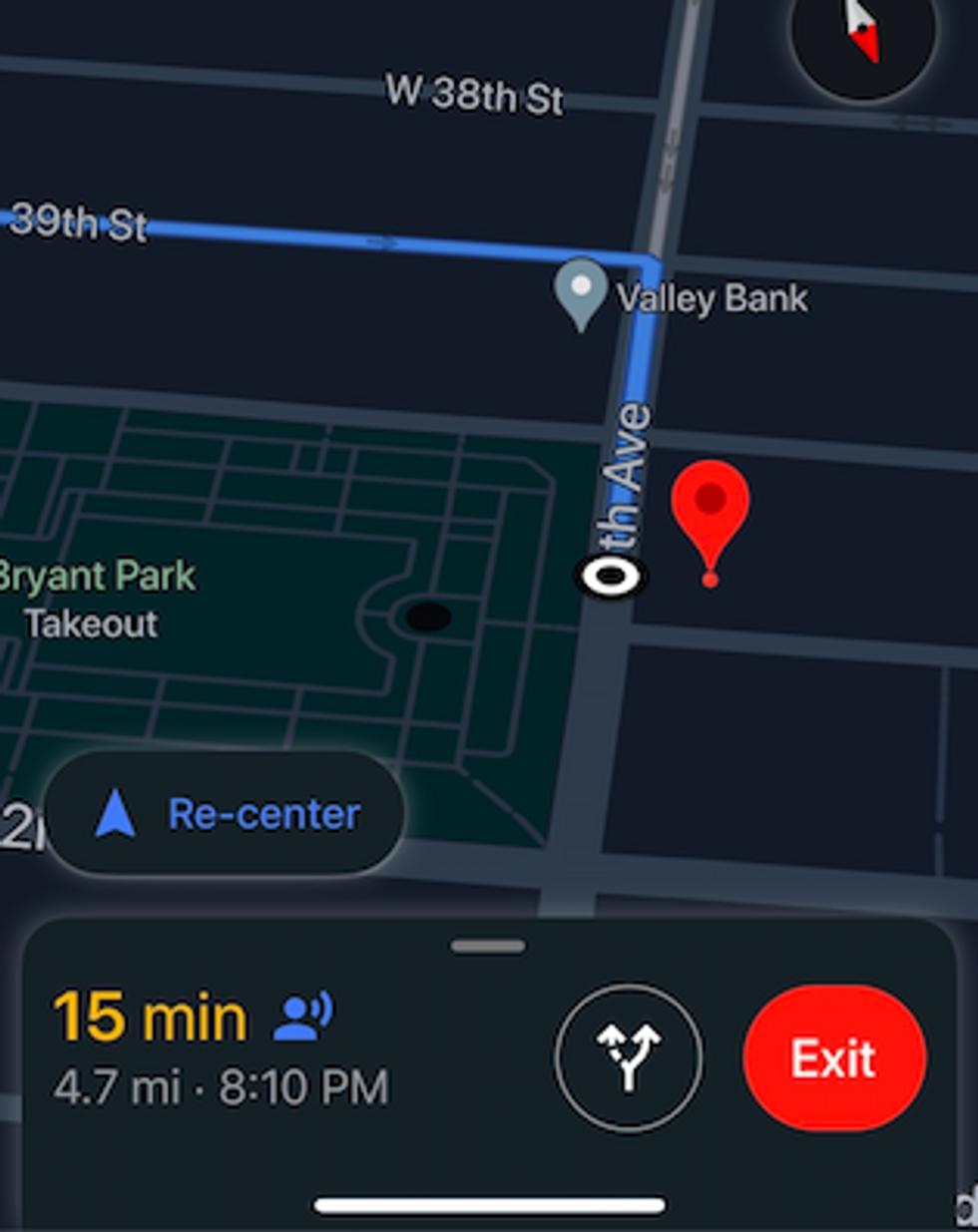 Google Maps lets you share your trip with contacts who can follow you live on the mapGearBrain
Sometimes you may want your friends and family to know just where you are. Perhaps you're all meeting up for dinner, or you're just hoping they'll keep an eye on you while you're milling about. (Maybe because you're taking a walking tour in a new area.)

You can actually share your trip through the Google Maps app, which sends an email to contact you select. They'll see your avatar on the map when they click through, and you don't have to download an extra app to share this information.
How to find it:
In the search box, type in your destination.
"Tap the blue button at the bottom, "Directions."
Type in your starting point at the top
Click "Start" at the bottom to begin your trip
As the direction start, scroll up from the bottom to see "Share trip progress"
A selection of people in your contacts will come up. Click on their name, and tap "Share"
You'll know it's live because an icon of an avatar will show up next to the time left of your trip on the bottom.
Covid 19 warnings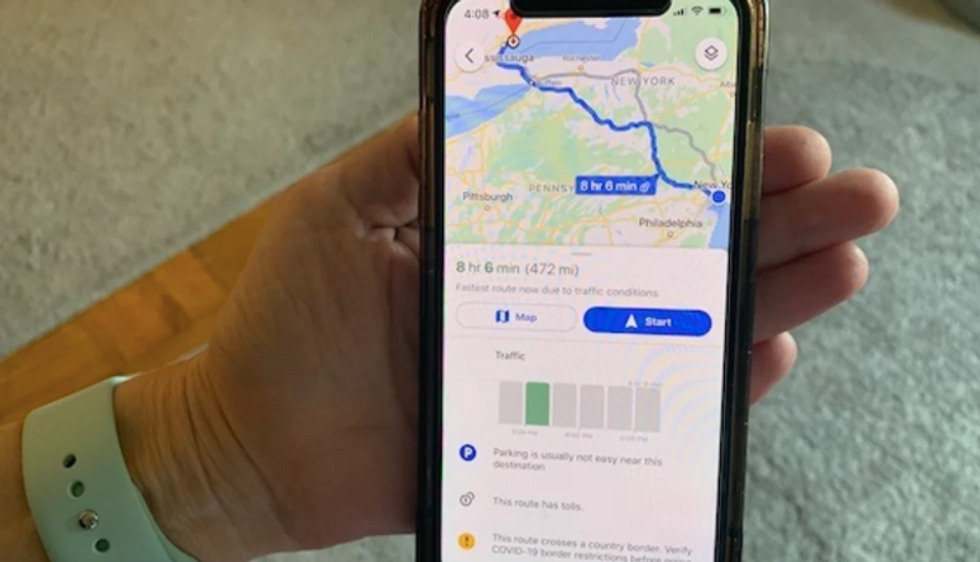 Google Maps pulls up Covid -19 travel warnings along with directionsGearBrain
Google Maps now delivers Covid-19 travel warnings when you bring up directions that take you on trains, subways, buses or other forms of public transportation. Those warnings are aligned with new rules from the Centers for Disease Control that require people now wear face masks on public services.

Warnings also appear if you're pulling up directions to another country, such as Canada, by car, foot or bicycle. Here the warning tells you that the route involves crossing a border, and that you should verify Covid-19 travel rules before you leave.
How to find it:
Just plug in your destination, and then select the mode of transportation.
If you're on public transportation, you'll see the warning just above the different options for directions.
If you're using a car, bike or foot and crossing a border, the warning will also appear above the directions.
UV Light Sanitizer Box, UVC Sterilizer for iPhone Android Phone Makeup Tools Toothbrush Jewelry Watches, Built-in Wireless Charging, Cell Phone Cleaner Box (EPA Est. No. 97482-CHN-1)