Like GearBrain on Facebook
Google is preparing to add a feature to its Pixel phones which will call the emergency services if it thinks you have been in a car crash. The feature is part of a new Google app called Personal Safety, which briefly appeared on the Android Play Store, but has since been removed.
Read More:
Spotted by XDA Developers, the app appears to work in a similar way to Uber's RideCheck and the Fall Detection system of recent Apple Watches.
The new Google app uses the Pixel's microphones and movement sensors to recognize a crash. After this, the app sounds an alarm at full volume and asks if the user is okay. They can tell the phone they are fine or, if they don't respond, the Pixel will automatically call the emergency services and report its location.
A Play Store listing for the app, which only appeared briefly, states that car crash detection will only work in the U.S. at launch. It isn't clear if this is a feature exclusive to Google's upcoming Pixel 4 handsets, or if it will be rolled out to older models too.
Google states in the app: "Pixel uses your device's location, motion sensors, and ambient audio to detect a car crash. Keep in mind, Pixel may not be able to detect all crashes, and high impact activities may activate car crash detection."
This makes us wonder if the system uses similar technology to Amazon's Alexa Guard, which alerts users when the sound of broken glass is detected. Since Pixel phones are always listening for the 'Hey/Okay Google' hot-word to activate the Google Assistant, it seems plausible that they could constantly listen out for sounds relating to a car crash, too.
If the system is triggered by accident you can tap to say you are okay, then tap again to tell the phone whether there was a minor crash, or no crash at all.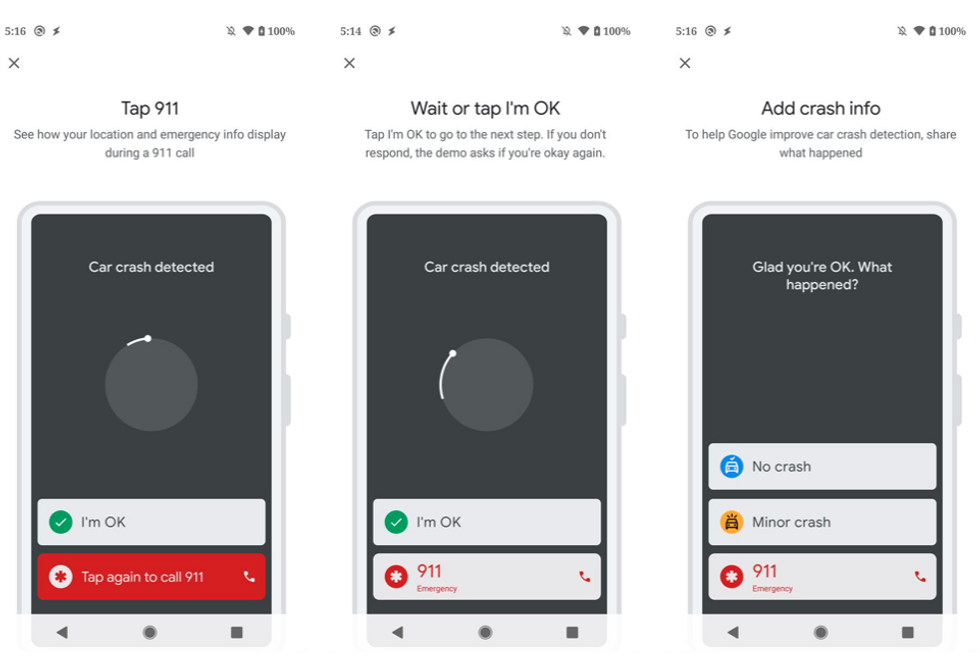 New app is due to launch with the Pixel 4 on October 15Google / XDA Developers
The app will make Pixel phones to work in a very similar way to the E-Call system, which has been fitted to all new cars and light commercial vehicles sold in Europe since April 2018. Required by law, the system calls the emergency services in the event of a crash, and logs the location and time, as well as the license plate and the number of passengers.

Another feature of Google's new Personal Safety app is the option to show your medical information and emergency contacts on the lock screen. That way, a first responder can see these details and reach out to your emergency contacts without needing to unlock your phone - something you might be unable to do after a crash.
The new app's third and final feature is a way to quickly share a short message and your current location with all of your pre-determined emergency contacts.
Given that Google has a hardware event planned for October 15, where it will announce the Pixel 4, it is likely that this new app will arrive then too.
From Your Site Articles
Related Articles Around the Web
Like GearBrain on Facebook