Last year saw Google introduce quick ways to automatically delete your search history every three, 18 or 36 months. Now, for 2021 the company is rolling out an option to clear the most recent 15 minutes of search activity from your account.
Say you are researching a surprise holiday, or perhaps shopping for an engagement ring, and you want the last 15 minutes of your Google search history to disappear. That's what this tool is designed for – and especially so when you share a device with someone else, who could easily open the Google app, go to the My Activity section and see your search history.
Read More:
The 15-minute delete option is rolling out to iPhone users now and, Google says, will come to Android later this year.
If you want to clear your last 15 minutes of search history, just open the Google app on your iPhone or iPad, tap on your profile avatar, then tap on the new "Delete last 15 min" button underneath the "Search history" section.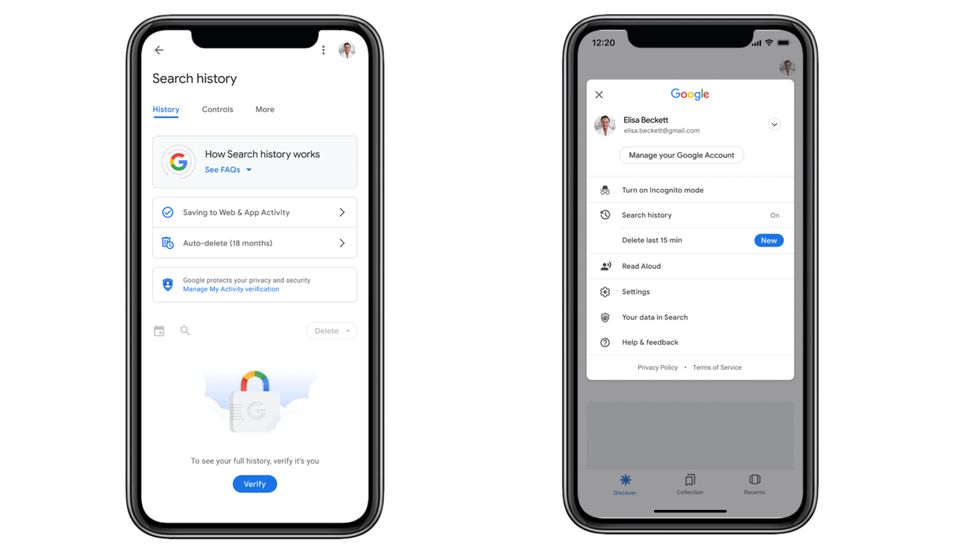 New tools add extra privacy options to your Google account activityGoogle
This might make for a more convenient action than using the incognito mode of your web browser, and it all works in a similar way to saying: "Hey Google, that wasn't for you" or: "Hey Google, delete everything I said to you today," to the Google Assistant.

This week also saw Google introduce an extra layer of privacy to the My Activity page of the Google app. This is particularly useful for users who share a device with others, like a family iPad, and means a password or form of two-factor authentication is required to view the My Activity page. So even if you are signed into the Google app, the My Activity page will be inaccessible until you can prove who you are.
Check out The GearBrain, our smart home compatibility find engine to see the other compatible products that work with Google Assistant enabled devices.
GearBrain compares the Nest Mini to the Google Home Mini www.youtube.com