Like GearBrain on Facebook
There are numerous reasons to have multiple Amazon Echo smart speakers in your home.
As we recently wrote about on GearBrain, they can be used to create a home intercom system, a stereo or surround sound system, or for simply being able to talk to Alexa no matter what room you are in.
Read More:
A major benefit of connecting multiple Echos to your home network is multi-room audio. Once set up, you can ask Alexa to play music in a certain room, across a whole floor, or throughout the entire home, with just one voice command.
What's more, if you pay for an Amazon Music family plan, each Echo can play different music, all at the same time. And because the Echo Dot costs just $50 (and is often priced much lower) you can create a multi-Echo household from $100 or less.
Echo Dot (3rd Gen) - Smart speaker with Alexa - Charcoal
How to set up Amazon Alexa Multi-Room Music

It is important to note that this is slightly different to setting up a group, but still takes just a few taps of the Alexa app.
To get started, follow these instructions:
Open the Alexa smartphone app while connected to your home Wi-Fi network
Tap on the Devices button in the lower-right corner
Tap on the + icon in the top-right corner
Tap on Set Up Multi-Room Music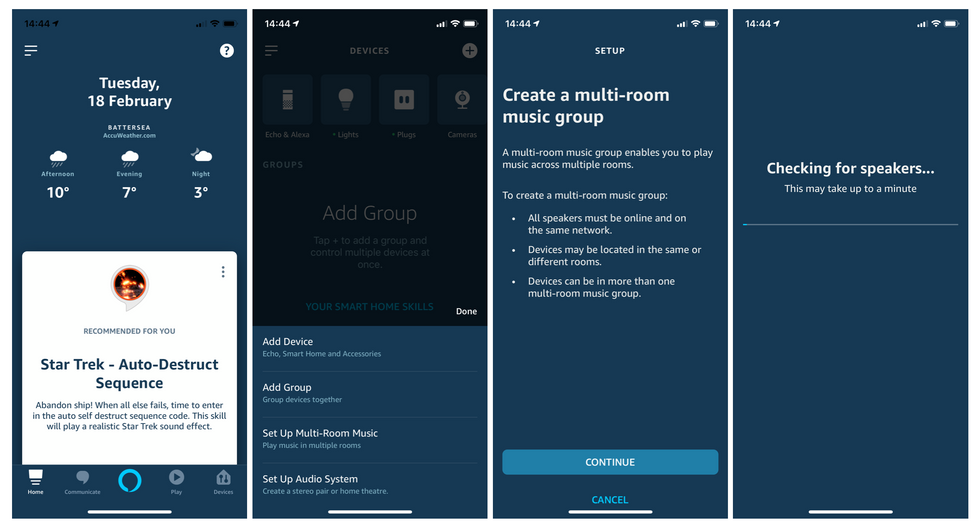 Setting up Alexa multi-room audioGearBrain
You will then be shown a list of requirements, such as how all the speakers must be powered up, connected to the same Wi-F- network, and be associated with the same Amazon account. The speakers can be located in the same or different rooms; all that matters is that they're within Wi-Fi reach of your router.

It's also useful to know that Echo speakers can be added to more than one multi-room music group each. For example, the same Echo can appear in a group called Lounge, but also in a group called Downstairs (which may also include an Echo in the kitchen), and another called Whole House.
Now, tap Continue and wait a moment while the app searches for all compatible Echo devices on your network. These are then listed, so you can tap on the ones you want in your first multi-room music group. Now tap Next, pick a name for your speaker group, and you're done.
AmazonBasics 3.5 mm Male to Male Stereo Audio Cable, 8 Feet, 2.4 Meters
Speakers that are compatible with Alexa Multi-Room Music

Unfortunately, multi-room music currently only works with Amazon's own Eh o-branded speakers and displays. This means the Sonos One and other speakers with Alexa from different companies are not supported, which is a real shame.
Another small limitation is that multi-room music doesn't work with Bluetooth speakers. This means you'll have to connect your smaller and less powerful Echo speakers, like the Echo Dot, to a larger speaker using a 3.5mm audio cable, instead of Bluetooth.
Here are all of the Echo devices that are compatible, as of February 2020:
Amazon Echo (all generations)
Amazon Echo Dot (all generations)
Amazon Echo Plus (all generations)
Amazon Echo Show (all models)
Amazon Echo Spot
Amazon Echo Studio
Amazon Echo Sub
How to control Amazon Alexa Multi-Room Music
After following the above instructions, you can say phrases like "Alexa, play [artist] in the lounge," or "Alexa, play [genre] downstairs".
The system works with most music streaming services (so long as you have a subscription for them where necessary), including Amazon Prime Music, Spotify, Apple Music, Pandora and Sirius XM.
You can tell Alexa to play different music from different streaming services on different speaker groups. Just say: "Alexa, play [music] from Spotify in the lounge".
Once complete, and you have set up several different music groups, you can ask the Alexa of any Echo speaker to play any music, anywhere else in the home.
(Check out The GearBrain to see what other connected devices work with Amazon Alexa enabled device.)
Echo Show 5 - Compact smart display with Alexa - Charcoal
Like GearBrain on Facebook