Apple users are getting a special update to augmented reality game Pokémon Go. Taking advantage of Apple's ARKit system, the creatures caught by iPhones will have more enhancements — including the ability to walk around them and see them at their so-called natural size.
Called AR+, the new system uses Apple's powerful augmented reality engine to fix Pokémon to a specific location, meaning you can get closer to them, and even, potentially, catch them by surprise — but get too close and there's a chance they will run or fly away.

Sneaking up on Pokémon and catching them with AR+ mode gives players the chance to earn an Expert Handler bonus. A new 'awareness meter' appears next to each Pokémon found with AR+ enabled, and if that meter fills up the Pokémon will flee.
Apple's improved augmented reality also means Pokémon can be the correct scale. Instead of all being roughly the same size, they will appear on the screen as they would in real life. This means Pikachu is waist height and Charizard towers over the player.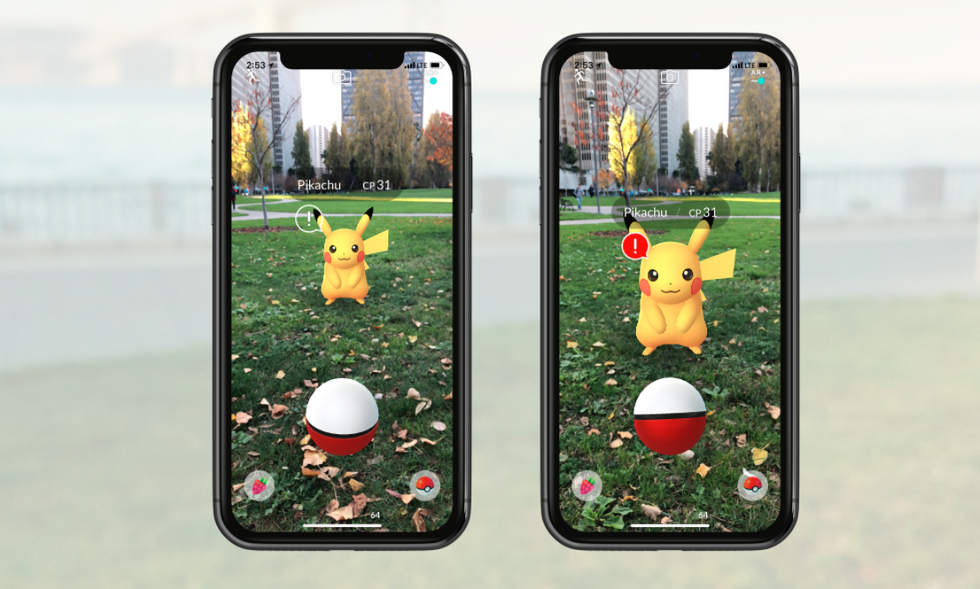 AR+ mode lets players sneak up on Pokémon before catching themNiantic Labs
Game developer Niantic Labs said: "This is our first step toward making AR capabilities in Pokémon GO even more awesome, opening up the framework for greater AR experiences in the future."
The company shot to fame when it launched Pokémon Go in the summer of 2016, and for 2018 says it will release a new AR game called Harry Potter: Wizards Unite. Created in partnership with Warner Bros, details on the game are sparse, but applying the mechanics of Pokémon Go to a franchise like Harry Potter is bound to be a success — and another high-profile win for augmented reality.
AR+ is available for Pokémon Go players using an iPhone 6S or above, running iOS 11 or newer.