Save a little bit in your shopping budget for the middle of December when Hisense and Roku launch their newest collaboration, the Hisense R8F 4K Roku TV — a 55-inch and 65-inch ULED screen, both priced at $499.99 and $699.99 respectively.
Read More

The new TVs tap into Roku's entire system, allowing people to control their sets via the free Roku iOS and Android app — and even do a voice search when that mobile interface is open. The new TV will also work with both Alexa and Google Assistant for those who have Amazon or Google Home devices in their space, and also when those buttons are pushed on the remote.
Teaming with Roku brings advantages, as the company says they have 32.3 million active accounts. That puts the streaming service fairly close to Amazon Fire TV, a streaming platform, with its 34 million active users, Amazon had announced in May 2019. What is going to appeal mostly, though, to consumers, is the price of the new TV, very friendly for those looking to step up their screen game but don't want to pay anywhere near a four-figure price.
There are a lot of features perfect for Roku users, including private listening via the Roku app, which ports the sound from the TV to a smartphone, and lets viewers listen via headphones if someone in the room needs more quiet because they're working or even sleeping. There's even a sleep timer for those who like to nod off to a movie, but don't want to wake up with light flickering in the middle of the night.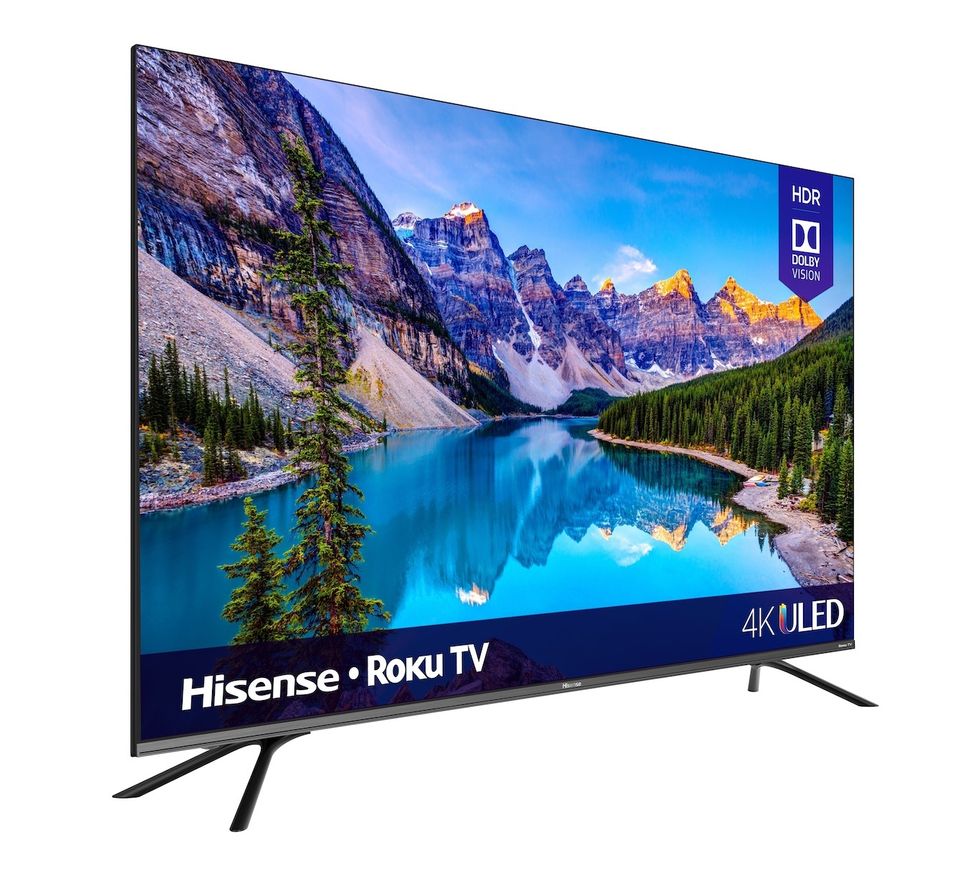 The new Hisense R8F 4K Roku TV goes in sale in mid-December 2019Hisense
Roku is pushing the idea of content creation through its interface, with its more than 500,000 movies and TV shows broken into genres, but also by themes — holiday flicks will be easy to find, for example. Gamers too, will find the new Hisense TV has something for them, with the ability to access 4K content when connected to a 4K gaming console, plus a very low lag time of up to 15ms.

The set also features 4K Dolby Vision, Dolby Atmos and 700 nits peak brightness, along with blacks that pop against the color. Hisense is also touting what it calls the set's High View Engine, which basically means the TV re-calibrates itself based on what someone is watching, changing contrasts, or motion so that's it's more fluid, and less choppy.
The Hisense H8F 4K Roku TV will be available first on Amazon and Walmart in mid-December, and then, in the early part of the 2020, in additional retail stores.
"This Hisense R8 television establishes an exciting new standard as a flagship model for Hisense, with incredible brightness and support for wide dynamic range features that can deliver a beautiful picture," said David Sharp, VP of product management for Roku TV in a statement. "With the large library of 4K movies and TV shows available on the Roku platform, combined with support for features like HDR10, consumers should really enjoy this ULED 4K Roku TV."

Hisense 65H9F 65-inch 4K Ultra HD Android Smart ULED TV HDR10 (2019)