Like GearBrain on Facebook
Honda is looking for inspiration from Apple and the high cost of the iPhone for its upcoming electric city car.
Revealed this week as a thinly-disguised prototype - which Honda says is 98 percent representative of the final product - the car, yet to receive its final name, goes on sale in Europe at the end of 2019, with other markets like the US to follow in 2020.
Read More:
Smaller than rivals like the BMW i3 and Renault Zoe, the Honda (known for now as the E Prototype and based on the company's Urban EV prototype) will have a range of around 125 miles. This is considerably less than some other electric cars, but Honda says this (and the small 30kWh battery pack) is the right decision, as the car isn't intended for long-distance driving.
If Honda plays its cards right, the E Prototype could be one day looked back on as the Mini of the electric car generation; a small, chic and desirable city car with seating for four and a fun driving character.
But where the original Mini was affordable for the masses, Honda is positioning its first electric car as a more premium product - one which will likely cost more than today's Minis. Speaking to Auto Express, the Honda's project leader Kohei Hitomi said: "Cost is an important factor. Look at the iPhone: they are not cheap products but still everybody wants them."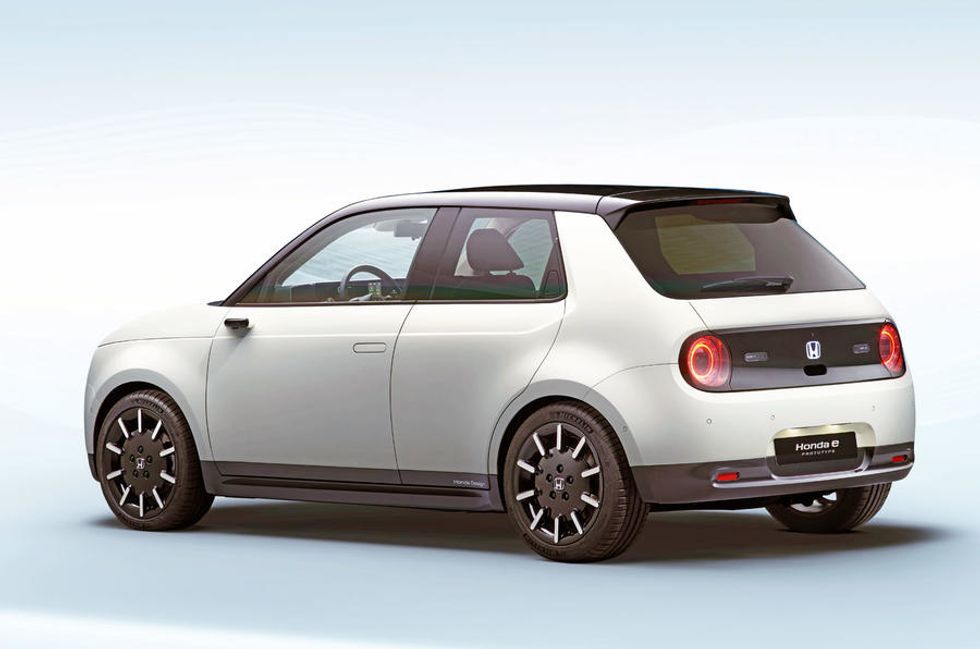 The car will get its public debut at the Geneva Motor Show on March 5Honda
It makes sense for Honda to offer its first electric car at the premium end of the market, even if this seems counterintuitive for a small city car. Designing and building electric cars - especially a company's first ever - are still high and need to be earned back if the car is to be deemed a success. We suspect BMW will take a similar approach with the first mass-production electric Mini, due to be launched later this year.

iPhone owners will likely be fans of the Honda's interior, which features four digital displays stretched across its dashboard. These are blended with an injection of retro style, thanks to the wood-look trim and fabric seating.
The dashboard includes two 12.3-inch displays for the car's main instruments and readouts, while we notice how the climate controls and other key functions (gear selector, handbrake) are physical buttons, dials and switches.
Honda says the car will include a 'Personal Assistant', but we don't know yet if this is Alexa, Google Assistant, or one build by Honda itself.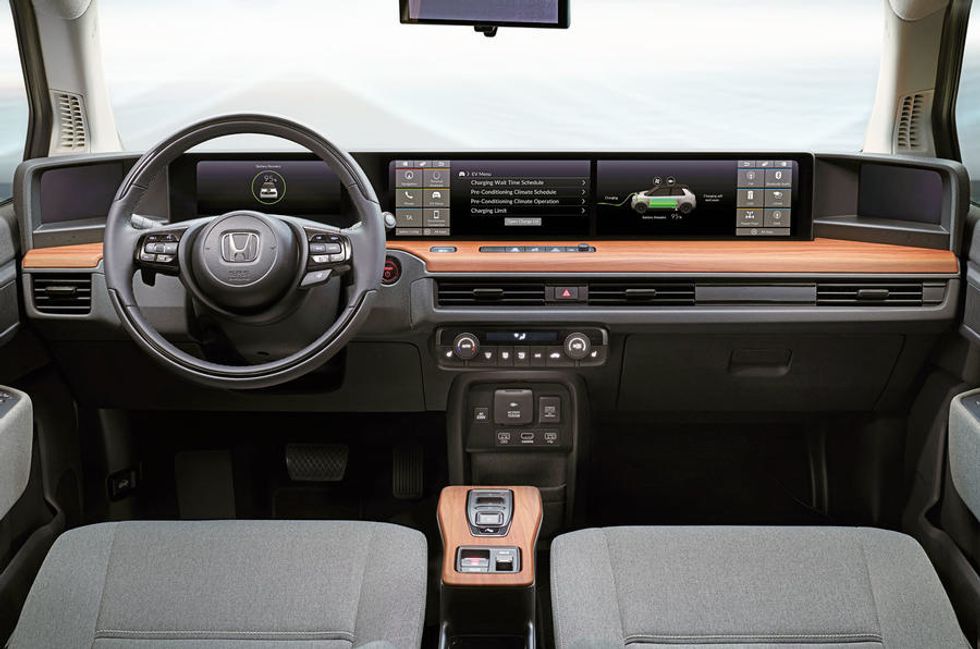 Interior blends technology with retro design cuesHonda
At either side of the cabin are two 6-inch displays showing a video feed from cameras, which replace wing mirrors. Such technology is also offered by the electric Audi e-Tron SUV, but while cameras instead of wing mirrors are legal in Europe, they are not yet allowed in the US. We will be interested to see if Honda can offer the car without this feature (as Audi does in the US), or if it expects the rules to change by the time the car is sold beyond Europe in 2020.

The car also includes a display on its central rear-view mirror, providing a feed from a camera facing backwards.
Other interior tech includes a pair of USB sockets for charging smartphones and other devices, two 230V power outlets for larger items, and one 12V socket. There is also a single HDMI port, although it isn't clear yet what this will be used for.
Other than the circa-125 mile range and rear-wheel-drive configuration, Honda has said little else about the car's performance. We expect to hear much more when the car is shown off at the Geneva Motor Show on March 5.
The car is based on the Honda Urban EV, which was first revealed back in 2017 and earned huge praise for its retro looks. The car has changed somewhat since then, but still retains its recognizable face - a face which looks nothing like any current Honda, and sets the company's design language in a new direction.
Following the arrival of the E Prototype city car, Honda says two-thirds of its cars will be hybrid or fully electric by 2025.
GearBrain Road Trip Gadget Guide www.youtube.com
Like GearBrain on Facebook