Like GearBrain on Facebook
To recognize National Watch Day (June 19), GearBrain looks at the impact Apple and the smartwatch movement has had on the traditional watch market.
When Apple boss Tim Cook revealed the third-generation Apple Watch on September 12, 2017, his presentation deck contained one particularly interesting slide. It claimed Apple, in the watch business for just two years, was now selling more units per year than either Rolex, Fossil, Omega or Cartier.
It had become, Cook said, the world's biggest watchmaker. By some estimates, Apple sells more watches than the entire Swiss industry combined. Indeed, smartwatches are partly blamed for a sudden fall in Swiss watch exports in 2015 and 2016, although factors like Brexit and a strong Hong Kong dollar are also to blame.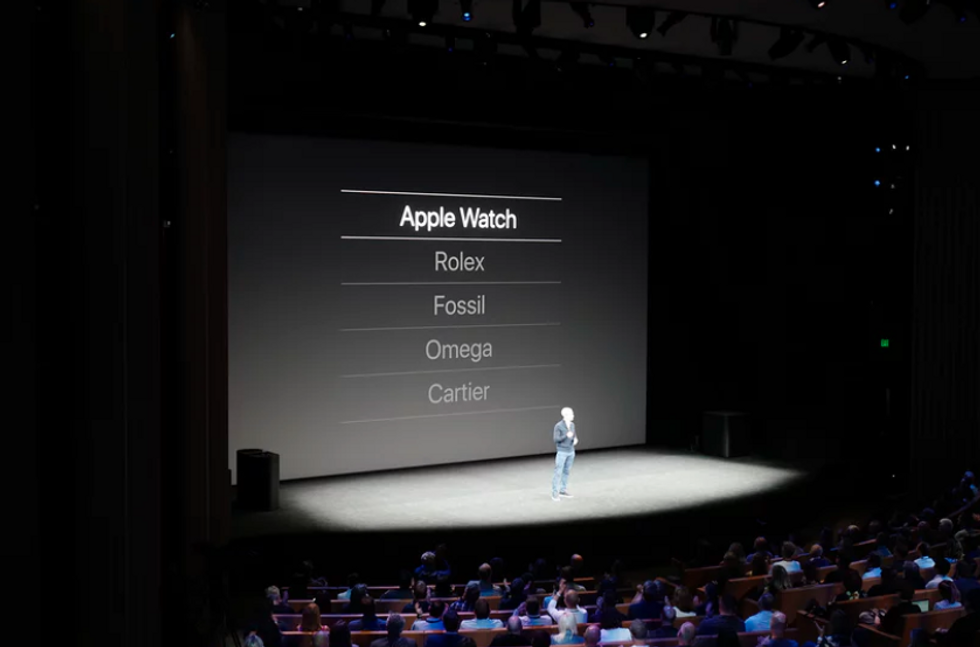 Apple CEO Tim Cook on stage in September 2017Apple
Naturally, seeing "Apple Watch" above "Rolex" is a provocative way to represent sales data. But, while Apple at first tried to capture some of the luxury market with its $17,000 gold Watch Edition, it is the industry's third-place player, Fossil, which has suffered the most since Apple supercharged the smartwatch industry.
An American giant, the Fossil Group owns or licenses almost every fashion watch brand you could think of. From Armani and Burberry, to Diesel, Kate Spade, Michael Kors, DKNY, Adidas and many more, these are all Fossil brands. The company also owns Skagen and Misfit, the smartwatch and fitness tracker company it bought in late-2015 for $260 million as a shortcut into the then-nascent smartwatch industry.

Read More:
A time before the Apple Watch
Before the Apple Watch, in 2014, the Fossil Group recorded revenues of $3.51 billion and had a share price at the end of that year of around $110. Today, those shares sit at $29.90 — a figure which actually represents a strong recovery from just $6.70 at the end of 2017.
Fossil Group CEO Kosta Kartsotis admitted his company was "disadvantaged" and initially unable to compete with Apple as fashion watch sales in the $200-$800 segment slid away.
Scrambling to make up lost ground, Fossil acquired Misfit and followed French company Withings into the 'hybrid' watch market.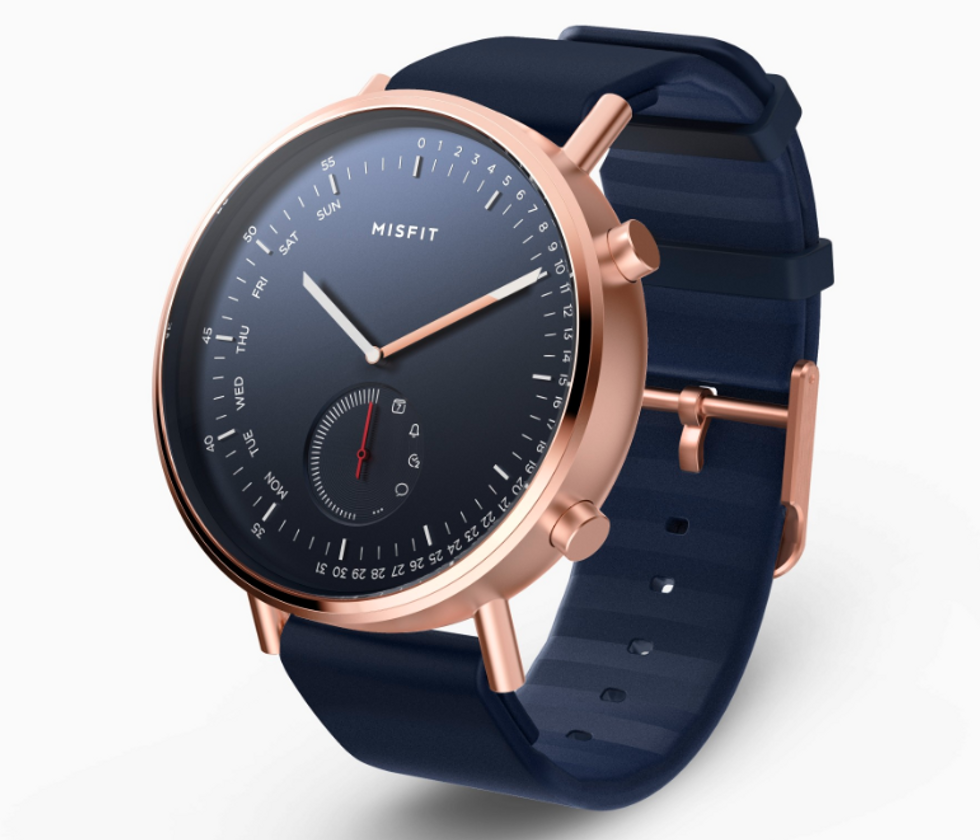 The Misfit Command is an example of a hybrid smartwatchMisfit
What is a hybrid watch?
Hybrid watches look like conventional wristwear, but include movements sensors to track steps, exercise, sleep and swimming, then send this data to a companion smartphone app via Bluetooth. Some also vibrate to alert their wearer of notifications, and have a second or third dial on their faces for showing extra information.
Unlike smartwatches, which feature a touchscreen and their own apps, hybrid watches generally last for weeks or months without needing to be charged (or have their battery replaced). Smartwatches, including the Apple Watch, generally need charging every one or two days.
Hybrid watches offer consumers a go-between, as they are generally smaller and more affordable than smartwatches, with less computer-like designs and a simpler, classier and more traditional aesthetic.

In 2016, Fossil Group launched 140 new wearables (watches, hybrids, smartwatches and fitness trackers) across its brands, and for 2017 doubled its portfolio to some 300 devices, many of which connect to a smartphone app.
According to data from Statista, the Fossil Group shipped 600,000 smartwatches in the fourth quarter of 2017, up from 500,000 and 300,000 in the previous two quarters, and giving it fourth place behind Apple, Samsung and Garmin. Apple fired a shot across Fossil's bow, but the company survived, acquired, quickly innovated, and is hauling itself back into the game.
Read More:
What about the Swiss?
Switzerland is all-too familiar with outside threats attacking its centuries-old watchmaking industry. During the Quartz Crisis of the 1970s (known as the Quartz Revolution outside of Switzerland), the number of watch companies in the country fell from 1,600 in 1970 to 600 by 1983.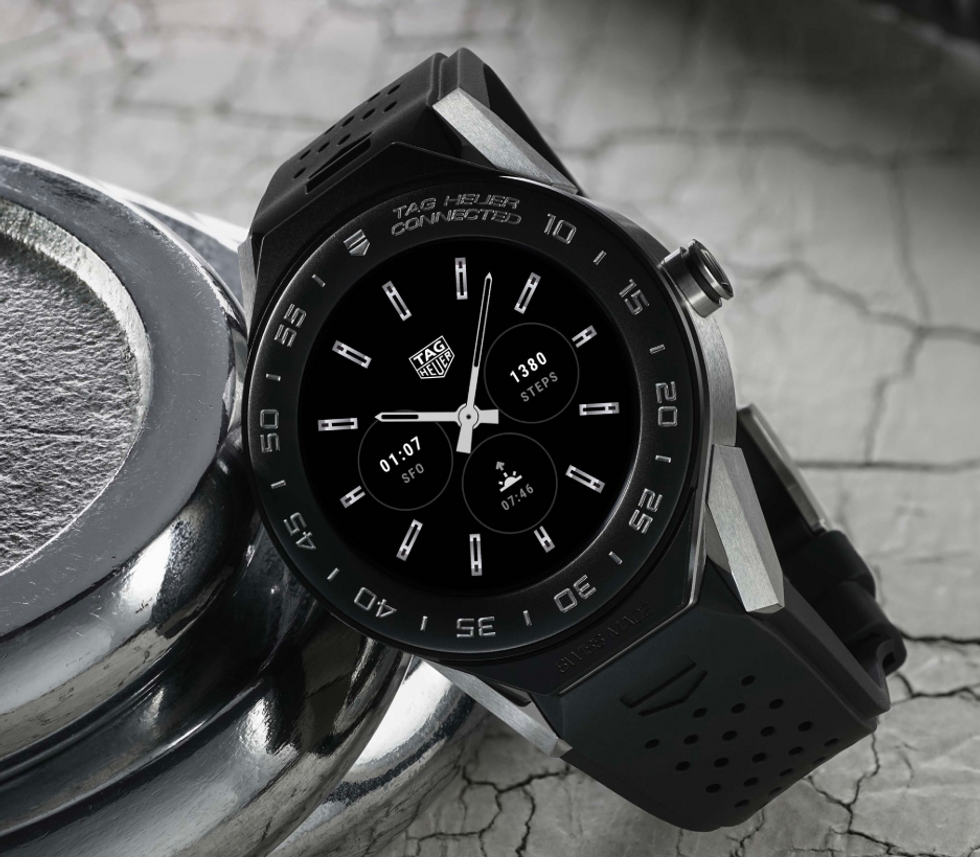 The Connected Modular is a smartwatch with Google's Wear OSTag Heuer
The existential threat came from Japanese companies like Casio and Seiko producing quartz watches which were more accurate and far cheaper than their mechanical counterparts. Back then, and after years of stubborn refusal, it was the embracing of simplicity and the launch of the quartz-driven Swatch which saved the Swiss, before consumers fell back in love with pricier mechanical wrist wear.
In some ways, it is now the adding of complexity which will keep the Swiss on par with Apple and the sudden popularity of the smartwatch. As we mentioned earlier, Tag Heuer — led by the charismatic Jean-Claude Biver, regarded as one of the saviors of the industry in the Seventies - was quick off the mark, partnering with Intel and Google in 2015 and launching the Connected later that year.

The latest version of this smartwatch, the $1,200 Connected Modular 41, has a touchscreen, runs Google's Wear OS and has an Intel processor. It also features easily-detachable straps and lugs — hence the Modular name — so owners can swap out the case for that of a compatible mechanical Tag if they like.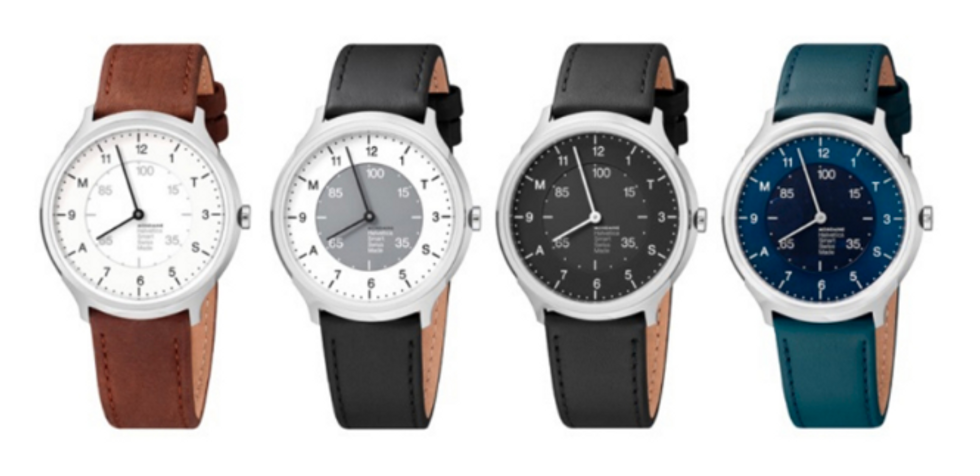 The Helvetica is a hybrid smartwatch capable of showing basic notificationsMondaine
Tag Heuer has so far released three generations of its Connected smartwatch, and has said publicly how happy it is with the sales figures. Between April 2017 and February 2018, Biver told the Financial Times 70,000 examples were sold. This is a tiny dent in Apple's dominance, given its own Watch sells an estimated 8 million units a quarter, but for a luxury Swiss watchmaker with much higher prices, 70,000 sales in 10 months is significant, Biver says.
Tag was joined in 2017 by Mont Blanc and the Summit, an $890 smartwatch running Google Wear OS. However, these remain the only two Swiss firms to launch fully-fledged smartwatches — although the former has no heart rate monitor and the latter misses out on GPS.
Seeking comfort in subtle, hybrid tech

There is also the Mondaine Helvetica Regular Smartwatch, a hybrid timepiece which partners a battery-powered quartz Swiss movement with fitness tracking and a vibration motor to alert you to calls and messages on your connected smartphone. The battery will last a claimed two years before it needs replacing.
This year, Frederique Constant took a different approach with its new Hybrid Manufacture, a $3,500 watch which combines a self-winding mechanical movement and classic looks with a processor, Bluetooth, step-, exercise-, and sleep-tracking, and a rechargeable battery which lasts around a week.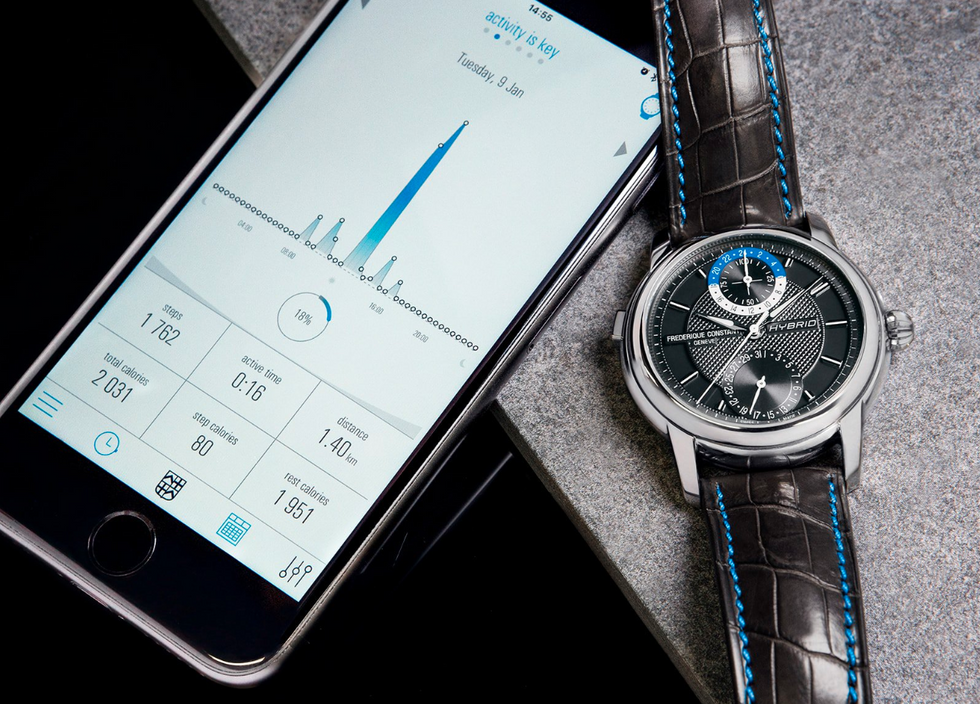 The Hybrid Manufacturer uniquely displays watch health and accuracy on its companion smartphone appFrederique Constant
This combining of springs, cogs and a 33-jewel Swiss movement with a processor and sensors means watch geeks can check up on the health of their watch through the smartphone app, which shows how well the watch is keeping time, and when it is due a service.
Compared to Fossil's 300 new models in two years, these smartwatches represent a hesitant, conservative approach by the Swiss; one which doesn't ruffle feathers or alienate loyal, deep-pocketed customers. Even though it is the 'smartest', the Tag offers no extra functionality over a regular smartwatch costing considerably less, while Frederique Constant has stuck to its high prices and dared just a small step towards smartness.
As for the future, will we ever see a fitness tracking Rolex? Will James Bond send a WhatsApp message to M from a keyboard on his Omega? It seems unlikely, given how slowly the industry has moved before when put under external pressure to innovate. But, just as Apple failed to make its pricey gold Watch Edition a success — quickly canning luxury and focusing on fitness — perhaps the Swiss should also stick to what it knows best.
Like GearBrain on Facebook