Like GearBrain on Facebook
Updated 4/8/19: As of June 2019 Stringify is shutting down, and will no longer support its app. Users should consider alternative free services including Yonomi and IFTTT.
By now, you are probably familiar with IFTTT (If This Then That), the automation system which unlocks news features for your smart home devices. With IFTTT, you can have a fan automatically switch on when the temperature rises, for example, or have the heating switch on when it falls.
But, as smart as its applets are, IFTTT can only perform one task at once. If you want a temperature spike to switch on a fan and lower the heating, then you'll need to create two applets, which can become messy.
Read More:

Thankfully, Stringify is here to take your smart home automation skills to the next level. In this article, we will introduce you to Stringify, translate the lingo, and talk you through setting up the app in your smart home.
How does Stringify work?
Much like IFTTT, Stringify takes an input from one device, sensor or service (like an air quality monitor, a motion sensor, your smartphone's location, or a weather forecast), then uses this information to execute an action with another device or service (like a smart plug, thermostat, or light bulb).
The beauty of Stringify is how several inputs can be configured to perform several outputs. You could, for example, create a system where if you leave a certain location (say, the office) after 5pm on a weekday, then a traffic report will be sent to your phone, the outside lights will be switched on at home, and your partner will be sent a text message to say you're headed home.
Here's what the 'flow' for this looks like in the Stringify app, which is available for iOS and Android: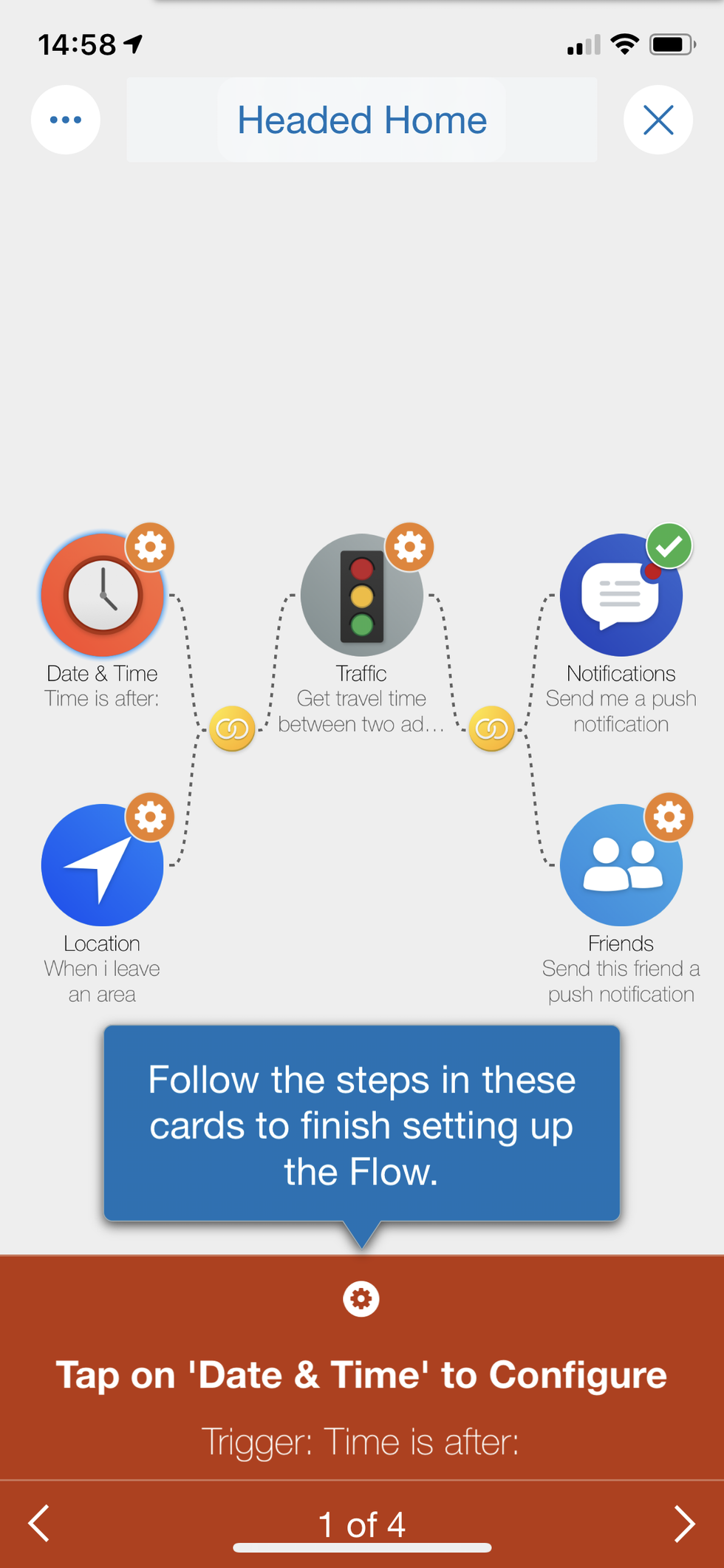 Here's what that 'going home' flow would look likeGearBrain
In this sense, Stringify is similar to the Routines feature of Amazon Alexa and Google Assistant.
What is a Stringify Flow?
Where IFTTT has applets, Stringify has flows. And where IFTTT has a 'This' and a 'That', Stringify Flows have triggers and actions.
For example, saying "tell Stringify to run goodnight flow" to Alexa would be the trigger of a flow, then your Ecobee smart thermostat cooling down to a set temperature, and your LIFX lights switching off, would be the action. Unlike IFTTT, these two (or more) actions can be activated by the same single trigger.
Signing in to Stringify

When you first setup the Stringify app, it will offer up several simple flows to get you started. These are fine to get you going, but creating your own flow requires a few more steps.
First, you need to add more 'things' to your Stringify account. These include your Amazon Alexa account, plus other smart home accounts like August, Ecobee, Foobot, Honeywell, Philips Hue, IFTTT, LIFX, Lutron, Nest, Netatmo, Ring, SmartThings, TP-Link and Wink. Many more can also be added, like your social media accounts and fitness tracking services.
Logging into all of these services takes a while. It isn't complicated, but feels like quite a convoluted process with lots of back-and forth (and recalling password). With Alexa, for example, you need to open the Alexa app and install the Stringify skill, log into that, then return to the Stringify app. Thankfully, you only ever need to do this once for each account you want to use with Stringify.
How to create your first Stringify flow

The Stringify app offers up a blank grid on which you are to create your flow. First name the flow, then tap the + icon to add your first 'thing' to the grid. For this example, I have chosen to use the Foobot air quality monitor with a flow called 'Air pollution warning'.
I have then set the flow to trigger when the Foobot detects a sudden increase in air pollution. This trigger is then set onto the grid, and I can tap the + icon again to add an action, in this case to send myself an email warning of rising levels of air pollution in my bedroom, where the Foobot is located. This email (or I could pick an app notification instead) would act as a prompt for me to close the window for a while.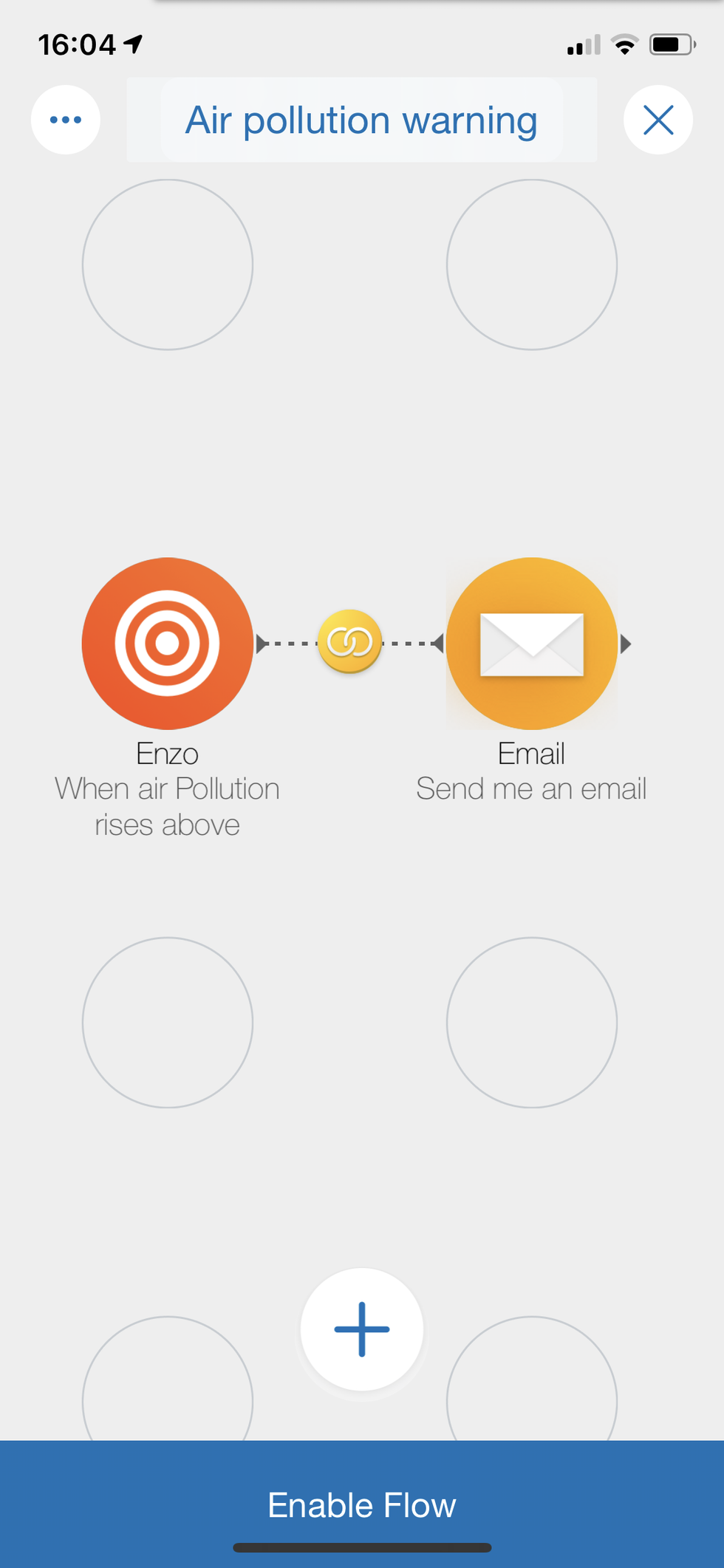 This simple flow send an email when air pollution levels in the bedroom exceed a certain levelGearBrain
I can then complete and enable the flow with just the one trigger and one action, or add infinitely more, configuring a high pollution reading to bring other devices to life, and send text messages or emails to other members of the household.
This might sound complicated, so below I have embedded a simple video about flow creation, made by Stringify.
I will be writing more about Stringify in the coming weeks, highlighting some more complex flows and demonstrating how the system can be used alongside IFTTT to
make your smart home's automation
even more intelligent and efficient.
Also, don't forget to check out The GearBrain, our smart home compatibility checker to see the other compatible products that works with Comcast's Xfinity Home X1 Platform.)

Like GearBrain on Facebook