Instagram has today announced a couple of new features designed to protect users from abuse, hate speech and harassment from people they don't know.
Once enabled, the features automatically filter out direct messages from the user's inbox and into a separate folder. From there, messages can be read, reported, or deleted without being read at all – a further bid to protect users from abuse.
Read More:
The filter works by spotting direct message (DM) requests containing offensive words, phrases and even emojis, then moving the messages to a new folder, away from the user's normal inbox.
Although the feature can be used by everyone, Instagram says how filtering out abusive messages from direct message requests is intended for those with large amounts of followers. "We know that many in our community, particularly people with large followings, have faced abuse in their DM request inbox from people they don't follow," Instagram said.
The Facebook-owned social network added continued: "Because DMs are private conversations, we don't proactively look for hate speech or bullying the same way we do elsewhere on Instagram. That's why we're introducing a new tool which, when turned on, will automatically filter DM requests containing offensive words, phrases and emojis, so you never have to see them."
The new filter can be switched on or off in a new section of the Privacy Settings page called Hidden Words. When activated, incoming messages from unknown followers and containing potentially offensive language will be moved to a separate folder. Instagram says it is working to create a list of words and phrases that automatically trigger the system, but users can also add their own too.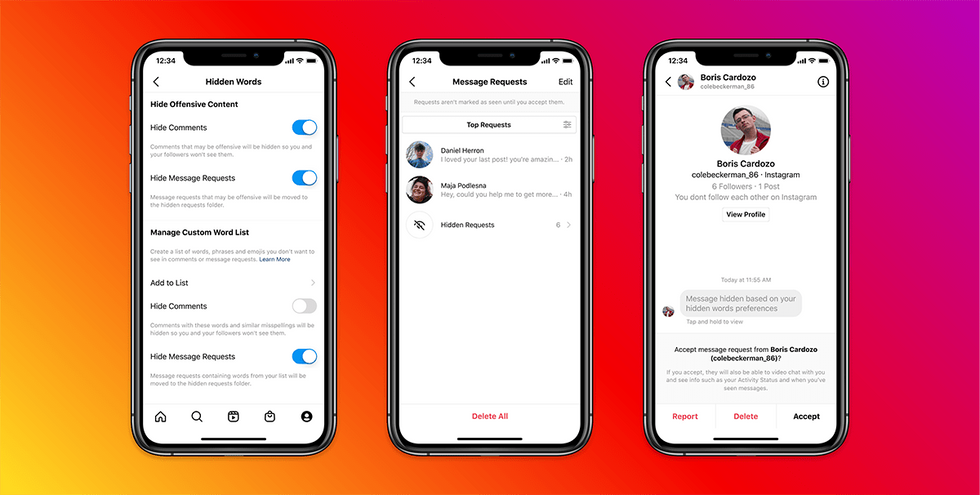 New tools aim to filter out abusive messages before they are seenInstagram
In a bid to further protect users from abusive and offensive message requests, Instagram added: "If you choose to open the folder, the message text will be covered so you're not confronted with offensive language, unless you tap to uncover it." Users then have the option to accept the message request and open a conversation with the people, delete the message, or report it to Instagram.

The company says message filtering takes place on your device, meaning the feature "won't send any message content back to our servers. Using this feature doesn't share the content of your DM requests with us, unless you report them."
Instagram says the feature is rolling out to "several countries in the coming weeks," and it will expand to more countries in the next few months.
The company also announced today how another new feature is designed to prevent someone you have already blocked from contacting you using another account. Instagram doesn't explain exactly how it does this, but said: "With this feature, whenever you decide to block someone on Instagram, you'll have the option to both block their account and preemptively block new accounts that person may create."
This feature will be available globally "in the next few weeks."