Like GearBrain on Facebook
Instagram has begun rolling out a new feature called Your Activity, which shows exactly how many minutes (or hours) you spend using the photo-sharing app each day and week.
The feature follows a recent trend among technology firms to help customers understand how much time they spent using apps, and their smartphones generally. Apple has Screen Time on the iPhone and iPad, while Google offers Digital Wellbeing on Android.
Read More:
As for Instagram, the new Your Activity feature shows your daily and weekly usage time on a graph, along with the average time you spend engaged with the app each day.
Users who want to try and reduce these figures can set a daily reminder, where Instagram will notify them when they have reached a user-defined time limit each day. For example, set your daily usage limit to 30 minutes, and when Instagram has been open for that long in a single day, you'll be notified.
A second feature allows users to reduce the amount of notifications they receive from Instagram. This can mean the removal of certain types of notifications entirely, such as when someone you follow has started a live broadcast, or completely mute all Instagram notifications for a set amount of time - ranging from 15 minutes to eight hours.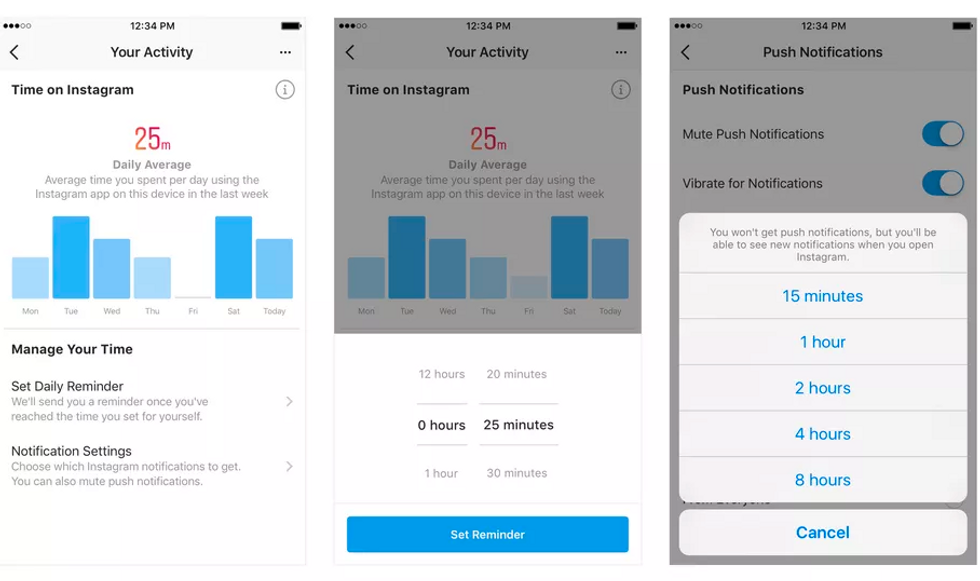 Instagram
The Your Activity feature can be found by visiting your profile in the Instagram smartphone app, then tapping the three-lined 'hamburger' icon in the tip-right corner, then tapping Your Activity, The feature is rolling out gradually, so some users may have to wait a few days for it to appear.

Being owned by Facebook, Instagram's Your Activity tool is the same as Facebook's. It comes soon after Instagram added an icon to show when a user has caught up with all unseen posts on their timeline, saving them from scrolling unnecessarily.
The roll-out of these features - along with Screen Time and Digital Wellbeing - comes as there is growing evidence to suggest that excessive use of social media can be damaging to mental health, and that smartphones and their apps are addictive.
Facebook
even admitted as much
in December 2017, citing academic and internal research which found that "in general, when people spend a lot of time passively consuming information - reading but not interacting with people - they report feeling worse afterward."
Like GearBrain on Facebook