Like GearBrain on Facebook
Sonos is a brand known for its speakers that work together to create directional and surround sound experiences. The speakers can connect to a TV or a music app, but keenly tie together to network for a multi-room experience.
Sonos Beam is the company's lower cost sound bar, primarily meant to work in a living room, family room — or any room — but with a TV. It's one of two they produce, second to the Sonos Playbar, which is priced at $699 and is marketed as having "cinematic sound." We recently installed the Beam in a NYC apartment, using an older TV, in a bid to boost the sound quality we had. Here's how Beam — and Sonos — fared.
Sonos Beam - Smart TV Sound Bar with Amazon Alexa Built-in - Black
What is the Sonos Beam?

The Sonos Beam's appeal is for those who lean towards the Sonos brand. There are certainly cheaper sound bars on the market (we've had one.) But what's nice about Sonos if that if you buy one, the next Sonos speaker will work with it as well. You can then build — easily — a surround sound experience.
One of the downsides to Sonos is, as we mentioned, that they are more expensive. The other is the Sonos app, surely the brand's Achilles heel. It's not that the app doesn't work — it's that the app, once you've set everything up, is really not necessary. We'll explain in a bit.
Sonos of course is also a well-designed brand. The speakers have a nice matte finish, with a cloth covering on the outside, and they're heavy and feel substantial, as did the Beam.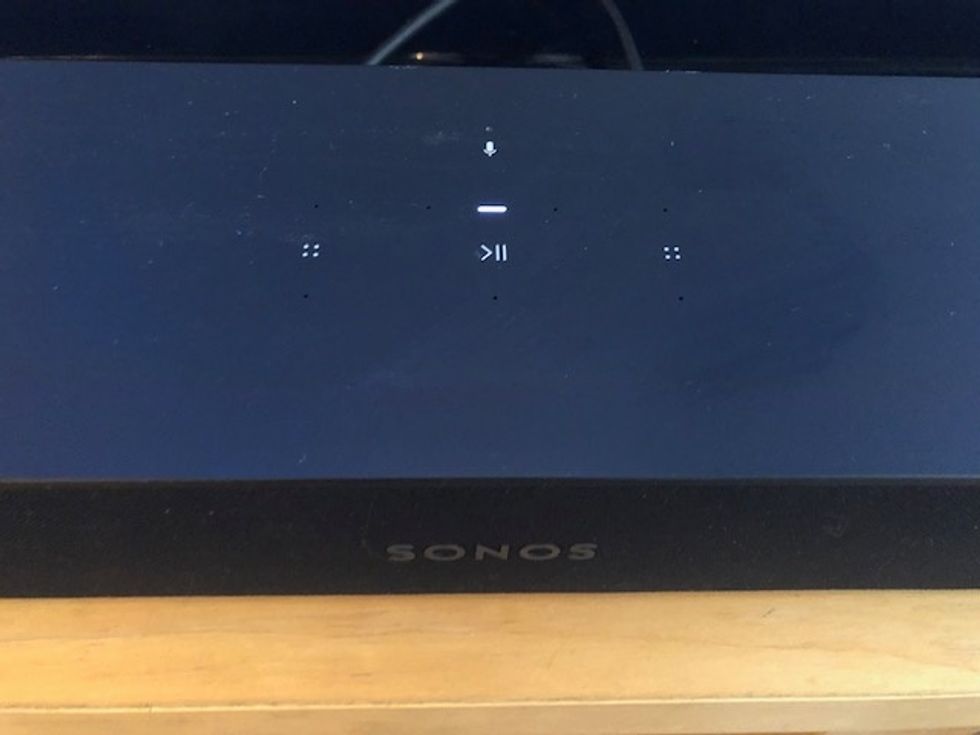 You can control the Beam sound bar through buttons on the topGearBrain
Installing Beam

As mentioned, we have an old Samsung TV — about 10 years old. No judgment: it works, it's big enough and to date we haven't had any issues adding new gaming devices, entertainment add-ons or speakers. Sonos didn't prove a problem either.
With Beam, you get the speaker, a power cord, an adapter and an HDMI cable. That's all you'll need to get the speaker connected to your TV. If you have another active Sonos speaker in the house you can wirelessly connect to your Wi-Fi and then to another Sonos.
You'll use the HDMI cable is for the ARC port in your TV. Most TVs have them. Ours, of course, did not because the set is 10 years old. So, if you're like me, and you have an older TV, you'll use that adapter to plug into your set's optical audio plug. Then attach the HDMI cable into the adapter, and you're set.
Setting up the Beam
When you first connect the Beam to Wi-Fi you're going to have to take a small extra step: physically connecting the sound bar to your router with an Ethernet cable. That's the only way you can get on the network with the password. We did find this step to be a bit of a pain, and while certainly more secure than wirelessly linking, it was annoying to have to get a cable to do this.
Sonos has traditionally called this an Alternative Setup, and it's a Sonos Wi-Fi setup another GearBrain reviewer had to take to reconnect Sonos speakers to a new Wi-Fi network. But this now seems to be a standard way to connect, at least it was for us. Once you're connected to Wi-Fi this first time however, you can unplug Beam from the Ethernet cable.
Install the Sonos app to your iOS or Android device. Then have the app find the Beam. Now, go into the audio menu on your TV and turn off the internal speakers on the set so it knows to route sound to the external speakers.
Then, through the Sonos app, you're going to want to set up the remote so it can connect to the Beam. You'll do this by clicking on the remote you're using, and aiming at the sound bar. This will tell the Sonos which remote signal to look for to control the sound.
You can now go back into the app, and customize your Beam, adding surround sound, or using the TruePlay feature to customize a sound for a specific room.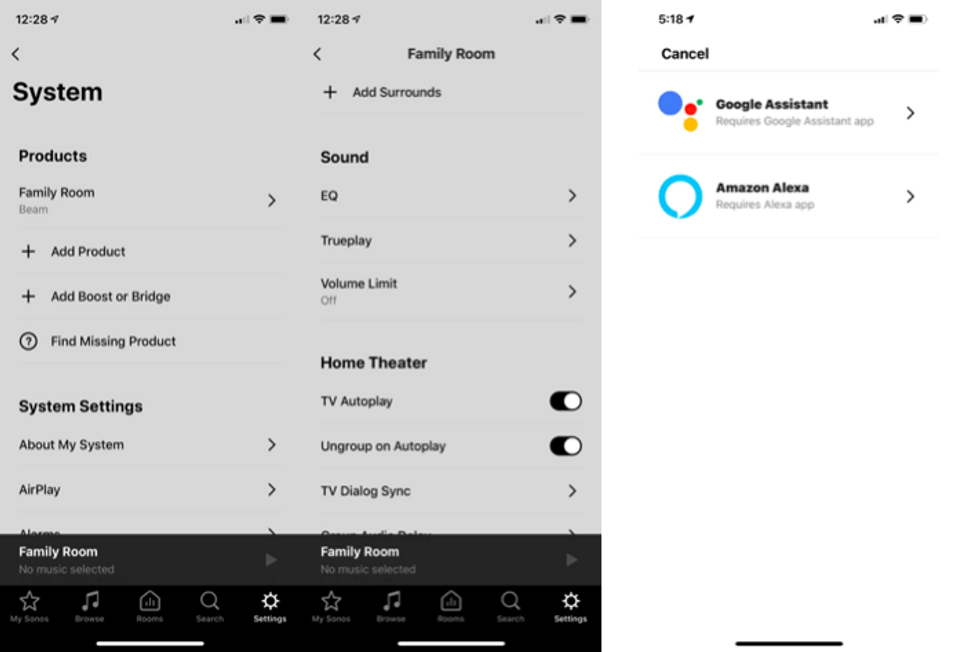 You'll manage the Sonos Beam through the Sonos app, and also set up connections to Amazon Alexa and Google AssistantGearBrain
Sound

Sound is of course why you're buying an external sound bar for your TV. Certainly, your set is able to play back any show or gaming experience you're playing. But Beam was a definite improvement — and a big enough sound for our small apartment.
We have a room that's about 300 square-feet — an open plan space that also includes part of the kitchen. Someone living in a large home, with a big family room, may want to spring for the Sonos Playbar, which has nine amplifier and three tweeters, as opposed to the Beam which has just four woofers and one tweeter.
But the Beam's sound is good — full and bright. Dialog is far more clear, bass is bigger, sound is richer.
App
The Sonos app is a wonky experience, and to use it to control outside music from Spotify, for example, you have to import those music apps into the Sonos main app. That's a serious pain.
So while you need to app to absolutely set up and tune the speaker, you're probably not going to want to use it for running your music. And you don't have to.
Sonos is of course updating its app — the new Sonos app, S2, is coming in June. We don't know if that's going to streamline the way you run music, for example, through the Sonos speakers. We're eager to see how it changes the experience. Until then, we're largely ignoring the Sonos app.
Smart Home
Sonos has baked Google Assistant and Amazon Alexa into Beam. That means you can start speaking to either of the virtual assistants, if you want, through the sound bar and use it to play music this way, or even pull up the weather.
You need to enable this in the app under Services, and then under Voice. You'll want to add the services there — but you must have the Alexa or Google Assistant app installed on your mobile device to link the two and make that service work.
Price
The Sonos Beam costs $399, although sometimes the company offers free shipping or deals.
Sonos Beam - Smart TV Sound Bar with Amazon Alexa Built-in - Black
Worth buying?

If you're in the market for a speaker that looks solid and has a good reputation, Sonos is a brand to consider. While Sonos has gotten into a bit of hot water for not continuing to support its older model speakers with software updates, the company did finally agree to allow them to remain on the current app when the new S2 app comes through.
Those building their smart home will also appreciate having Amazon Alexa and Google Assistant baked inside the Beam. You just have to link the device to your Alexa or Google Home apps, and you can then start speaking to the Beam, and control
We find the Sonos Beam to be a solid sound bar, we especially like the look, and we're happy that we can add to the set-up later, if we choose, to create more of a surround sound experience. It's also plenty of sound for our small space. If we lived in a bigger home, we may have wanted the Playbar. But the Beam, for an apartment life, is well-priced and a nice upgrade.
Cons:
Price, about $100 more than comparable
If don't have a new TV, set up is tougher
App
Pros:
Pretty seamless set-up
Works with AirPlay
Design
Sonos - Playbar Soundbar Wireless Speaker - Black
Like GearBrain on Facebook