Sonos has announced the June launch of a new app called S2, which will be used to control all current and future Sonos devices.
The move comes after months of uncertainty from Sonos, which has struggled to explain its future plans to owners of its older sound equipment, often referred to as legacy products.
Read More:
Sonos One SL - Microphone-Free Smart Speaker – Black
Sonos took a u-turn on plans for a controversial 'recycle mode,' and is now attempting to lay the foundations for a new product platform.
Announced this week, that new platform will be called Sonos S2, and will run on a new version of the company's smartphone app, which is used to control audio playback on your Sonos system.
The current app will remain accessible and be renamed to S1 Controller. This will allow owners of older Sonos devices to keep using them for the foreseeable future. These products, which will stop receiving software updates in May, are:
Zone Players
CR200
Bridge
Connect (Gen 1)
Connect:Amp (Gen 1)
Play:5 (Gen 1)
All other Sonos products, including those sold now and future devices, will work with the new S2 app, which Sonos says will be available from June. Legacy devices cannot work with the S2 app due to a lack of memory and processing power.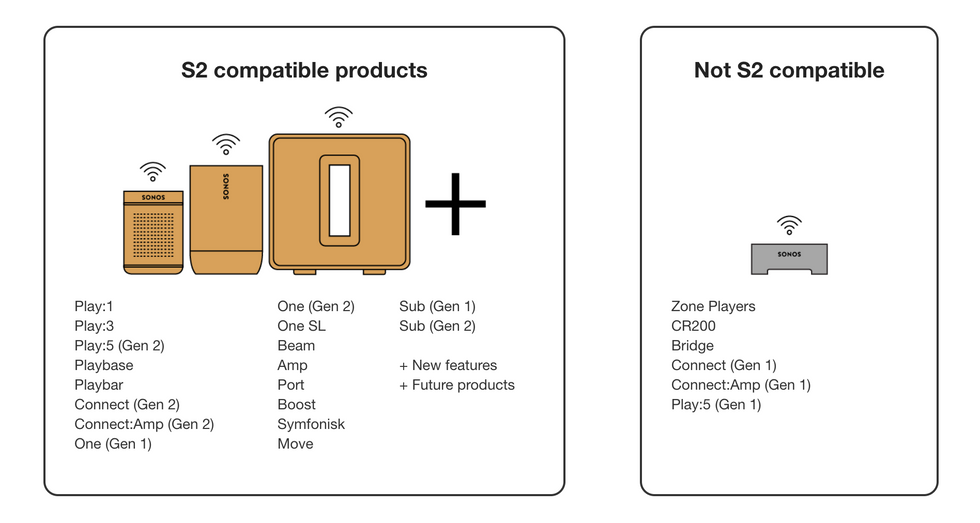 These Sonos products are compatible with the upcoming S2 appSonos
No Sonos customer will be forced to upgrade to the S2 app if they don't want to. But those who do — as in, those who have newer, compatible devices — will gain access to new features, usability updates and more personalization, Sonos says.

The S2 app will also "enable higher resolution audio technologies for music and home theater," the company explained in an FAQ section of its website. This means sound quality beyond the CD-quality lossless standard Sonos speakers are limited to today, and paves the way for Sonos systems using higher-resolution audio, like that offered by Tidal and Amazon Music HD.
Sonos says improved speaker grouping functionality will arrive as part of the new app in June, along with "more connected and personal experiences." Audio improvements could also lead to the company's future sound bars offering Dolby Atmos surround sound.
This all makes a lot of sense, giving owners of old and new equipment an application to control their respective systems. However, it gets more complicated if you own both old and new Sonos products, and want to use them as part of one system.
To fix this, Sonos suggests owners of older products make use of its upgrade service, where new replacements are offered at a 30 percent discount. Older devices can then be sold, given away or recycled by their owners.
Instead, you could run your system of old and new products with the S1 app, which will continue to receive bug fixes and security patches after May. But this means you will miss out on new features and improved audio quality of the S2 app, despite some of your hardware being able to support it.
Alternatively, users could create two separate systems, controlling the older products with the S1 app and the newer devices with the upcoming S2 app. Sonos has said it will "publish detailed instructions for how to do this nearer the time."
Sonos Port - The Versatile Streaming Component for Your Stereo or Receiver