The latest 992 generation Porsche 911 is loaded with more technology than ever before. There's a 4G connection, Apple CarPlay, navigation with satellite imagery, a lap timer and even a G-force meter.
But does increased emphasis on an increasingly complex touch screen make for a better experience, or a more distracted one? Read on to find out.
Read More:
Despite the majority of its cars now being SUVs, Porsche has always been a sports car manufacturer at heart, with the 911 its flagship. Famous for being the everyday sports car, the 51-year-old 911 has always struck a neat balance between performance and practicality, and that recipe remains in place for the latest 992 generation, new for 2019.
As such, this is a turbocharged sports car with over 440 horsepower and a zero to 60mph time of under 3.5 seconds, yet it also has two kids' seats in the back, a useful trunk in the front, a large fuel tank for over 400 miles of freeway cruising, and is (just about) comfortable enough to tackle the daily commute.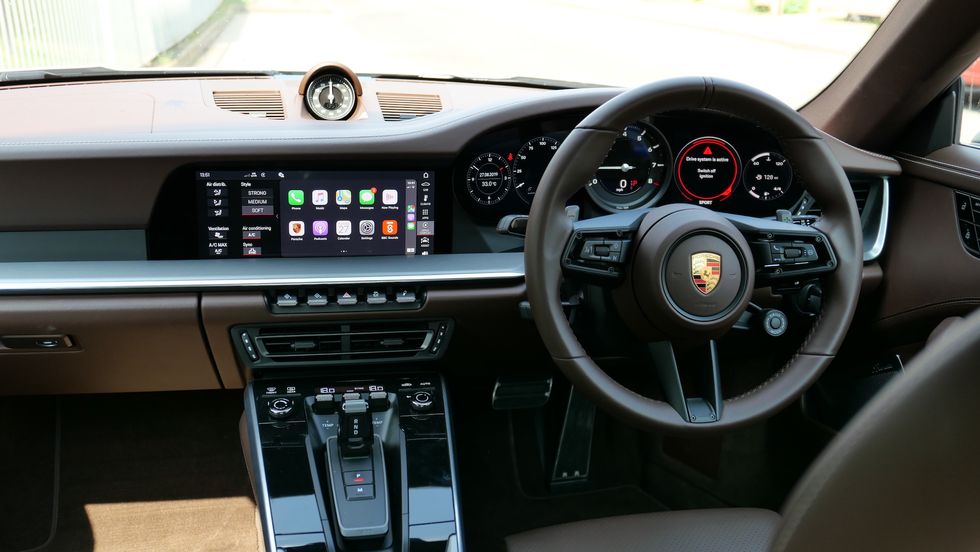 The dashboard features a 10.9-inch touch screen with Apple CarPlayGearBrain
Nowhere is the sense of refined luxury felt most than with the car's technology. New for the 992 model is a dashboard dominated by a 10.9-inch touch screen, used to control the car's climate, entertainment, navigation and various other features and settings.

This screen's functions replace many of the buttons seen scattered across the center console of other Porsches, either side of the central gear selector. It is also joined by a pair of displays located either side of the central (and analogue) rev counter. These displays each show two circular readouts by default, mimicking Porsches of old and their five-dial instrument binnacle.
Non-touch controls are few and far between, but are responsible for some of the car's key (and most-used) systems. The cabin temperature and strength of the air conditioning fan are controlled by physical toggles, for example, and so too is the traction control and suspension firmness. These are joined by two further toggles which can be programmed to control a range of other features, depending on your preference.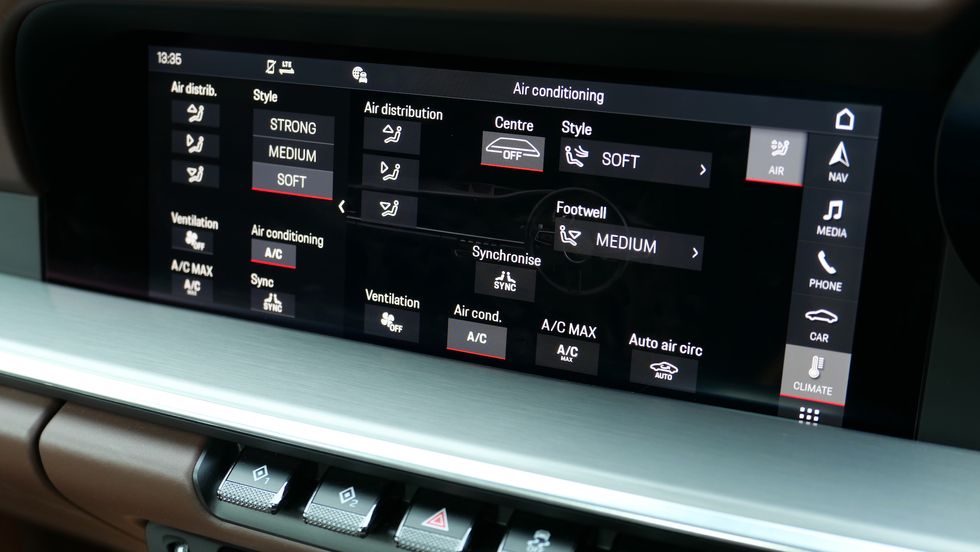 The touch screen can become cluttered with optionsGearBrain
There is also a physical knob for music volume, buttons on the steering wheel also for volume and adjusting what the two secondary displays show, and answering phone calls. Finally, the lights, wipers, mirrors, seats, steering wheel position, driving mode, parking brake and seat warmers are all controlled with physical buttons, dials and switches. Take note, Tesla - not everything should be controlled with a touchscreen.

The Porsche's touchscreen is bright, sharp and responds quickly to taps and swipes. It is one of the better systems I've used, and works just as quickly as that of a Tesla. The system is simple enough to use, but my biggest complaint would be the breadth of options on offer here. You can dig quite deeply into menus and sub-menus, which can be distracting and probably shouldn't be done while driving.
I also found some of the climate controls (which can be made to remain on the far side of the screen at all times) to be a little too far away, requiring a stretch halfway across the cabin to reach.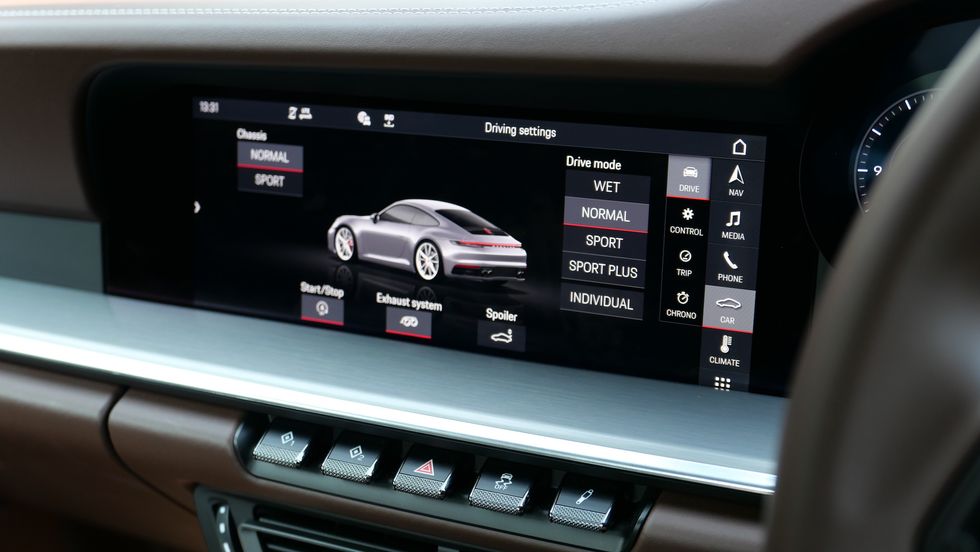 Customizable toggle switches sit below the touch screenGearBrain
Thankfully, most of these controls are a case of set-it-and-forget-it, and those that are commonly used, like temperature, are easier to interact with.

Most of the time, I had my iPhone connected to one of two USB ports hidden inside the central armrest. This meant my phone was out of reach and not a tempting distraction, and that I could use Apple CarPlay. Updated significantly with iOS 13, CarPlay is a joy to use and, several years after first launching, continues to show decades-old carmakers how to make a better infotainment system.
No, CarPlay can't show g-force, time your laps of the racetrack or switch the exhaust to its louder mode. But it offers a cleaner, simpler and familiar way to use navigation, make calls, hear messages read aloud, and listen to music or podcasts.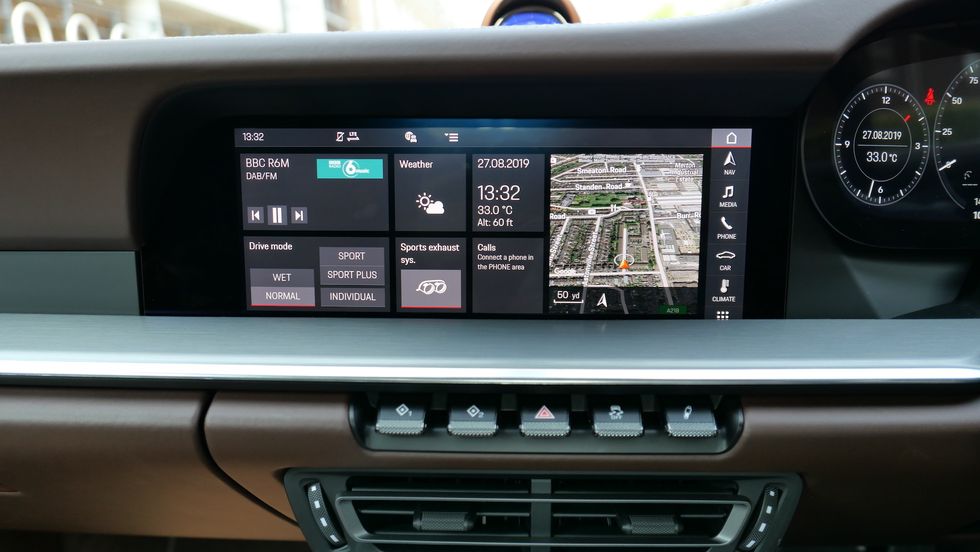 The Porsche's home screen gives a good overviewGearBrain
The benefits here are two-fold; using CarPlay means plugging your phone in and shutting it away in the armrest, and it is often easier than Porsche's own system. Not that there's anything particularly wrong with the stock option, but it's hard to beat familiarity when you just want to punch in an address, start a podcast and go.

Tapping at the display is aided by a ledge which runs the whole width of the dashboard. This gives the driver something to rest a finger on while they prod at the screen with another. Porsche isn't the only company to do this, as Land Rover also provides a small ledge below its touchscreens for this exact reason. Without it, poking accurately at a Tesla's large screen on a bumpy road can be tricky.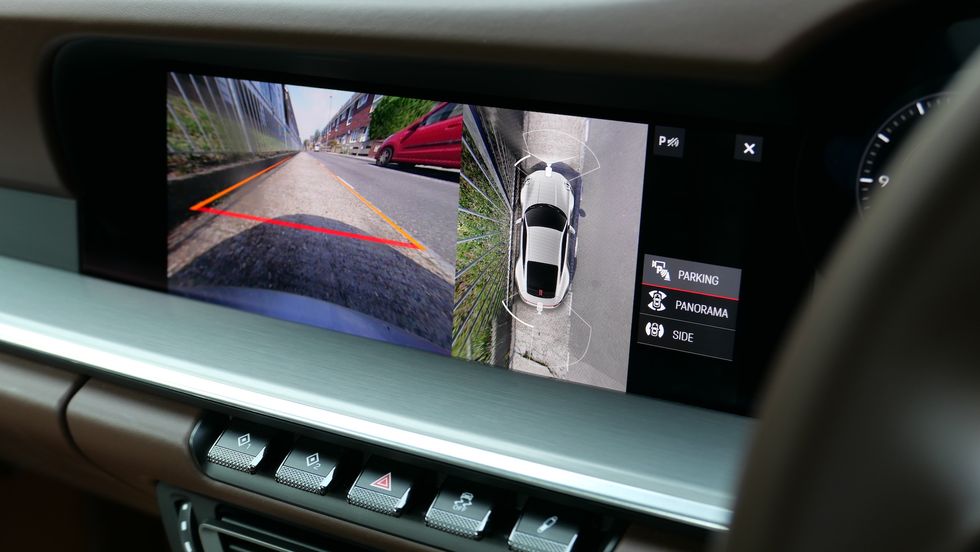 Camera produce an augmented top-down view when parkingGearBrain
Although there is no Autopilot-style driver assistance system here, automation is still central to much of the 911's systems. Wipers and lights can both be set to work automatically, while the eight-speed semi-automatic gearbox is left in automatic by default; a press of the M button switches it to manual, where you shift gear with paddles behind the steering wheel.

The car's front and rear parking cameras also fire into life automatically, when you shift into reverse or when the parking sensors detect you are close to something.
The video feed from each of these cameras can be viewed in isolation, but also on offer is an augmented top-down view of the car, which uses the cameras to show a 360-degree view of your surroundings, with the white lines of parking bays clearly shown. It's a very smart system which worked flawlessly in my time with the 911 and really helps when parking a fairly wide car.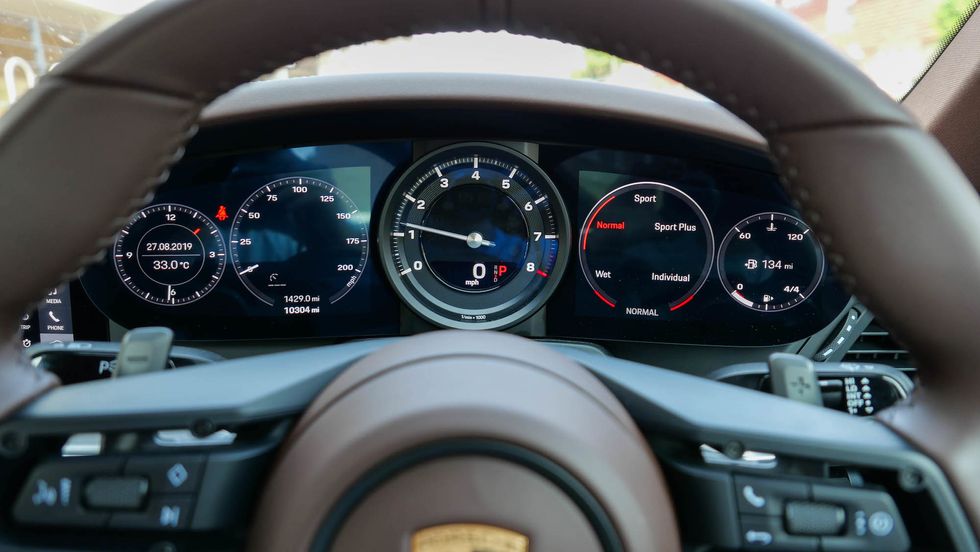 Analogue rev counter is flanked by two digital displaysGearBrain
Also impressive was the test car's optional Burmester sound system, which added a chunky £3,258 to this car's £98,418 list price. In the US, the 992 starts at $113,200 for the rear-wheel-drive Carrera S, and $120,600 for the all-wheel-drive Carrera 4S I tested. The sound system is punchy and powerful, but I couldn't help but wonder if it was really worth so much more money than the standard option; for context, it was the most expensive optional extra on this car, and by some margin.

Extras I would pick before the stereo upgrade include the aforementioned front and rear cameras with augmented top-down view (£1,196), and the LED headlights with matrix beam and Porsche Dynamic Lighting System Plus, for £2,054. These lights use 84 individual LEDs and split their projection around vehicles ahead or in the oncoming lane, to avoid dazzling their drivers. The lights also move with the steering wheel to illuminate corners, and push their beam further ahead when travelling more quickly.
I also liked using the steering wheel-mounted mode switch. Like the Manettino dial of a Ferrari, this is rotated to switch between four driving modes - wet, normal, sport and sport plus. The former is suggested when sensors in the front wheel arches detect moisture on the road, while the others increasingly sharpen the gear changes and firm up the suspension. A button in the center of the switch turns up the car's performance to 100% and drops to the lowest possible gear, ready for a speedy overtake.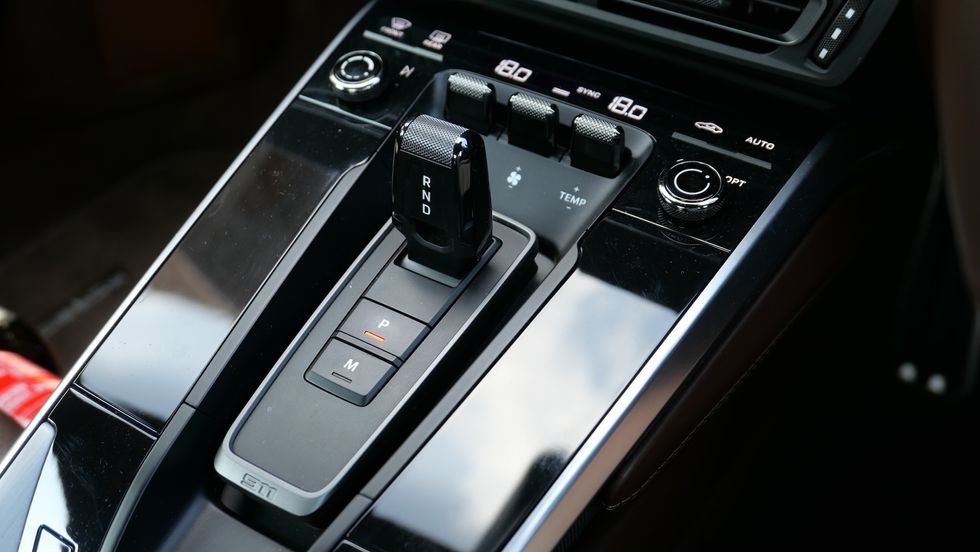 Blank space could have been used for more physical controlsGearBrain
Similarly simple is activating launch control. Instead of hunting for a button or enabling the system through the touchscreen, you simply stop, press the brake with your left foot, flatten the accelerator (the revs automatically hold at about 3,500), then release the brake and the car tears away from the line.

The new 911 does not have the option for a head-up display, but I didn't find this much of a problem as the speed and gear is clearly displayed in the central rev dial, and navigation instructions can be set to appear in the right-hand digital display if you wish.
That said, this is only the case if you use Porsche's own navigation; Apple CarPlay does not appear on that display, but with iOS 13 the option is there for car makers to put the system on more than one screen. So this could change via a future software update from Porsche.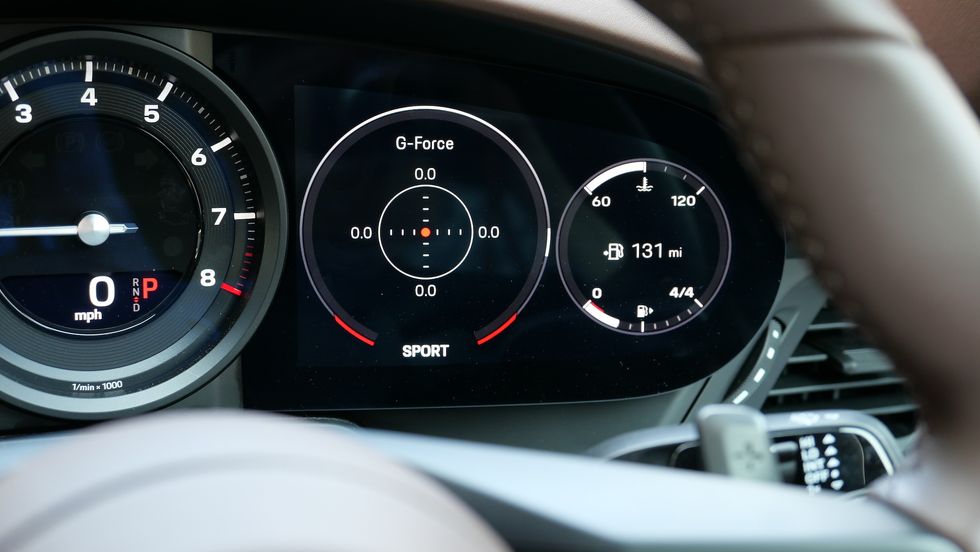 Outermost digital dial is obscured by the steering wheelGearBrain
Speaking of those digital displays; their outermost readouts (in my case, fuel level on the right, and the current time and outside temperature on the left) are blocked by the rim of the steering wheel. I found I needed to move my head a fair bit to see either, which wasn't ideal.

All in all, I greatly enjoyed my time with the 922-generation Porsche 911 Carrera 4S. It truly is the high performance sports car you can use everyday, and is practical too. The leather and aluminium-covered cabin is certainly attractive and a comfortable place to be, and the infotainment system mostly works very well.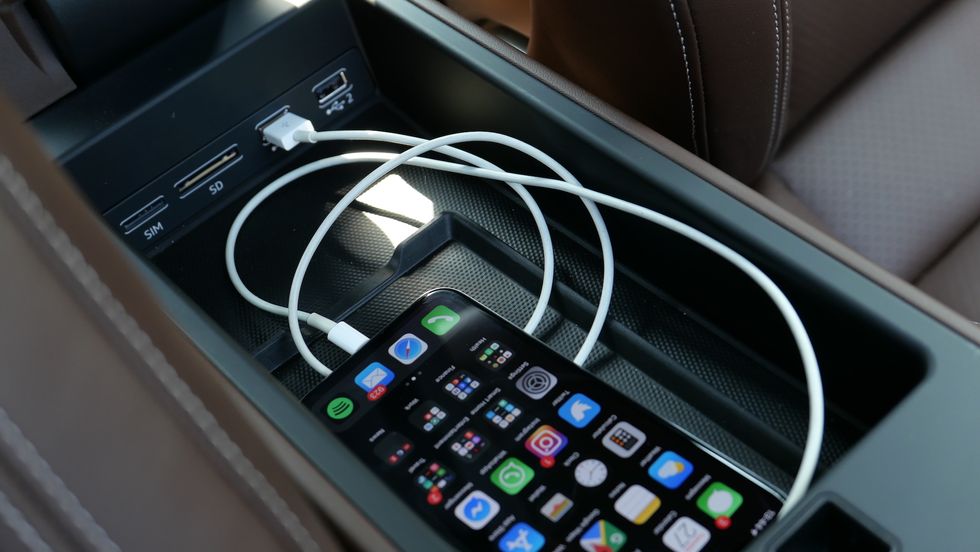 Arm rest contains phone storage and two USB portsGearBrain
However, I can't help but wonder why the blank space either side of the gear selector wasn't used to house a couple more physical controls. I know two toggle switches can be programmed to do whatever you like, but I'd like a permanent button for the exhaust mode, for example, and for muting the parking sensor when they beep into life unnecessarily.

Interestingly, Porsche has returned to a button-led approach with its upcoming Taycan electric car, albeit in a way where touch-sensitive buttons issue haptic feedback when pressed. There will be much more to say about Porsche's first EV when its covers are taken off on September 4 - and don't forget, this generation of 911 has been designed with a future hybrid option in mind, due out in a couple of years' time.